One of the few well-known and successful female representatives of stencil art, Amanda Marie, also going by Mando Marie and See You Through It, has developed an unmistakable style over the years. Created on large outdoor surfaces, but also on canvas and paper, her works are characterized by figures of children, young adults and animals, often occurring in pairs of twins. "I have been doing children for the past ten years, it is just how I have gravitated towards expressing myself. Also, little girls sell well", explains Amanda during our talk at the Urvanity Art Fair where her works are presented as part of the Andenken Gallery's booth. Commenting on the use of human-animal hybrids that we often see in her work, she explains, "I think we are all a bit animal and human at the same time". Using a combination of mediums and techniques, most of her paintings are mixed media with elements which are screen printed, wheat pasted, drawn and spray painted. Often using vintage sewing patterns as the background for the stencils, she shapes the composition of their works in a rather unique way. This complex use of multiple techniques creates an incredible depth and subtlety to her work.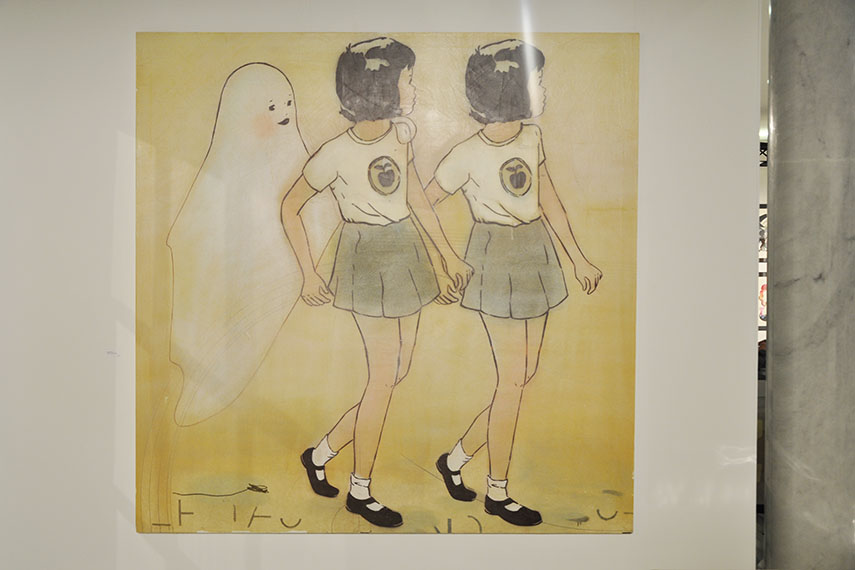 Amanda Marie at Urvanity Art Fair
Coming from Amsterdam, Andenken Gallery has brought several works by Amanda to Urvanity Fair. We could see some older pieces such as nine small works on paper, but there are also two new canvases titled Ascenders and Make Believe Friends created in 2017 that are rather large. "Smaller ones are very hard to work on, so I prefer bigger ones. The bigger the better", explains Amanda. All of the pieces are done in her recognizable style, featuring stylized figures that seem to have been lifted from the pages of a mid-twentieth century children's book and have been places in a  more adventurous and unsettling world, somewhere between dream and reality. The works recreate the freedom of childhood, reveling in the power of the imagination to invoke both the fantastic and the sinister.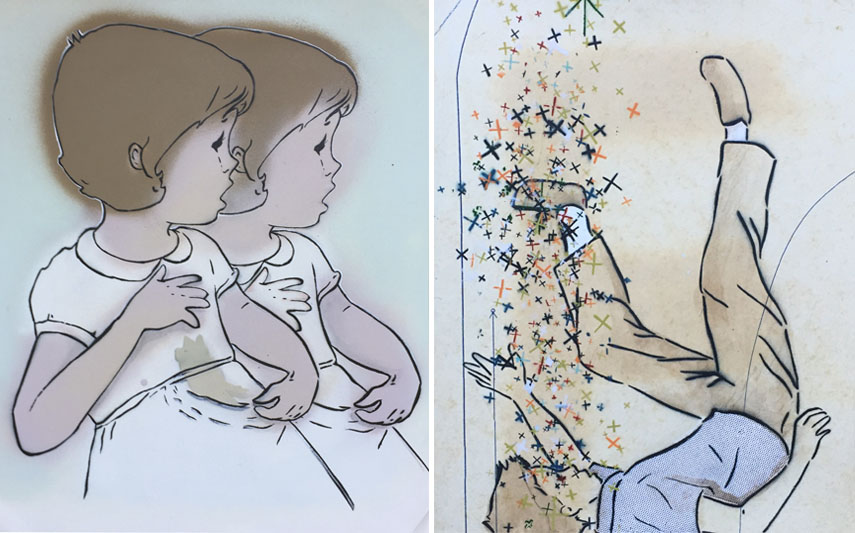 Future Exhibitions And Projects
Amanda's first gallery show was held in Denver in 2004. It all took off from there, with her work being featured extensively in group and solo exhibitions in the US and Europe, gaining respect from both the Street Art world and Fine Art admirers. The artist has been quite busy these days. "After Urvanity, I go to Seul, Korea for a show at the D Museum. I will be doing a couple of street pieces there. Afterwards, I go to New York for Marcy Projects", Amanda tells us. "I really like Urvanity. This is the first fair that I have been in a while that I feel really fits with my work. All the galleries and their works really fit with my style".
Images copyright Widewalls.