Fascinating and gloomy stories about growing up in the distressing and often brutal world inspired two separate but complementary exhibitions that will be on view at Thinkspace's exhibition rooms in Los Angeles. Works by Amanda Marie and Kevin Peterson oppose the innocence of children and eerie environment to explore the feelings of misplacement, restlessness, and disquiet. And while Kevin Peterson takes on a photorealistic approach and portrays constant changes that both humans and environments go trough over time, Amanda Marie employs old-fashioned graphics to convey the emotion of playfulness, anxiety and anticipation.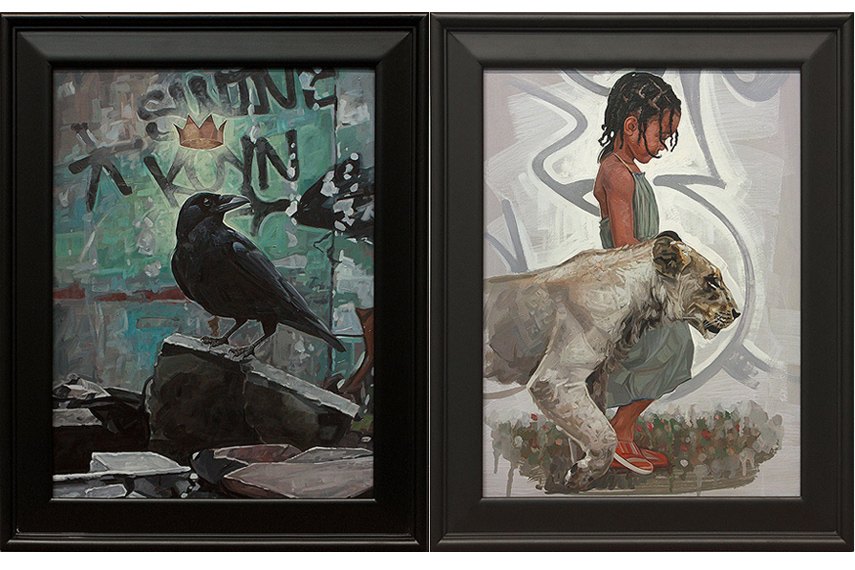 The Coalition of Innocence and Brutality in the Works by Kevin Peterson
Kevin Peterson creates his surreal oil on panel works by juxtaposing harsh, abandoned urban landscapes and innocent, vulnerable subjects. The artist pays special attention to light, context and the staging of the subjects and additional elements to create artworks reminiscent of photography scenery and models. And truly at first glance, these hipper realistically executed oil on panel paintings could easily be mistaken for photographs. Unlike Kevin Peterson's previous works that featured cropped close-ups of main subjects his latest painting series contains a wider frame and narrative, focused on the interaction between humans and their home. The artist used photographs of actual city sites to create a realistic depiction of the surrounding environment. In these dark and gloomy places often embellished with graffiti, the artist places his unusual groups of characters. A majority of works features one lonesome child roaming the street with a group of animals as its only companion. The presence of adults is noticeable only in the surrounding elements, devastate buildings, abandoned places, industrial vacancies, and forgotten recesses.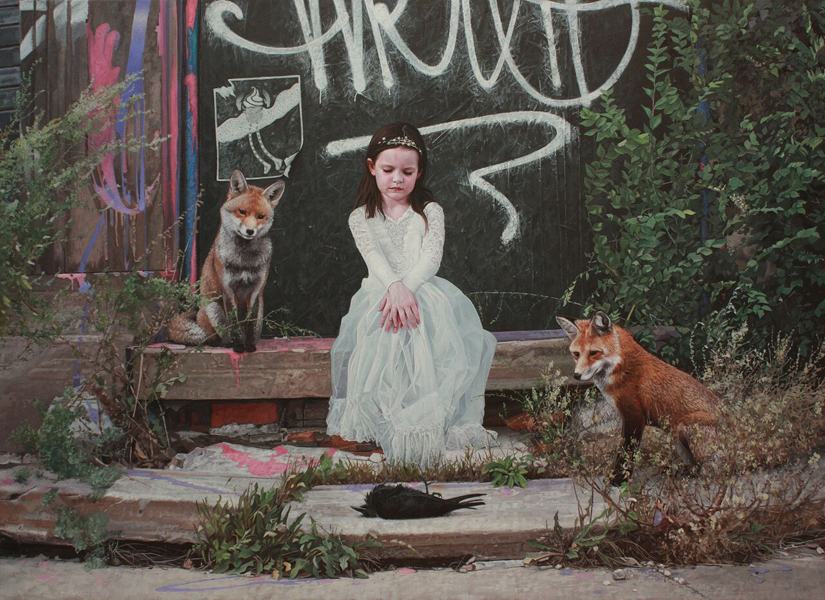 Youthful Portraits and Vintage Imagery by Amanda Marie
Another solo shows that explores the topic of innocence and solitude will be on view simultaneously with the exhibition of paintings by Kevin Peterson. The Light Touch exhibition of works by American stencil artists and painter Amanda "Mando" Marie portrays a dreamlike world also composed of children and animals. Her work is influenced by old school graphics and sewing patterns but also an array of illustrations coming from the 1940s Little Golden Book era. Though this world may seem capricious and fun, it also retains a darker side that makes the viewers agitated and restless while observing it. Through depictions of kids play, the artist explores an array of both lighthearted by also mature and sinister themes. The atmosphere of uncertainty is depicted with the technique of twining and multiple repetitions of motives. Amanda "Mando" Marie's artworks retain a vintage design as the artist uses muted color palette and graphic patterning to convey the emotion of nostalgia.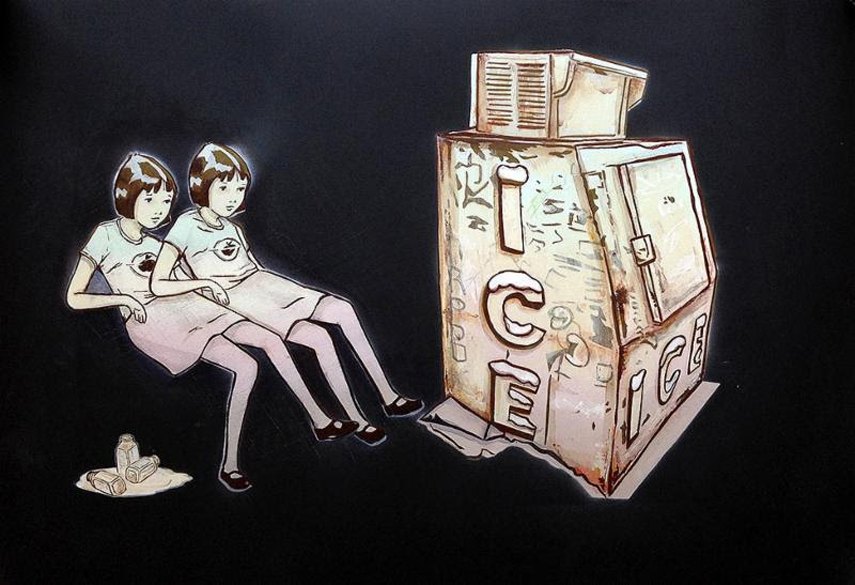 Paintings and Site-specific Murals in LA
Sovereign exhibition featuring new body of work by Kevin Peterson will be on view at Thinkspace gallery's main room while The Light Touch solo show by Amanda Marie will be on display at the gallery's project room. Alongside numerous artworks made on canvas, paper and movie screens, The Light Touch exhibition will also include a mural installation and a public site-specific street artwork in Los Angeles. Both exhibitions will run simultaneously from August 20, until September 10, 2016. The visitors of both exhibitions in Culver City, LA will have the opportunity to meet the artists that will be attending the opening receptions of their upcoming shows.
Featured images : Amanda Mando Mori - Adventuring ; Kevin Peterson - Dream ;  Kevin Peterson - Offerin ; Amanda Mando Marie - Growth ; Amanda Mando Marie - Get Thee Behind Me ; Kevin Peterson - Scrap or die ; Amanda Mando Marie - Made To Bend ; All images courtesy of Thinkspace Culver City, LA