Focusing on contemporary Urban Art, the First Amendment Gallery showcases both local and international artists. Located in downtown San Francisco and Oakland, the gallery is passionate about exhibiting, teaching, painting, and archiving the Street Art movement while inspiring the public to use their voice with this art form of the freedom of speech. The latest group exhibition at the gallery will bring together artists working in the abstract realm. For this show, the gallery has blended local and nationally based artists who have already positioned themselves on the international art scene. Titled Which Way, That Way, the exhibition will welcome Adam Friedman, Anthony Hurd, Clark Goolsby, Dan Hampe, Dan Lam, David Cooley, Ellen Rutt, Andrew Antonaccio, Francesco Lo Castro, Hoxxoh, Jose Di Gregorio, Katy Gilmore, Kristin Farr, and Optimist.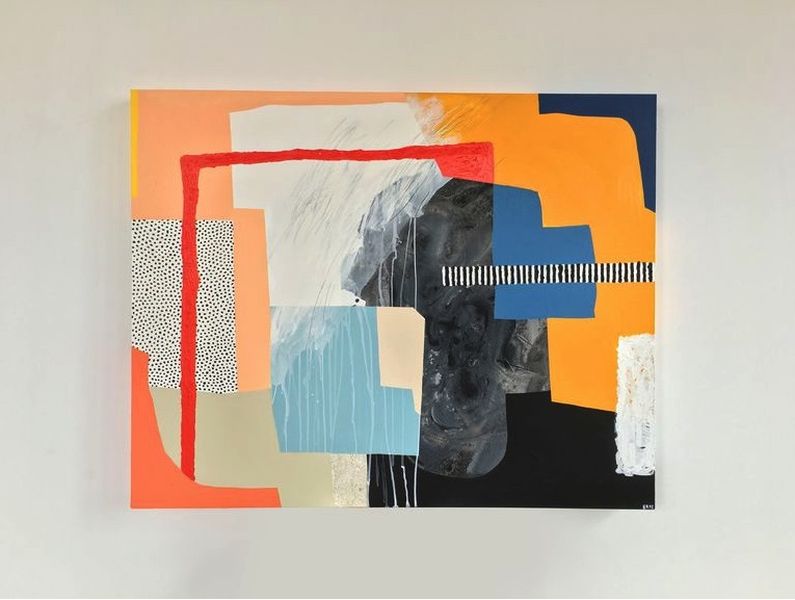 Adam Friedman, Anthony Hurd, Clark Goolsby and Dan Hampe
A Portland-based artist, Adam Friedman is fascinated by how various cultures throughout history have attempted to define and relate to the natural world. His works explore how modern technology and the ever-increasing interface with the Internet filters perceptions of the landscape. On the other hand, Anthony Hurd creates images that seem to arrive to us from some distant land. He depicts psychedelic landscapes of perilous beauty. Drawing from his interest into how we maintain optimism in the midst of myriad potentially life-ending situations, Clark Goolsby creates imagery that often references mortality, the passage of time, and mutable perceptions of space. With a style rooted in the romance of expression, Dan Hampe has created a surreal world of geometric shapes, layers of drippy oil paint, and perspectives.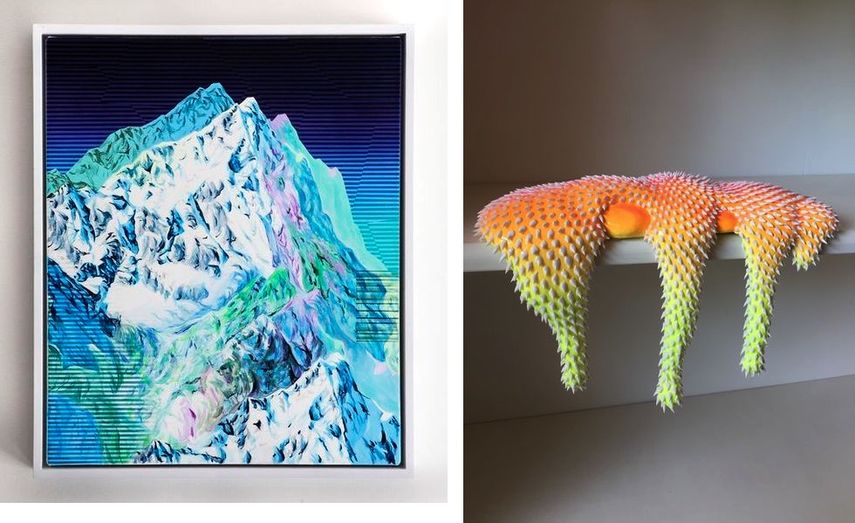 Jose Di Gregorio, David Cooley, Ellen Rutt and Francesco Lo Castro
Born in Puerto Rico and growing up in California, Jose Di Gregorio works on either paper or wood. His recent works reflect stylized landscapes at night, coupled with either simple rainbow arches or layers of overlapping white geometric lines. Based in Santa Barbara, David Cooley creates intricate multi layered, multi dimensional mixed media paintings using mostly acrylic, resin, spray paint, pen and fabric, to achieve an effect in and of his own. A Detroit-based multi-disciplinary artist and designer, Ellen Rutt has penchant for stimulating patterns and designs. On the other hand, Italian-born and South Florida-based artist Francesco Lo Castro employs unorthodox painting techniques that involve the intricate layering of pigment and resin to achieve a heightened sense of dimension and depth, creating colorful compositions that depict a kaleidoscopic vision.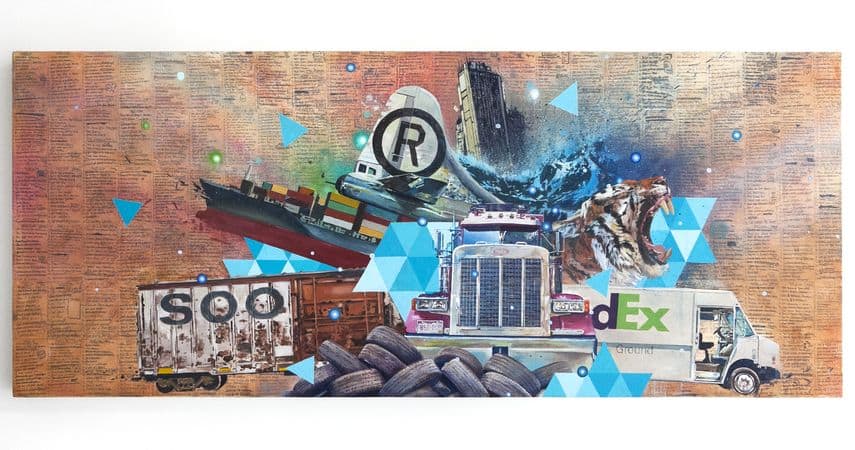 Hoxxoh, Dan Lam, Katy Gilmore, Kristin Farr, Andrew Antonaccio and Optimist
Born in the Philippines, the artist Dan Lam is known for her vibrant, free-standing, drippy sculptures that resemble exotic organic matter from another planet. Graduating in color and size, these sculptural blobs are covered in skin of hard spikes. A Miami-based artist, Hoxxoh attempts to show us a different way of viewing time through a means of exploring its natural fabric, creating a new foundation and approach to evaluating and appreciating it. Working in sculpture, installation, and drawing/painting, Katy Ann Gilmore is currently influenced heavily by topography and the relationship between 2D, perpendicular planes and their distortions into 3D space. On the other hand, Kristin Farr makes paintings that are directed by color and influenced by folk art practices. Focusing on the juxtaposition of traditional aesthetics and the digital medium, Andrew Antonaccio creates abstract compositions out of archived images and modern photography. Lastly, Optimist is known for his effortless hand styles and his highly rendered acrylic paintings. He processes and interprets the symbols of his environment and reorganizes them into his unique visual language.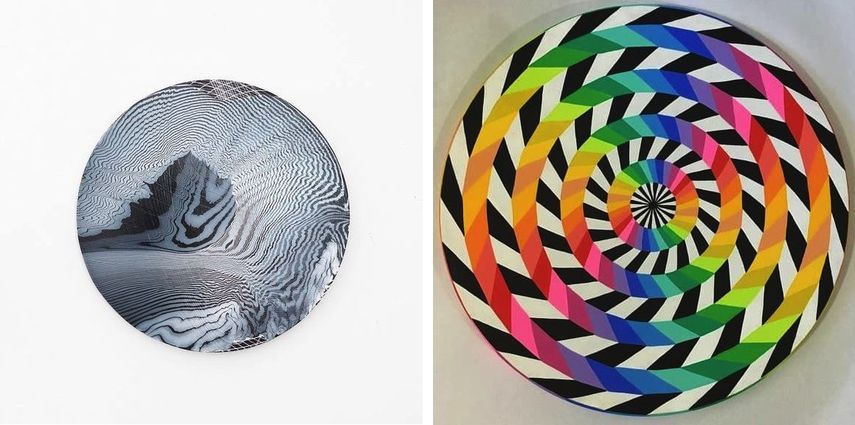 Abstract Art Exhibition at First Amendment Gallery
By creating a cultural space and community of artists, fans and like-minded organizations, the First Amendment Gallery aims to progress the artistic freedom of speech. The diversity of artistic expressions showcased at the exhibition Which Way, That Way highlights the relevance and inventiveness of contemporary abstract art. The exhibition will be on view at the First Amendment Gallery in San Francisco from August 24th until September 21st, 2017. The opening reception will be held on Thursday, August 24th at 7 p.m.
Featured images: Katy Ann Gilmore - Fold Number 5, 2017; Clark Goolsby - Five Paintings, 2017; Katy Ann Gilmore - Overlap Number 1, 2017; Dan Lam - Signal, 2017; Dan Hampe - The Heart of Saturday Night, 2017; Katy Ann Gilmore - Portal Number 13, 2017; Jose di Gregorio - Diamond Below Earth, 2017; Jose di Gregorio - Weight Of All, 2017; Hoxxoh - R11 Transfer, 2017; Hoxxoh - R12 Transfer, 2017; Francesco Lo Castro - Alpha Skygate, 2017; Francesco Lo Castro - Fervent Legacy, 2017; Francesco Lo Castro - Fleeting Empire, 2017; Anthony Hurd - Aggregate, 2017; Adam Friedman - Dither #1, 2016; Kristin Farr - Magic Hex Sign #1. All images courtesy of First Amendment Gallery.