For most people, things we don't use, that don't have any sentimental value we through into the trash. For Robert Larson, this is where he makes his art from. The California-based artist is a collector of sorts, mostly of unusual things that can be found in trash. His ability to find value and beauty in dumped things and transforms them into art is what has become his signature sign throughout the years. Now, Larson has prepared a completely new body of work comprised of discarded packages and remnants of commercial products on linen that he will present to the viewers at the inaugural exhibition 2015 with Joshua Liner Gallery in New York. With a rich career lasting over twenty-five years, the artist will try to connect with the audience using everyday objects and scrap giving them a new form, meaning and context.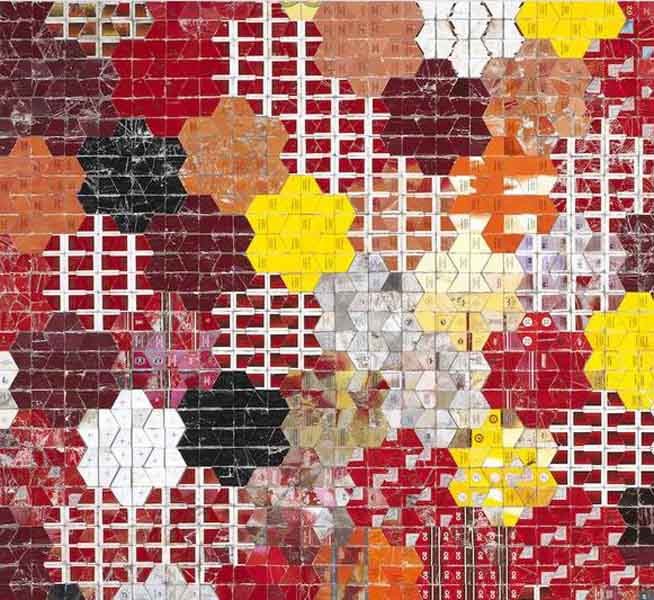 Finding Treasure In Trash
Robert Larson is a scavenger, a collector, a wanderer, an urban alchemist transforming the basest of materials - discarded trash - into works of tessellating mosaics, rich in color, tone, and pattern. Larson, unlike most people, sees trash as a unique treasure that he's been collecting and documenting. The palette for Larson's work include matchbooks, gum wrappers, lottery tickets, and discarded cigarette packages— items that are remnants of human consumption and an impression of the urban landscape. However, the basis of Larson's work is his interest in transformation. In his latest exhibition entitled American Bloom opening in two weeks, the artist finds two references – the first one alludes to the popular American Spirit cigarette package, and the second one, "Bloom", suggests a dynamic transition from minute and easily overlooked matter to something much glorious and inevitable. The artist explains, "In this show, I'm working with forgotten materials collected from the streets, sidewalks, empty lots and back alleys of America. All of my work takes an object's original physical form, along with its inherent and topical meaning, and turns it into something entirely new."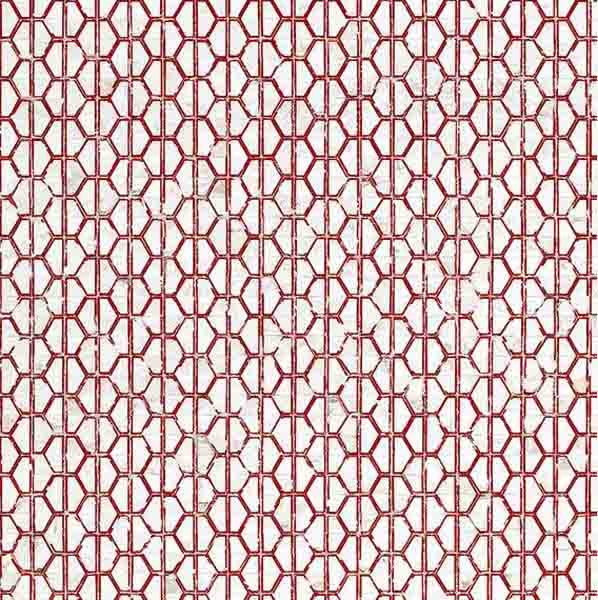 Months of Exploration
However, the artist's search for discarded packaging is not simple and random, as one might think. Larson spends days scouring neighborhoods and cities in order to find perfect materials and patters for his work, which can take months or even years to complete. Other important factors that influence the condition of the material are sun bleaching, water damage and decomposition the identical cigarette boxes into unique pieces. Working on numerous artworks simultaneously, Larson's work is very systematic – the artist searches a catalogued library of collected materials; organized by their level of degradation, color scheme and even brand name.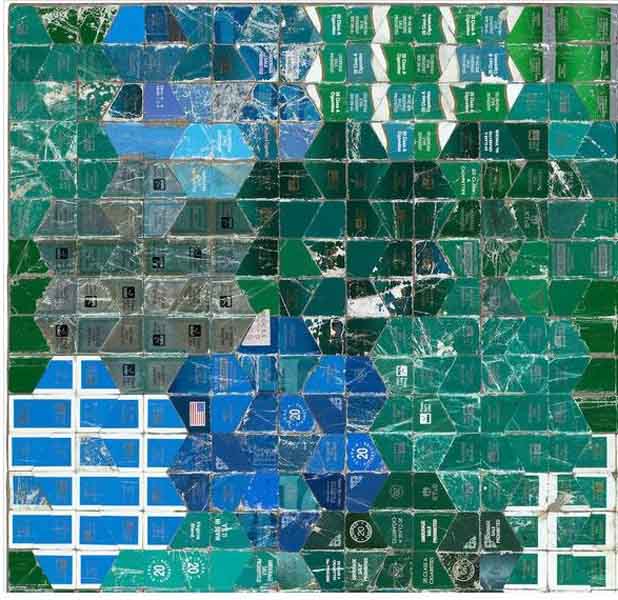 On View For A Month
The new Larson's exhibition entitled American Bloom that opens January 15th at Joshua Liner Gallery in New York is comprised entirely of discarded American Spirit cigarette packages. It is a great presentation of months of hard work - hues of the brand's classic yellow, splashes of menthol greens, earthy tones, and a fire orange from the ultra light packaging that form a vibrant floral pattern – common motif in his work. Stop by the Joshua Liner Gallery until February 14th and explore, along with the author, new layers of visual and symbolic meaning.
If you want to know more about Robert Larson's upcoming auctions, sign up for My Widewalls today!