The Ameringer | McEnery | Yohe gallery in New York is proud to announce the exhibition by Los Angeles based artist Patrick Wilson. In the latest exhibition Patrick Wilson remains true to his highly organized, translucent, geometrical style and paintings which demand careful observation. Abstract figures in his artworks are aligned in a logical manner yet overlapping objects equip his paintings with a touch of madness. Calm surfaces are disrupted by movement, intensity and speed of colorful lines. Conflicts are reconciled and nothing is absolute except perhaps artist's love of geometrical abstraction.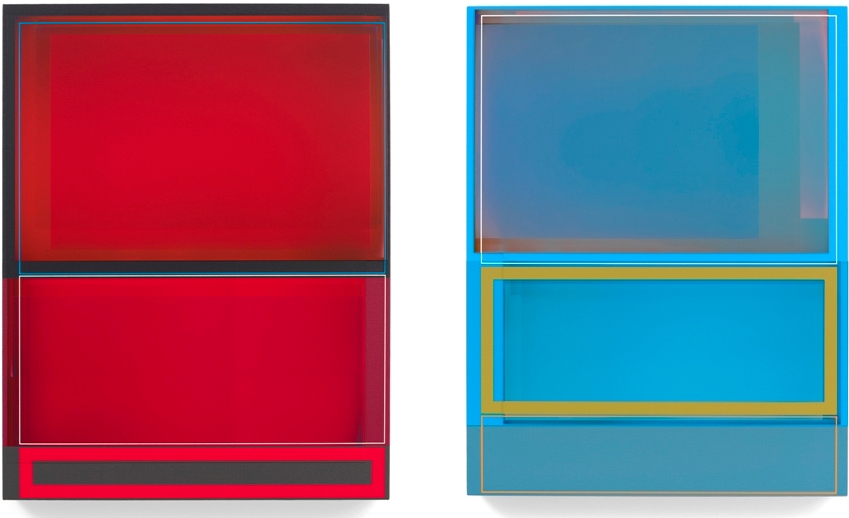 Geometrical Shapes at Ameringer | McEnery | Yohe
Patrick Wilson's artworks are packed with geometrical figures, rectangles, squares and lines that overlap to create compositions that seem multidimensional. Each individual square has an appearance of a separate painting placed on top of each other or coming out each other creating the illusion of looking at a sculpture. The use of geometrical shapes is categorical and there is no room for a single curled line on Patrick Wilson's canvases. Angles are straight, edges are sharp and surfaces balanced by a subtle color-transitions. The texture is sometimes luminous and glassy and other times matte or smoky vigorously demonstrating the superb virtuosity of the painter. The squares are meticulously organized and proportional providing the paintings with a tidy but elegant appearance.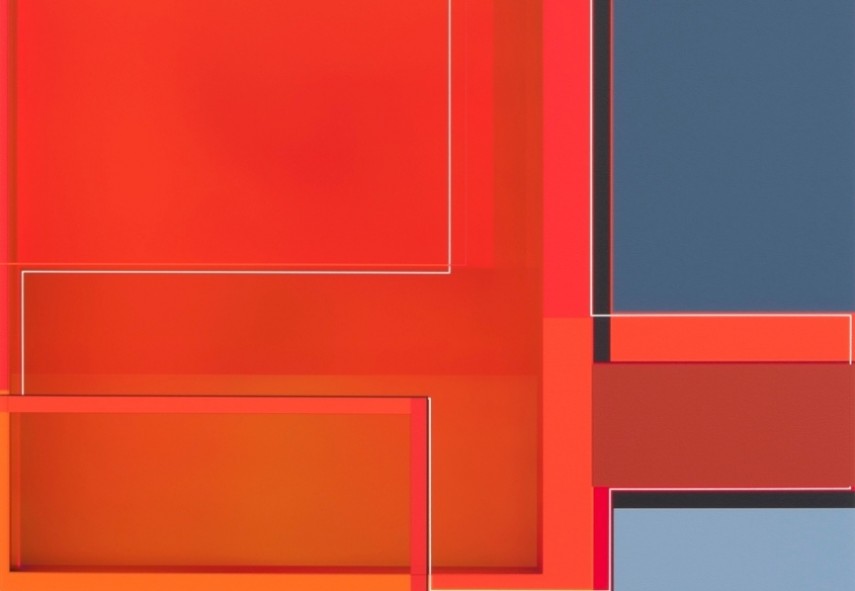 The Colorful Journey of Patrick Wilson
The colors in Patrick Wilson's works are adjusted by numerous layers of acrylic paint applied with drywall tools and paint rollers. His artistic palette is truly extraordinary. The colors vary from calming turquoise and white to vibrant red and blue and they are associated with places or object listed in the titles of the images. At the upcoming exhibition at Ameringer | McEnery | Yohe gallery, Patrick Wilson takes us on a journey through the sites of California which inspired him, such as Elysian park in central Los Angeles or the city of San Antonio in California. They are presenting in a way most appealing to his style. Berkeley for instance, is represented by vivid and complex shades of blue and green. San Andres on the other hand, is painted in flaming red while Santa Monica had gotten a bright white artistic portrayal. Even Suggestion and Possibility aren't loaded with chromatic variations and diversity of shape, but are straight and squared undeniably formed by the artist's devotion to geometrical abstractions.
Patrick Wilson in Ameringer | McEnery | Yohe
The exhibition of Patrick Wilson's acrylic artworks in Ameringer | McEnery | Yohe will be opened on May 28th. Public reception with the American artist will be held on the same day from 6 pm to 9 pm. Patrick Willson has graduated from the University of California and have had many exhibitions in galleries and museums over the globe. Defined by its simple shapes and complex compositions his acrylic paintings manage to conjure conflicting feeling within viewers. Calmness evoked by the soft colors in his works is interrupted by the sharp lines while rigidness of painted object gets broken by the frenzies of his compositions. The exhibition closes on July 3rd, 2015.
Colour your day with numerous shades by signing up for My Widewalls
Featured images : Patrick Wilson - Field Day ( detail ), Patrick Wilson - Berkeley ( detail )
All images courtesy of the artist and Ameringer | McEnery | Yohe, New York, NY