For centuries, portraiture as a genre was developed and exploited by the Western civilizations, becoming almost entirely focused on white people. Although modernism created a space for each individual to explore themselves regardless of race, gender, or sexuality, practically it wasn't until after World War II that a larger number of Black artists started emerging and penetrating the inherited canons of representation.
Nowadays, in light of postcolonial studies, artists belonging to the African diaspora worldwide stand out with the articulation of their own identities and cultural heritage. One of them is Amoako Boafo, a young painter who is using the traditional medium of painting as a tool for navigating the complexities of human experiences in the context of Blackness.
Chicago-based Mariane Ibrahim Gallery will soon present Amoako Boafo's solo exhibition titled I STAND BY ME, featuring never before seen works that emphasize the notion self-reflection, independence, and autonomy during the time of crisis.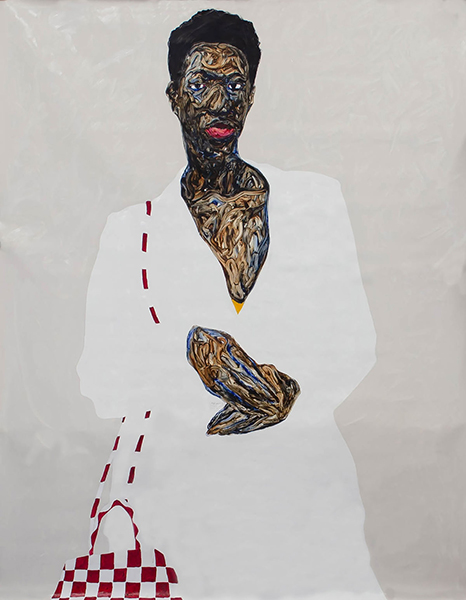 The Promising Advocate of Black Representation
Amoako Boafo is a Ghanaian painter living and working between Vienna and Accra and is recognized as the burgeoning voice in the African diaspora for his astonishing portraits that explore and celebrate the Black representation. Boafo is attending the Viennese Academy of Fine Arts, and in 2017 he received Walter Koschatzky Art Prize. His works are collected by private and public collectors and institutions, and have been performing very well in auction over the past year.
What characterizes Boafo's portraiture is a translation of both classical and modernist heritage expressed by the way he fits the figures within the frame of the canvas and positions his signature in a small box. His portraits seek attention to establish communication and send out the bold statements that Boafo stands for.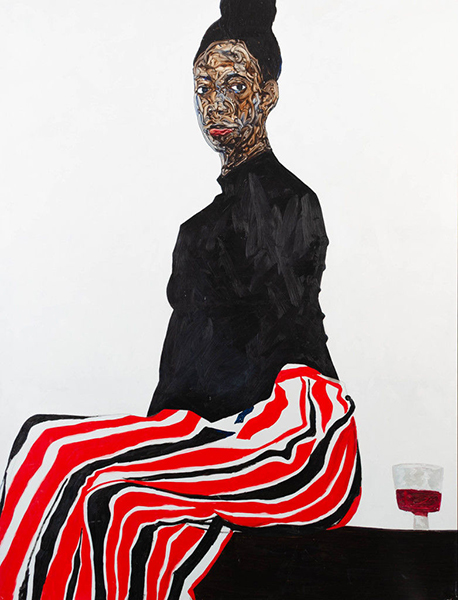 The Works
The upcoming exhibition tends to accentuate the development of Boafo's technique and the figurative language and the general tendency towards minimalism. By reducing or leaving behind all that is unnecessary, Boafo creates a slightly mysterious, but more dynamic environment to represent his subjects.
For these particular works, the artist used sourced European wallpapers to examine the possibilities of the transfer method and establish a new set of liaisons between his composition and stylistic influences. Furthermore, this technique enables him to expand his practice of finding new approaches to the portrayal as a genre.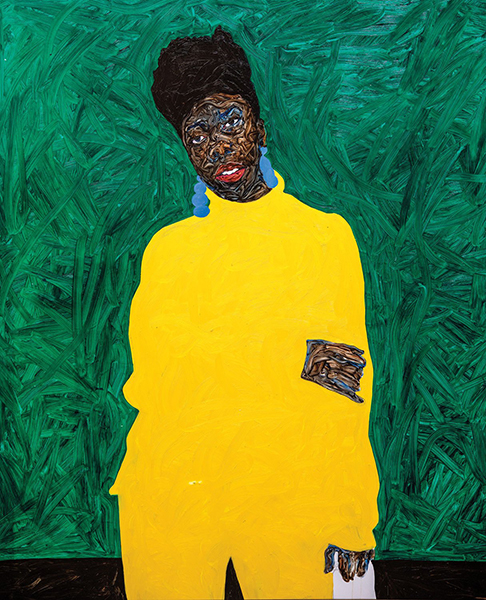 Amoako Boafo at Mariane Ibrahim Gallery
It seems that the upcoming show will underline Amoako Boafo's urge to celebrate the powerful Black designers and creatives, and to dismantle the canonical, often white gaze.
I STAND BY ME will be on display at Mariane Ibrahim Gallery from 10 September to October 24, 2020.
Featured image: Amoako Boafo - Green Beret, 2020. Courtesy the artist and Mariane Ibrahim.