Amrita Sher-Gil, a pioneer of modern Indian art often referred to as India's Frida Kahlo, flashed through the Indian artistic horizon like a fiery meteor. Masterfully blending traditional and Western art forms, she placed women and their bodies at the center of her extraordinary art, scandalizing audiences around the world and securing a place in art history. Her female forms were at once sensuous and vulnerable, depicting women as both subjects and objects. The painter also used her brush to depict the daily lives of Indian women of her time, often revealing their loneliness and despair. With her truthful painting, she captured the full of the heat and dust of 20th-century India as it emerged from a century of British rule.
The daughter of a Sikh aristocrat and a Hungarian opera singer, Amrita Sher-Gil led a life as compelling and unorthodox as her art. Always having a rebellious streak, she plunged into everything that life had to offer. Unfortunately, Amrita died young at the age of 28, just as she was gaining widespread popularity. During her short but productive career, the painter left behind a substantial body of works which influenced generations of Indian artists.
However, the artist has been overlooked for decades, only recently receiving the recognition she deserves.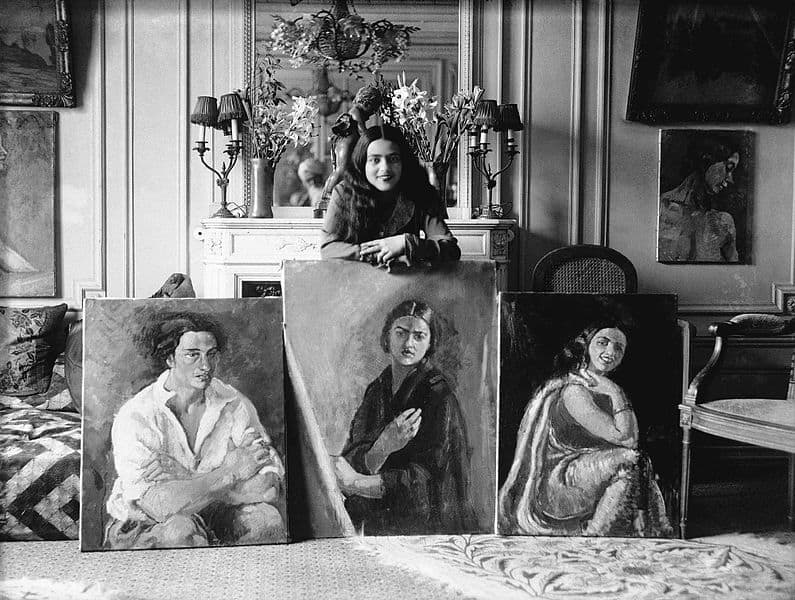 Blending European and Indian Influences
Born in 1913 in Budapest, Amrita Sher-Gil spent her early childhood in Hungary, before her family moved to the family estate at Shimla, India in 1921. He father, Umrao Singh Sher Gil, was a Sikh aristocrat with a deep scholarly interest in Sanskrit and astronomy and her mother, Marie Antoinette Gottesmann was a Hungarian opera singer. Her early childhood spent in Budapest was recorded with her father's camera, who was also a skilled photographer, providing an insight into both Amrita herself and European and Indian high society in the 1920s. These images show Amrita with her mother and father living an idyllic, privileged lifestyle so different from the India she would go on to paint in later life.
She showed interest in painting at an early age, taking formal lessons at the age of nine and completing her formal studies at the École des Beaux-Arts in Paris at the age of sixteen. In Paris, she was greatly influenced by European painters like Paul Cézanne, Amedeo Modigliani and Paul Gauguin.
"I painted a few very good paintings," she wrote to her mother in 1931. "Everybody says that I have improved immensely; even that person whose criticism in my view is most important to me — myself."
Sher-Gil painted her Bohemian life in Paris, her friends, and a series of self-portraits, which showed her grappling with her own identity caught between Europe and India. The influence of Western painting traditions is apparent in these early works, most notably in Young Girls from 1932, for which she was awarded a gold medal at the Grand Salon of 1933.
Despite her early success in Paris, the artist increasingly longed for India. The painted finally returned to her home country in 1934, finding the inspiration she needed as she traveled around the country and reconnected with its people. At this point, her ways of seeing changed radically. This was the beginning of her life-long journey of trying to decode the traditions of Indian art.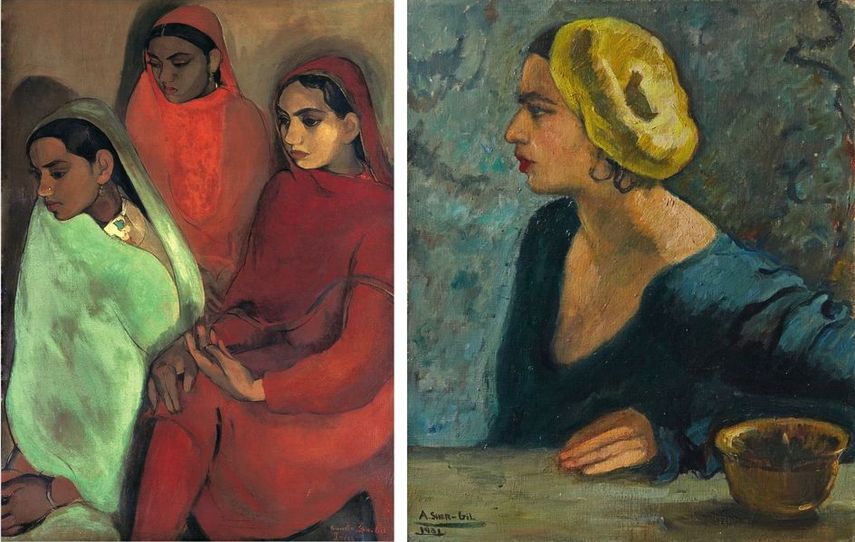 Rediscovering Herself in India
Looking at the Indian art with a fresh eye, Amrita Sher-Gil became excited by the Indian miniature traditions as well as the Mughal and Ajanta paintings. While traveling to the southern parts of India, she became deeply moved by the plight of the unprivileged people she met along the way. This propelled a dramatic shift in her visual language and subject matter. She started using a palette saturated with intense reds, ochres, browns, yellows and greens and depicting her land and its people, giving voice and validity to their experiences.
Although this new style diverged greatly from her previous works, it was interspersed with what Amrita Sher-Gil had learned in Paris. At the time, she wrote to one of her friends, saying that Europe belonged to the likes of Picasso and Matisse while India belonged to her. While blending European and Indian traditions, these works also reflected a dichotomy of her personality. On one side, Amrita was passionate about everything life had to offer, on the other, she harbored a deep sense of melancholy.
Steering clear from sentimentality, she filled her canvases with farm workers, camel drivers and nurses. She especially focused on capturing the reality of Indian women, depicting them at the markets, weddings, homes or bonding with other women. Weaving narrative elements of miniature paintings in her work, she created intimate portrayals of domestic and everyday scenes, endowing them with both sense of poetry and melancholy. Unlike usual depictions in India at the time, where women were cast happy and obedient, her subtly expressive representations conveyed a sense of silent resolve. A female body characterized by a passive sexuality emerged as one of her favorite subjects.
Some of her most notable works from this period are the painting Three Girls from 1935, depicting three young Indian women sitting passively as if anticipating their predestined future; the painting The Wedding Party, capturing the isolated lives of women whose inner worlds seethe with boredom and resignation; as well as paintings Siesta, Village Scene, and In the Ladies' Enclosure, all representing the poor state of the unprivileged and women in the country.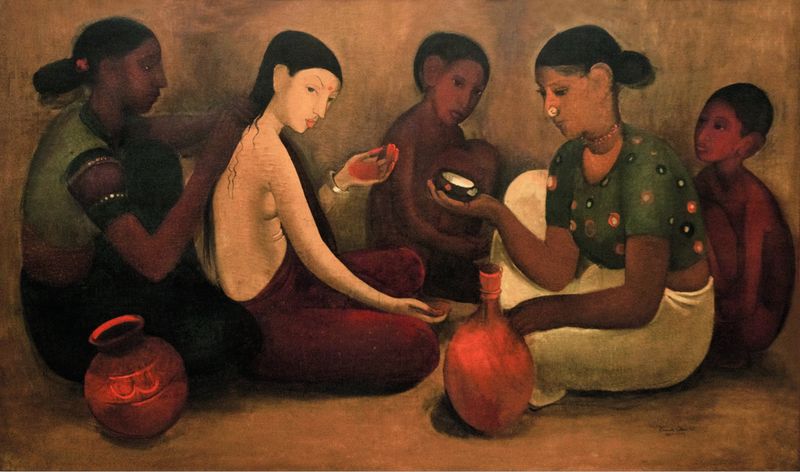 The Legacy of Amrita Sher-Gil, an Overlooked Art Master
Bold and free-spirited, Amrita Sher-Gil led a pretty carefree life full of sexual adventuring. As she explored her sexual identity, she had numerous relationships with both men and women, "partly as a result of her larger view of woman as a strong individual, liberated from the artifice of convention," as explained by her biographer Yashodhara Dalmia. At the age of 25, she married an impoverished cousin from the Hungarian side of her family, the doctor Victor Egan from Budapest, seeing marriage as a way to gain independence from her parents. Egan had a special bond with Amrita since her childhood, even performing two abortions for her. Unfortunately, their marriage was short-lived, as Amrita died in 1941 at the age of 28. It is speculated that her death resulted from complications of yet another abortion. She had just begun to gain international recognition and started taking commissions.
During her short, but incredibly rich life, Amrita Sher-Gil emerged as an outstanding artist, creating a seminal body of work which expressed the diversity and range of her interests. The painter masterfully blended her concerns with Indian reality with the aesthetics of modernism. Considered a pioneer of modern arts in India, her visual language introduced a range of new elements into modern Indian art, opening up possibilities for future generations of artists. At the same time, her portrayal of women's plight served as a beacon for women at large both in Indian and abroad.
Amrita's body of work remains an important part of Indian art history. The Government of India declared her works as National Art Treasures, and most of them are housed in the National Gallery of Modern Art in New Delhi. In 1978, India Post released a stamp of her painting Hill Women, and the year 2013, the 100th anniversary of her birth, was declared as the international year of Amrita Sher-Gil by UNESCO.

Editors' Tip: Amrita Sher-Gil: Art and Life by Yashodhara Dalmia
Commemorating the centenary of the birth of Amrita Sher-Gil, this collection of essays maps her creativity and life - ranging from the early writings by past masters to modern and contemporary critiques. Along with contributions by Karl Khandalavala, Charles Fabri, and Giles Tillotson among others, the book includes two essays by Amrita herself that recount her journey and her work, and a novella by Charles Fabri, set in Lahore, which is a fictionalized account of a struggling artist, based on Amrita's life. Edited and with an introduction by Yashodhara Dalmia, with more than 70 rare black and white and color visuals, this volume explores the genius of an influential avant-garde artist who holds an important position in arts history.
Art and Life of Amrita Sher-Gil
Featured image: Amrita Sher-Gil - Self-portrait (detail), 1931. All images via Creative Commons.