In 2010, a group of artists-slash-entrepreneurs came together to form Project Amsterdam Street Art. Since then, the aim of ASA has been to promote the style of street art, both indoors and outdoors. In all their projects, ASA rarely works alone, choosing to adopt a cooperative attitude – sometimes with the city government, though mostly with art galleries or other art organizations. Their closest partner throughout the years has been Amsterdam's GO Gallery, the first gallery in the city to promote street art as a legitimate art form.
Over the past six years many international artists have been invited to participate in ASA's events, and in turn the ASA team have expanded their activities beyond the city and the country to participate in international events, such as Miami's Art Basel. Now, they are but a few days away from presenting the first ever Dutch Street Art Awards - what looks to be a new tradition in the making. We caught up with Lars (Beazarility) from ASA to find out more about how they operate and the many future plans they have in store.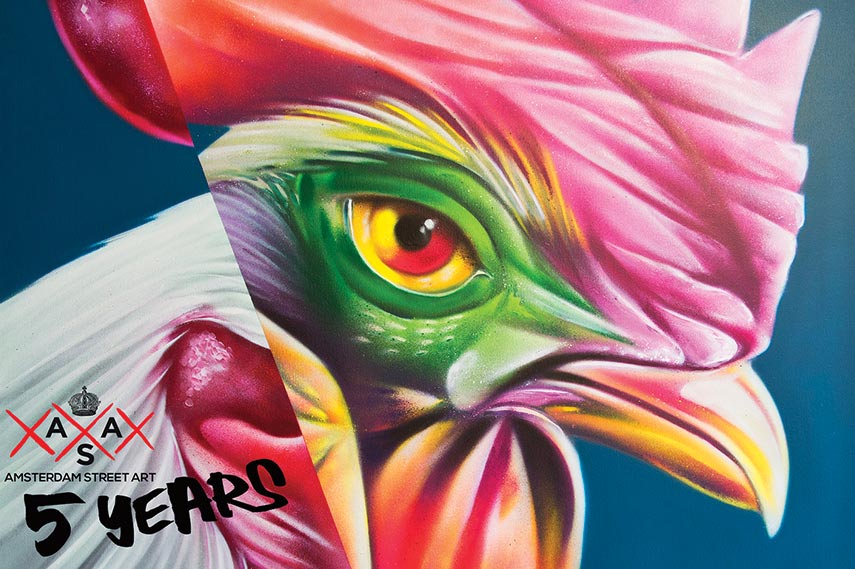 Amsterdam Street Art at Home and Abroad
WideWalls: What do you think distinguishes Dutch street art? What sets it apart?
Lars: I'm not sure if it's totally different. I think Dutch people will always try to put something Dutch in it, but I think it's pretty similar to the rest of the world.
WW: ASA has organized a summer-time program since 2010, the same year that the organization itself started. Every year you work alongside the city of Amsterdam to organize these events. How did you first approach the city, and how has the cooperation changed over the years?
L: The cooperation is actually not that good with the government of the city of Amsterdam. For the past five years we simply try to do as much as we can by organizing festivals or pop-up shows, exhibitions within the Netherlands and also outside of the Netherlands. But our experience with the government of Amsterdam is pretty tough. It's not that easy to get things done, or to receive cooperation from them.
WW: I remember that in ASA's first year you invited street artists to paint over the city's iconic "I AMSTERDAM" letters. That gave me the impression that the city was welcoming this type of project.
L: Well, yes and no. One moment there's maybe one man behind the desk of the city government who thinks "this is cool, we are going to help you guys", and the next moment it's like we don't even exist. For example, in 2014 we went over to Miami for Art Basel and we tried to agree with the government of Amsterdam to get certain things done. We planned to organize an Amsterdam art fair in Wynwood, to promote our city and our artists in the US. Art Basel is huge - people from all over the world go there. At first they did want to help us, they even promised that we could get the I AMSTERDAM letters to bring abroad, to put them in front of our exhibition. Then, at the last moment, they cancelled everything. So, it was pretty frustrating.
Also, for instance, some months ago we did a big mural in an alley in the Red Light District - and afterwards I suddenly see on Facebook that the government and even the police has shared a video denouncing this. So, for some reason, one moment they agree with what we do, they push it, they like it, and the next moment they don't know us.
WW: So it's pretty obvious that the city uses street art when it's convenient.
L: When it's convenient. When they think, "ok, now we can use it", then they use it. Otherwise, we are just cast aside.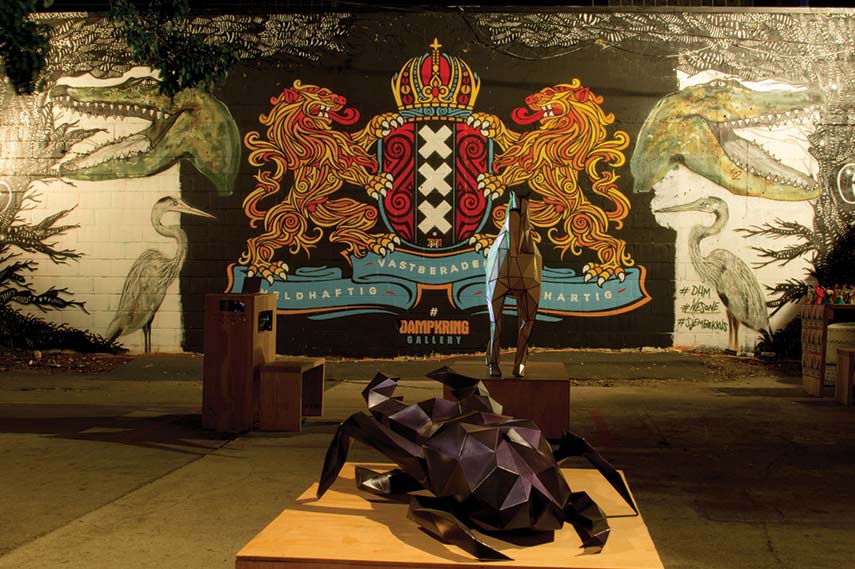 Future Plans and Partnerships
WW: Like I mentioned before, most of ASA's activities take place in the summer. What's the plan for this summer?
L: Well, firstly we have been very busy with the upcoming Dutch Street Art Awards. After that, we have plans for this one place that is not far from Amsterdam - it is sort of like a graffiti Valhalla - a place that until now not many people know about. International artists go there to paint, they do crazy things over there, it's a very huge space - but it's by invitation only. We have good contact with the owner of the place and we're talking about doing some sort of collaboration - not just an exhibition, but more something that would be like a complete experience. So, we are planning to do this. But our organization is always open for new creative adventures, so feel free to send us your ideas!
WW: And what is the partnership between GO Gallery and ASA?
L: Well, we have our office in the back of the gallery and, apart from this, the owner of the GO Gallery has been part of our organization from the start. Also, he helps us to help other artists. For instance, if someone is new in the scene, he can come to us, and if we like his or her work we can give him a place in, for example, a pop-up shop. What's the next step after that? It's to show in a gallery or maybe an exhibition outside of the Netherlands. So, this is something that he helps us arrange, when we think someone has potential.
WW: When did the GO Gallery start working with street artists, and what was the art market scene at the time? Was it one of the first galleries in Amsterdam to deal with this kind of art?
L: Yes, they were the first gallery. GO Gallery exists now for eighteen years. It is around sixteen years now since they started working with (post) graffiti and street art. The first group exhibition where The London Police participated was in 2003. Around that time, they also introduced the big TLP mural, around the corner from the gallery. This also started a lot of conversation in the neighborhood, and also the government had a lot to say about it. It was a big hassle to arrange this and to get it done. So, when it was finally done it was a good thing to showcase as a gallery - it's like saying "this is what we stand for". From that moment, I feel like street art became more accepted and more accessible for a lot of people.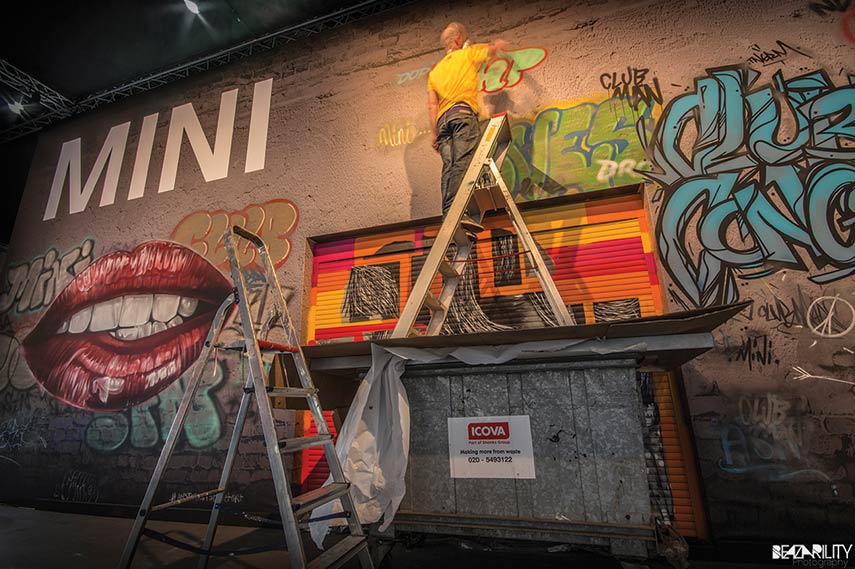 Talking about the first ever Dutch Street Art Awards
WW: How did the idea for the Dutch Street Art Awards come up?
L: The founder of ASA, IVES.one, first suggested it a few months ago. Almost every day we are brainstorming ideas for projects that we could do. He first mentioned it and maybe a few days later, after thinking about it, I thought, "this can be good", so I called him and told him - let's do this. We think now is a good time to do something like this. At this moment there are many big brands that are accepting street art - they are asking street artist to cooperate with commercial projects. So I thought that, before any big brand thinks to do something like this, that we, as a street art organization, should be the ones to do this.
We don't want this to be an ASA event, because street art here goes way further than just Amsterdam. So, we are now involved with Boomerang and other partners to make this a big success.
WW: I noticed that for the awards you have included the category 'Awesome Advertising'. Does this mean that you're embracing the idea that street art can be used as a marketing tool?
L: Well, this is a very good and difficult question. From the moment that IKEA launched their street art campaign with ten different street artist from all over the world, we got mixed feelings about this. Me, as an artist, if they would ask me to do something like this I would say, "this is great". But otherwise you get the feeling maybe that this is something that you should not do. So, it's difficult to answer. But I do think that the big brands - like IKEA or like Hyundai - they are asking street artist to get involved with these commercial things, but they take the benefit, not the artist.
So, what we think is that of course we want to mention that IKEA has done a good job by participating with street artists, but we want to put the artist on the spotlight. When Hyundai does a street art advertisement - it's all about Hyundai. They use the street artist, but they don't put the artist on the spotlight. The product is the spotlight. For the awards we will mention the brand name - but it's all about the artist.
WW: What would you say is the difference between working commercially with a brand and working commercially with a gallery?
L: I think there will always be a commercial side to art. But if you are an artist, you want to sell your art as art. This is your main goal.
WW: For the Dutch Street Art Awards, you also have the 'Video Virtuoso' category. With this you are basically recognizing that multimedia is a growing trend among street artists?
L: True. Still, it's difficult to share these projects on our Facebook page, if you want to get those likes, because people's expectations for this type of work are quite high. But I do think that it can be a very good inspiration for many artists. It's also good to use these tools to document the work that has been done - like with time lapse videos. I think this can be very cool.
This is interesting because one defining feature of graffiti and street art used to be that it was completely non-permanent. Now with new media this impermanence has been lost, in a way.
I think this is good because, for example, in Amsterdam you have the Spuistraat, which used to be the city's graffiti and street art Valhalla for maybe the last twenty years. Now, 90% of it is gone. So I'm happy that online you can find videos and photos that show how it used to be. Street art and Graffiti has historical value.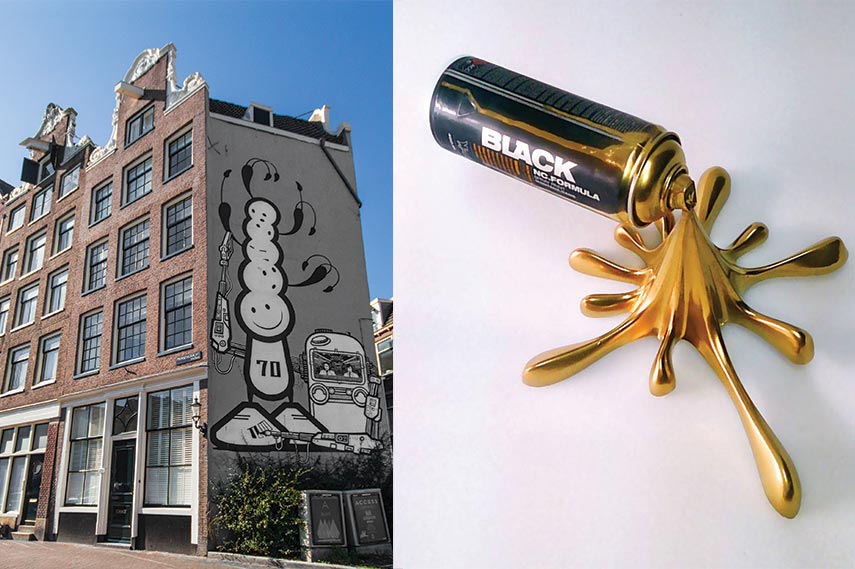 "Since we are organizing an awards show, we need to put the focus on the 'art' part"
WW: How did you choose the awards jury? They all seem to be professionals in cultural fields, but none with a graffiti or street art background.
L: We are very proud to have Ben Eine from England as the final addition to our jury. But yes, the other jury members don't have a background in graffiti or street art. Actually, since we are organizing an awards show, we need to put the focus on the 'art' part. So we need to work with the people who are, in our opinion, specialists on art.
We made it so that anyone could submit their choice to the various categories, and then from all these submissions there was a pre-selection carried out by ten people. The ten people in the pre-selection committee are individuals who are more involved with street art, like photographers, or the founders of Kings of Colors festival - people who know about and are involved with the scene. After the pre-selection, we are just talking about art.
WW: And what will be the prizes for the winners?
L: We have an artist from Zagreb, 2Fast, who has created the awards, these spray can figures. He has made ten amazing pieces out of gold.
All the nominated artists are also invited to a dinner. First we are going to have a dinner with all the nominees. Then, during the awards night we have a whole events-filled program, which includes a performance by a breakdance champion from Germany. We have also invited scratch champions to put on a show. We will also have a street art collection from a lingerie line - they will do a catwalk show and yes there will be a lot more. Finally, a big party organization from Amsterdam will end the night with the after party.
Images courtesy of Amsterdam Street Art