So imagine you walk into an art gallery - say, Jack Hanley Gallery in New York - expecting to see a collection of the usual 19th century Staffordshire figures. At first sight, that's what they appear to be, portraits of common folk, shepherds, animals, historic personages. For instance, there's a little statue of a king, standing proudly, holding a flag and a… golden penis? And what about those two other figurines, whose title is Our Dating Profiles Matched? Well, it seems you wound up seeing an exhibition of works by English artist Amy Douglas, whose practice involves the restoration of Staffordshire figurines in a very tongue-in-cheek way. Entitled The Art of Salmagundi, this series of pieces will simply make you give the past a second look.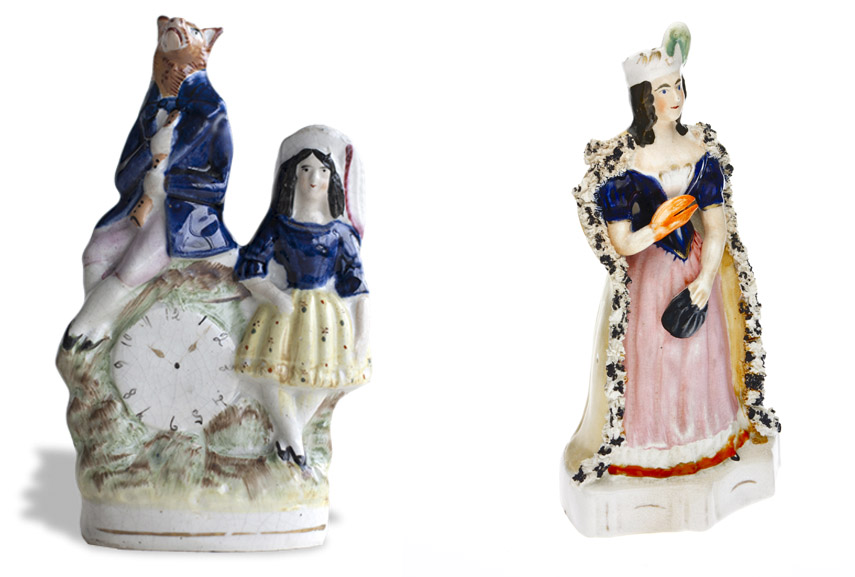 The Art of Salmagundi
A skilled ceramics restorer and porcelain hand-painter, Amy Douglas works with figures that have already been damaged or broken, that way managing to assign them a new, contemporary meaning. Her meticulous interventions do an excellent job in hiding the humorous elements that the artist embeds in her re-invented pieces, thus making them look ordinary at first glance. Perhaps what reveals them the most are their very modern-day titles, such as I Wanted To Marry A Bitch or After The Marriage She Could No Longer Hide Her Horns, through which Amy Douglas addresses the issues of couples nowadays - at the same time connecting them to their counterparts from almost two decades ago. These references are taken from literally and poetic materials, such as the lyrics of young British poet Kate Tempest.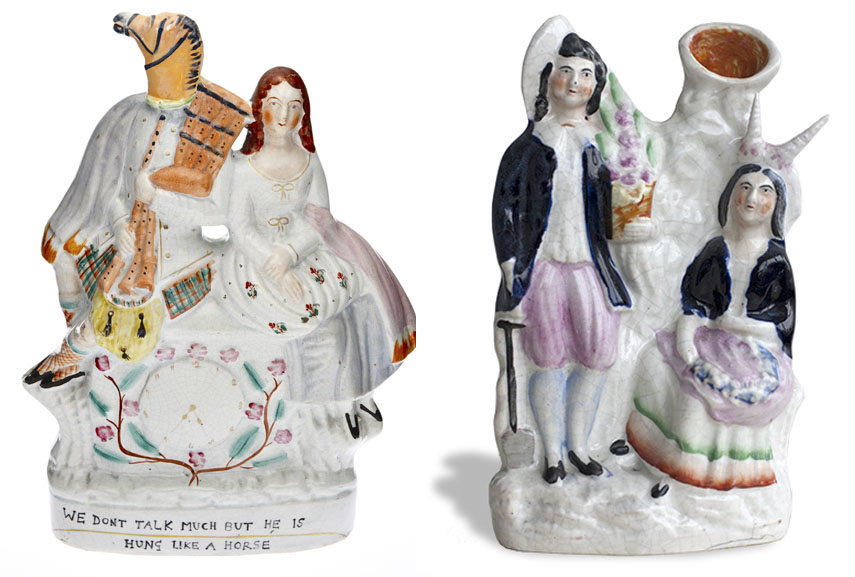 Re-Inventing the Past
The Staffordshire figures were quite common and almost an indispensable part of any British home during the 19th century. Produced in the famous industrial area of Staffordshire Potteries and bought at fairgrounds as "toys", they mostly depicted American and English characters, such as Queen Victoria or George Washington, among other things. In her art, Amy Douglas applies both modern and traditional techniques in order to bring this phenomenon back. Her efforts are also reflected in the name of the series, as "salmagundi" is an old French and Middle English word referring to a miscellany or mixture of things. Through an impeccable process of restoration, Amy Douglas preserves the original appearance of these figurines, at the same time giving them a fresh, 21st century life.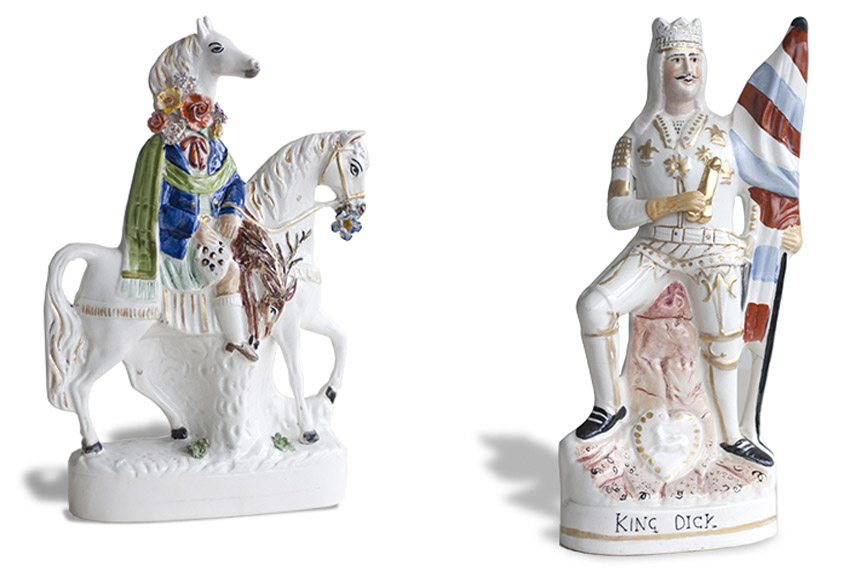 Amy Douglas at Jack Hanley Gallery
In her own words, Amy Douglas aims to deceive the viewer into thinking these are works of the past and, by the looks of it, she does it quite successfully. There's an original way to make your decade-long work as a restorer even more interesting. The Art of Salmagundi, an exhibition of works by Amy Douglas, is on view at Jack Hanley Gallery in New York City, USA, from January 8th through February 7th, 2016.
Featured images in slider: Nose Job 2, 2015. Staffordshire ceramic with hand-painting, 6.7 x 13.8 in, 10 x 8 cm; Nose Job 1, 2015. Staffordshire ceramic with hand-painting, 3.9 x 2.8 in, 10 x 7 cm; Left: The Un-Speakable In Full Pursuit of the Uneatable, 2015. Staffordshire ceramic with hand-painting, 5.9 x 11.4 in, 15 x 29 cm / Right: Our Dating Profiles Matched, 2015. Staffordshire ceramic with hand-painting, 7.5 x 12.6 in, 19 x 32 cm. All images courtesy of the artist and Jack Hanley Gallery.