Through arresting, otherworldly portraits, Amy Sherald documents contemporary African-American experience in the United States. Depicting stylized, figurative paintings of vibrantly dressed individuals rendered in grayscale skin tones against flat, highly-saturated backgrounds, the artist explores alternate narratives of blackness, but also the ways people construct and perform their identities in response to political, social, and cultural expectations. Sherald once said:
I look at America's heart — people, landscapes, and cityscapes — and I see it as an opportunity to add to an American art narrative… I paint because I am looking for versions of myself in art history and in the world.
This fall, Sherald's latest body of work will be on view at Hauser & Wirth. Titled the heart of the matter..., the exhibition presents new paintings that reinforce the multiplicities of African-American life and encourages viewers to reconsider commonly accepted notions of race and representation.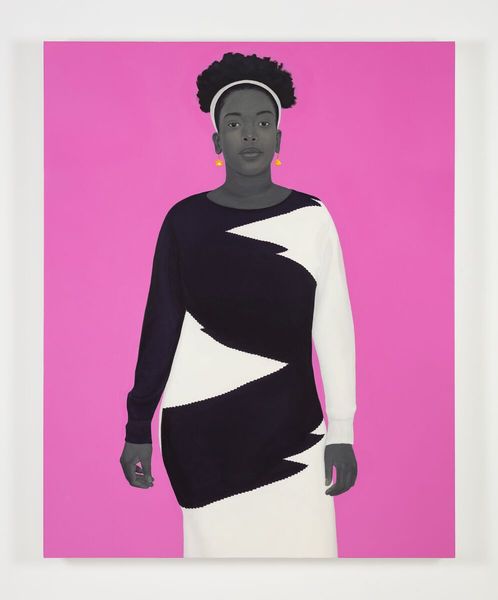 Exploring the Representation of Black Identity
The first African American woman to complete a presidential portrait for the Smithsonian Institution's National Portrait Gallery, Amy Sherald captures the essence of her particular subjects while engaging in broader dialogues about the black experience, the performance of race and the historic lack of nonwhite representation in the Western art canon. As she explains, she seeks to represent her subjects "in a way that's universal enough that they become representative of something different than just a black body on a canvas."
Informed by the artist's reading of key texts that explore tensions between interior and public realms, the exhibition at Hauser & Wirth draws its title from the first chapter of Bell Hooks' seminal book Salvation, building on themes of silence and stillness explored in Kevin Quashie's Sovereignty of Quiet and U.S. Poet Laureate Elizabeth Alexander's Black Interior.
In these works, Sherald examines the representation of black identity, going beyond the conceits to which it has largely been restricted, attempting to restore a broader, fuller picture of humanity. Detaching her subjects from everyday reality, she imbues them with a persistent sense of privacy and mystery, requiring viewers to ponder the sitters' thoughts and dreams. These "Americans doing everyday American things," as the artist describes them, are being transformed into an archetype in the history of representation and therefore a vehicle for challenging assumptions.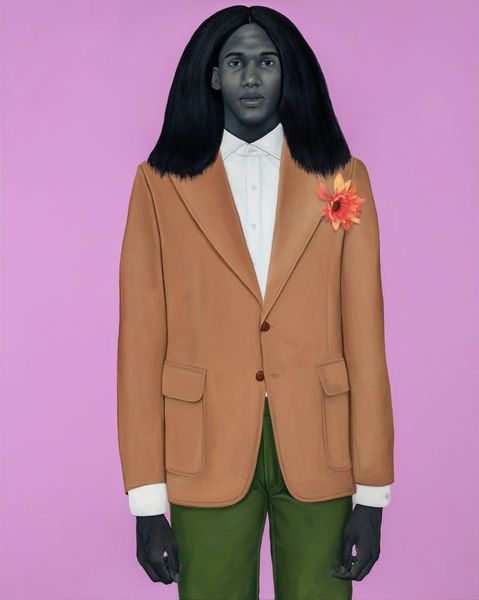 Amy Sherald Exhibition at Hauser & Wirth
Working from carefully composed and dramatically staged photographs, Sherald places her subjects against brightly colored, ambiguous environments, providing the works with a sense of universality. This is further enhanced by the color of their skin, which is rendered exclusively in grisaille to create an effect of the absence of color that directly challenges perceptions of black identity.
The show will also debut two paintings where Sherald's monochromatic backgrounds evolve into fully realized scenes that reference quintessential Americana, drawn from Charles C. Ebbet's iconic photography of 30 Rockefeller Plaza in New York City.
The exhibition the heart of the matter... will be on view at Hauser & Wirth in New York, 22nd Street from September 10th until October 26th, 2019. The opening reception will take place on Tuesday, September 10th, from 6 to 8 p.m.
Featured image: Amy Sherald - Handsome (detail), 2019. © Amy Sherald. Photo: Joseph Hyde. All images courtesy of Hauser & Wirth.