By posing the questions of how we perceive Black bodies and what their daily experiences in a current moment are, we unravel a number of thin layers that shape our contemporaneity, one that is sadly quite contaminated with racism. These and other questions seem to matter more than ever on a global scale, as the racial tensions rise in environments that struggle with colonial heritage or a site of contemporary migrations.
In the American context, numerous artists have been exploring the complexities arising from Black representation not only to reclaim Black lives in a historical sense but also to articulate the current moment. Of special interest is the Black female experience and the female body that has been, and to a certain extent still is, exposed to various social, cultural, and political pressures.
Amy Sherald is an artist whose practice is centered on the investigation of gender perspective and race. At first glance, her simplistic and vibrant figurative drawings aim to bring the multifold approaches to fashioning present among Black people; however, they offer a much broader narrative, as the artist attempts to insert black heritage in American art.
Under the title Womanist is to Feminist as Purple is to Lavender, Sherald's recent works focused solely on women currently on view online at Hauser & Wirth tend to underline the lack of Black women in the established feminist canons.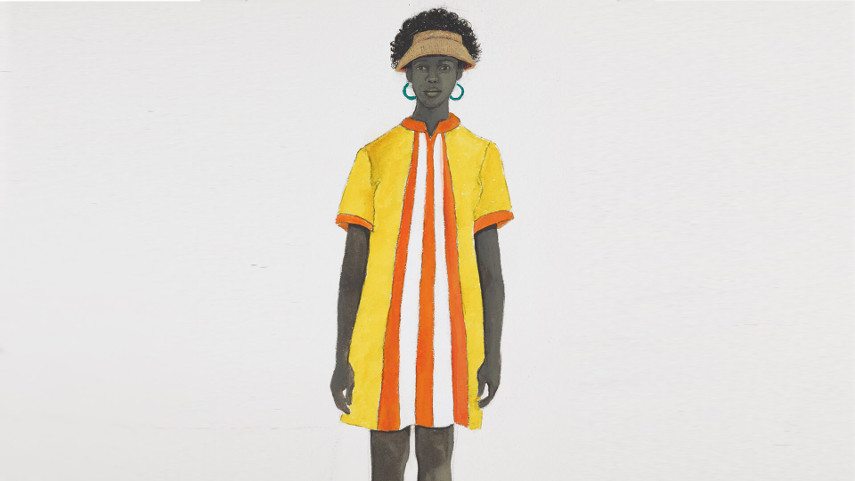 The Concept
One of the most important influences that infused Amy Sherald's practice are the photographs by W.E.B. Du Bois, the celebrated sociologist and Pan-Africanist, assembled for the Paris Exposition in 1900. They show African-American women, men, and children in a dignified fashion that defied the common discriminatory representations at the time. Sherald was interested in the function which African-American family photographs had during a time when only white individuals or groups were immortalized in paintings.
The new works (and ultimately the exhibition title) refer to Alice Walker's 1983 writing In Search of Our Mothers' Gardens and the term womanist, meaning a black feminist or feminist of color. The skin tone of Afro-American subjects depicted in Sherald's drawings is executed exclusively in grisaille since the artist wishes to point out a common preconception regarding black identity. This absence of skin color is in stark contrast with vibrant clothes, ephemera, and abstracted background, so each composition operates as a portrait of person living outside the context of any time, space, history, or national borders.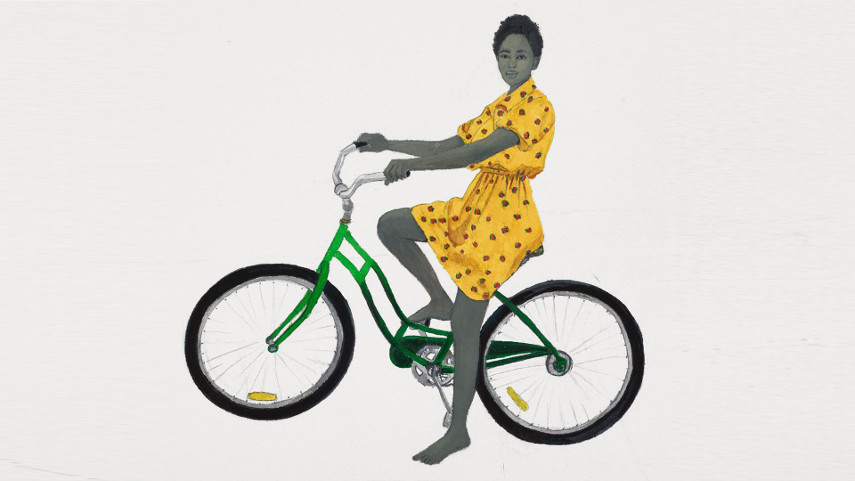 Portraits of Black Women
Namely, the subjects depicted on these five small-scale works (11 by 7 inches) that the artist produced during the course of the pandemic are anonymous and are inspired by photographs Sherald found online and images drawn from her imagination. Despite the fact their outfits are contemporary, they take a timeless stance while acting as keepers of memory of Black American life.
Interestingly so, this web presentation marks the artist's return to the medium of gouache for the first time since her childhood.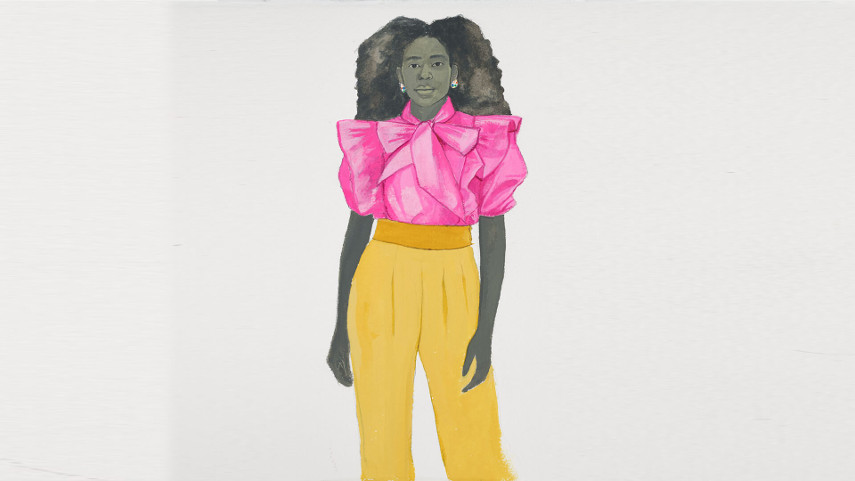 Amy Sherald Online at Hauser & Wirth
Amy Sherald's appealing portraits of Black women establish a firm connection with the long tradition of social portraiture which excluded the Black people from the grandiose narrative of the American experience for centuries.
Womanist is to Feminist as Purple is to Lavender is accessible via Hauser & Wirth website and is a prelude to the artist's first West Coast solo exhibition that will take place at the gallery in February 2021.
Amy Sherald - Womanist is to Feminist as Purple is to Lavender at Hauser & Wirth
Featured image: Amy Sherald - Untitled, 2020. Gouache on paper, 27.9 x 19.1 cm / 11 x 7 1/2 in. All images courtesy of the artist and Hauser & Wirth.