To mark the fourth anniversary since the untimely death of Amy Winehouse, Hawkins & Blue will release Amy Winehouse by Pegasus, a limited edition print made by the street artists to celebrate the singer's life. One of London's leading independent art dealerships, specializing in contemporary, urban and pop art will also donate 5% from every print to the Amy Winehouse Foundation, which aims inform, educate, and support young people about the effects of drug and alcohol misuse. The Foundation opened on September 14th 2011, the day that would have been the singer's 28th birthday.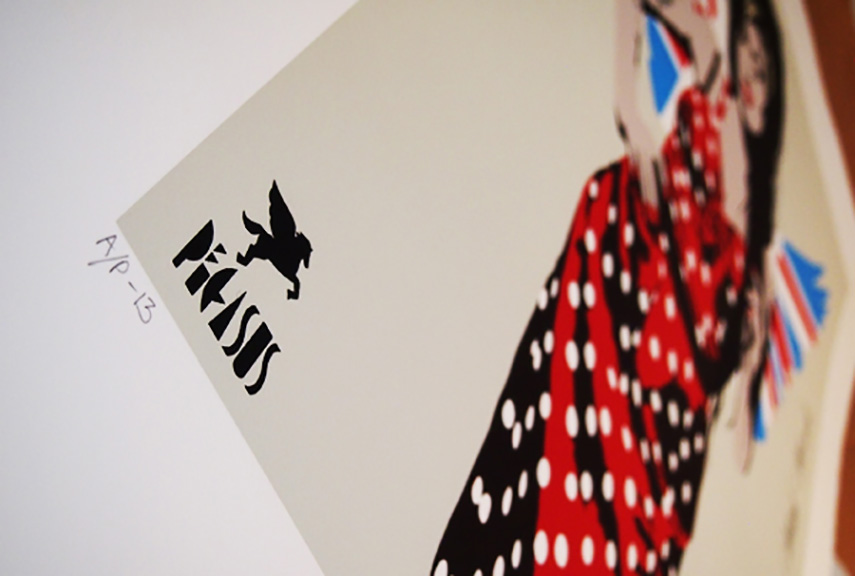 Amy Winehouse by Pegasus
Originally from Chicago, Pegasus is a pseudonym of a North London street artist who has been stenciling around the city, painting our world's most recognizable celebrities and pop culture icons, such as Madonna, Marilyn Monroe, Kate Middleton, John F. Kennedy, Elvis Presley, Queen Elizabeth, Barack Obama and many more. Still, one of his most notable works is a stencil piece called Fallen Angel, an image of Amy Winehouse painted in Camden, as an homage to the late singer. The artwork became an unofficial shrine in 2011. In the same area, her home, another piece dedicated to Amy Winehouse by Pegasus was entitled Atmosphere, found on The Earl of Camden pub. To help out the work of the Amy Winehouse Foundation, Pegasus has created yet another artwork dedicated to his muse, in collaboration with Hawkins & Blue.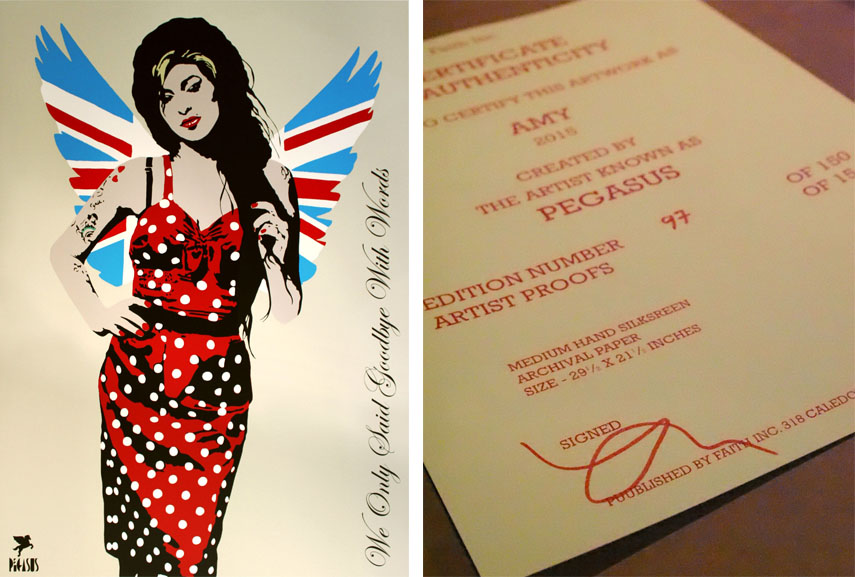 Amy - A Limited Edition Print at Hawkins & Blue
The street art of Pegasus has been featured in two books published in 2013, and in 2015, he designed a book cover for the special anniversary edition of Encyclopedia Madonnica. His works is an often choice of many celebrity collectors, including Johnny Depp, who purchased a print of the Duchess of Cambridge featured as a Game of Thrones character, at Pegasus's first solo show in London in 2014.
The exclusive Amy Winehouse Pegasus artwork is a limited edition seven-color silkscreen print measuring 75 x 80 cm and it comes in an edition of 150. Printed on 100% cotton velvet archival paper, the print sees a portrait of Amy Winehouse with a quote saying "We Only Said Goodbye With Words", it is signed and numbered by Pegasus and each of them comes with a Certificate of Authenticity. The artwork can be purchased at £300 (€430, $470) from the Hawkins & Blue official website, with 5% donated to the Amy Winehouse Foundation.
Are you a fan of Amy Winehouse and Pegasus? Share your thoughts on our Facebook page!
For more art news, create your free Widewalls profile today!