Throughout history, many have tackled the topic of love in their work, and the case of Ana Maria art isn't an exception either. We are forever fascinated with this puzzling concept, so universal yet so incredibly individual, with all its devastating complications that we just cannot seem to crack, or even just learn from. In her latest body of work wittily entitled Amorfo, Puerto Rico-born and US-based Ana Maria Ortiz explores love through a series of stories and romances starring her recognizable characters, in a journey that promises to be an exciting one. Through a series of dualities, the artist will reveal a kind of a self-portrait while giving a picture of the world.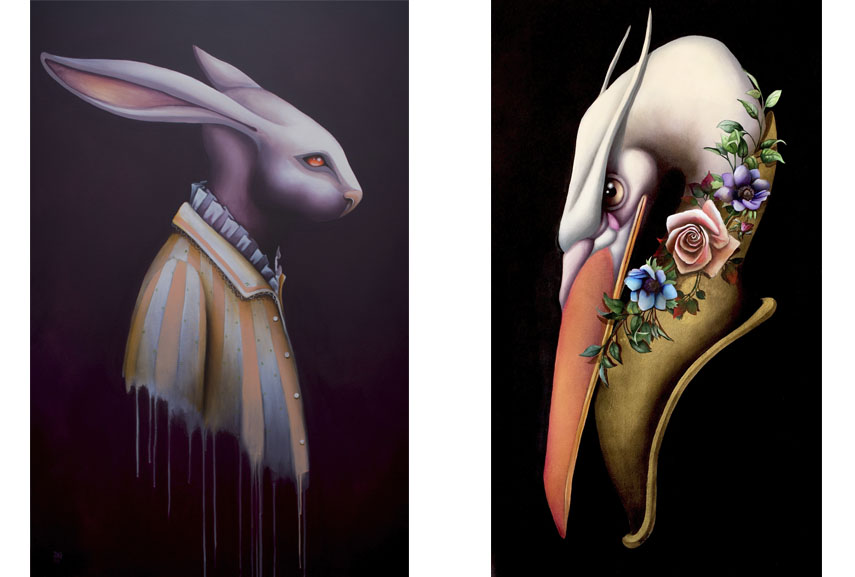 Amorfo
Innocent and obscure, hopeful and disturbing, mysterious and highly familiar. That's how one could describe Ana Maria art on a quest to decipher what it is about love that changes our body, our soul. Her collection of narratives feature distinguished characters, each of which manages to evoke the artist's, and our own, emotions and experiences, be it passion, loss, a delight or a confusion. The complexity of her works seeks to reveal the simplicity of letting go, giving in and all the actions that come with love that leave us so morphed, both on a physical and emotional level. Ana Maria's wordplay Amor/Fo, being Spanish for Amorphous, can be read as an exposure of lingering critique on love itself, which leaves us incomplete and undefined so often, yet at the same time, it pays tribute to the formlessness.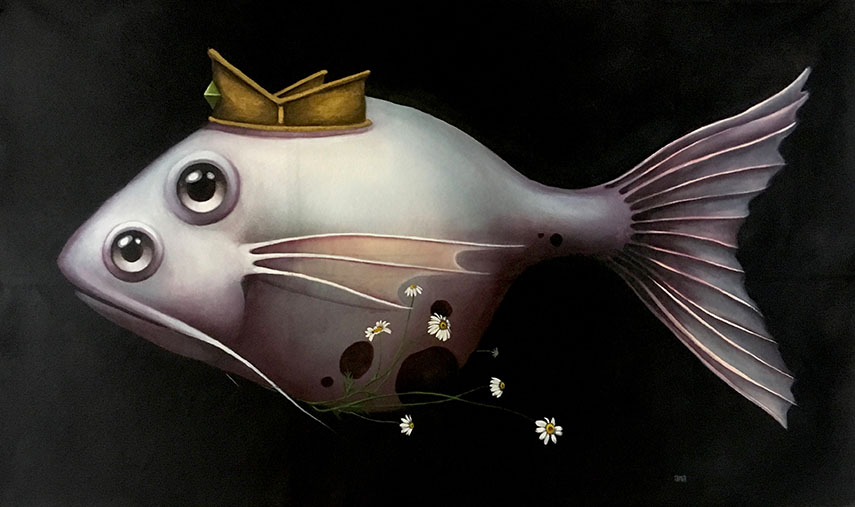 Creatures of Love
The work of Ana Maria spans a variety of media, including the mesmerizing murals painted around the world, in which animals are drawn with exaggerated, anthropomorphic features. With them, she tackles stereotypes in modern-day society with sensibility and dark humor that catches our attention instantly and irrevocably. Her artworks almost always contain animals with her signature beaks and human-like eyes, combining the two natural worlds to reflect her studies of both art and animal science, with such precision and skill. Yet, Amorfo seems to be evoking the monstrosity of humanity and the lurking animality within all of us, always creeping within our dark desires and fantasies - and not just our own, but those of the artist herself too.
Ana Maria Art at JUSTKIDS
Both on large walls and on canvas, Ana Maria manages to create haunting portraits that come to represent the mirror inside the journey of love, with so ruthlessly passes through our body and mind, leaving its mark and our lives changed to the core. Amorfo, an exhibition of works by Ana Maria and curated by Charlotte Dutoit, will be on view at the JUSTKIDS pop-up gallery in Old San Juan, Puerto Rico, from December 15th through 30th, 2016. The opening reception is scheduled for December 25th at 7pm, and the artist will be in attendance.
Featured images: Murals in Ukraine and Sweden; Ana Maria - Conejo, 2016. Graphite on Bristol Paper, 9 x 9 in. All images courtesy JUSTKIDS.