Cuban-born and American-raised artist Ana Mendieta died early in 1985, aged 36, when she fell under mysterious circumstances out of her Greenwich village apartment she shared with her husband, the minimalist sculptor Carl Andre. This early death occurred in a time when Mendiata was rewriting art history and how female artists would be seen in that time, using extensively her own body as the main subject of her artistic practice. Her forceful art ranged across artistic categories from body art, land art, performance, sculpture, photography and film. In all of her works one can sense a deep connection to the earth and nature; it seems almost like a lifelong search for the right balance between spiritual connection with nature and a sense of not belonging related to her identity as a female migrant. This sense of lifelong displacement might have been caused through a very young incident in Mendieta's life. In 1948, when she was only 13 years old, she has been sent to Cuba by her family, due to the political involvement of the father. She did not see her mother and brother again until 1966, or her father, who was jailed for disloyalty to Castro, until 1979. He died soon after arriving in America.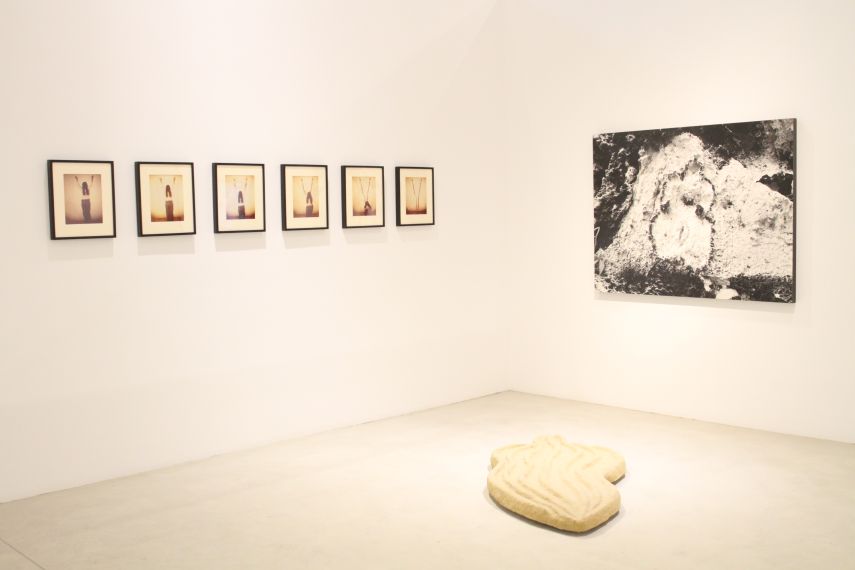 The Earth as Artistic Imagination: Earth-Body Art
Mendieta coined her own term for the art practice she was interested in and described it as earth-body art. Like many artists of her era, she took her work out of the studio, with the majority of works produced in the landscape and creating ephemeral works, that were documented through photographs and video, which subsequently formed a significant part of Mendieta's art. Despite the mediation through photography, the topic of her own body remains comprehensible to us today. Her thoughts on the female body and the search of connection within nature remain alive and show the development of her own visual artistic language. In her very personal notebooks she states about her art: "My art is grounded in the belief of one universal energy which runs through everything: from insect to man, from man to spectre, from spectre to plant from plant to galaxy. My works are the irrigation veins of this universal fluid. Through them ascend the ancestral sap, the original beliefs, the primordial accumulations, the unconscious thoughts that animate the world".
In her short but effective production period of around 15 years from 1971, when she had her first solo show while an MA student at the University of Iowa, until her death, she created a diverse collection of work, that included the recreation of silhouettes of her body in mud, earth, rocks, wild flowers and leaves, performance pieces that evoked the folk and occult traditions of her native Cuba and subversive self-portraits that played with notions of femininity, belonging and gender. In her performance pieces, where she sometimes used blood, she related to the awareness of female sexuality as well as patriarchal domination.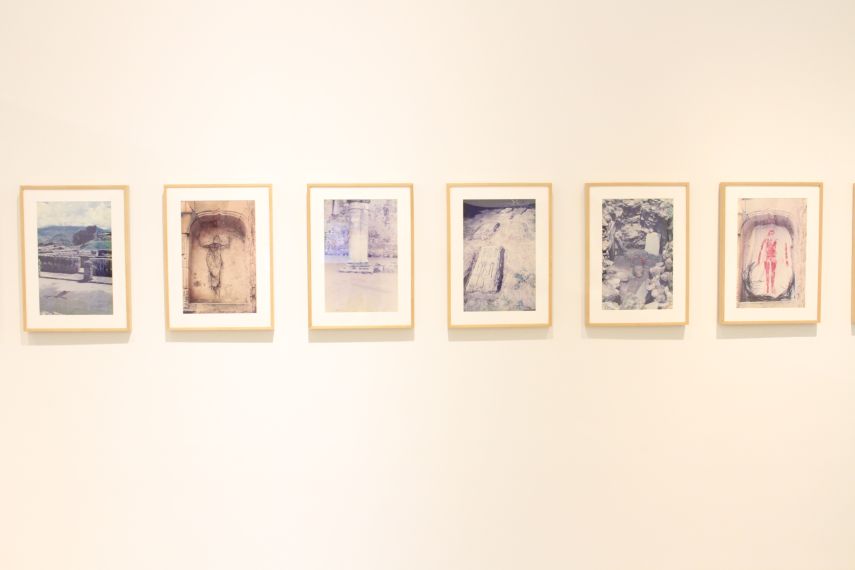 The Siluetas Series
In 1973 Mendieta visited Mexico and tried to connect through the understanding of ancient cultures, rituals and the role of spirituality. This encounter inspired one of her most important work series Siluetas, in which she first started to use flowers or earth to burry herself under it. She reversed this approach in later works to just leave the outline of her body on the landscape, in twigs, organic material such as blood or the use of the elements water, fire, earth and wind. This dialogue between the human and nature manifested in a dialogue on the present body and its absence or the thoughts on the present and past. The experience of being covered in earth must be a very personal and immediate one with nature and its own existence; it feels like Mendieta's reclaim of emplacement deprived in a very young age. The bodily experience precipitates the metaphysical awareness in her works. The Siluetas function as the mutual recognition of a bond and visualize into an image of correspondence between the nature and the human body, between life, death and spirituality.
It is interesting to see Mendieta's perpetual going back to nature to renew her bond, even though her artistic process changed over the time, her search for spiritual connection and the celebration of life in nature remained always the same. The use of her body memorialized the connection of humans to the universe. Her own definition of earth art is different from the common term land art, as she did not use the environment to state her artistic innovation, but to address the ephemerality of humans in the long history of the earth. Her art was a tool to connect to a spiritual eternity and to think time and history as factors of nature.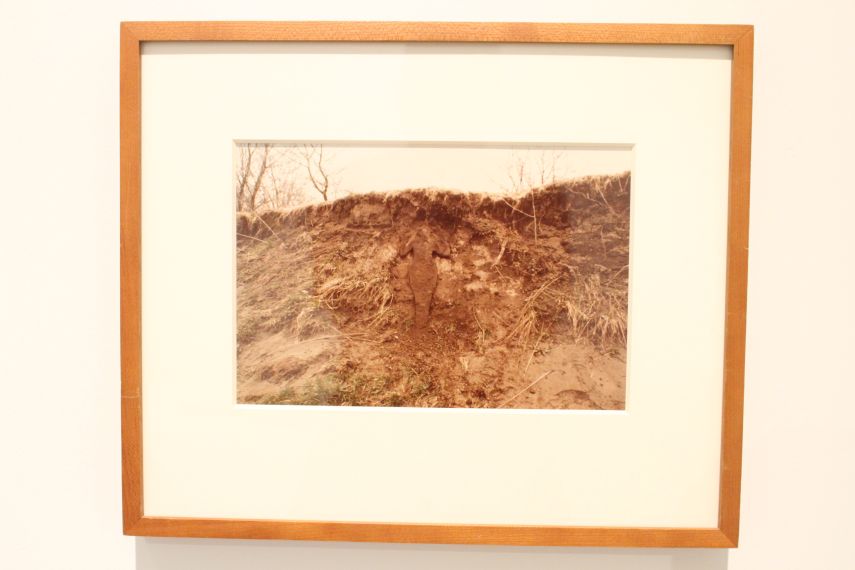 Ana Mendieta's Rediscovery or the Quest for Integrity in Art
During the Art Basel Miami week in late 2015, important works of Mendieta were included in the exhibition "One has to know the rules in order to break them", at the public collection of Rosa de la Cruz, one of the country's leading Contemporary art collectors. Ms. de la Cruz estimates that, at 24 artworks, she is probably the largest single owner of Mendieta works outside the artist's family.
Mendieta has a significant historic role as being a strong female reference in art and having influenced later artists such as Tania Bruguera, Janine Antoni, and others interested in radical definitions of art. Her multi-faceted work is still not extensively researched yet, but it seems that there is a slightly bigger interest for Latin American artists within US art. Through her wide interests she can be understood as a bridge between Western and Afro-Cuban female cultures and between modern issues concerning patriarchal domination and the Pre-Hispanic spiritual legacy. Until today, she challenges easy assimilations of her art and refuses to be simplified to any form of sole ethnicity. Her art fascinates through the use of pure materials to form complex thoughts on violence against women, displacement, spirituality and a search for a true art practice.
On the 30-year anniversary of her death a growing interest in her works can be noticed through exhibitions around the U.S. and climbing auction prizes with a median price for a Mendieta around $30,000 to $40,000 with some records selling over $100,000. Part of Mendieta's rediscovery today might be due to the search in our time for stability, a longing for true connection to something bigger, something that she might offer through the believe that art is materialized energy. Her art is a witness of her own personal dialogue with the world and functions as a sort of her own very private meditation. The immediacy of this female dialogue might cause incommodiousness in the viewer, but enables him in the same time to question his own spiritual legacy.
Editors' Tip: Where Is Ana Mendieta?: Identity, Performativity, and Exile Paperback by Jane Blocker
A Cuban-born artist who lived in exile in the United States, Ana Mendieta was one of the most provocative and complex personalities of the 1970s art world. This firt major critical examination of her work provides an in-depth critical analysis of her diverse body of work and artistic legacy that provides a unique vantage point for consideration of the history of performance art, installation, earth works, feminism, multiculturalism and postmodernism. The title 'Where is Ana Mendieta' evokes her tragic and suspicious death in 1985 that is still surrounded with controversy. On the other hand, it emphasizes the absence of female artists from high profile exhibitions. Drawing on the works from theorists such as Judith Butler, Joseph Roach, Edward Said and Homi Bhabha, art historian Jane Blocker explores the power of her work to alter and broaden the terms of identity, as well as her use of mythology and anthropology, the ephemeral nature of her media, and the debates over her ethnic, gender, and national identities.
Featured image: Ana Mendieta, exhibition detail from De la Cruz collection. All images courtesy of De la Cruz collection.