Best known for her black and white figurative paintings, Ana Vujic art deals with a variety of issues which are burdening modern life. On the other hand, Luca Schenardi art explores the absurdities of Teletext transcriptions. The work of these two artists will soon be on view in two separate exhibitions at Gallery Daeppen. Titled This World of Lies Will Never Be My Truth, the exhibition by Ana Vujic deals with the mechanisms of melancholy and tampering with representations of reality. The exhibition Meyer spricht von Gratiskaffee (Meyer Calls It Free Coffee) by Luca Schenardi will feature a new selection of illustrated Teletext quotations.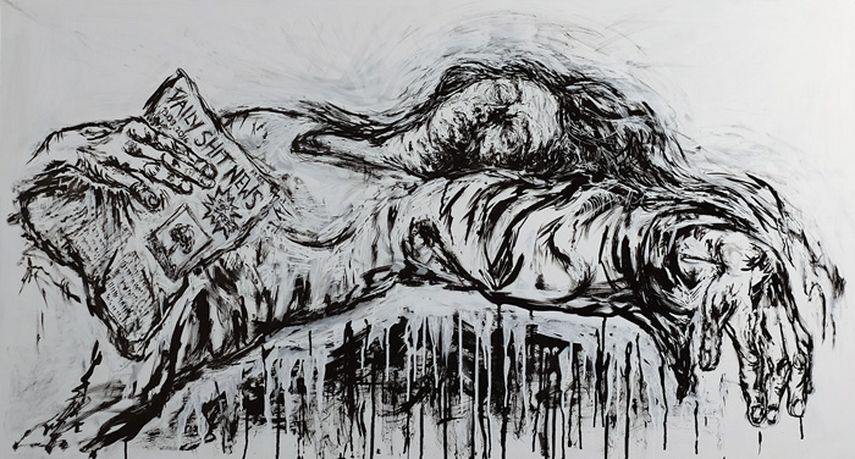 Meyer spricht von Gratiskaffee
After the definitive switch from analog to digital television, the Teletext has become one of the preferred media for the artist and illustrator Luca Schenardi. While watching it one day, the artist realized many puzzling non-sequiturs – headlines on a variety of channels were completely scrambled and randomly combined. One of the most memorable absurdities dates from 2015, reading: "Pegida Alliance supporters held another rally in Dresden last night. According to the police, roughly 17,000 Pegida activists turned out at the Semperoper [Dresden opera house]. Meyer calls it free coffee." Soon after, Schenardi started collecting suchlike glitches and transcribing them in black marker and tusche into self-made A5-size notebooks, accompanied with illustrations and sketches. This unusual collection is now comprised of twenty such notebooks with the total of around eight hundred pages.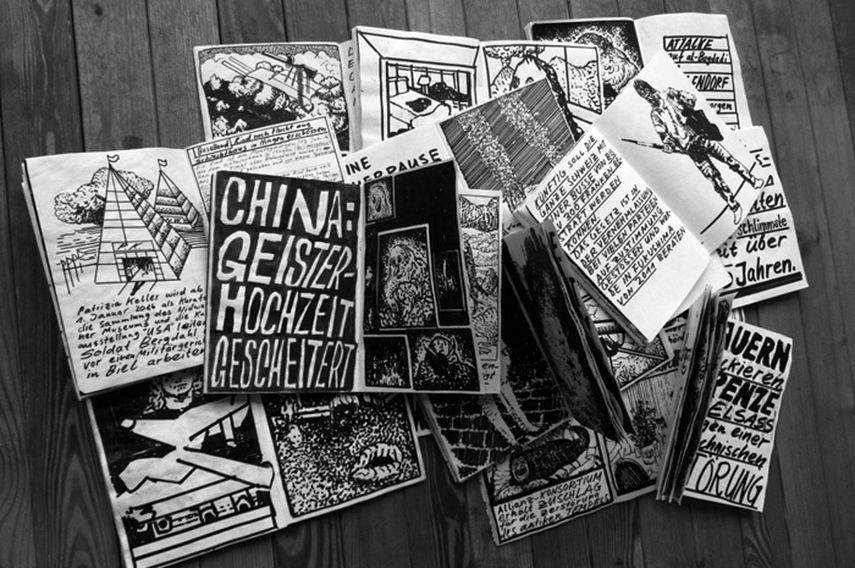 This World of Lies Will Never Be My Truth
Literally screaming farewell to freedom and people's happiness, the work of Ana Vujic is a daring tribute to a seemingly non-flawed and fun consumer society. She is mainly focused on social criticism, urbanism and street art, as well as scanning media representations of socio-economic realities and conflicts. Working with found material and coarse instruments, she creates large-format pieces in stark contrasts of black and white. Always searching for the truth and questioning the representation of the world around us, she aims to lay bare the sinister state of affair in the current social and political crisis. As the crisis is always accompanied by corresponding emotions and emotional denials, she deals with desperation and hope, hopelessness and anger, culminating in melancholia.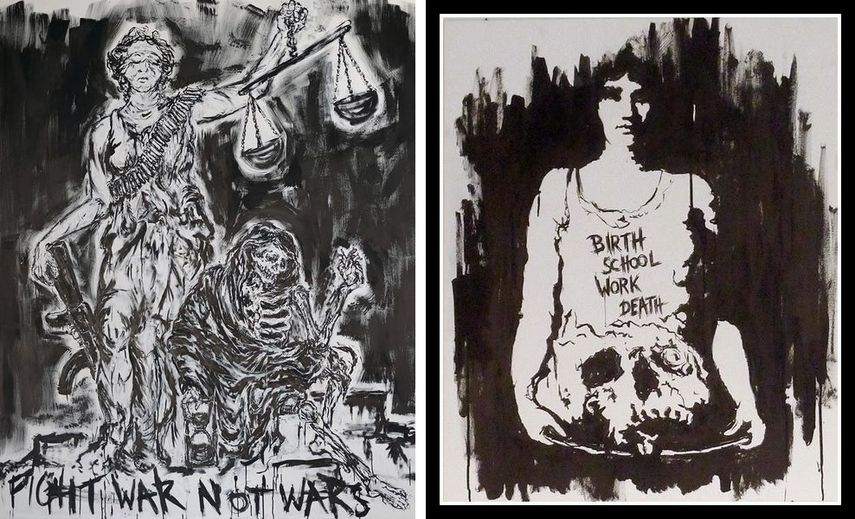 Ana Vujic and Luca Schenardi Art at Gallery Daeppen
The work of Ana Vujic provides a fresh outlook on the art's role responsibility in transforming individual and collective emotions into images, allowing for the repressed reactions to take whether loud or melancholic shape. By collecting absurd transcriptions, Luca Schenardi manages to capture fragments that seem to convey uncanny truths, bearing the eery resemblance to the everyday news headlines regarded as "serious". The exhibitions This World of Lies Will Never Be My Truth by Ana Vujic and Meyer spricht von Gratiskaffee by Luca Schenardi will be on view at Gallery Daeppen in Basel, Switzerland from May 20th until June 17th, 2017. The opening reception for both exhibitions will be held on Saturday, May 20th from 6 to 8 p.m.
Featured image: Ana Vujic - Fight War Not Wars, 2016 (detail). All images courtesy of Gallery Daeppen.