If you've been following our Street Update lately, you know that Paris has got a new exciting mural, painted by Norwegian artist Anders Gjennestad aka STRØK. Since a couple of weeks ago, the residents of rue de la Glacière in the French capital's 13th arrondissement, can now pass by an image of three male figures that appear to be falling down a building together with their own shadows in stunningly accurate depiction - trademark in the artistic approach of STRØK. The mural was painted for the occasion of his second solo exhibition at Galerie Mathgoth, after a very successful debut in 2014.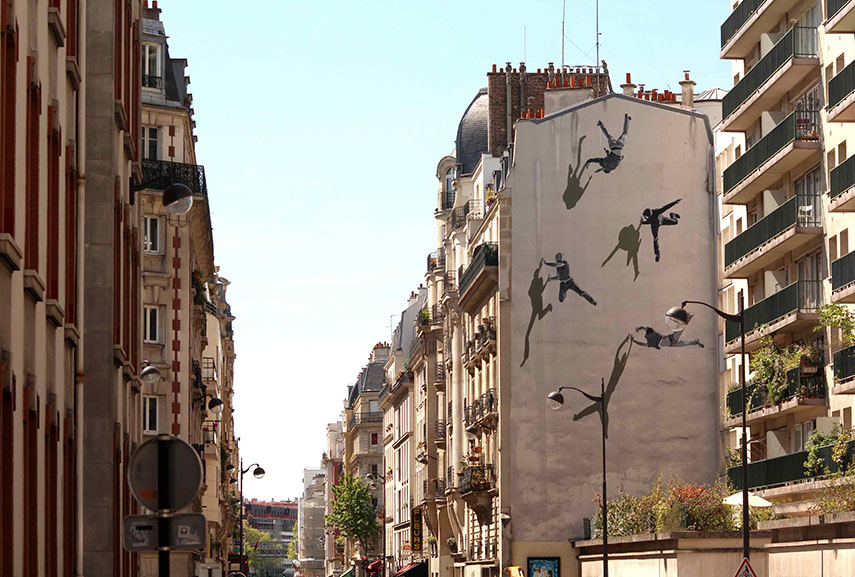 Enter Title Here
Unoccupied houses and abandoned factories in Berlin, where Anders Gjennestad aka STRØK is based, but also across Europe, is where the realistic characters of this talented stencil artist live. Men and women seen from above or behind who seem to be living in a world different than ours, a world where there's no gravity or rules whatsoever. They are often upside down, floating in space, portrayed to the utmost detail, using black, white and shades of grey most of the time. They seem like they have always belonged there, as Anders Gjennestad carefully chooses where they will live and the materials they will be made of, in order to survive the ephemeral state of street art and various weather conditions. The art of STRØK is universal, it belongs to everyone and anyone could relate to it, something that the artist always wished for it to be.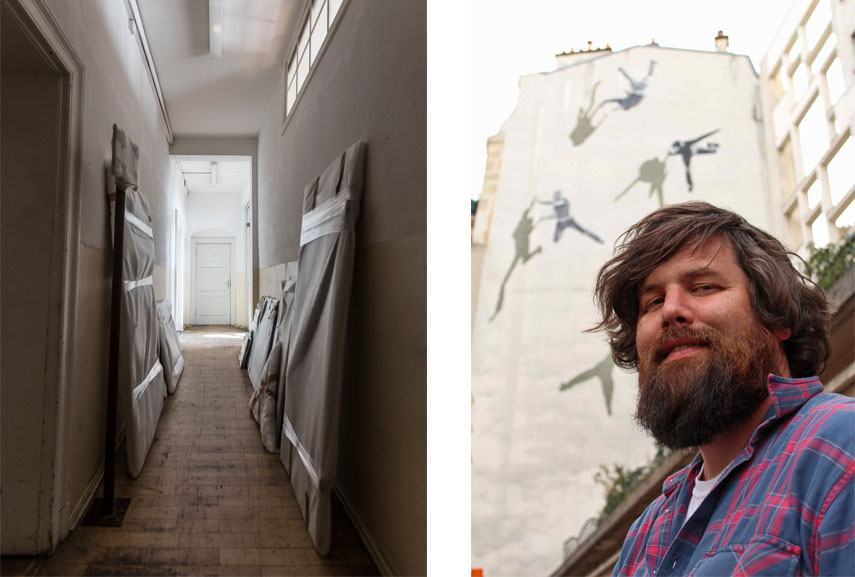 STRØK and the Human Interactions
According to Anders Gjennestad himself, all his works are spray-painted with stencils that are cut by hand out of found objects, and are based on the black and white photographs he takes himself. These artworks dig deep into the issues involving the human figure and the interactions of our kind with the space around us, through the concepts of kinetic energy suspended in time. Always intriguing and meticulously executed, the works of STRØK often put their viewers into a certain kind of unease, as they observe these characters in unusual positions or they sense their presence even though they might not be directly depicted. They're everyday passersby, children, teenagers, workers, sometimes even birds and dogs, always leaving a shadow and inhabiting walls, pavements, hidden corners and entire building façades.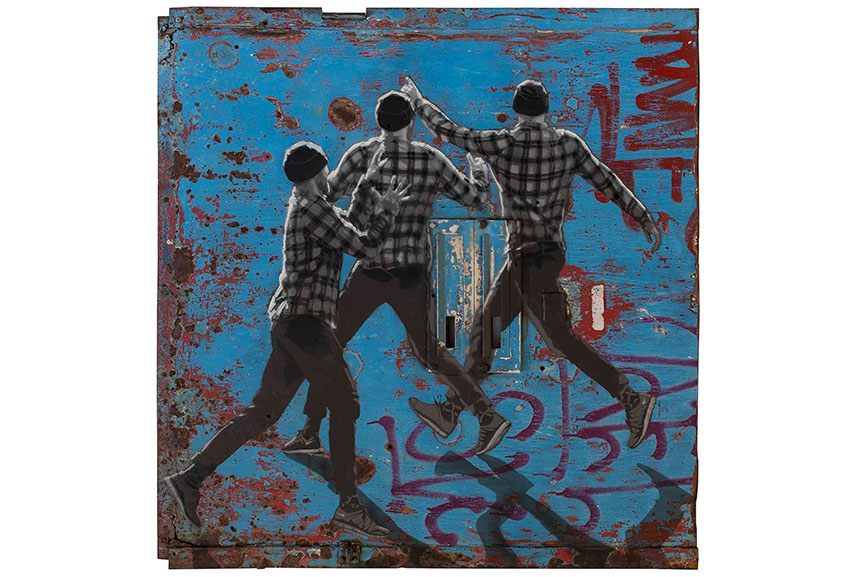 Anders Gjennestad Exhibition at Galerie Mathgoth
Although we almost never see their faces, we can relate to these characters on a deeper physical and emotional level - be it because of their uncanny portrayal or the everyday situations they find themselves in. When they don't live on the street, they occupy the walls of gallery spaces around Europe, and our next opportunity to see them will be in the French capital. Enter Title Here, an exhibition of works by Anders Gjennestad aka STRØK, will be on view at Galerie Mathgoth in Paris, France, from June 3 through July 9, 2016. The opening reception is scheduled for June 3 at 6pm, and the artist will be present.
All images courtesy Galerie Mathgoth Paris.