Woodshed Art Auctions has announced it will be auctioning an opaque watercolor painting of Apple's classic logo, a work which is part of Andy Warhol advertising portfolio from 1985. Created one year after Macintosh was launched, the work features Apple's old rainbow logo which the company employed between 1977 and 1998.
Maintaining the original design and rainbow color scheme, Pop art master Andy Warhol added his trademark sketched lines and vibrant hues to give the original design an unmistakably Warholian influence. It was commissioned by Del Yocam, the first COO of Apple, as a part of the company's advertising campaign.
Measuring eight inches squared inside a 16.5-inch squared frame, the work is signed by Warhol on the front and back. While a similar Warhol's Macintosh canvas painting sold for $900,000 at a recent Sotheby's auction, this gouache painting on paper is estimated to fetch between $20,000 and $30,000 during the live bidding that opens on the Woodshed Art Auction website on February 1st at 5:30 p.m.
Commissioned by Feldman Fine Arts and executed in 1985, advertising portfolio created by Warhol consists of a total of 10 original ads. Chosen from fashion, movies, industry and technology, the images merge mass media imagery with fine art reproduction.
Transforming everyday advertisements into colorful works of art, each with a distinct identity, Warhol further expanded the integration of high and low cultural reference. Juxtaposing unlikely logos and mascots together to create a unique sociopolitical narrative, he demonstrated how public figures and icons are also characters for mass consumption. Additionally, each logo is accompanied by a playful slogan.
Now, let's take a look at Andy Warhol's entire Ads series from 1985.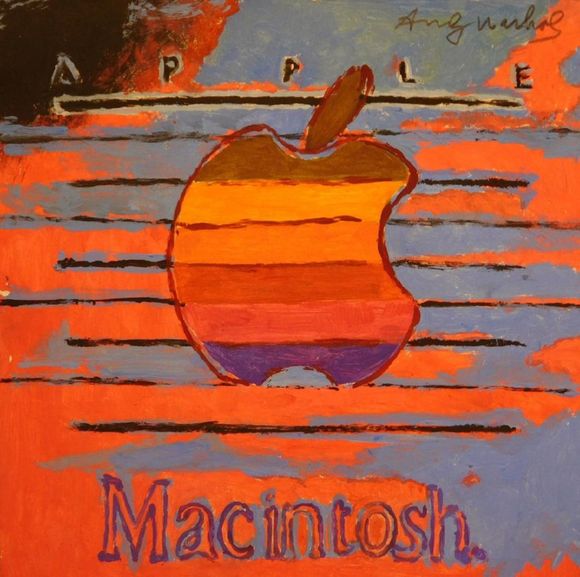 Featured image: Andy Warhol Advertising Portfolio 1986; Andy Warhol - Apple, 1985, via revolverwarholgallery.com.
Blackglama (Judy Garland)
The work Blackglama (Judy Garland) is inspired by the actress' advertising campaign for Blackglama Fur company and their tagline "What becomes a Legend most?". Warhol recreated the ad in electric pinks, purples, and blues.
A keen observer of the glamour of celebrity, Warhol made Garland a perfect subject for his advertising portfolio. The work provides an apt meditation on the concepts of fame, status and celebrity that preoccupied the artist throughout his career.
Featured image: Andy Warhol - Blackglama (Judy Garland), 1985, revolverwarholgallery.com.
Paramount
In this work, Warhol recreates the iconic Paramount logo, created by the founder and president of the studios W.W. Hodkinson. The logo is depicted in white, causing the image to pop out towards the viewer.
The text and the mountain appear almost three-dimensional, demonstrating the artist's skillful ability to manipulate color. The work perfectly embodies the commercial nature of American society.
As Warhol once said:
It's the movies that have really been running things in America ever since they were invented. They show you what to do, how to do it, when to do it, how to feel about it, and how to look how you feel about it.
Featured image: Andy Warhol - Paramount, 1985, via revolverwarholgallery.com
Rebel Without a Cause (James Dean)
The work features Hollywood actor James Dean, modeled after the Rebel Without a Cause movie poster. While the actor dominates the right side of the print, rendered in a cartoon-like manner, the left side of the composition is filled by a Japanese script, referencing the 1955 film's Japanese movie poster.
All is set against a vibrant red background. Consistent with the artist's obsession with popular culture and celebrity, the work stylized the Hollywood icon and immortalizes the late actor's masculinity and angst.
Featured image: Andy Warhol - Rebel Without a Cause (James Dean), 1985, via via hamiltonselway.com
Chanel
The work depicts Chanel No 5, a quintessential image of female consumerism and glamour. The bottle's sleek design is illustrated with minimal colors, only accenting the bottle's contours and label.
The impact of the piece is further heightened by the uncomplicated composition which prevents any interruption or disturbance from other objects or colors. The image evinces Warhol's deliberate use of shadow and negative as a central compositional element.
Featured image: Andy Warhol - Chanel, 1985, via revolverwarholgallery.com
The New Spirit (Donald Duck)
In this work, Warhol recreated Donald Duck as depicted in a Disney short film about wartime propaganda, encouraging the public to pay their income taxes without complaining too much. The print was created 42 years after the film was nominated for an Academy Awards for Best Documentary Feature.
Once again, Warhol comments on the impact of mass media, and in this case, the way advertising is used for government gain. The image of Donald Duck is repeated several times in the composition, giving the sense that the subject is on the move.
Featured image: Andy Warhol - The New Spirit (Donald Duck),1985, via revolverwarholgallery.com
Life Savers
The work depicts Life Savers, an iconic American brand of ring-shaped hard candy. Depicting candy in cheerful colors, Warhol reminds the viewer of childhood and American innocence.
The images of candy are accompanied by neon colored letters that read "please do not lick this page!", contributing to the playful and multi-sensory effect.
Featured images: Andy Warhol - Life Savers, 1985, via gsfineart.com
Van Heusen (Ronald Regan)
While he was still an actor in the 1950s and '60s, the former United States President Ronald Reagan was featured in a series of advertisements for Van Heusen dress shirts.
Guided by his iconic, clever and ironic imagination, Warhol found inspiration in the series of advertisements in juxtaposition with Reagan. When the Ads series was published in 1985, Reagan began his second term in office as President of the United States.
Featured image: Andy Warhol - Van Heusen (Ronald Reagan), 1985, via guyhepner.com
Mobil
Once again, Warhol here reproduces a widely recognizable corporate logo. This time, he depicted the logo of the gasoline product lines marketed as Mobilgas and Mobilgas Special.
"I just happen to like ordinary things. When I paint them, I don't try to make them extraordinary. I just try to paint them ordinary-ordinary", the artist once explained.
Featured image: Andy Warhol - Mobil, 1985, via hamiltonselway.com
Volkswagen (Lemon)
In this work, Warhol managed to revamp Volkswagen, after Hitler had formally adopted it as his favorite car, connecting with consumers while representing a perfect balance of image, text, and simplicity.
Depicted in a bright grass green and set against a royal blue background, the image is accompanied by a text that references the original advertisement's closing line "We pluck the lemons; you get the plums".
The work is a wonderful example of the artist's lifelong fascination with advertising and commercial goods.
Featured image: Andy Warhol - Volkswagen, 1985, via artsation.com