When people think of Andy Warhol, Christmas is not usually what comes to mind. Yet Warhol, one of the most decadent artists of the 20th century, the owner of the controversial club Factory, leading a life full of scandals, was a major fan of this holiday. Who would have thought?
His love of the festive season is less well known, but certainly as equally as ardent as his love for the Campbell' Soup. As a matter of fact, the seasonal theme of Christmas makes a substantial part of the legendary artist's oeuvre.
From traditional holiday merriment featuring Santa Claus, poinsettias, wreaths and angels, to classic Warhol imagery such as toys, Cabbage Patch Dolls and crosses to holiday-themed tableaus, the artist has explored this theme in a variety of ways.
Now, it is the perfect time to spread some Warhol's Christmas spirit.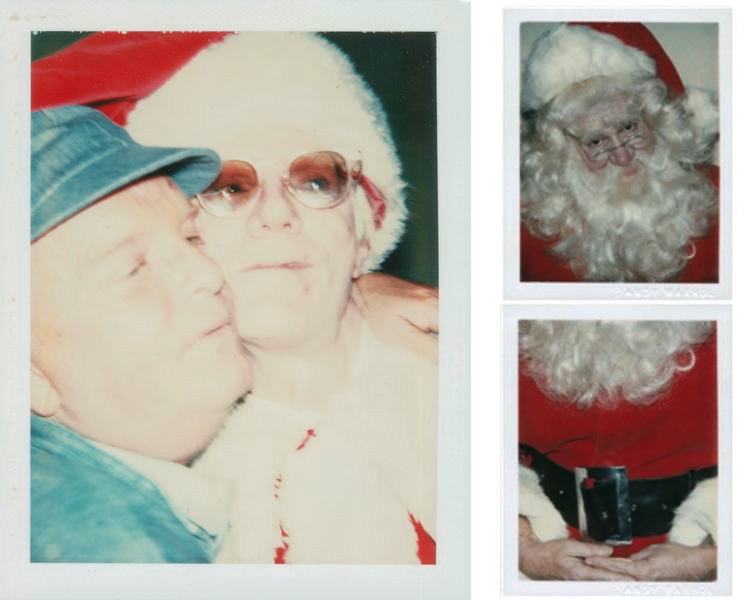 Andy Warhol, the Good Catholic
An artist who played a major role in the development of Pop Art, Andy Warhol brought popular styles and subjects into the exclusive salons of high art.
Obsessed with celebrity culture, consumerism and mechanical reproduction, the artist created some of the most iconic images of the 20th century.
Throughout his career, he expanded the implications of Pop Art into other spheres, further eroding borders between the worlds of high art and popular culture.
Born as Andrew Warhola, Warhol emerged from the poverty and obscurity of an Eastern European immigrant family in Pittsburgh, to become a charismatic icon of high circles of New York. Known for his cultivation of celebrity, he elevated his own persona to the level of a popular icon, representing a new kind of fame and celebrity for a fine artist.
What is less known and often overlooked, is that Warhol was a deeply religious man. For this child of Slovakian immigrants, religion was a big part of his upbringing. As his nephew Donald Warhola once explained, "he was a practicing Byzantine Catholic, and actually attended a Roman church later in his life".[1]
Indeed, artist explored his faith through numerous artworks, including a 1986 screen print depicting The Last Supper or the Heaven and Hell series.
However, as Jessica Beck, assistant curator of the Andy Warhol Museum in Pittsburgh said, these religious pieces were "under-searched" compared to "the Pop Paintings of Campbell's Soup or Coca-Cola, or the celebrity portraits".[2]
It also became public knowledge only after his death that he often did charity work with homeless at the Church of Heavenly Rest in New York, serving food and cleaning up at communal meals.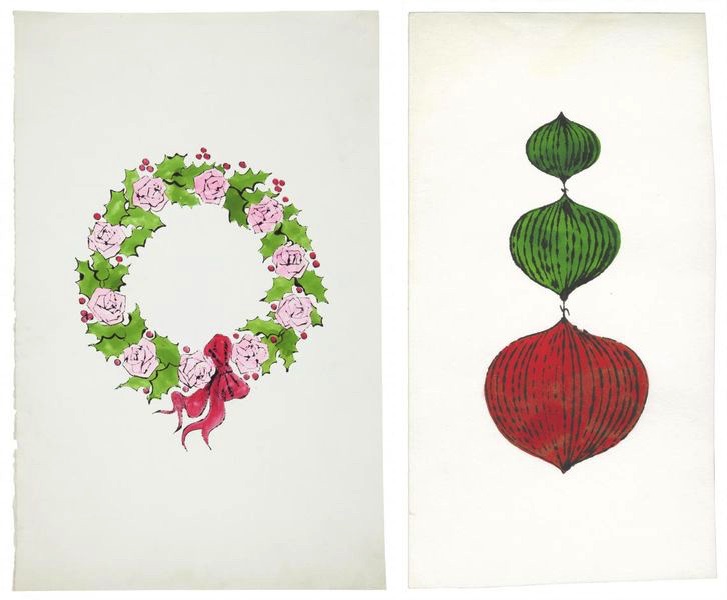 The Andy Warhol Christmas Cards
Before Andy Warhol began making art destined for galleries, he was the most successful and highly paid commercial illustrator in New York. After his first assignment for Glamour magazine, he was commissioned by some of the major fashion magazines including Vogue, The New York Times, and Harper's Bazaar, becoming the most sought-after illustrator in the city.
Upon his arrival in Manhattan where he came to pursue the world of art, Warhol began working for the Fifth Avenue temple of Tiffany & Co in 1956, creating everything from shoe advertisements to Christmas cards. His cards were subsequently published by Tiffany's every Christmas up to 1962, when he started to create his famous Campbell's Soup works.
With sketches blurring the thin line between commercial design and fine art, Warhol had become the king od Christmas. Drawing Christmas trees made of fruit, reindeers, cherubs, stockings, gifts, candies, fireplaces, he had painted a perfect vision of Christmas, one he had always envisioned as a child.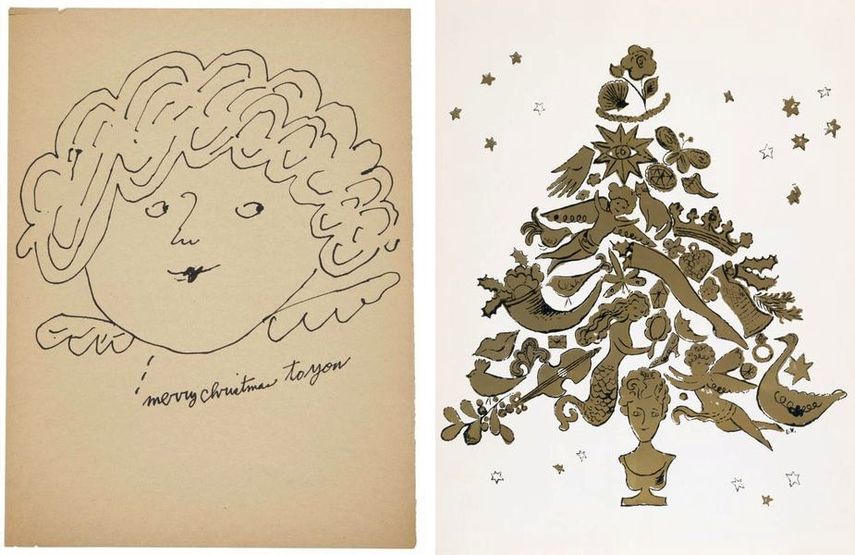 Later Christmas Art
In 1978, Andy Warhol and Truman Capote were featured in the Christmas issue of High Times dressed in festive garbs. Warhol was dressed as a Santa, and Capote was supposed to be dressed as a little girl. Yet as Warhol recalled in his diaries, "Truman wasn't in the mood to go into drag, he said that he was already dressed like a little boy".[3]
When Warhol first arrived in New York, he had an unusual obsession with Capote, acting as a borderline stalker. Capote dismissed him as "one of those hopeless people you just know nothing's ever going to happen to",[4] until one Christmas he received a golden shoe painted by Warhol, dedicated to him. After Warhol rose to stardom, the pair became close friends. They also created a Christmas polaroid around 1980, both clad in festive garb.
In the early 1980s, Warhol created a series of Poinsettia paintings and screen prints as gifts to his friends. With vibrant palette and electric pink outlines, Warhol immortalized this ubiquitous Christmas flower, highlighting its commercial agency founded on its use for floral holiday displays.
In Myths, 1981 portfolio of 10 screen prints, Warhol depicted iconic mythical figures, such as Superman, Dracula and Uncle Sam, among others - and a slightly disreputable Santa Claus made seedily real. The series was a reflection of his unerring sense for the powerful motifs of his time that captured the modern imagination.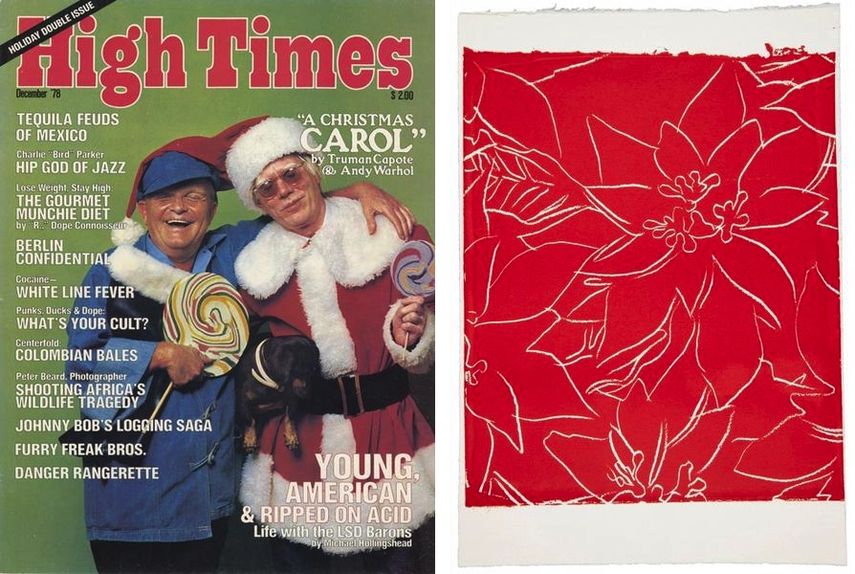 Warhol's Endless Love For Christmas
Why did Andy Warhol love Christmas so much? When we take a look at his art practice, this might not be out of character. Not at all. Warhol was always fascinated by popular culture and consumerism and loved everything Pop. At once materialistic and spiritual, kitsch and inviting, universal and democratic, Christmas is probably the most Pop thing ever.
The notions of togetherness and friendship were always very important to the artist. An integral component of New York's creative community, he was described as the one who aimed to keep everyone together. He was also very attentive and generous when it came to Christmas gifts. Recognizing it as a true collective myth, he believed in American Christmas.
Looking at Norman Rockwell's works as a kid, the painter who shaped the way America saw itself at the time, Warhol longed to experience the perfect American Christmas he portrayed. For him, the American Christmas was an anthropological fantasy in which everyone tried extremely hard to participate.[5] And so did he.
 Editors' Tip: Greetings from Andy (Warhol): Christmas at Tiffany's
An illustrated gift book collects the whimsical drawings and paintings produced by Andy Warhol for Tiffany's Christmas cards before he achieved fame as a leading pop culture artist, in a small-sized volume that also features anecdotes, quotes, and a discussion of Warhol's working relationship with the luxury retailer. 25,000 first printing.
References:
Mena, A. Pop Artist. Provocateur. Catholic. Who was Andy Warhol? CNA [December 22, 2017]
CNA, ibid.
Warhol, A. The Andy Warhol Diaries. Warner Books, 1991
Bockris, V. Warhol. Da Capo Press, 1989
Jones, J. (2005) He believed in Santa. The Guardian
Featured image: Unknown photographer, Andy Warhol and his Christmas tree in the Factory, 1964, via pinterest.com; Interview Magazine Christmas Card, c.1980. All images used for illustrative purposes only.