An array of texts covering different aspects of Andy Warhol's career was written during the course of time. The leading proponent of Pop art transcended the role of an innovator in visual arts by embracing different tools in order to achieve outstanding results. Warhol's silkscreen portraits are by far his most famous works, then we have his photography, films, the Interview magazine, formation of a rock band - the list is really long.
However, before the artist managed to brand himself, produce works for the wealthy collectors, and enjoy the cult status of a celebrity, he used to work as an illustrator in the late 1940s and 1950s. During that time, Warhol was able to develop a personal style; he learned the silkscreen printmaking, developed his blotted line technique and expressed himself mostly through drawing.
Aside from his commercial career, in 1959 together with his friend and a successful interior decorator Suzie Frankfurt the artist made a cookbook named Wild Raspberries which did not achieve any commercial success until it was reprinted in 1997. Although it was somehow overthrown by his other more significant works, this publication is an important document of Warhol's wit and the friendship he shared with Frankfurt.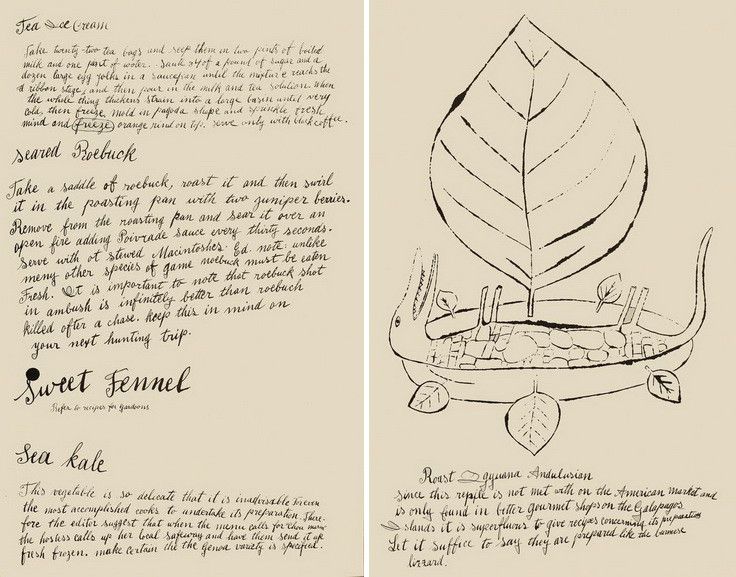 Andy Warhol and Suzie Frankfurt - The Encounter
Namely, Andy Warhol and Suzie Frankfurt met when the legendary interior decorator/bohemian hostess saw the work of Warhol, then a burgeoning artist at one of the exhibitions organized at Manhattan's Serendipity ice cream parlor. She was not familiar with his work before, yet the vibrant watercolors of butterflies and flowers blew her mind. At that moment, Andy Warhol was working at Doubleday as an art director, and shortly after the mentioned exhibition, Frankfurt managed to meet the young Warhol in the fourth-floor building where he lived with his mother, Julia Warhola. Frankfurt wrote about their first encounter:
I shall never forget that meeting. Andy greeted me as if we had known each other for years. He was especially fascinated by the fact I grew up in Malibu and had lived next door to [the actress] Myrna Loy. He also loved the fact I collected antique jewelry. I felt we had become new best friends in an instant. We made a lunch date for the following day, and that was how it started.
Instantly, they became friends. The story goes that Warhol went to have dinner with Frankfurt in her flat and brought her a present - gold vermeil rose from Tiffany. She placed it in a Coke bottle which thrilled Warhol very much. That is how they came to the conclusion that a collaboration is a must, and so they envisaged handmade books that mocked the trendy mass-produced French cookbooks popular in the 1950s.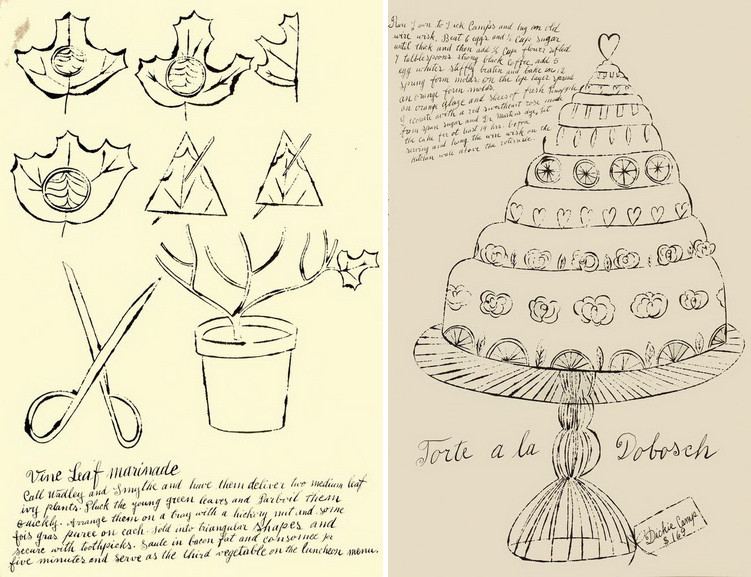 The Working Process
In order for all the books to be hand-colored, Warhol and Frankfurt hired four boys who lived in the same building to drop by each afternoon and do the coloring. The process was slow and they were able to produce thirty-four full-color books, which were hand-bind by the rabbis.
Frankfurt wrote recipes, Warhol illustrated them, while his mother Julia did the calligraphy, and the result was outstanding. The recipes were, of course, quite satirical - take for instance the Omelet Greta Garbo. In order to make it you need to:
Make a bed of Genoise and fill it with pink ice. Cover with meringue and set to brown quickly. When about to serve to pour a glass of beated kirsch into the meringue and light it. Always to be eaten alone in a candlelit room.
The title Wild Strawberries was named after the 1957 cult movie by Ingmar Bergman. Unfortunately, they were not able to sell it well, so they left a couple of these hard labor artworks at Doubleday and Rizzoli, while the rest of the books were given away as presents to their friends for Christmas.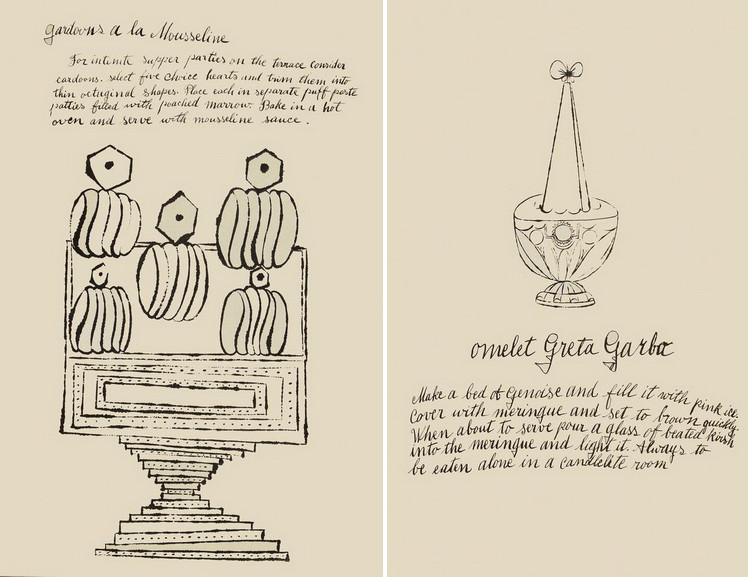 Andy Warhol's Wild Raspberries Cookbook
A valuable publication, Wild Raspberries saw the light of day after four decades after Jamie Frankfurt, Suzie's son, found it among his mother's documents in 1997 and published it. The publication was welcomed with great interest and it is still in print.
From a time distance, it perfectly shows Warhol's ambiguity; the artist was interested in taking risks for the sake of experiment, but he was also well aware that a process is much easier if he employs an army – a practice he later extended in the Factory. Warhol would do preparatory sketches, and the rest would be done by a team of assistants. However, the combination of Warhol's drawings and Frankfurt's goofy recipes created the magic, and it is not strange that still, after all this time, their cookbook is so appealing for a wider audience, especially the ones in search of a good laugh and a slice of the artists' Imaginarium.
 Editors' Tip: Wild Raspberries
This beautiful facsimile edition brings the classic book back to life for a new generation. Wild Raspberries is pure delight - the perfect gift for food-lovers, sophisticates, and Warhol fans everywhere.Nineteen vintage Warhol illustrations accompany the hilarious recipes - A&P Surprise, Gefilte of Fighting Fish, Seared Roebuck, and Baked Hawaii, among others - that were conceived by Frankfurt and hand-lettered by Mrs. Warhola, Andy's mother.
Featured image: Andy Warhol - Gefulte of Fighting Fish, Oysters a la Harriman, 1959. Images courtesy Woodward Gallery.