As Deleuze and Guattari wrote, "art is continually haunted by the animal".[1] The desire to assign symbolism to animals sharing our world connects human cultures across time. Ever since humans first started drawing on cave walls, the animal world served as an endless source of fascination. Whether artists have used them literally or figuratively, with or without human subjects, depictions of animals in art remind us not only of themselves, but also of the qualities and traits we assign to them. Animals have been represented in a variety of ways, as symbols, teachers of moral lessons, aesthetic and scientific muses, talking creatures, or companions. Commanding the composition and constructing meanings, they have served as vessels for happiness, distress, environmental issues, gender roles, and more. From first cave drawings to later decorational, symbolical or allegorical representations, the portrayal of animals in visual arts reveals a lot about our times and the relationship between our two worlds colliding.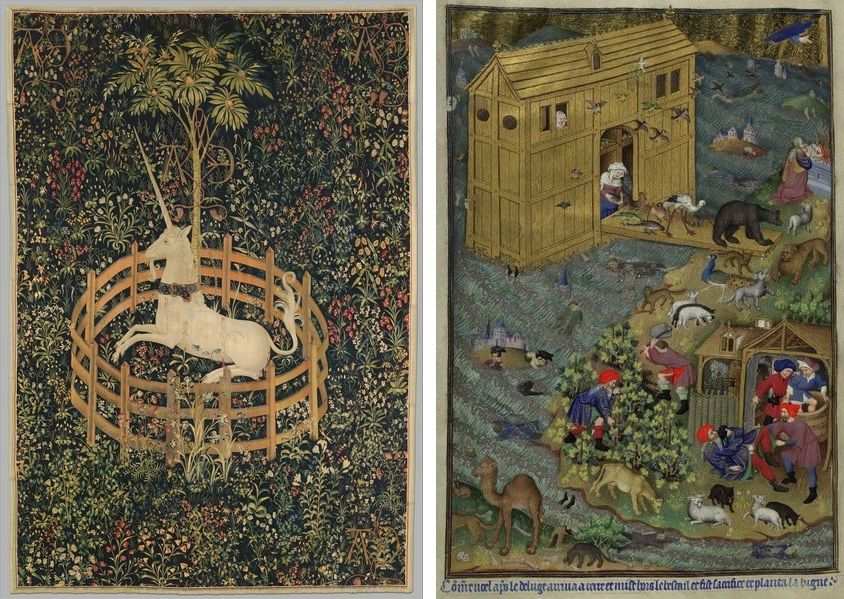 The Bond Between The  Man And Nature
While humans and animals occupy the same earth, we inhabit different worlds, each having its own ways of being. Yet, artists depicting animals cast bridges across divides to the non-human world allowing them to flourish outside one's own expectations. The first cave depictions of different beasts were mainly inspired by hunting. Remarkable for their realism and liveliness, a recent study determined that these drawings were actually better at accurately depicting the way four-legged animals walk than artists from the 19th and 20th centuries. [2] When cave paintings were found at Lascaux in the south of France in 1940, Pablo Picasso stated that "we have learned nothing in twelve thousand years". Examples of tribal art from every continent combine features of humans and animals that symbolize man's bond with his natural environment. The art of the ancient Near East includes some of the most vivid images of animals to be found anywhere. With interactions with animals shaping their world, their images took many forms, including painted pottery and clay sculptures, carved stone, and sculpture in precious metal. Their representations evoked divinity, kingship, and the fertility of the natural world. [3] In Ancient Egypt, animals were represented in a variety of forms, from amulets and charms that provided the association with a spirit of the particular creature or depictions of everyday interactions between humans and animals to religious portrayals of particular deities in their animal form. Animals also appeared in comic scenes pursuing human pastimes or chores, from a lion and antelope sitting on chairs and playing chess to a goat playing a lyre for a dancing bear.[4]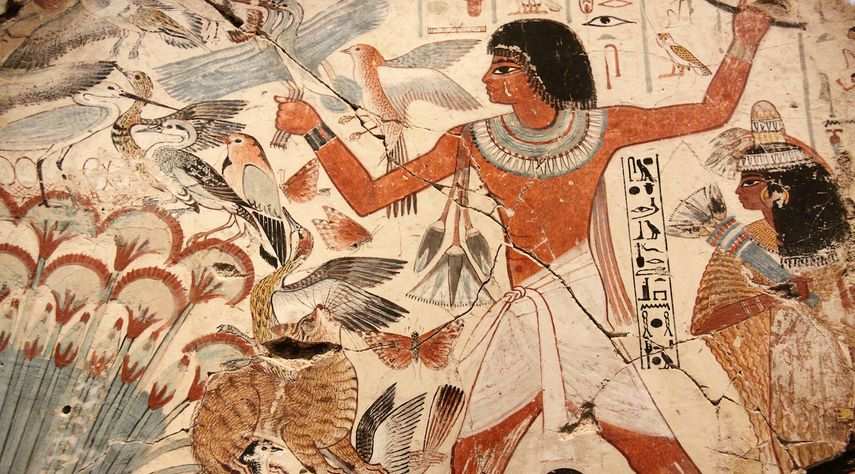 The Rich Symbolism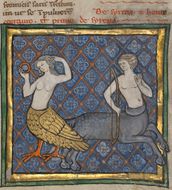 Animals, both real and fantastic, occupied an important place in medieval art and thought. Regularly incorporating animal motifs into their decorative vocabulary, artists used various commonplace creatures and mythical beasts to decorate sacred manuscripts or employed them to imbue utilitarian objects with majesty and even humor. These depictions often took on a rich variety of symbolic associations. In Christian art, the lamb was adopted as a symbol of Christ, emphasizing his sacrifice for humanity, while the griffin stood as a guardian figure for the dead. Throughout history, many animals are also portrayed in death from pet urns and burial sites to grave memorials with strong symbolic meanings. Birds in flight often symbolized the "winged soul"; lions represented the power of God and were often carved in stone to guard a tomb; the butterfly signified loyalty and the lovability of the deceased; dolphins portrayed the idea of resurrection; a fish indicated faith, and a horse meant courage or generosity. Besides the interest in animals people knew and used, there was also a distinctly spiritual and even mystical aspect to the animal lore of the Middle Ages. The Bestiary, a collection of descriptions and interpretations of animals, intended for both a natural history and a series of moral and religious lessons, developed in medieval Europe in the twelfth century. Providing intriguing interpretations of animals and tales about the existence of bizarre creatures, these beautiful and imaginative collections served as a source for many artistic inventions.[5]
With this genre becoming more scientific in study, the close and accurate observation of animals was a hallmark of Renaissance in general, as sketching from life was part of the artist's of the period normal routine. Artists like Albrecht Dürer, who was influenced by Leonardo da Vinci, used mathematics in art and carefully studied the anatomy of animals, setting new standards for artists. Throughout the Renaissance, dogs abound in art, most often appearing as incidental background motifs, part of a hunting scene, religious, mythological, or allegorical composition, or beside their masters in portraits. Since then, dogs became a common visual motif in Western art and have been called the "artist's best friend".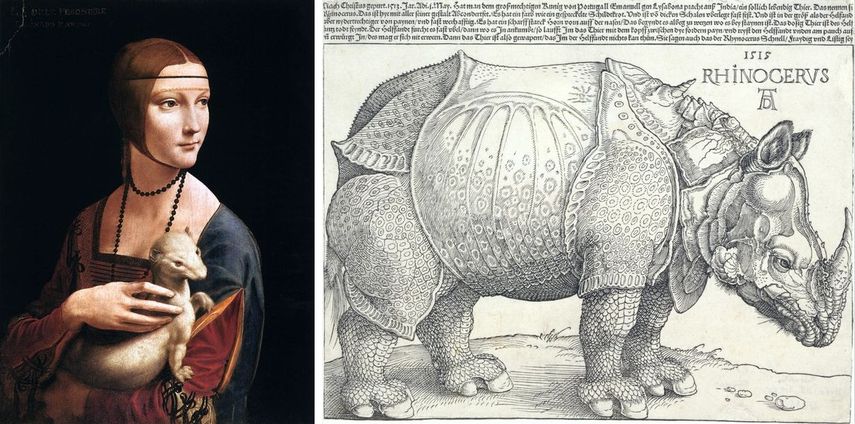 The Popularity of Animal Painters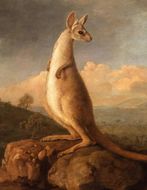 By the 17th century, a particular term for an artist specializing in the portrayal of animals emerged – an animal painter. These specialized artists would often collaborate with other ones who would either paint the main subject or the landscape background. Frans Snyders, a prominent artist within the Baroque animal painting tradition, often painted animals for Peter Paul Rubens. The hunting scene illustrating dramatic life and death struggles between the man and the beast was a particularly popular subject. Some of the most famous artists specialized in painting animals were Jan Brueghel the Younger, Jan Brueghel the Elder, Georges Stubbs, Eugène Delacroix and Friedrich Wilhelm Kuhnert. English painters in the 18th century were particularly famous for their depictions of horses, a common subject in the Western art tradition. During this period, artists often celebrated the beauty and majestic power of animals in their native habitats. The artists' role was often seminal in bringing newly discovered animals to the public eye. Depicting strange creatures from many angles, many of them had never seen these animals in the flesh, but were either working from explorers' accounts or copying images produced by others. The painting The Kongouro from New Holland by Georges Stubbs resulted from Captain Cook's first Pacific voyage of discovery and it was the first painting of an Australian animal in Western art.[6]
Animals were once inhabiting the center of the human world, subjected to power but also worshiped, endowed with magical significance and anthropomorphized. During the process of urban industrialization in the 19th century, these animals disappeared as such, and re-surfaced in a new context, first as machines, and later simply as so much raw materials. Used up in this way, animals' special and equal relation to humans had vanished. Additionally emphasized by the invention of the household pet, the marginalization of animals resulted in an abyss opening between a man and nature. This will affect their depiction in art greatly.[7]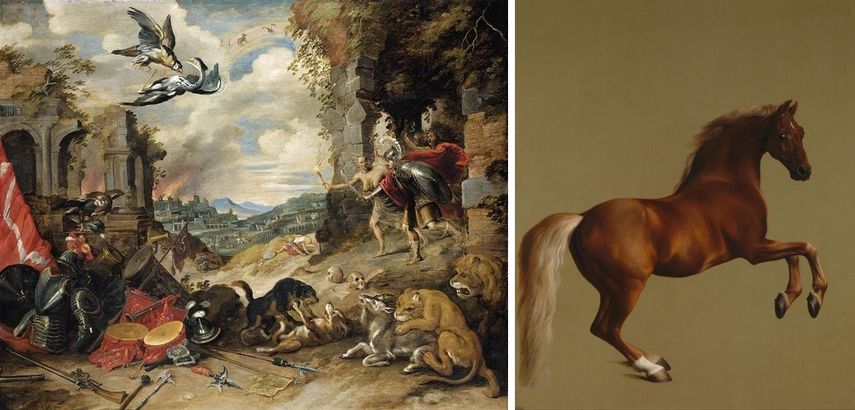 Iconic Representations of Animals in Art
The artists of the late 19th and 20th century explored the entire range of animal genres and invented a few more of their own. These pieces represent vastly different worlds, yet the tenderness and fascination toward animals are tangible throughout these disparate works.
Frida Kahlo - Self-Portrait With Monkeys, 1943
"I paint self-portraits because I am so often alone because I am the person I know best", Frida Kahlo once said. Kahlo represented herself numerous times in the company of her various pets, which included monkeys, deer, and exotic birds. In some aspects, they were surrogates to the children she could never have due to her bus accident injuries. In the painting Self-Portrait With Monkeys, the subject is pushed towards the viewer by using a background of the big curtain of leaves. Traditionally a symbol of lust in Mexican mythology, the monkey is here depicted as a creature with his own soul. With a tender and gentle touch, monkeys seem protective over her.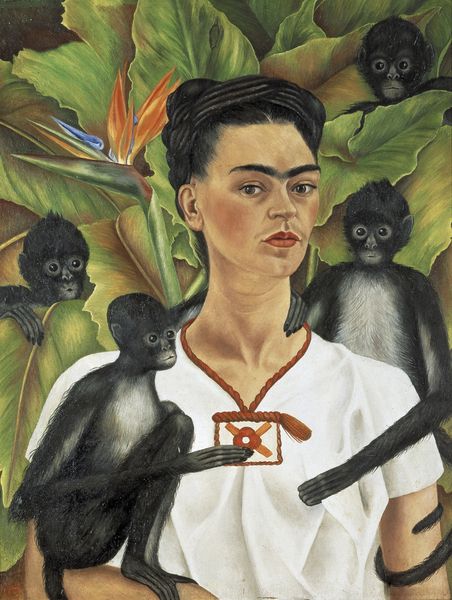 David Hockney - Dog Days
During the 1990s, David Hockney was fascinated with his dachshunds. He created numerous endearing paintings and drawings of Stanley and Boogie that truly represented them as two adorable and constantly active creatures. The result of sharp observation and affection, these paintings and drawings are lyrical studies in form and design. Since his figurative paintings were a bit old-fashioned in the context of '90s art trends, he made an unapologetic apology: "I make no apologies for the apparent subject matter. These two dear little creatures are my friends. They are intelligent, loving, comical and often bored. They watch me work; I notice the warm shapes they make together, their sadness and their delights. And, being Hollywood dogs, they somehow seem to know that a picture is being made".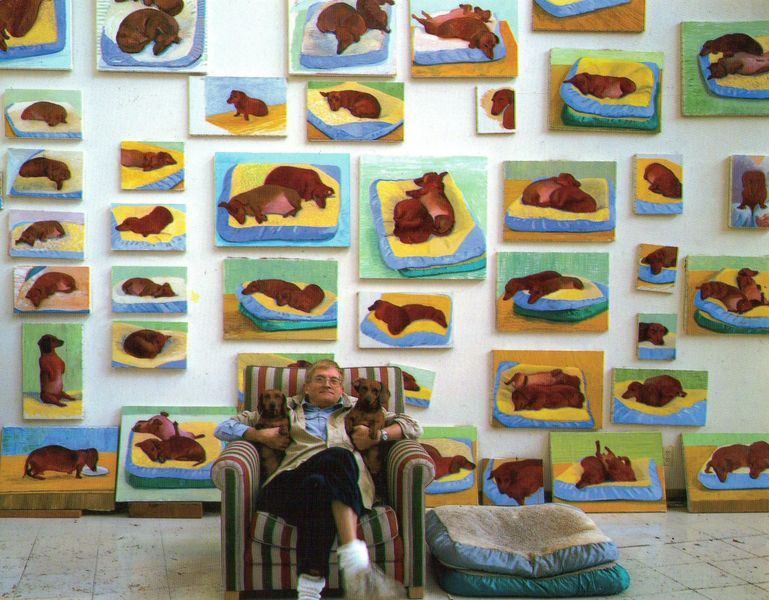 Henri Rousseau - Fight Between a Tiger and a Buffalo, 1908
Often described as naïve, primitive or savage, the art of Henri Rousseau is arguably one of the most original and uninhibited artistic expressions that emerged after Impressionism. His amateurish technique and unusual composition were shunned by the art critics of the time, but praised by artists such as Picasso and Kandinsky for "the new possibilities of simplicity". Famous for his jungle scenes, his highly personal paintings are imbued with a sense of mystery and eccentricity. A common subject of his work, a tiger is a beast of the mind, just as his jungle is a fantastic imaginary landscape. The tiger is here visualized as the mighty monarch of its world and a fiery embodiment of every savage instinct and energy.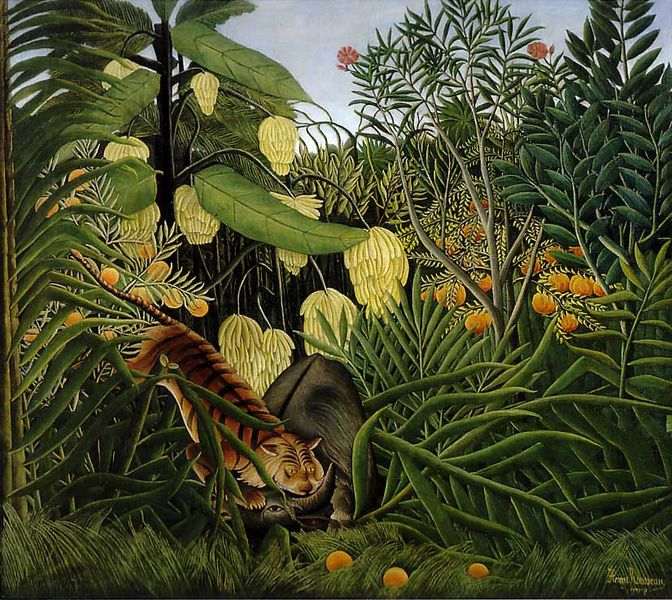 Pablo Picasso - Dying Bull, 1934
Represented in paintings, drawings, and sculptures, the bull is a recurring subject in the art of Pablo Picasso. After his father took him to see a bullfight at the age of nine, he was so fascinated with the spectacle that he made it the subject of his very first painting that same year. He explored this subject again in 1934 in a series of works in which the choreography of the corrida served as a metaphor for life and death. Also, the struggle between the matador and bull symbolized the co-existence of nobility and brutality in human nature. The focus of the painting Dying Bull is the agony of a dying animal, eliminating the spectators, horses, and  a matador.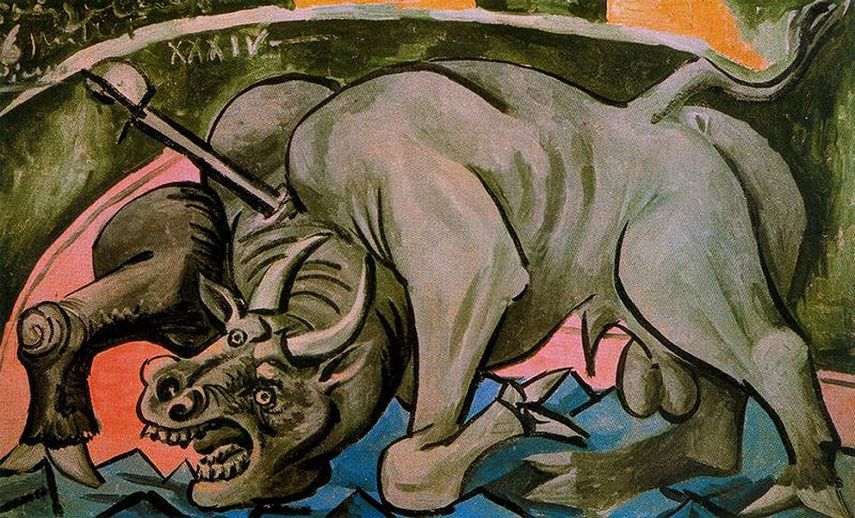 Vincent van Gogh - Two Crabs, 1889
It is believed that the painting Two Crabs was created soon after Van Gogh's release from the hospital in Arles in January 1889. As he wrote in a letter to his brother Theo, he wanted to get used to painting again by doing a few still lifes first. The woodcut by Hokusai Crabs reproduced in the issue of Le Japon Artistique that his brother previously sent to him, probably served as an inspiration for this piece. The creature's form is sculpted on an exuberant sea-like surface by parallel strokes. In the related painting in the Van Gogh Museum in Amsterdam, the animal is shown lying on its back. The crab on the back is tipped towards the light at an awkward angle that gives a feeling of struggle.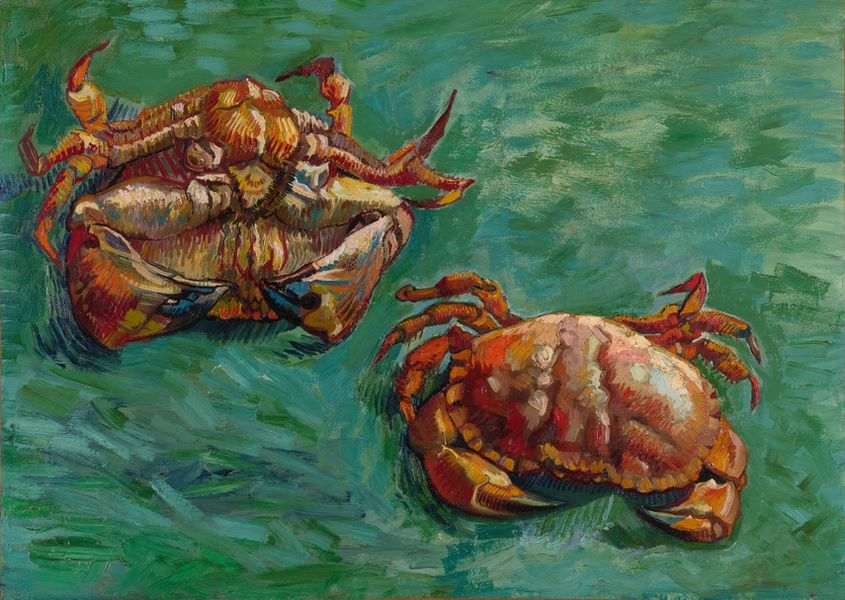 Roy Lichtenstein - Bull II, 1973
During the early 1970s, Roy Lichtenstein explored the progression of an image from representation to abstraction in both paintings and prints. In 1972, he completed six multimedia prints of the Bull Profile series and the three of the Bull Head series. Both series combine line-cut with lithography and screenprint. The initially recognizable form of the bull is gradually transformed into a geometric abstraction. After the bull is reduced to its structure consisted of backbone, horns, tail and foreleg, the only remaining trace in the last piece of the series is a curved line suggesting horns in the upper-right corner. "The series pretends to be didactic; I'm giving you abstraction lessons. But nothing is more abstract than anything else to me. The first one is abstract; they're all abstract", said Lichtenstein in 1973.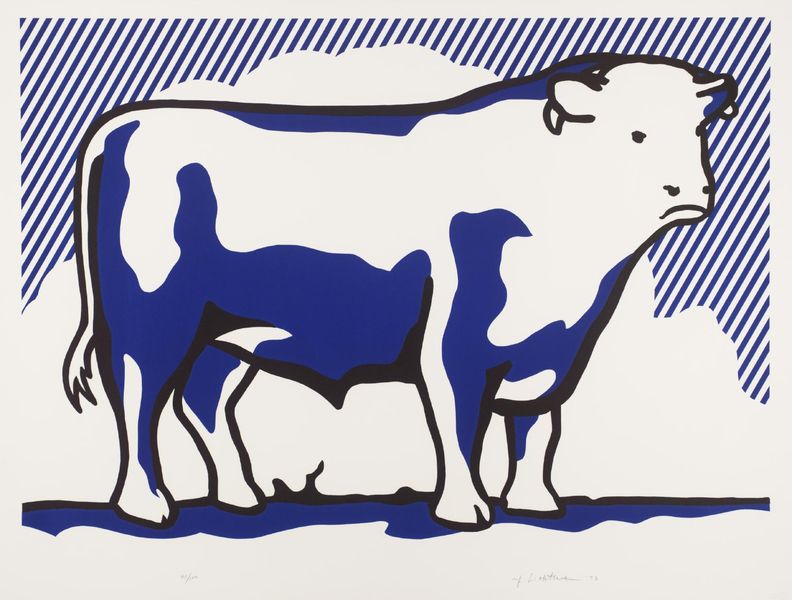 Lucian Freud - Girl with a White Dog, 1950-51
Famous for his unique style of painting that was developed into a distinctive slathered impasto, Lucian Freud was a master at a deeply personal interpretation and representation of the human face and body. In many of his human portraits, Freud has included a dog, often one of his beloved whippets. Painted in the same style as his human models, the dog was always afforded the same importance in the composition. He was impressed by dogs for their lack of arrogance, their ready eagerness and their animal pragmatism. Everything about the painting Girl with a White Dog is charged with intensity. The bull terrier resting on the girl's lap is indifferent to the artist as its mistress is transfixed by him.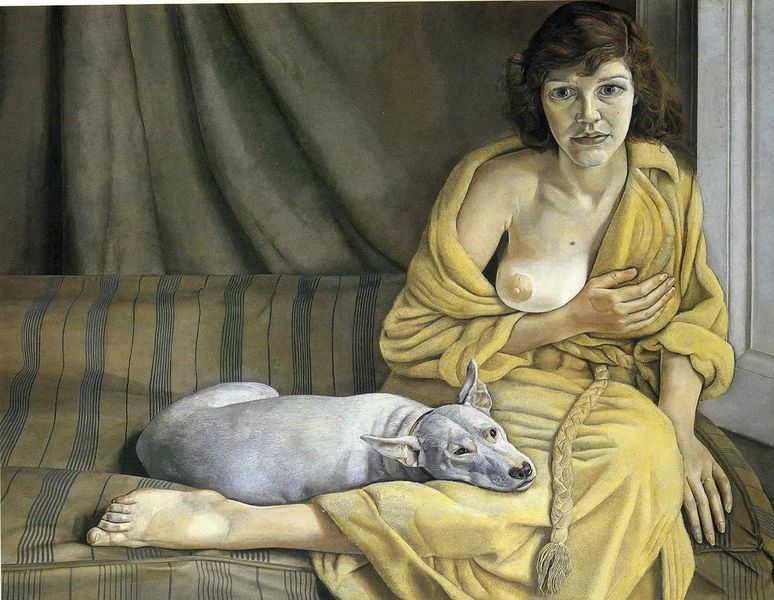 Gustav Klimt - Garden Path with Chickens by Gustav Klimt, 1916
As one the most important figures in Vienna's cultural history, Gustav Klimt is remembered as one of the greatest decorative painters of the twentieth century. Famous for one of the century's most significant bodies of erotic art, he also painted portraits and mythological and allegorical works. Most of his paintings depicted women except for a few, including Garden Path with Chickens. It belongs to the group of paintings Klimt executed during his summer stay in Weissenbach on Lake Attersee. In this piece, Klimt encircles the blossoms and leaves and breaks away from his neo-pointillistic style. This painting, among others, was destroyed in 1945 by retreating SS troops during World War II.
Francis Bacon – The Study of a Dog, 1952
In a variety of strategies, Francis Bacon represented what was described as "the anguish of contemporary life". His use of animals evokes aggression, vulnerability or both. The image of a dog is derived from Eadweard Muybridge's time-lapse photographs of animals in motion. The dog is observed from a distance, appearing as a mysterious stranger with an uncertain character. The paint was smeared to suggest a demented movement. As Deleuze had suggested, with Bacon, it's all about the composition of the image: "For Bacon the dog is not only the center stage but is, to extend the analogy, the entire play."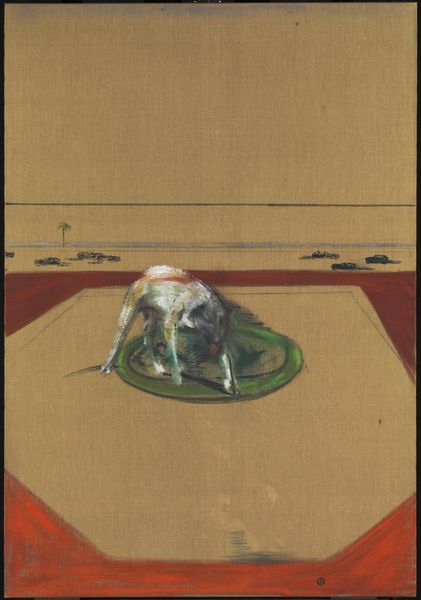 Joan Miro - Dog Barking at the Moon, 1926
The painting Dog Barking at the Moon, influenced by his memories of his native Catalan landscape, shows the sophisticated blend of pictorial wit and abstraction in the work of Joan Miro. Before creating the painting, Miro made a preparatory sketch showing the moon rejecting dog's barks with the phrase "You know, I don't give a damn" written in Catalan. The colorful dog is painted against the background of the brown earth and black sky, and the ladder stretching across the horizon suggests the dream of escape. Pictorial elements of the painting compose a stark yet whimsical image of frustrated longing and nocturnal isolation. Miro combines international artistic preoccupation with a regional outlook to create his distinctively poetic sensibility.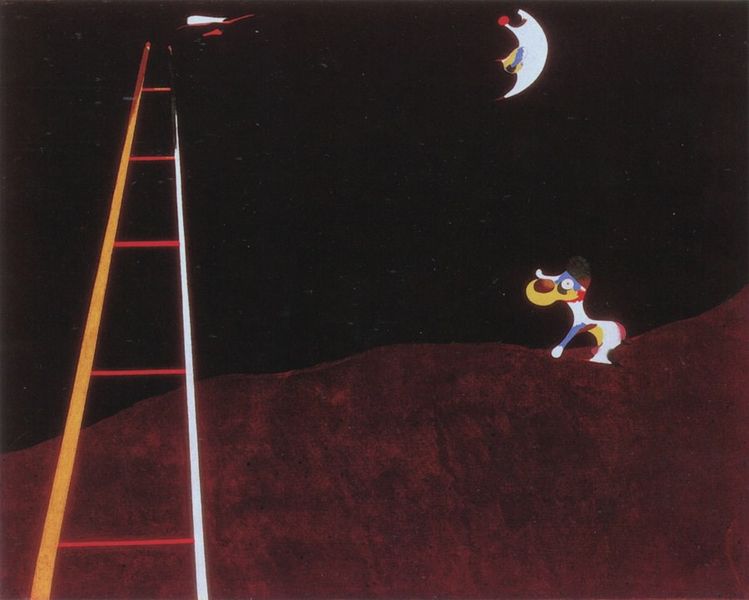 Animals in Contemporary Art
In a world of contemporary art, artists continued to explore the world of animals and our relationship with them in a variety of ways. Over the last three decades, animals have quite literally invaded the gallery space, from Joseph Beuys co-habiting with a coyote, Jannis Kounellis' installation with live horses, Damien Hirst's shark in formaldehyde to Mark Dion's natural history displays and Marco Evaristti's goldfish in a blender. Despite these works mostly being a commentary on whether the animal's place in debates around environmentalism or their rights, it is hardly surprising that ethical issues raised by animals' treatment by the artist have come to the fore.[8] Even though many today's artists still create images of animals to simply celebrate their beauty, the current interest in animal imagery seems intensified by our increasingly uneasy relationship with nature and its denizens. As people don't seem to know animals well anymore or understand the meaning of our interactions, this anxiety and guilt is what informs many of these contemporary works. Through this imagery, many artists try to figure out what it means to be an animal, human, and both simultaneously.
Editors' Tip: Art and Animals by Giovanni Aloi
In this latest addition to the highly acclaimed Art and... series, Giovanni Aloi surveys the insistent presence of animals in the world of contemporary art, exploring the leading concepts which inform this emerging practice. From exhibitions featuring live animals, to taxidermy, and interspecies communication, Giovanni Aloi explores how animals feature in modern art with a range of thought-provoking and innovative visual representations. Art and Animals challenges ideas of identity, otherness, and civilization by explaining the role animals have occupied in our cultural development and illustrating their presence in the visual arts today. He articulately and sensitively unpacks the varied passionate, complex and, at times, questionable motives behind the art world's current embrace of animals as subjects. Aloi offers us, through artists' engagement with 'the animal' and animals themselves, a mirror in which to see our own struggles with our relationships with the non-human world.
References:
Deleuze, G. Guattari, F. What is Philosophy?, Columbia University Press, 1991
Stromberg, J. (2012), Cavemen Were Much Better At Illustrating Animals Than Artists Today, The Smithsonian [September 15, 2016]
Anonymous (2014), Animals in Ancient Near Eastern Art, Heilbrunn Timeline of Art History [September 15, 2016]
Wallenfels, R. Sasson J.M., "Animals in Art", The Ancient Near East: An Encyclopedia for Students. Vol. 1, New York: Charles Scribner's Sons, 2000
Boehm, B. Holcomb, M.(2012), Animals in Medieval Art, Heilbrunn Timeline of Art History [September 15, 2016]
Ashby, J. (2015) 

Strange Creatures: The Art of Unknown Animals at the Grant Museum

, Royal Museums Greenwich [September 15, 2016]
Berger, J. Why Look At Animals?, Penguin UK, 2009
Baker, S. (2001) Haunted by the Animal, The Tate Magazine [September 15, 2016]
Featured images: Edward Hicks - A Peaceable Kingdom, 1834 (detail); Jacob Hoefnagel - Orpheus Charming The Animals, 1613 (detail); Edgar Degas – Horses Before The Stands, 1866 (detail), via luukmagazine.com