Throughout art history, the animal world has served as a source of inspiration, representing emotions, conflicts, environmental issues, personal experiences, and more. The desire to assign symbolism to animals sharing our world connects human cultures across time. From first cave drawings to later symbolical or allegorical representations, the portrayal of animals in visual arts reveals a lot about our times and the relationship between our two worlds colliding.
Vertical Gallery is opening its 2019 exhibition season with a show bringing together six artists who incorporate animals into their work. Titled INSTINCT, it features the works of Adonna Khare, Hama Woods, Dzia, ShadowMonsterBear, Sweler, and Ava Grey/Czr Prz.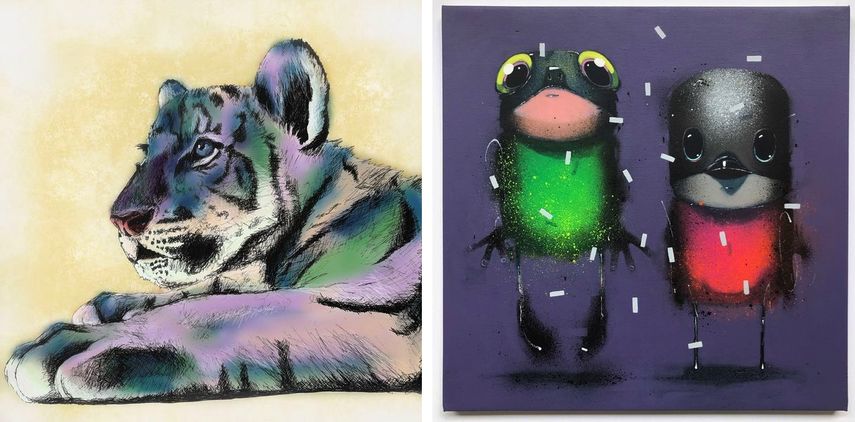 The Art of Adonna Khare, Hama Woods and Dzia
Based in Los Angeles, Adonna Khare creates carbon pencil on paper drawings depicting animals in absurd situations. Her work is photorealistic inn style, but it's also surreal due to these strange inhabitants which spring from her mind. Her working process is spontaneous, always evolving organically through her experiences.
A stencil artist based in Oslo, Hama Woods creates work which exhibits a reverence for nature and its immediate connection to humanity. The artist takes the sociological approach to greed and consumption, and its direct effect on our natural environment. She aims to empower and challenge viewers to rethink the choices they make which effect today and tomorrow.
A Belgian street and urban artist, DZIA is celebrated for her animal murals composed of bold abstract and geometric lines. The artist works across a variety of media that ranges from stencils, painting, sculpture and taxidermy through to street art and graffiti, typically depicting wild animals.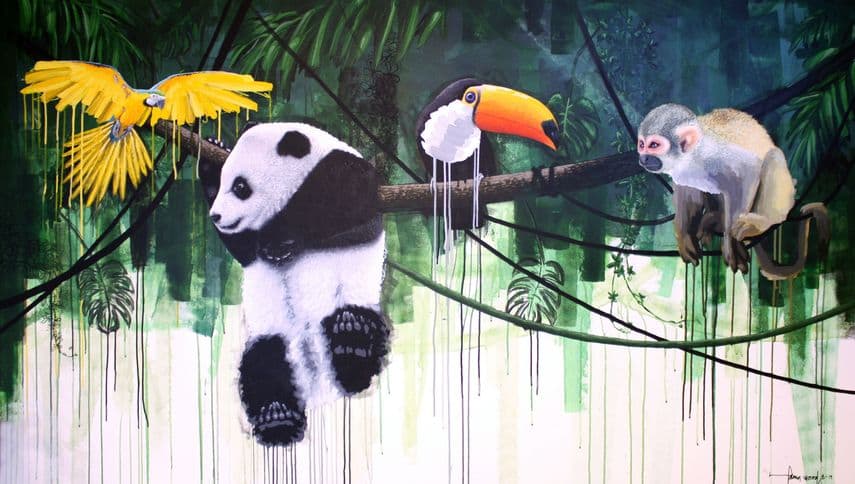 The Practice of ShadowMonsterBear, Sweler, and Ava Grey / Czr Prz
A self-taught artist based in Los Angeles, ShadowMonsterBear creates bright, animal murals using spray paint and acrylic. After making her first commission in 2013, she has been painting numerous pieces and murals in Los Angeles, Miami, Denver, and around the country.
An artist based in Melbourne, Sweler creates art which is character and creature based. Although his characters seem pleasant at first glance, a darker side resides beneath the surface.
A duo comprised of Caesar Perez and Nick Glazebrook, Ava Grey / Czr Prz embodies their individual vision and talents. Using a range of materials, they constantly work on evolving their technique to create sculptures iconic to their own style.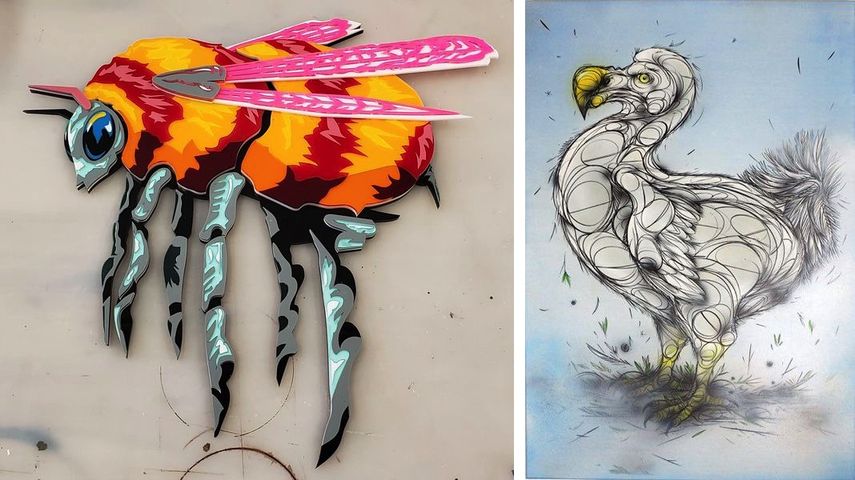 INSTINCT at Vertical Gallery
In recent years, the relationship between the human world and the animal kingdom has been increasingly uneasy. The artists' engagement with 'the animal' and animals themselves, can often serve as a mirror in which to see our own struggles with our relationships with the non-human world.
The exhibition INSTINCT will be on view at Vertical Gallery in Chicago from February 2nd until February 23rd, 2019. The opening reception will take place on Saturday, February 2nd, from 6 to 9 p.m.
Featured image: ShadowMonsterBear - Tiger Cub (detail), 2019. All images courtesy of Vertical Gallery.