William S Burroughs was an American novelist, short story writer, essayist and spoken word performer. He also was a painter. One of the key figures of the Beat Generation was considered to be one of the most influential, original and innovative artists of the 20th century. He had strong impact on the popular culture with his literature. Burroughs wrote 18 novels and novellas, six collections of short stories and four collections of essays. His other interests conclude many projects with numerous performers and musicians like The Beatles, Frank Zappa, Philip Glass and many others. He also made few appearances on film and television. Critics weren't always too benevolent towards Burroughs – in a response to a few critics who wrote devastating reviews of some of his most important books, Burroughs  said: 'Critics constantly complain that writers are lacking in standards, yet they themselves seem to have no standards other than personal prejudice for literary criticism.'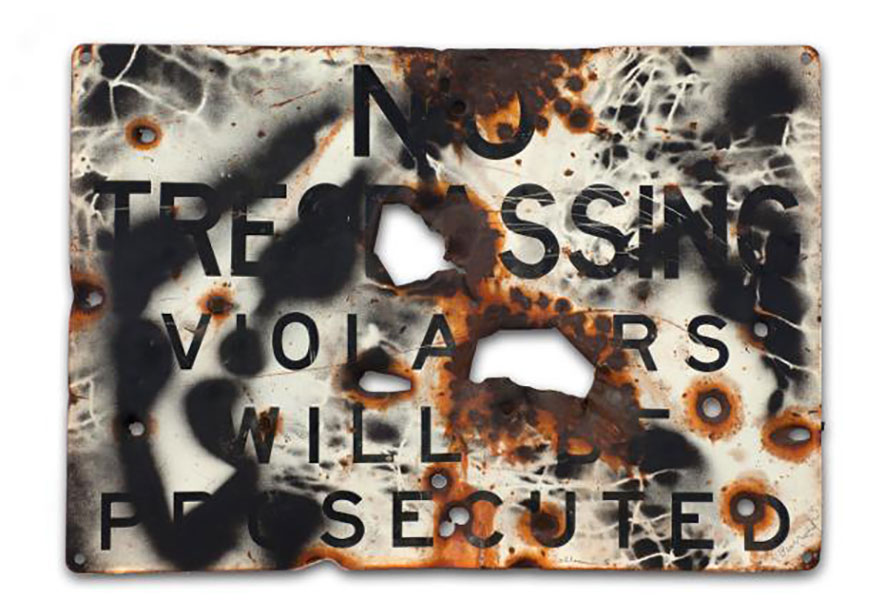 Burroughs' Legacy
The Beat Generation, whose best example is probably Burroughs himself, questioned politics, explored religion, developed styles and creative methods, and wrote about the human condition. His works were so inspiring to many people and his legacy is certainly not forgotten which proves the exhibition starting today called 'Animals In The Wall' that showcases over 40 William Burroughs never been seen before artworks. There are many anarchic graffiti-esque elements in Burroughs' paintings, for which he used spray paint aerosols, stencils, paste-up collages and letter forms. His marks are those of an ambitious and rebellious outsider scrawling text and layering images into new forms. This legacy is explored, re-defined and re-appropriated for a modern audience through connected commissioned artists, deliberately designed to expand, introduce and directly engage with young, innovative, and cultured audience alongside mature fans of arts and literature.

Animals in the Wall
Curated by James Elphick & Yuri Zupancic, the exhibition shows alongside Burroughs' art, the work of 14 contributing artists, films, talks and workshops. These well known and emerging artists are contributing to the theme with their original responses, with a goal to connect and inspire a new generation. Contributing artists include Matt Black, Shepard Fairey, Brion Gysin, Cleon Peterson, Aaron Brookner, Ben Frost, Yuri Zupančič, Mobstr, Gastón Ugalde, Dreamachine Ft Gorilla Perfume, Paul Don Smith, Philip Heying, Oliver Switch and Lana Alana.
The 'Animals in the Wall' exhibition lasts only 10 days starting from today until September 7th at Londonewcastle Project Space, so don't miss the once in a lifetime opportunity to get to know the work of this amazing artist and also enjoy some of the greatest art names right now paying tribute to William S Burroughs.