Catherine Pégard, chief administrator for Château de Versailles, has announced that sculptor Anish Kapoor will be given a solo show at Versailles that will run from June until October, 2015. The Château de Versailles attracts around five million tourists a year, peaking during the summer when the art exhibitions help to bring foreign visitors to the grounds.
Château de Versailles
Built in the 17th century by Louis XIV, the very grand house and gardens at Château de Versailles have recently become home to a series of solo art shows in the summer months. Launched by former director Jean-Jacques Aillagon, the contemporary art program at Versailles began in 2008 with the controversial solo retrospective of Jeff Koons that many felt didn't respect the opulent surroundings the exhibition was housed in. Other artists that have been given solo shows in recent times at Château de Versailles include Takashi Murakami and Joana Vasconcelos. In putting on summer exhibitions by contemporary artists they aim to show that Versailles continues as a living site open to creativity and not just a museum. Chief Administrator Catherine Pégard states that it is very difficult to pick the artists who exhibit at Versailles given that ''it's not a museum, or a gallery or an exhibition space''. Anish Kapoor was offered the solo show at Versailles as they felt his work would have something to say in relation to the particular setting of the exhibition.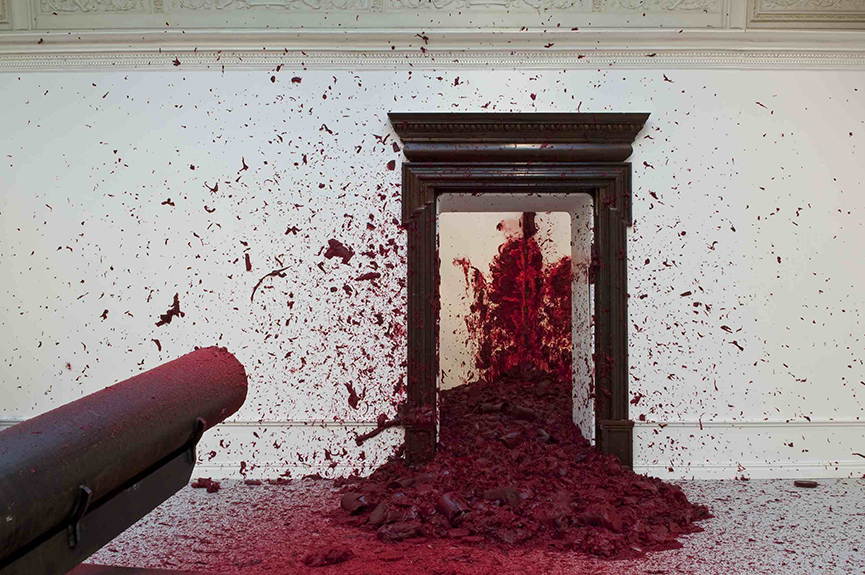 Anish Kapoor
Sir Anish Kapoor was born in India, 1954 before relocating to London, in order to study art at the Chelsea School of Art and Design, where he now lives and works from. Kapoor began to gain recognition during the 1980's for his sculptural work that at the time was created with material such as granite, marble and plaster enhanced with coloured pigment and usually in simple, curved shapes. His work has continued to develop using a range of materials including stone, concrete, polished stainless steel and PVC. Themes behind the work of Anish Kapoor deal with manipulating form and space, the highly polished surfaces reflecting all that is around them while the stone sculptures often feature cavities or carved holes that raise questions about themes like earth & sky, lightness & darkness, conscious and unconscious while Kapoor describes the process with these words "In the end, I'm talking about myself. And thinking about making nothing, which I see as a void. But then that's something, even though it really is nothing." The Public commissions undertaken by Anish Kapoor are probably the most famous of his creations where one can't help but be left speechless by the sheer size and presence of his sculptures regardless of the aesthetic aspects of the work. Projects such as the UK's tallest sculpture, Orbit, created for Olympic Games 2012 have gained the sculptor a vast amount of exposure where many will recognise the works even if they don't know who created them. Other well known works by Anish Kapoor include the Ark Nova (an inflatable concert hall), Sky Mirror, Earth Cinema, Turning the World Upside Down located in Jerusalem and the famous Leviathan created at Grand Palais in Paris.
For information about the Anish Kapoor solo show at the Château de Versailles in 2015, visit the website for further details as they become available.
For all the latest news on public art and solo shows sign up for FREE to My Widewalls today.