Anna Atkins, a Victorian botanist, was surrounded by science throughout her whole life. For her lifelong love of botany, Atkins turned to photography, becoming the first person to publish a book illustrated with photographic images.
Stunning and modern-looking, Anna Atkins cyanotypes of seaweed and algae brought nature to life, paving the way for the use of photography in scientific publishing.
Published in 1843, her handmade book Photographs of British Algae: Cyanotype Impressions was a stunning accomplishment in an era when women's formal foray into science was yet to come. Using the innovative technique developed by Sir John Herschel, she created images that were, not only scientifically groundbreaking, but austerely beautiful.
For this inventive approach, she is today regarded as the first female photographer and a pioneer of scientific illustration.
A Life Dedicated to Science
Growing up with her father John George Children, a chemist, mineralogist and zoologist, Anna Atkins was given a scientific education uncommon for women at that time. A highly respected scientist who was also a secretary of the Royal Society, Children believed that a daughter could do whatever a son could do, therefore encouraging her interest in botany.
Working closely with her father, Atkins significantly contributed to his work. Fascinated with nature, she was meticulously drawing shells and plants by hand to record them accurately. Her intricate engravings of shells can be found in her father's translated edition of Jean-Baptiste de Monet Lamarck's Genera of Shells published in 1823.
Around 1834, William Henry Fox Talbot, a scientist, inventor and a photography pioneer, began experimenting with photomechanical reproduction in order to cause "natural images to imprint themselves durably and remain fixed upon the paper". Using a combination of salt and a silver nitrate solution on a sheet of fine writing paper, he created a tenacious coating of very light-sensitive silver chloride that darkened where it was exposed to light. He used the process to create shadow image photograms by placing objects on it and setting it out in the sunlight.
He first presented his exciting new invention in 1839 at a Royal Society meeting, where Children was also present. Fascinated by the possibilities of this new way of producing images, he wrote to Talbot several months later stating that "my daughter and I shall set to work in good earnest 'till we completely succeed in practising your invaluable process".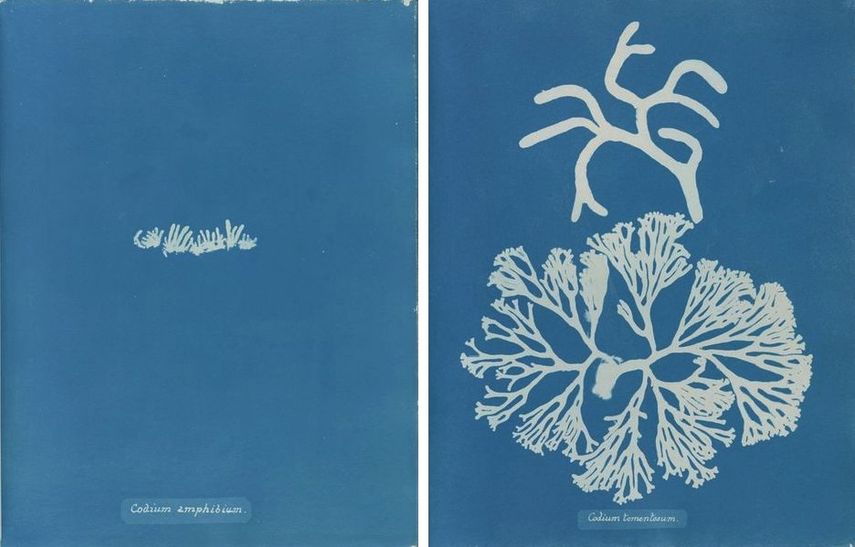 Anna Atkins Cyanotypes
In 1842, Sir John Herschel, another photography pioneer, informed Anna's father of a new invention called the cyanotype, a refinement of Talbot's process that proved expensive, dangerous and unstable. Herschel process involved the brush application of a compound of ammonium ferric citrate and potassium ferricyanide onto a sheet of paper, that would be subsequently dried and left in the sunlight with a flat object on top of it.
After exposing the paper to enough light, the paper would be washed in water, revealing the image of a pale blue object on a dark blue background that would remain intact. It was this invention, previously used to reproduce architectural drawings and designs, that influenced Atkins to create her seminal book.
Guided by her interest in sea algae, she decided to apply this technique to this marine specimens, as a means of preserving her observations and overcoming "the difficulty of making accurate drawings," ushering in a whole new medium for scientific illustration.
She self-published a pioneering volume Photographs of British Algae: Cyanotype Impressions, with the dedication: "To my dearest Father this attempt is affectionately inscribed".
Capturing the intricacies of plant life, she created strangely beautiful algae illustrations that were somewhat abstract in their simplicity. The images were surprisingly modern-looking, with outlines of the specimens delicately crawling across the Prussian blue backdrop. Now 170 years old, her work seems remarkably fresh, as artists continue to use the same process to create their work.
As her most valuable work as a naturalist, the book circulated privately, and Atkins stopped producing it shortly after her father died. For various editions, she produced thousands of cyanotypes using the process that was relatively simple and inexpensive.
Yet the process took a great deal of time and effort, since all the stages were performed by hand, taking 10 years for Atkins to complete her work. Her other cyanotype volumes include Cyanotypes of British and Foreign Flowering Plants and Ferns in 1854.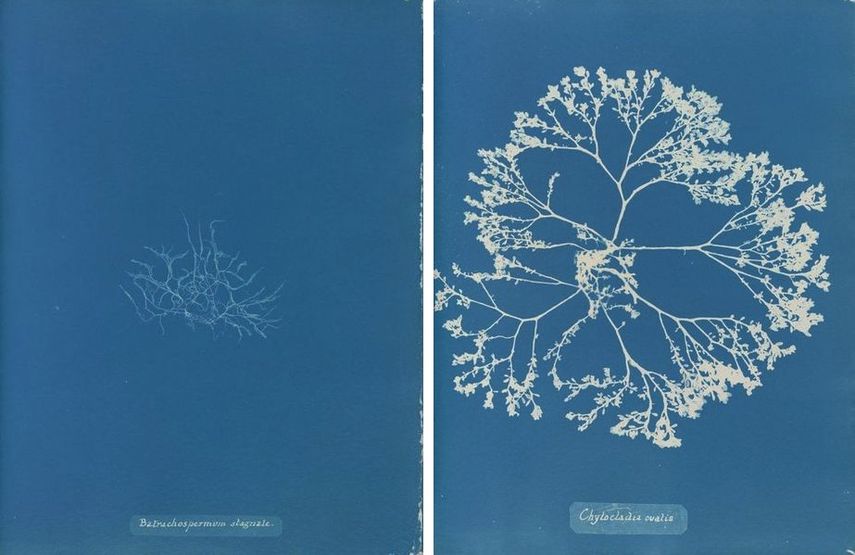 The Legacy of Atkins' Cyanotype Photograms
Sitting on the border between art and science, Anna Atkins' cyanotypes are characterized by their timeless beauty. Due to the abstraction of the silhouettes on the photographic paper, the work feels almost contemporary.
Today, about only 20 books, in various stages of completion, are known to be in existence, differing in composition and size. Extremely rare, few of these are held by some of the world's great cultural institutions, including the British Library and the Metropolitan Museum of Art. Recently, a copy of her book was acquired by the Rijksmuseum in Amsterdam, a rare example in excellent condition containing 307 photographs.
Only well-known in her small circle, Anna Atkins' book was never regarded as a seminal book in botany. Yet, the scientist has received the posthumous acclaim she deserves, including a Google Doodle in March of 2015 that marked her 216th birthday.
Now in the public domain, all reproductions of the cyanotype plates were included with the rest of her major work in a stunning monograph Sun Gardens: Victorian Photographs.
Her work was also included in the 2017 exhibition The New Realities: Photography in the Nineteenth Century at the Rijksmuseum alongside other pioneers who ushered the rapid development of photography after its invention in 1839.
Editors' Tip: Sun Gardens: Victorian Photograms by Anna Atkins
In 1840, artist-botanist Atkins and her scientist father, John Children, began to explore the new "sun-picture" photographic processes then being developed by William Henry Fox Talbot and Sir John Herschel. Atkins favored and applied to her scientific work one Herschel invention in particular: the cyanotype, a simple photographic process that produced photograms akin to modern blueprints. Over a 10-year period, with esthetic taste and the help of her friend Anne Dixon, she documented in this medium a major cross-section of British ferns and algae. The selection here of Atkins's prints, rarely if ever seen in this country, along with art historian Schaaf's introductory perspective and scholarly annotations, make an intriguing addition to photographic literature and throw light on an early female practitioner of the art.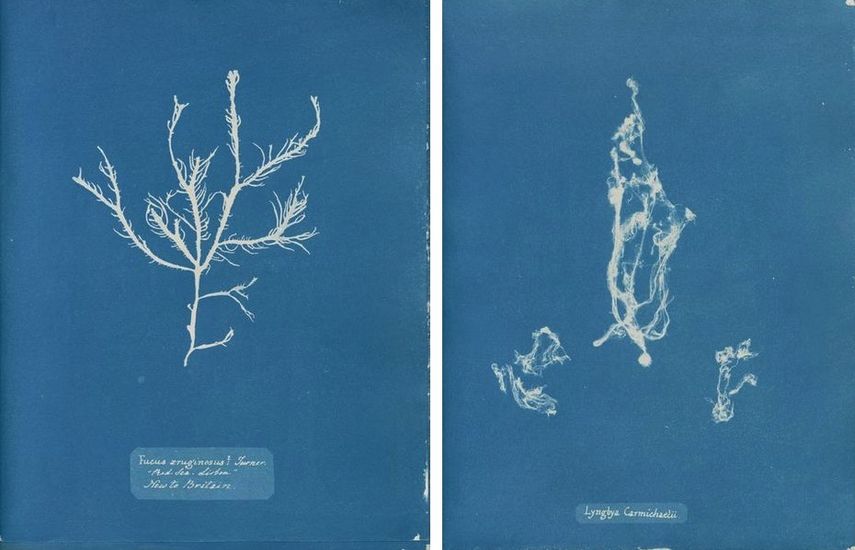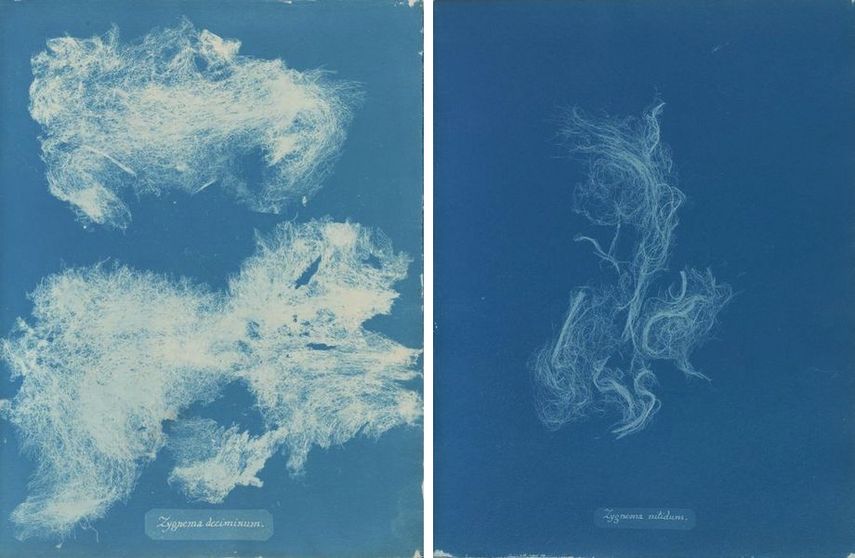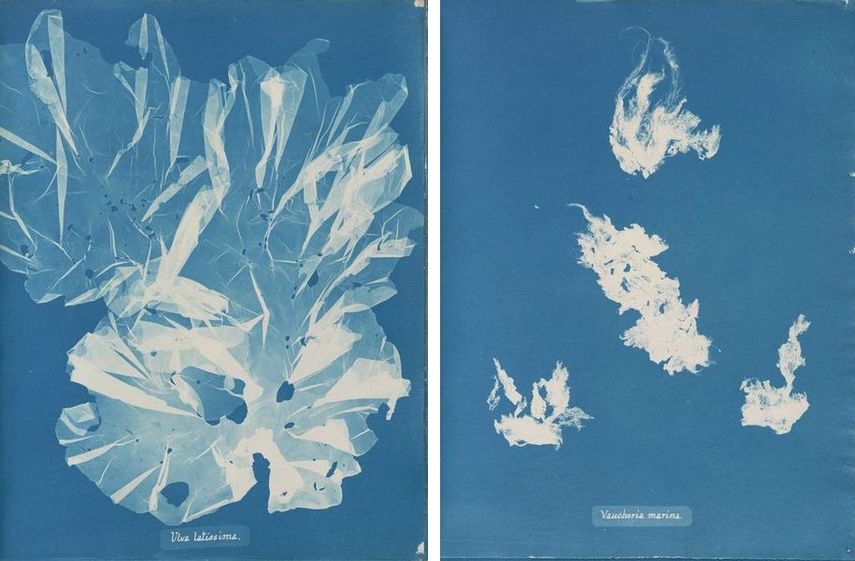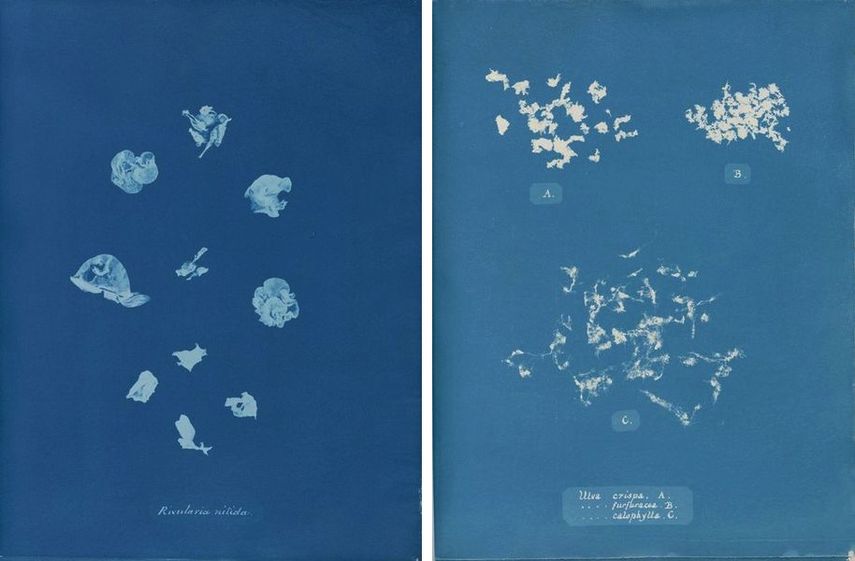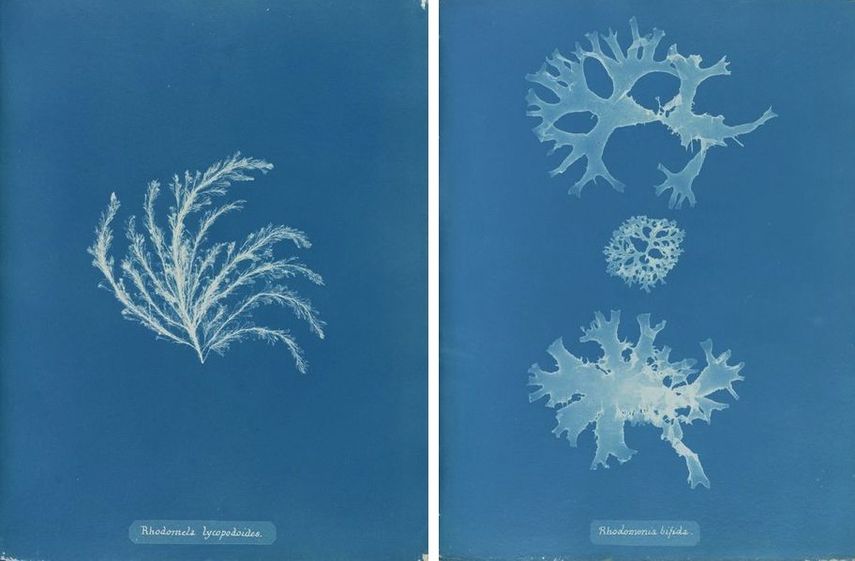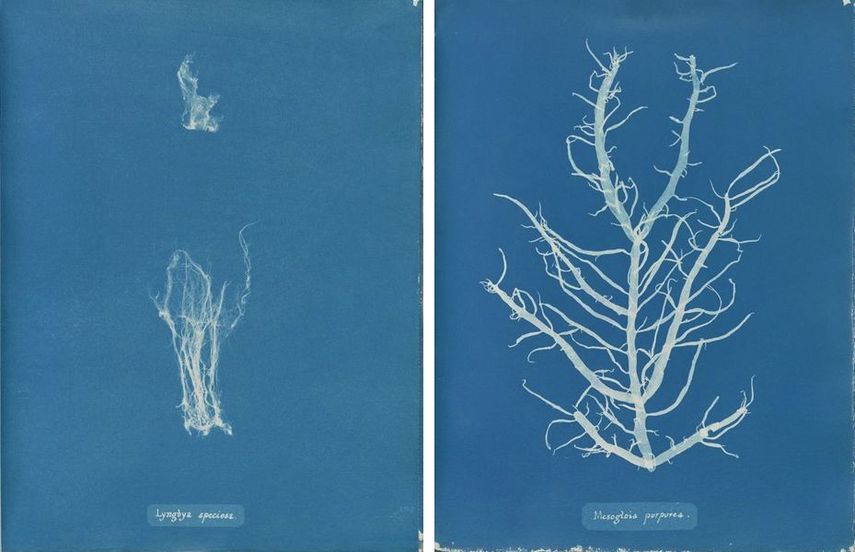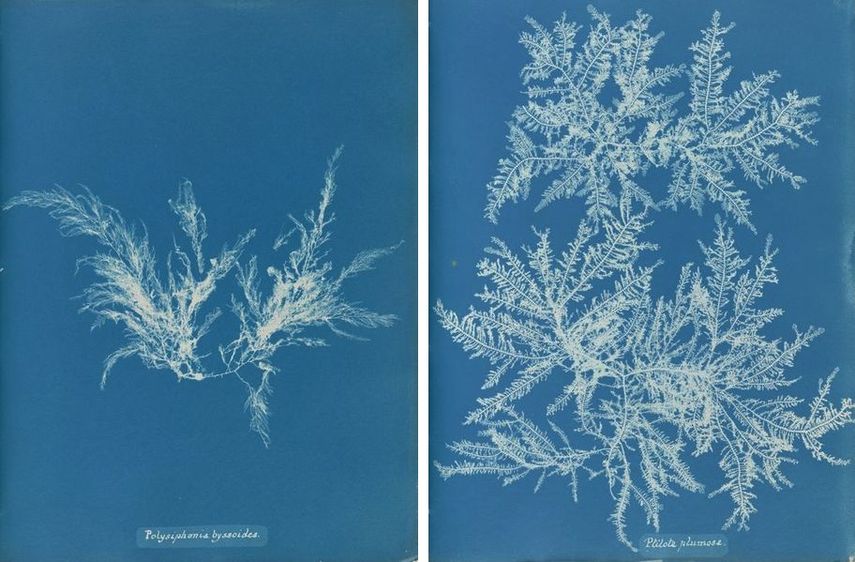 Featured images: Details from Photographs of British Algae: Cyanotype Impressions by Anna Atkins. All images from Photographs of British Algae: Cyanotype Impressions, courtesy of Digital Collections of the New York Public Library.