A California-born and Oakland-based artist, Anna Valdez is celebrated for her vibrant and colorful still lifes that function as self-portraits. Incorporating a range of objects found in domestic spaces, Valdez works on a variety of narratives as she explores the relationship between material and cultural identity, as well as her own traditions and history through a visual format.
The artist's latest body of work is currently on view at Hashimoto Contemporary. Titled Objects of Affection, the exhibition brings together works predominantly made during shelter in place orders across the globe. In these new canvases, she continues her examination into the domestic space as a source of refuge and identity.
The Practice of Anna Valdez
Drawing from the uniquely Californian cultural milieu, Anna Valdez explores the ways in which cultural identities intersect. Focusing on items that exist as part of her domestic environment, Valdez creates maximalist still life paintings that offer a glimpse through the artist's lens into art history and the familiar.
Drawing from the domestic sphere as emblematic of both personal and collective experience, Valdez created portraits of personal and collective memory, featuring both living and inanimate objects such as vases, shells and plants. These objects reappear within different contexts and in different relationships in an exploration of the magnitude of cultural communication within a personal sphere.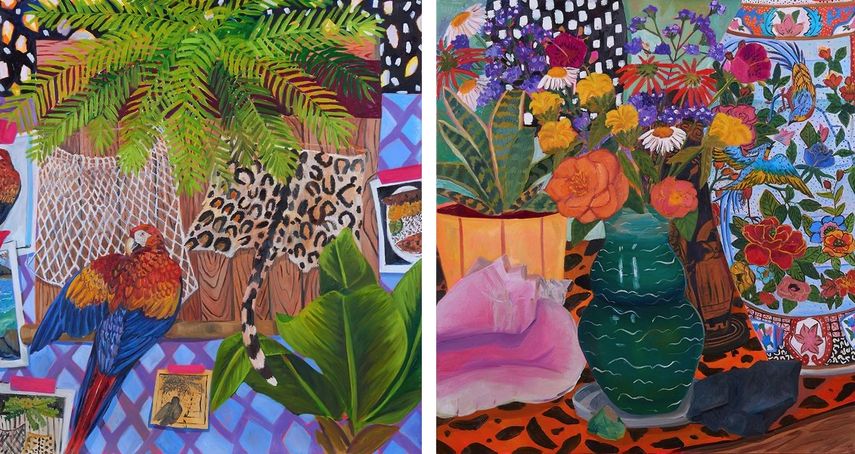 Objects of Affection
The online exhibition features oil canvases and works on paper, examining the relationship to everyday objects that surround us. As the artist feels, the objects she surrounds herself with and the things she is interested in are the story that gets left behind to represent her. Thus, her paintings are reflective, at the same time exploring traditions of value and the significance of a ritual.
In these colorful works, the artist skillfully combines ornamental, nods to craft and references to women in art history. Each object offers autobiographical clues, allowing the viewer glimpses of artifacts and talismans.
Anna Valdez at Hashimoto Contemporary
Due to the Coronavirus pandemic, the gallery will be closed to the public and the exhibition Objects of Affection will be on view at Hashimoto Contemporary's website from June 6th until 27th, 2020.
An Instagram live walk-through of the show is scheduled for Saturday, June 20th. The artist will participate in the live stream.
Featured image: Anna Valdez. All images courtesy of Hashimoto Contemporary.