A New York-based contemporary artist, Anne Vieux examines the optics of the computer screen, and how light can shape abstraction. Working across painting, installation, textiles and sculptures, she uses digital copies of shiny aluminum papers to exports digitalized aesthetics into the physical space in her signature undulating purple, pink and blue hues.
The artist recently took part in ARkanvas, a project curated by Charlotte Dutoit of global women-led curator group Justkids and commissioned by local art organization Oz Art. Created in Downtown Bentonville, AR on the Skylight Cinema building, the piece is an immersive holographic mural installation that integrates the building's concrete finish walls.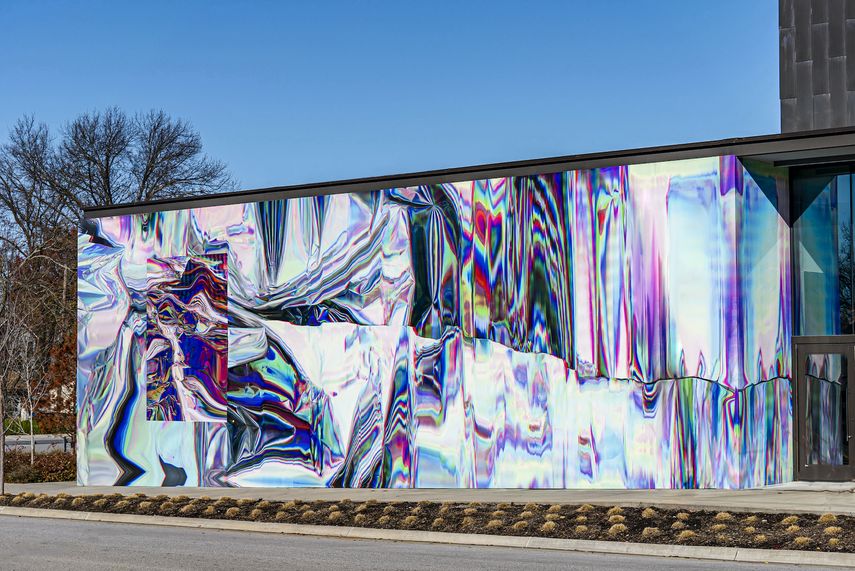 The Practice of Anne Vieux
Working in the great tradition of artists who use tools wrong, Anne Vieux creates works through an innovative process. It involves confounding the CCD array of a scanner by training it on holographic paper. The light source of the scanner explodes the spectrum of the paper, creating topography of psychedelic colors and shapes which are recorded by the lens.
After augmenting, enhancing and printing her random result, the artist uses airbrush, acrylic and gel medium on top of it to create her works, mimicking the healing brush tool.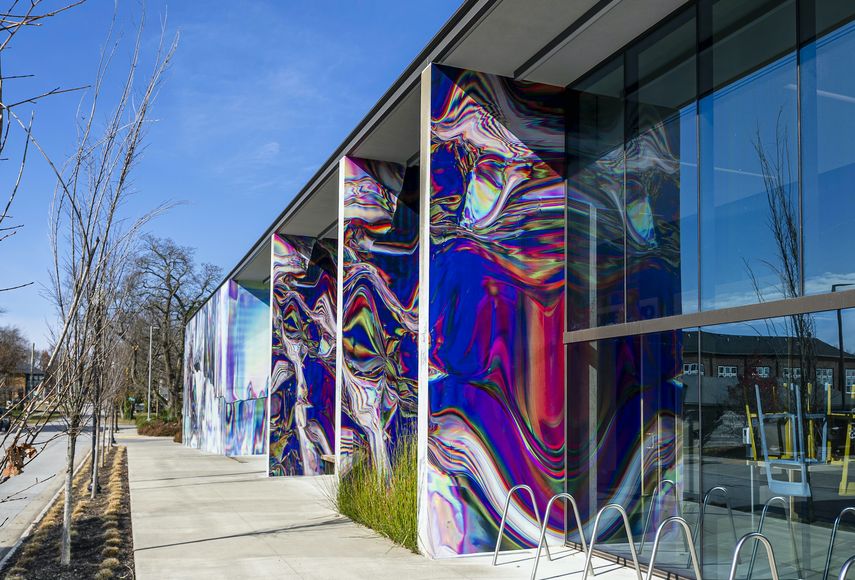 /meta_material
Pushing the limits of the image data, Vieux created a fascinating illusion of a hyper-fluid space. Titled /meta_material, the work blurs the boundaries between real and virtual and challenges the very nature of perception itself. Bringing her experimental approach to public art, the artist set a new paradigm in the field.
As she explained, the idea behind the piece was to "disrupt the solid geometries of the architecture with a hyperreal fluid painting placed in the landscape."
There are two color schemes presenting two very close realities; one in cool tones, scaled up, and another in earthen tones, inverted and zooming out, repeating in the columns. I reflected on these ideas in a cultural/political context, thinking that a larger takeaway of this piece is that through disrupting and dissolving boundaries we can create a fluid open space where there's room to unite.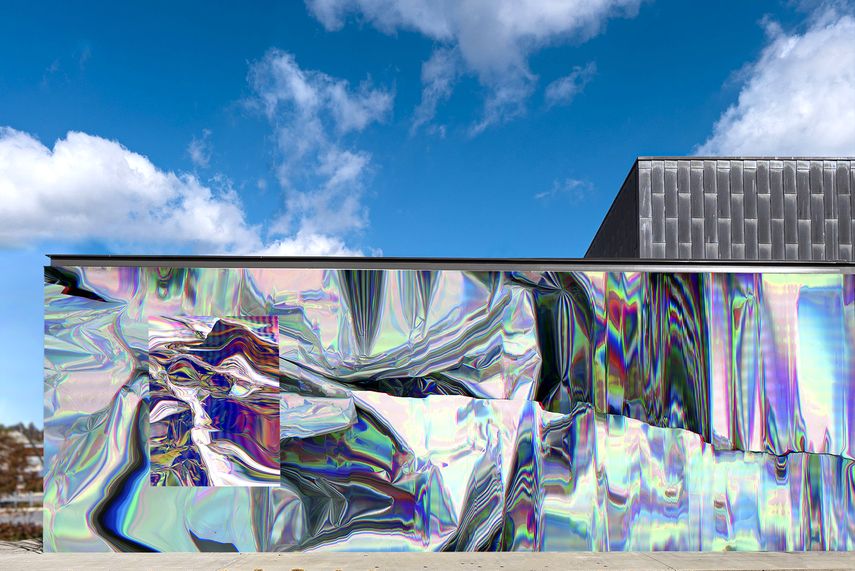 ARkanvas Bringing Color to Arkansas
ARkanvas is a statewide engagement curated by Justkids and commissioned by OZ Art that brings public art by world-renowned artists to Arkansas communities.
Among pieces created as part of the project is Nina Chanel Abney's mural executed alongside the Bentonville Razorback greenway trail.
Featured image: Anne Vieux for Justkids. All images courtesy of Justkids.