Critically engaging with myth and memory, the artistic practice of Anselm Kiefer references symbols of German culture. A painter, sculptor and installation artist, Kiefer explored his country's post-war identity, collective history, and mythology throughout his career. Depicting his generation's ambivalence towards the history of German nationalism and chauvinism, his paintings blend visually powerful imagery and intellectual critical analysis. Combining rough application of pigments and found organic matter such as metal, lead, concrete or thorny branches, he creates large-scale paintings and sculptures imbued with materiality and imposing physicality. These unusual media and materials are imbued with symbolic potency, referencing patterns of life and death. Often incorporating signatures or names of historically important people into his epic and often confrontational pieces, he uses these encoded sigils in order to process the past. Due to this practice, his work has been linked with New Symbolism and Neo-Expressionism.[1] Apart from sigils, his repertoire of imagery is wide ranging and includes various representational and symbolic motifs, occult icons, architectural interiors, and landscape elements. He also frequently incorporates text and books into his works, representing knowledge and civilization. Provoking the emotional and psychological effect in the viewer, many of these symbols directly evoke Germany's troubled past.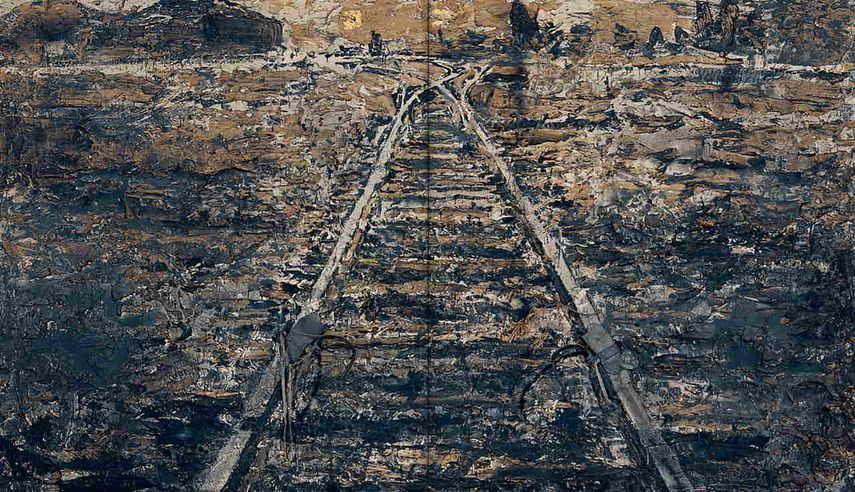 Creating a Dialogue With the Past
Kiefer rose into prominence in 1969 with his series of provocative works entitled Occupations, where he photographed himself standing in iconic European sites wearing a military outfit and making a Nazi salute. This is an early example of an attempt to reconcile Germany's fascist past - a theme that became pervasive in his work. Studying under the controversial German performance artist Joseph Beuys in the early 1970s, Kiefer was majorly influenced by the artist's unusual use of natural materials and interest in mysticism.[2] During this period, Kiefer produced his first large-scale paintings, monumental wooden interiors and three-dimensional aircraft sculptures that reflected his preoccupation with the spirit and forms of Nazi rule in Germany.[3] He continued referencing German culture and history through the use of literature, art history, music, philosophy, topography, architecture, and folk customs.  In his later works, he shifted from contemplating Germany's history to referring to universal themes of religion, the cosmos, and ancient myth in diverse mediums. Kiefer's unique compositions reflect a powerful synthesis of ideas, and layers of multiple histories and media have always been hallmarks of his work. His works will be a subject of a new exhibition series at NSU Art Museum Fort Lauderdale in Florida from November 29th, 2016 until August 27th, 2017. Drawn from the Hall and Hall Art Foundation collections, the exhibition will include around 50 major Kiefer artist books, works on paper, paintings and sculptures from the late 1960s to the present day.[4]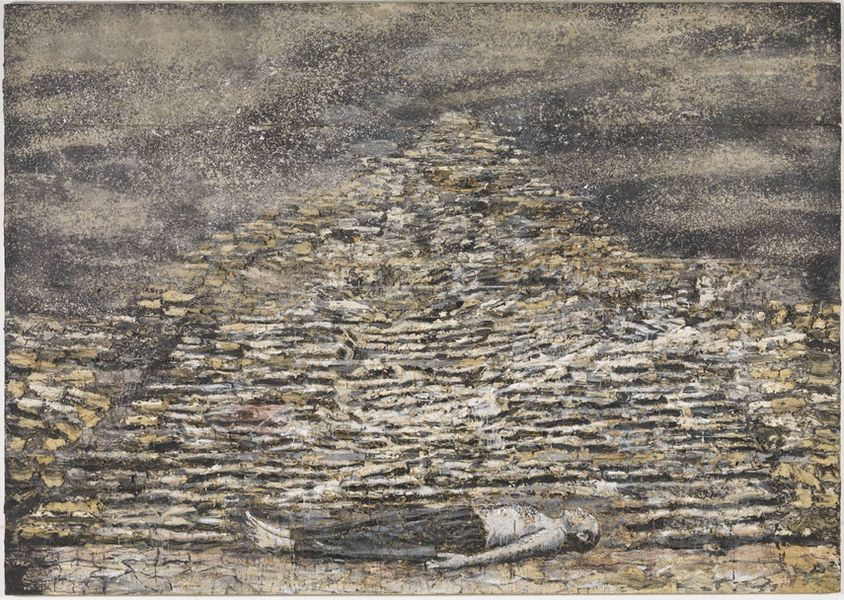 The Theft For Scrap Materials
On Sunday, August 28th, the artist's studio and warehouse space and workshop in Croissy-Beaubourg near Paris was burglarized and robbed for scrap materials. After cutting through wire cages, four thieves were disturbed while dismantling a giant lead and marble sculpture of books. Despite being interrupted by the security guard, thieves have managed to escape taking valuable materials with them.[5] Kiefer's works have been known as one of the most sought-after ones and have been selling for millions of dollars at auctions. The piece in question depicting enormous books, a symbol typical of Kiefer's oeuvre, is valued at $1.4 million. Considering that the total value of the stolen materials is only around $17,000, the irony behind this theft is rather obvious. Later during the same day, two women were arrested while trying to steal the leftover pieces of metal abandoned during the first burglary. Yet, there is still no proof that these two women were linked with the group that committed the early morning break-in and theft. This is not the first time that artist's works have been stolen for reasons other than artistic value. In January 2008, 7.5 tons of lead books were taken from his studio in Barjac and found days later in possession of scrap metal collectors in Drôme and Ardèche.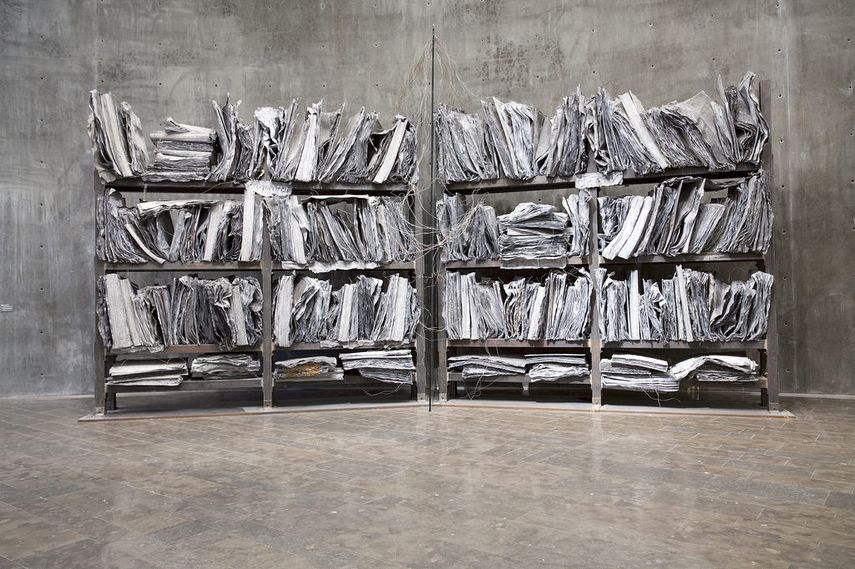 References:
Anonymous.

Anselm Kiefer

, Wikipedia [September 1,2016]
Alteveer, I.

Anselm Kiefer

, Heilbrunn Timeline of Art History [October 2008]
Mann, S.

Anselm Kiefer

, The Tate Modern [September 1,2016]
Anonymous.

Regeneration Series: Anselm Keifer From the Hall Collection

, NSU Art Museum Fort Lauderdale [September 1,2016]
Stapley-Brown, V.

Anselm Kiefer's studio robbed of 12 tons of raw marble and €1.3m lead sculpture

, The Art Newspaper [August 31,2016]
Featured images: Anselm Kiefer, via yonagelu.dvrlists.com; Anselm Kiefer in his atelier, via www.tate.org.uk; Anselm Kiefer in his atelier, via laurastevensdrawingroom.tumblr.com