Throughout the 1960s and 1970s, the world of fashion nurtured an entirely new generation of creatives who were largely inspired by popular culture and visual arts. Individuals in big cities such as New York in particular were affiliated with the subcultural circles that provided the sense of freedom and uniqueness that was still not entirely appropriated by the industry.
Looking from the spectrum of the presence of queer and non-white bodies and culture, the person who changed the rules of the game was Antonio Lopez, a gifted and rather influential illustrator. His authentic visual language, featured on the covers of Vogue, Vanity Fair and Interview, was saturated with bewildering expressionism, flamboyance, and Latin and Black figures unconstrained by the representational canons, and inspired by his inner circle of models, designers and eccentric friends, including Grace Jones, Jessica Lange, Pat Cleveland, and Jerry Hall.
To revisit his exceptional practice that is historically worthy both in the formal and conceptual sense, Daniel Cooney Fine Art is hosting the exhibition Antonio Lopez: Let Me Hear Your Body Talk centered on his lesser-known series that capture the dance and body frenzy of the 1980s.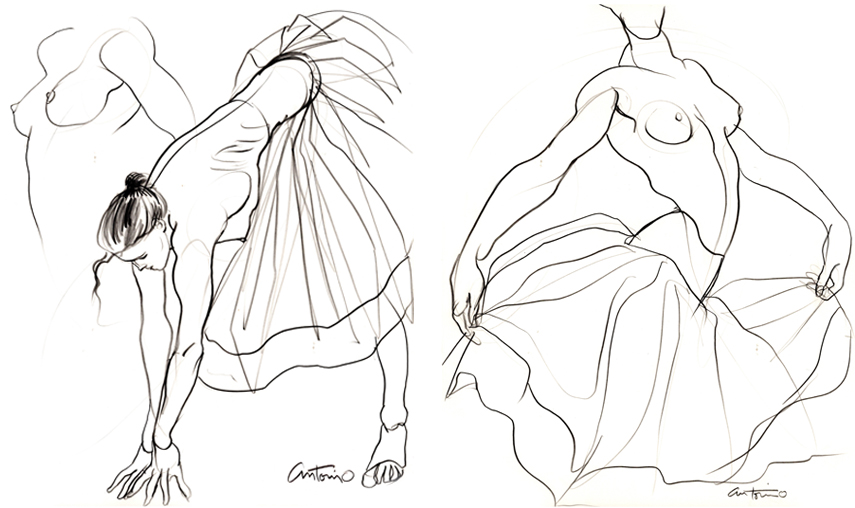 A Glittering Career
Antonio Lopez's entire oeuvre couldn't be imagined if there wasn't for Juan Ramos, his collaborator and romantic partner whom he met while studying at the Fashion Institute of Technology (FIT) in New York City. Lopez started his career as the in-house illustrator for Women's Wear Daily, while at the same time contributing to The New York Times Magazine.
By the 1970s Lopez and Ramos moved to Paris, the illustrator was an established name who was commissioned by major magazines and department stores responsible for revolutionizing the fashion industry by introducing people of color as models. The two were part of the New York art and fashion scene, and were often hanging out in Central Park, dancing at Electric Circus, and spending late nights at Max's Kansas City with their contemporaries.
During the time spent in Europe, they worked for leading fashion houses and befriended new models and muses, including Paloma Picasso. Alongside drawing, painting, and illustrating practice, Lopez experimented with photography to depict the glamorous people and exotic places around him.
After coming back to New York City in 1975, Lopez and Ramos settled into a large studio on Broadway and continued working. Due to complications caused by AIDS, Antonio Lopez and Juan Ramos died in 1987 and 1995 respectively.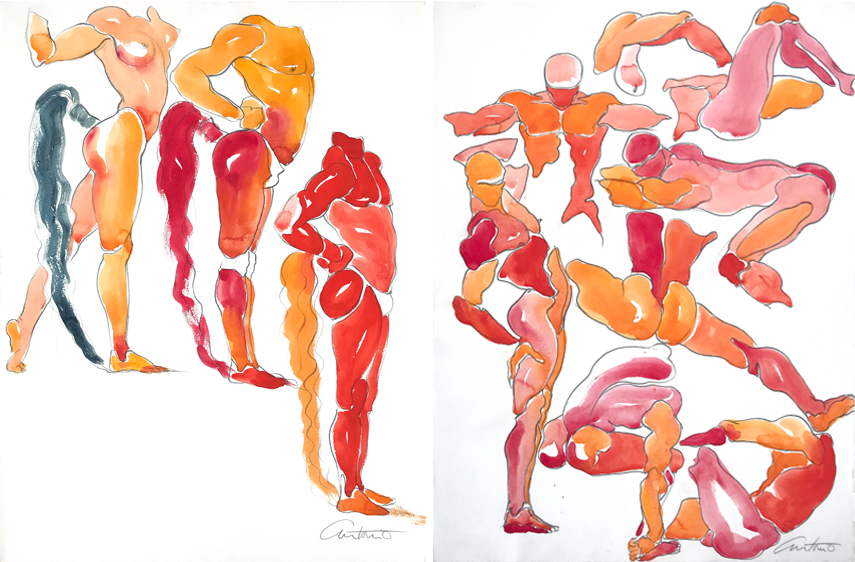 Let's Get Physical!
In 1981 the charts were conquered by Olivia Newton-John's hit single Physical, marking the new paradigm of the decade - the erection of gym culture and athleticism. Naturally, fashion quickly followed by turning dancewear into daywear, and Lopez reacted to the latest tendencies swiftly.
A few years earlier, Lopez had produced more than fifty costume sketches for the Alvin Ailey American Dance Theater's iconic opening night performance at Studio 54, while from 1982 until 1985 the illustrator focused more on the beautiful features of the human form in a series of black and white pencil drawings and four large-scale watercolors of dancers from The Louis Falco Dance Company.
Looking from a contemporary stance, it seems that both series marked the artist's early efforts to abandon fashion and move to the realm of fine art.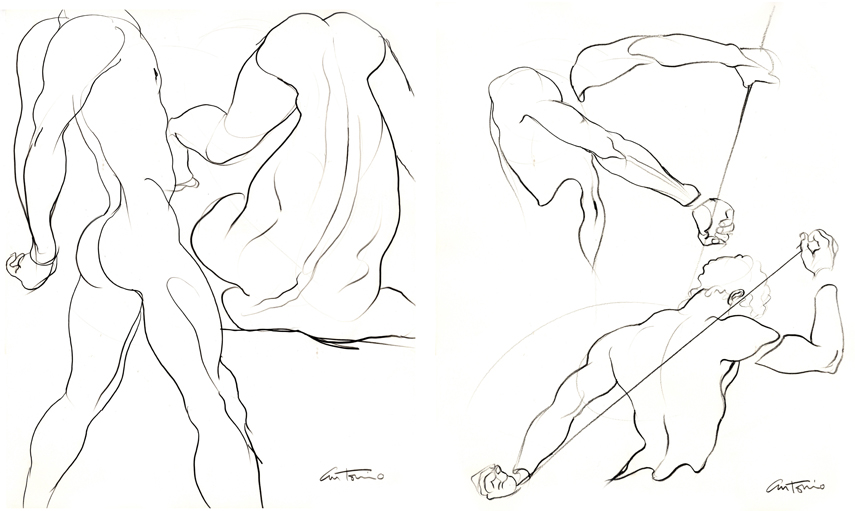 Antonio Lopez at Daniel Cooney Fine Art
The exhibition underlines Antonio Lopez's pioneering role in moving the representational boundaries in the fashion industry, but it also suggests the importance of nightlife and music that inspired the artist and his collaborator as they found the spaces of clubs and bars safe to express themselves freely, meet new people, and celebrate life.
Antonio Lopez: Let Me Hear Your Body Talk is on view at Daniel Cooney Fine Art in New York until 31 July 2020.
Featured image: Antonio Lopez - Body Study, 1982. 23 x 31". All images courtesy of Daniel Cooney Fine Art.