One of the rising stars of the Brazilian street art scene is coming to Italy to set up his first ever European solo show. Apolo Torres is a contemporary artist known for his colorful large-scale murals that depict aquatic elements and subjects plunged into the water. Now he has moved up to the surface with Emergere, his new series of oil paintings. Emergere exhibition at Memorie Urbane Temporary gallery resides between fantasy and reality as the artist narrates imaginative stories with numerous skilfully applied layers of paint. This solo show is a part of Memorie Urbane Festival 2015 and Apolo Torres will also paint several murals at the city of Arce for this street art event.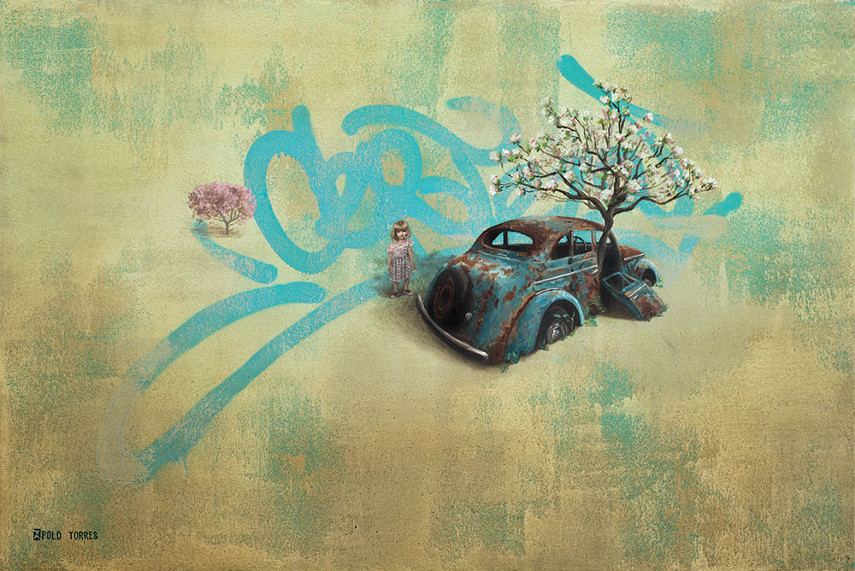 Apolo Torres - Emerging from the Water
Apolo Torres combines traditional painting techniques with ordinary materials such as latex paint. His murals represent elements of urban scenes sitting on a fragment of a wall. With the skillful application of numerous layers of paint, the artist makes the wall a part of the imagery as pictorial narratives join the rest of the scenery. His previous works often depicted various water elements cleverly linked with everyday events in human lives. Through this flood of images, the artist elaborates his personal stands and interpretations of modern society. However, in his latest Emergere exhibition, Apolo Torres steps away from the water and new earthly figures come out.
Exhibition Announcement Video Featuring Apolo Torres
Earthly Subjects at Memorie Urbane Temporary Gallery
Apolo Torres approaches the idea of emergence from a different perspective. The artworks arise from the aquatic environment up to the land, thus announcing a new narrative and a new phase in his work. Suddenly, earthly subjects such as flowers, trees and children appear. The main character of Emergere exhibition is a woman with wild hair and a red sweater. The frog on her shoulder symbolizes the transformation from the aquatic to the more earthly topics. This amazing animal begins its life in the water and latter inhabits the land, but is never completely separated from its original residence. Through his highly detailed portrayals of various living beings, Apolo Torres masterfully captures the life force that's preserved in a place where everything is short-lived and change is the only constant.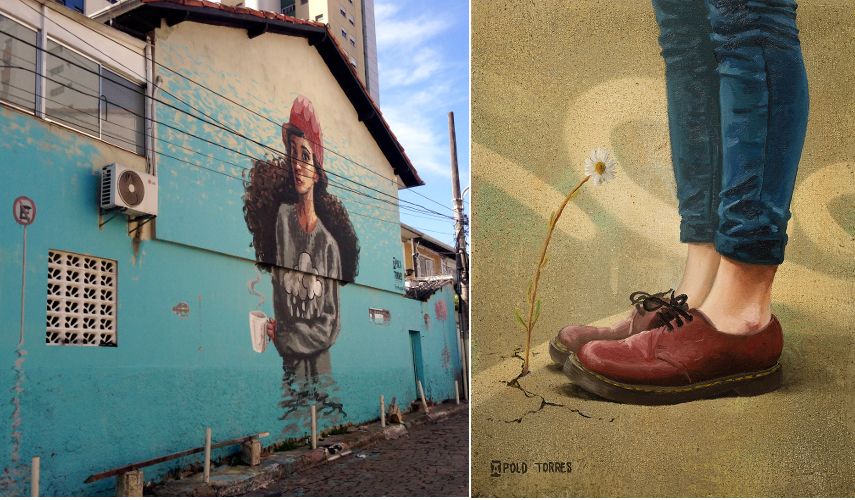 Emergere Exhibition at Memorie Urbane Festival
New body of work by Apolo Torres will be on view at Memorie Urbane Temporary gallery in Piazza Umberto in Arce starting from September 27th. The viewers will notice a visible improvement in the new series of his oil-based pieces, as the artist turns to figuration and intensifies the notion of realism. His brushwork is unconstrained and more spontaneous and colors are employed as tools of translating the original ideas into reality. Emergere exhibition will run till November 8th, 2015.
Emerge from the routine of everyday life by signing up for My Widewalls. It's FREE and easy!
Featured image : Apolo Torres - Emerge, detail
All images courtesy of the artist