The private space is practically a sanctuary for any individual. It does not just represent a place of calm and introspection, but more importantly it is a place where all inhibitions become loose. That is especially relevant when it comes to expressing desire which is often constrained by the socially modified cannons of morality.
In the present moment, regardless of the advantages of social tolerance, certain individuals were and still are very private and do not wish to express themselves according to their desire publicly. If we go even just a little bit back in time, we will see that any sort of explicit desire in the public sphere was considered a taboo, and especially so when it comes to queer sensibility.
An exceptional example is the photographic activity of April Dawn Alison, a female persona of a man named Alan (Al) Schaefer he turned to in the solitude of his home and in front of his Polaroid camera. Throughout three decades, she devotedly took pictures of herself in various poses emitting various emotional states and made an astonishing number of over 9,200 photographs.
After April died in 2008, the images were sold by the manager of her estate and were eventually acquired by the San Francisco Museum of Modern Art in 2017 where they are currently on display in a marvelous exhibition.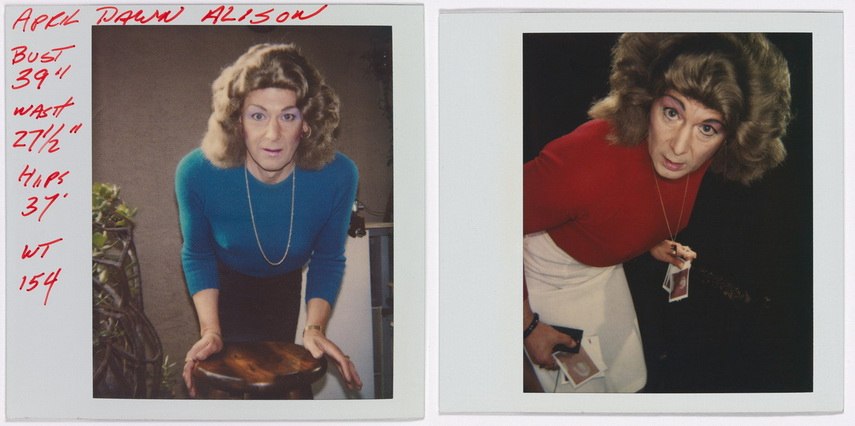 April's Seductive Shoots
Al Schaefer, the man behind the persona of April Dawn Alison, was born in 1941 and he lived and worked in Oakland, California as a commercial photographer. His family was unaware of his cross-dressing passion despite the flux of rumors among the neighbors, so the information about the secret existence of April Dawn Alison leaked in public only after his death.
At first look, these remarkable shoots resemble both vintage pin-up photos and Andy Warhol's Polaroid selfies (April was hardly aware of them;, however, they have to be observed in the context of self-exploration typical for the hardship of a queer person living in the closet, whether as a heterosexual or homosexual man dazzled with female clothes (crossdresser/drag queen).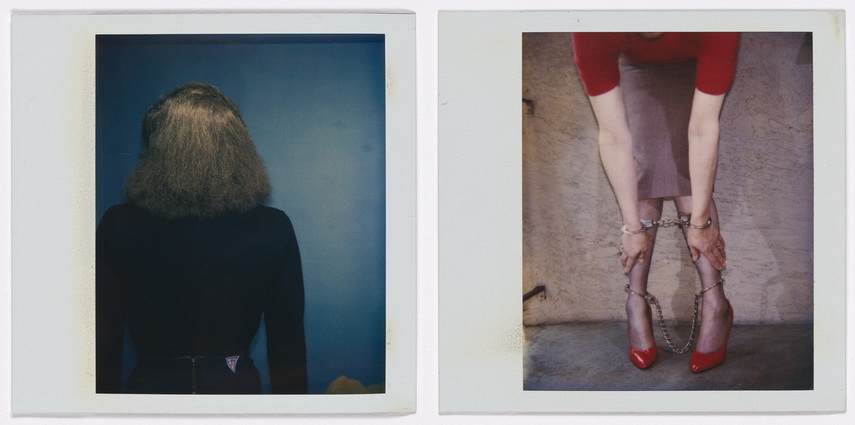 The Poses
While some photos feature April daydreaming, enjoying her leisure time, others show a more explicit side of her desire; she is found in scrupulous BDSM poses just like Betty Page, all bound up by the vacuum cleaner cable or chained by a neck harness to the cabinets above a kitchen sink.
Throughout the decades, April's camp odyssey reveals the exploration of self-domination, self-desire, longing, and aging. The only proofs of her photographic ambition are a humorous signature readin 'April Dawn Avedon', referrring to the work of Richard Avedon on one side, and a book of Ansel Adams's work in the background of one shot on another.
April was a fully realized woman, meaning that Alan never portrayed himself in male attire. Polaroid was the perfect medium to use since the shoots appeared instantly. This camera of choice also indicates the specificity of the same in the context of performative practices taking place in front of the camera during the 1970s and 1980s.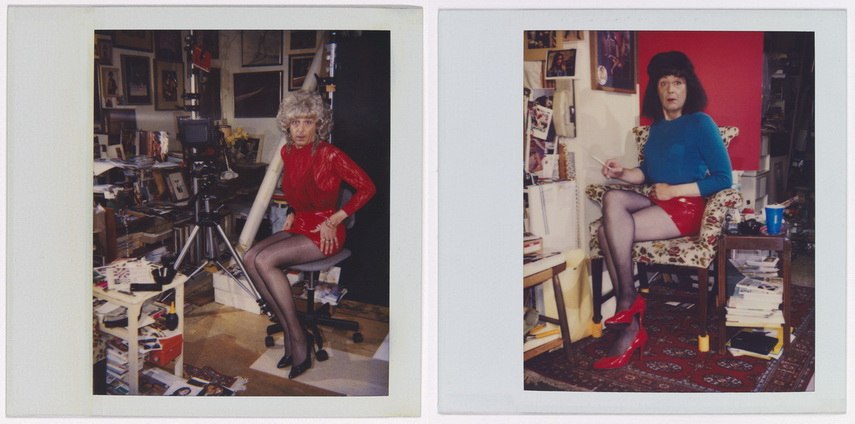 April Dawn Alison at SFMoMA
These photographs are inevitably contextualized under the LGBTQ+ culture and politics, and they evoke various references spanning from the 1950s drag balls to the TV show Transparent, so their public display opens various questions the leading one concerning the moral aspect of outing somebody posthumously.
Whoever Alan was in his everyday life, his need to keep April within the private domain reflects a specific sensibility, a glorious one, a caring one. April was his most important achievement through which he was able to express himself by establishing non-normative gender identity of choice, and that is what makes them so staggering and powerful aside from all the possible inscriptions.
April Dawn Alison will be on display at the San Francisco Museum of Modern Art until 1 December 2019.
Featured image: April Dawn Alison - Untitled, n.d.; San Francisco Museum of Modern Art, gift of Andrew Masullo. All images courtesy SFMoMA.