A week before its opening  Moniker Art Fair offered a nice and special treat to its followers with an exhibition by South African artist Faith 47. 'Aqua Regalia', which means royal water, is the alchemical name of a highly corrosive mixture of acids that dissolve gold. Between a sanctuary and a cabinet of curiosity showing items collected, Faith 47 created a sort of sacred space that drags the visitor in an immersive atmosphere.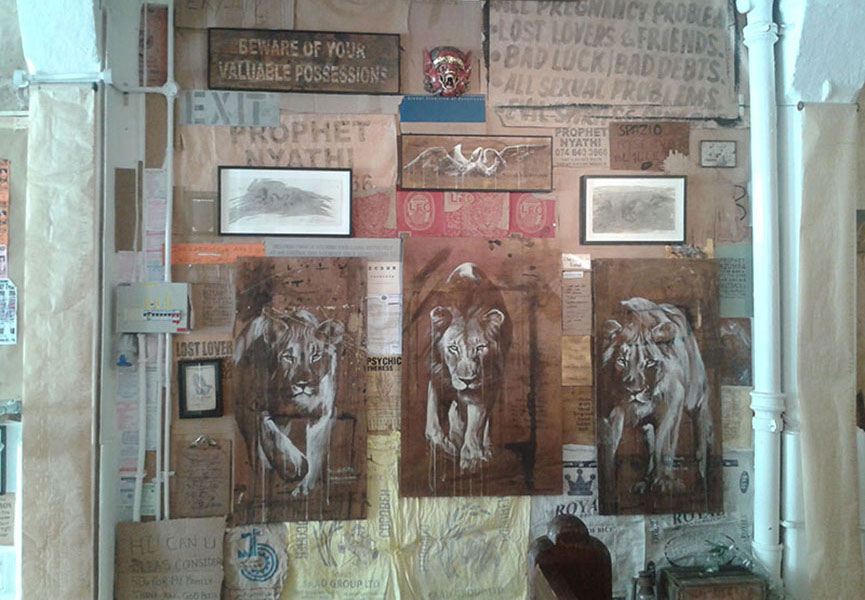 Found Objects
The walls are completely covered with found objects, such as stark paper, wooden boards, sacks, tickets, pieces of wallpaper, pages of calendars, books and notes, pictures and medical records. There are shelves filled all kinds of objects that act as little altars: oils to chase evil spirits away, candles, bowls full of pencils' leftover curls, bones, shells, a crab, broken tiles, sketches, many rusty old lanterns, rusty cans and masks. It takes time to see everything and even after a careful observation the eye is caught by some detail gone missed before.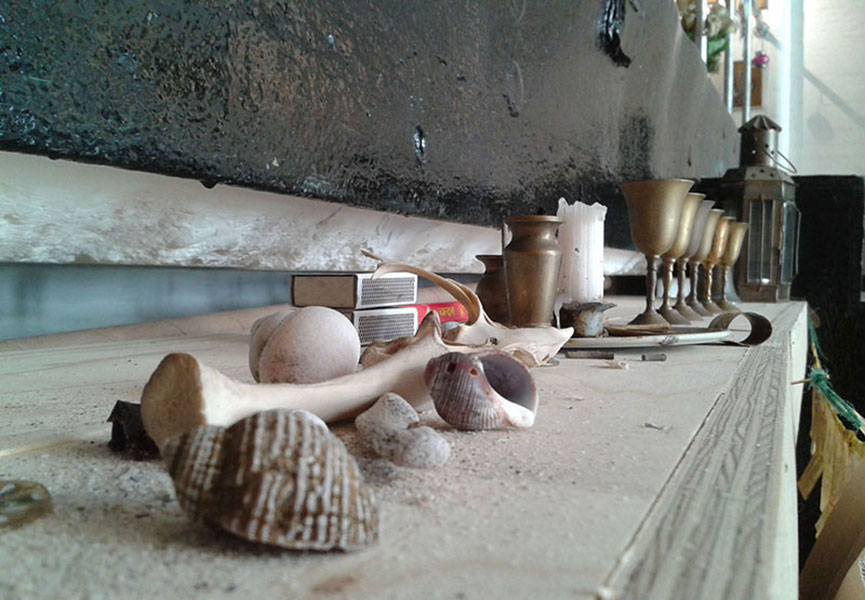 Women and Animals
On the walls, among all the displayed curiosities, there are artworks on wood, on Belgian linen or on brown paper depicting figures, such as women and animals, typical of Faith 47's imagery. On top of the stairs, she created a sanctuary with church pews looking towards a triptych. The woman in the centre holds a hay stack radiating light that transcends the limit of the linen and reaches the two artworks on the sides. Here two women, heads bowed and bent down, pray and adore the central figure. Ironically on top of the triptych, a wooden sign reads 'Cash for Gold' (We pay cash for your valuable goods). This eclectic juxtapostion of artworks and discarded objects seems to question constantly everyday reality and objects and the place where divinity resides.