Today, in 2016, modernist architecture still has the power to appear as fresh and as contemporary as ever. This can easily make us forget that many of these pieces are more than half a century old. Enoc Perez is someone who gives us a new perspective on some of these iconic monuments with his nostalgic visions of a modernist utopia that has passed us by. With influences including Warhol, Pollock and Lichtenstein, the artist creates vividly colored images in oil paint in a way that mimics the technique of screen printing.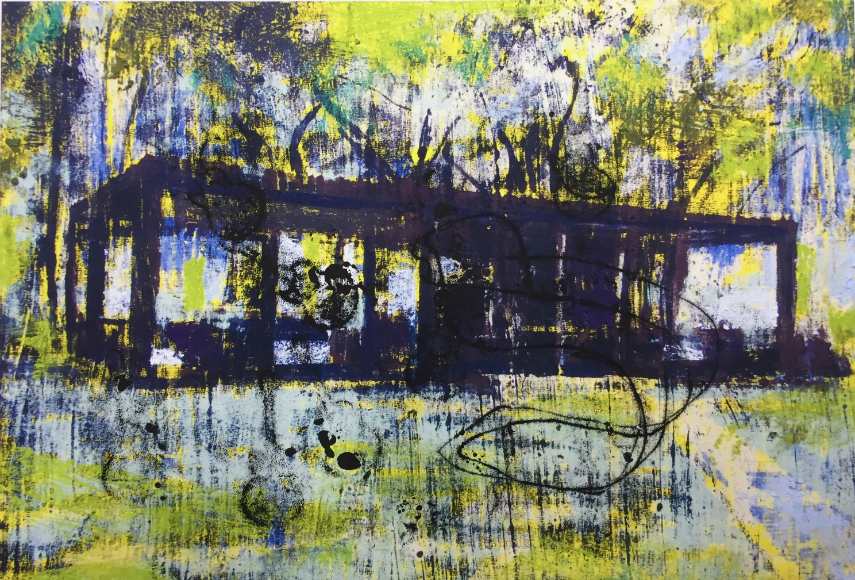 From Puerto Rican Hotel Resorts to Manhattan Landmarks
The artist was born 1967 in San Juan, Puerto Rico and studied at Pratt Institute and Hunter College in the US. Painter, sculptor and author currently living in New York, he is well known for his still lifes, nudes and, most notably, paintings of modernist architectural icons. His works have found their rightful place in collections around the world, including such prestigious institutions as the Metropolitan Museum of Art in New York and San Francisco Museum of Modern Art.
The mainstay of his output is the architectural form. The United Nations building, Eero Saarinen TWA terminal, the Seagram building, various tourist resorts in his native Puerto Rico all feature prominently in his ouvre. These enormous beehives of human activity in which form follows function remind us of the utopian visions of mid-20th century modernist architects who envisaged a highly organized idea of the future. These expectations were somewhat naive yet they did leave a mark on how society at large hoped, dreamed and looked at its own image in the vast glass surfaces of these buildings. It was a period right after the Second World War that ushered a new era of social equality that hadn't been seen before (or since, for that matter). Progress was constant and everything seemed possible. This is the world that Perez tries to show us a glimpse of, if only as an oddly-colored memory.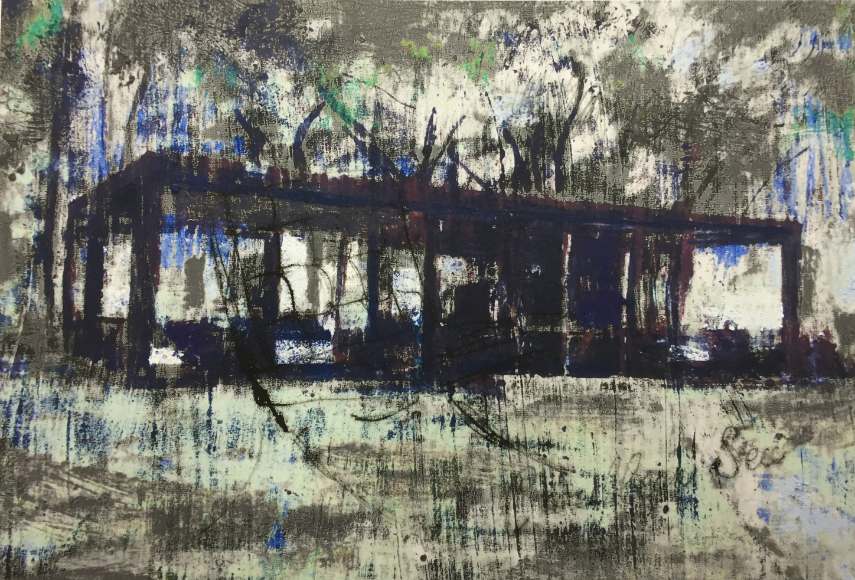 Nostalgic Visions Through the Vivid Lense of a Painter
Perez makes preliminary drawings for each separate color and then uses sheets to transfer oil paint onto primed canvas. It thus ends up being mark-making as much as painting work. This method works particularly well with the artist's vibrant representations of modernist architectural landmarks. It was only in 2010 that he returned to using brushes that were for a long time a tool absent from his studio. His canvases feature acid hues or dark, often moody tones, which greatly contribute to the nostalgic, almost retro-futuristic, yet oddly familiar feel of his paintings.
A hint of decay pervades many of his canvases, a hint of romantic nostalgia, making Enoc Perez seem almost like a modern-day Hubert Robert. He has remained faithful to his belief in the importance of pleasure, emotion, and aesthetics in art since his school days, albeit in his own unique way.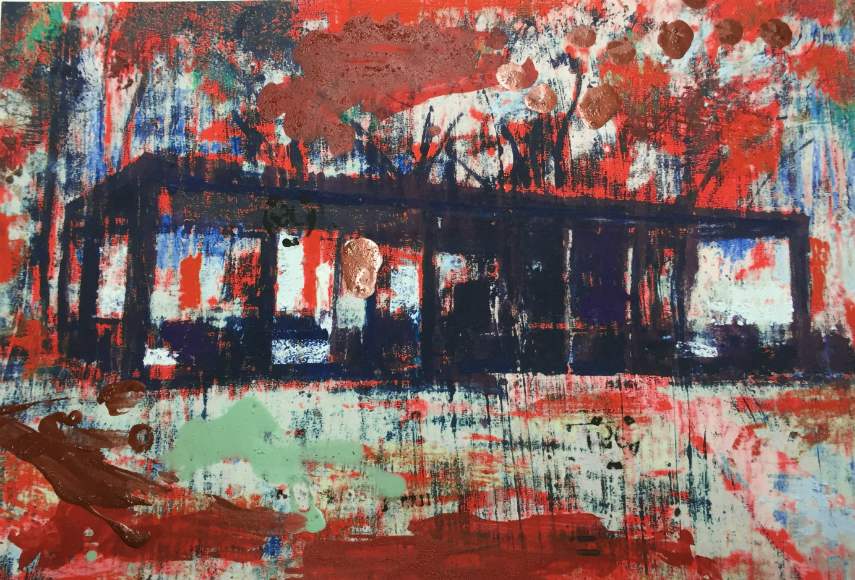 Architecture in Art - Enoc Perez at Galerie Fluegel-Roncak
Galerie Fluegel-Roncak is a gallery primarily focused on Pop Art and Contemporary Art which makes it an ideal venue for Enoc Perez's exhibition Abstract Architecture. Located on Obere Wörthstrasse 12, in Nuremberg, Germany, it will host the opening reception for the new show on Friday, September 30, 2016 from 7pm to 9pm. Abstract Architecture runs until November 12, 2016 and showcases some of Perez's finest pieces inspired by some of moderninst architecture's most memorable buildings.
Featured image: Enoc Perez - Glass House (Blue), oil paint and archival pigment inks on cardboard, 2015, 38.7x27.9cm (15x11 inch) - From the Glass House Portfolio, a series of four different prints. Individual finish, each piece is unique. Signed and dated on recto, numbered on verso. All images courtesy of Galerie Fluegel-Roncak.