When walking the streets of Paris, one could easily get lost, among old cafes, endless shop windows and, oh, art - in galleries, museums, but also on buildings, traffic poles, alley pavements.
In fact, the next time you take a stroll in the French capital, make sure you look up and around more closely, as you are likely to come across paste-ups of animal hybrids, half "regular" and half completely mechanic.
These intrinsic works belong to a young French artist going by the name Ardif, whose passion and curiosity reflect in an extraordinary ability to present detail. Working primarily on the street, he depicts animals from almost all families, dedicating as much attention to their actual appearance as he is to the complex mechanisms that make up the rest of them.
But apart from the outdoor, Ardif is also present within gallery and fair walls, in particular those of Pretty Portal and, subsequently, the Urban Art Fair in Paris, where the Düsseldorf gallery exhibited his works on paper.
It is there I met the artist, on the occasion of his first ever print signing. Through a short, but sweet conversation, he reveals what inspires him, what the message of his art his, and where we can find his creations next.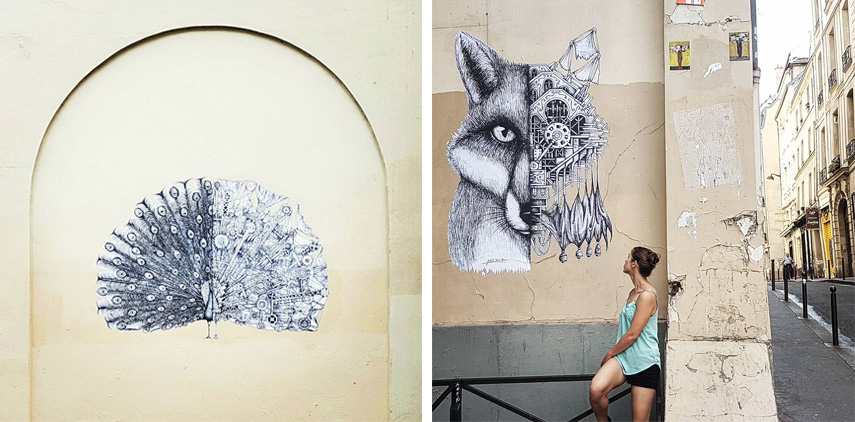 An Architectural Mind
Widewalls: From what I could find, you studied architecture. Is this how you got inspired for the "mechanical" part of your hybrids? What about the other half?
Ardif: Yes, I studied architecture and was a practicing architect until very recently.  As an architect, I was more interested in modern architecture and minimalistic design in the buildings I developed, but while I was studying the history of architecture, I was fascinated by gothic and classic architecture with their very graphic and intricate designs in the ornamental and decorative facades.
I was really inspired by the hybridization between nature and architecture. How a building, its materials and shapes can proliferate and become something crazy. I studied utopist architects like Constant Archigramm and Lebbeus Woods who became references on how you can imagine a new architecture with an original way of drawing and showing their work, they were into drawing by hand so really inspiring.
For the other part, it's a dialog with the animal. I love to explore all the shapes, textures and expressions that nature presents, I won't have enough time in my life to explore and draw all of the species so it's an infinite source of inspiration and opportunity.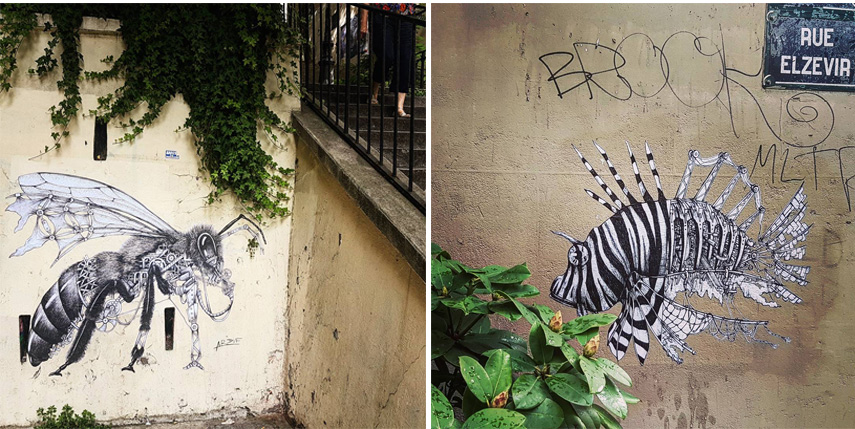 Ardif's Mechanimals
Widewalls: How would you describe the process of working on the streets compared to when you're drawing on paper or creating screenprints?
Ardif: When I'm in the streets, it becomes more of an urban exploration where I try to find the empty space left between the architecture. As an architect it's fun to find those walls and part of building that seems to be forgotten by the designers.
For me, it becomes a dialog with the materiality of the streets, when I'm pasting in the streets my drawings bring empty spaces to life, and at the same time the wall, it's setting and the surrounding architecture bring my work to life.
When I visit other cities, or even when sometimes I see a space I like, I might create work dedicated to that place. As an example, using the corner of a building and the joining of two streets drawing to symbolize the limit between the two worlds or pasting my Fox on rue du Renard (Fox street) in Paris.
When I draw, I always start with the animal, I use the composition made by nature to inspire and create my "mechano-architecture".
It's a game of contrast. I want the public to discover my imaginary world with a familiar figure and be intrigued by the juxtaposition it creates.
Widewalls: Do you have a favorite animal?
Ardif: I don't think so. The more I draw new animals the more I enjoying their diversity.
We are currently living in the shadow of the 6th mass extinction according to biologists. So for me it's a way to keep in mind this variety and give them a visibility in the urban space.
Widewalls: What would you like your works to communicate to their audience? What is your message?
Ardif: I like people to find their own message in my work. As I put it in the streets, I prefer each spectator to make their own interpretation which always interests me.
I have heard many different interpretations from the people I meet. "A way to denounce pollution", "they are cyborg animals"," they are fantasy creatures"...
For me it's always a matter of balance. I'm as much fascinated by nature and its diversity as the technical progress and the way it's working. I think humans can't stop evolving and progressing but they must find a way to construct the future in harmony with the environment.
Today the technology seems to grow so fast that we lose control and we dont have access to its functioning.
That's why my drawings have a vintage or "retro" aspect, I like to see the gears and the mechanisms to keep a control on how our technology actually works.
I want my work to show this balance and how technology can take inspiration from nature to create something innovative but always in harmony with its surroundings.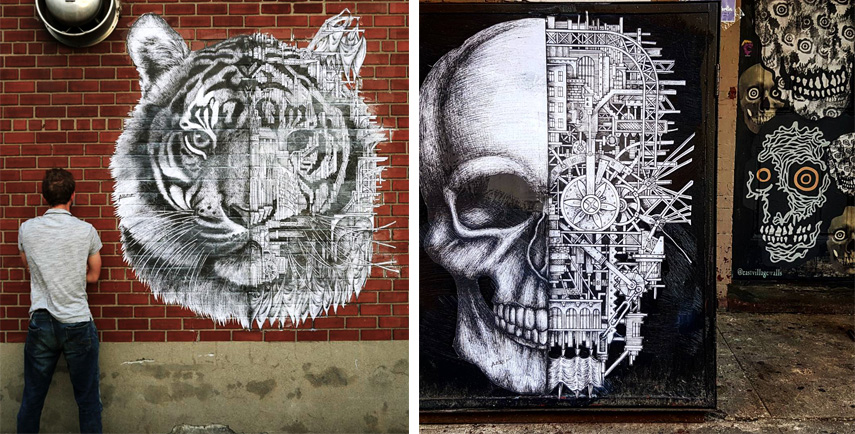 The Past, The Present, The Future
Widewalls: Can you tell us the interesting story of how you got to know your gallerist Klaus Rosskothen?
Ardif: We first met at the 2017 Urban Art Fair in Paris. I didn't know anybody at this time and came purely as a visitor and it was a friend that introduced me to Klaus. We got on really well and had a great chat about my work, he was really friendly and I felt very comfortable with him, so when he offered me a chance to participate in a gallery show and then feature with him at this year's Urban Art Fair I was really proud an honored.
Widewalls: What was your experience of the 2018 Urban Art Fair? Was it your first time there?
Ardif: Yes, it was my first time there as an artist. It was a really interesting and popular event but was at a crazy period for me as I was also just finishing my 1st solo show in Paris.
It was a great event and I wish I had more time to see all those artists and their work. It still gave me many new ideas to use in my own projects.
I also made my 1st live signing of my screen-print produced by Pretty Portal.
Widewalls: What are the mediums you work with (apart from paste-ups and screenprints)? Are there any fields you'd like to explore in the future?
Ardif: Every animal that I place on the street starts as an original drawing, either on paper or on canvas. I scan my work to create the Paste-ups used for the streets. My original drawings are created using poscas and pencils most of the time.
I like to explore new techniques and see how I can adapt my work for different mediums. I would like to make bigger Street work, not only with paste-ups but develop my skills with spray paints and other techniques and evolve to mural work on large walls.
In the studio there are many things that interest and excite me and I plan some interesting projects this year.
Widewalls: What's next for you? Any upcoming exhibitions, projects?
Ardif: Many things to come. I've just returned from London where I had a great time placing my work on the streets there. Very soon I participate in a collective show in Paris, at YAM gallery. Upfest 2018 will take me back to the UK this summer and I really look forward to introducing my mech-animals to Bristol.
In September, I have my second solo show with Lavomatik in Paris.
… And of course I want to work on those new walls with big paintings.
Featured image: Ardif at Urban Art Fair Paris 2018, courtesy Widewalls. Other images courtesy the artist.