One of the great things about events like the District 13 International Art Fair is that, apart from seeing great artworks on booth walls, you can also meet some of the creatives behind them right on the spot. This personal touch is an important one, which is why daily talks, book signings and workshops are in the spotlight now as they were during the debut edition in 2018.
This year, District 13 went one step further, in order to expand on the relationship between the artists, their galleries, and the fair visitors. For the occasion, three internationally renowned street artists have been invited to serve as The Ambassadors, and to share their thoughts and experiences on the urban art market and those who participate in it. That being said, make sure you look out for the likes of Swoon and Maye, and French artist Ardif.
We at Widewalls are familiar and appreciative of Ardif's brilliant work, having previously met the artist on another occasion. His highly detailed, captivating hybrids of animals and the world of mechanics had already then graced many walls in Paris and many places elsewhere. Since then, Ardif has successfully expanded his career, collaborated with numerous other artists, and received many new admirers. Formally trained as an architect, his career of a street artists began after the 2015 terrorist attacks in Paris in 2015, when Ardif felt as though he needed to bring his message out to the public. His paste-ups have now become something of a treasure hunt item when one finds themselves in the French capital, and in 2018 he even painted a 20-meter-long mural on the wall of the Post Office Museum.
Ahead of the opening of District 13 Art Fair 2019 in Paris, which opens on September 25 and is on view through September 29, we caught up with Ardif to talk about what happened in his work since we last spoke, and what the fair will bring to its visitors this year.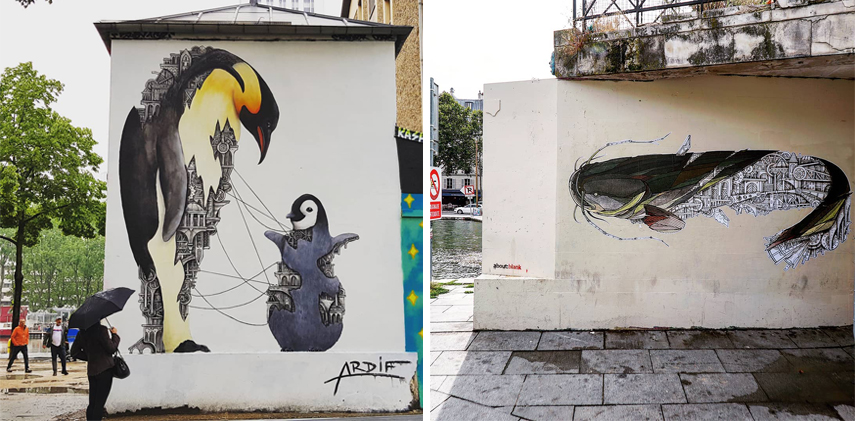 Ardif The Ambassador
Widewalls: It would seem like your practice expanded a lot in the last couple of years. You got so many new fans! How would you describe this progress? Do you get to work more now?
Ardif: I keep developing my art and making it travel with various projects. I'm still making paste-up in the streets which introduced me to the public, but I also painted bigger walls which gave me additional visibility and the possibility to participate to festivals or answer calls for murals.
I really want to find the balance between official and legal walls and my wild pasting sessions in the street.
I consider myself very lucky to have all these opportunities and of course it brings a lot of work. I even sometimes have to say no.
Widewalls: You also did many collaborations with other artists. It is always interesting to see how two minds can be put together, even though they have different points of view. What are these experiences like for you?
A: Collaboration is an amazing way of challenging your art. I love to face a different way of making and thinking. Most of the time it brings me a new look on my own creation process.
[Through] street art, I met a lot of different artists who use various techniques so it's really interesting to see what is coming from these combinations. For example, JoDiBona ripped my drawing and Matt_tieu made me work with chalk.
My work is about hybridization by an architectural/mechanical universe. It's perfect for collaboration.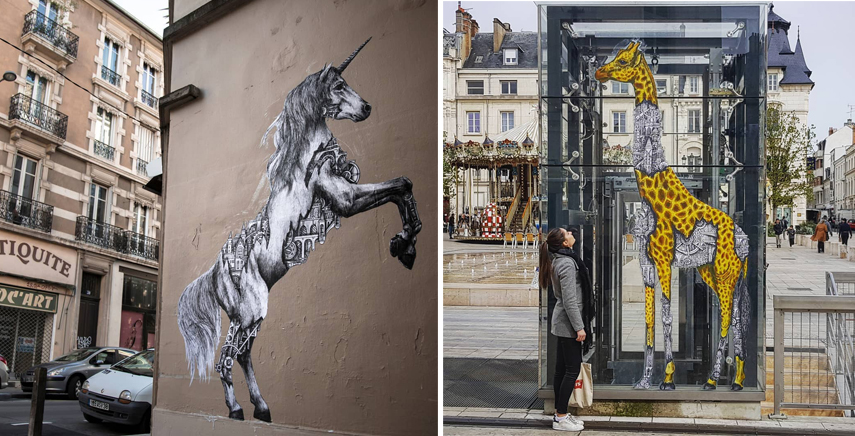 At District 13 Art Fair 2019
Widewalls: What's your relationship with District 13? How did you get involved with the fair?
A: I participated in the 1st edition last year with the gallery Le Lavomatik right after my solo show. This is a big event in an emblematic place of Paris for the art market, Drouot. For this 2nd edition, I'm still with Le Lavomatik and the organizers have asked me to be one of the 3 ambassador artists with Swoon and Maye. I'm a big fan of their work, I feel small compared to them but I'm really honored to be part of the project.
Widewalls: What are your thoughts on urban art fairs in general? What can a first time goer expect from it?
A: An urban art fair is like a huge rush of street culture. You see and meet many artists, many players of the street art community on a 4-day event. Artists and gallery owners bring their best pieces so it's a good way to discover the art.
Of course, it's not like seeing urban art in the street but you won't meet so many artists and their work in any festival or event.
During the previous edition of District 13, they invited Shepard Fairey for a lecture, and I met artists like Atlas. I also saw, for the first time, a piece by Roa in a gallery. So these are good examples of all the things you can see at an event like this one.
Widewalls: What do you look forward to seeing at District 13 2019?
A: I want to see the conference by D*Face. Also, the new pieces brought by galleries like Itinerrance, Garey the Third or GCA, because I love the artists they feature.
I know that this event also brings a lot of new meetings and surprises, so I'm excited about the unexpected.
Widewalls: What's next for you?
A: I have different projects to come. I'm publishing my first book about Mechanimals with YAM gallery. Speaking of collaboration, I'm working on a collective show with Le Lavomatik in October.
I have different walls planned in France and especially Le Mur d'Oberkampf which is famous and very symbolic for me. For next year I hope new walls in new countries.
All images courtesy the artist and District 13 Art Fair.