The 1960s were a decade of momentous happenings in both political and cultural sense. Truth be told, a new generation of artists couldn't quite turn their heads to what was happening around them, especially the ones belonging to socially vulnerable groups such as women, people of color, and queers. The white males were the ones dominating the art world, a fact that had to be critically articulated in a radical manner.
Such was the case of Carolee Schneemann who started actively producing art at the brink of the popularity of Abstract Expressionism. By appropriating the legacy of the interwar avant-garde and focusing on corporeality, she developed an authentic body of work expressed through different media. This prolific artist explored the notion of painting in motion that was centered on the representation of her own body.
Although unrecognized for several decades, Schneemann is now considered a proto-feminist for the way she articulated her position in society as a woman and as an artist. Furthermore, she is a genuine innovator in a broader context of art-making who examined the connection between performativity and motion pictures, always testing new solutions through her groundbreaking performances, photographs and experimental films.
The practice of Carolee Schneemann, who passed away in 2019 at the age of seventy-nine, has been the subject of several retrospectives, but the current survey titled Up to and Including Limits: After Carolee Schneemann takes a different take by examining works of other, younger artists who were influenced by the pioneering figure. A total of sixty works by thirteen artists and collectives made from the 1980s onward, including ten historic works made by Schneemann, testify the significance of her domains.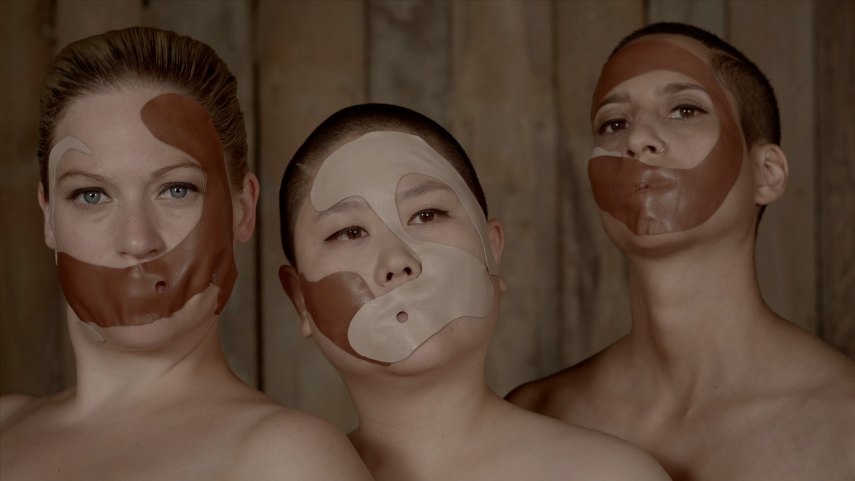 Honoring Schneemann - The Memorable Feminist Artist
The exhibition title is taken from one of Schneemann's most important pieces Up to and Including Her Limits presented in the period between 1973 and 1976. While strapped into a harness and suspended from the ceiling, the artist used crayons to mark her movements and produce a large scale drawing. After several live performances, the piece was transformed into a video installation. At the time it was made, Up to and Including Limits was quite radical since it challenged the patriarchal matrix through the erotic imagery and paved the way for the upcoming generation of female artists that were affiliated with the Second wave of feminism.
This exhibition is curated by Sabine Breitwieser, former Director of the Museum der Moderne Salzburg, where the traveling exhibition Carolee Schneemann, Kinetic Painting was staged back in 2015. Breitwieser emphasized her position:
This exhibition is driven by limits, both in media and society: how they can be overcome, transformed and transgressed through time. While Carolee's goal was to extend visual principles off the canvas and into life, this exhibition also considers the new challenges and limits our society is confronted with. It is exploring how and in which forms the expansive and innovative use of artistic media further emerge in works of the generation 'after Carolee Schneemann' and what kind of questions in regards to the body are at stake.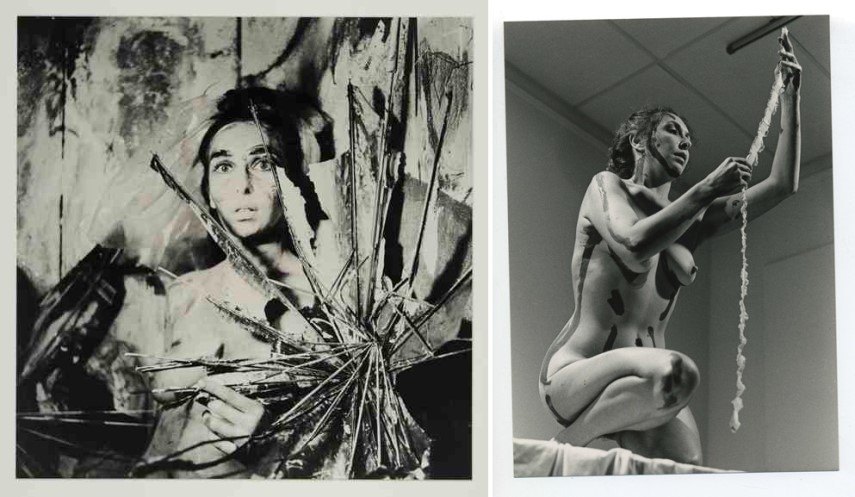 The Installment
The exhibition is installed on all four floors of the museum with an emphasis on the dialog between the works by Schneemann and the ones made by the young artists. Her practice is considered as a starting point for new and bold concepts expressed through various media from painting and sculpture to photography, film, performance, choreography, and sound.
The renowned sound-based performance collective Chicks on Speed debut the piece called Noise Bodies (2019) that is inspired by Schneemann's 1965 performance based on the usage of peculiar outfits made of vernacular objects. The live performance that took place at the exhibition opening was recorded and is now presented as an immersive installation.
The exhibition was also a site of the happening by Paulina Ołowska titled Slavic Goddesses (2017/2019), which is based on modernist utopias found in Eastern Europe and America with a pinch of feminist and consumerist considerations.
Reasonably, on display is documentation of Schneemann's Meat Joy (1964/2008), a ritualistic performance that included men and women handling various organic and artificial materials (flesh, plastic, paint, etc.) in choreographed movements followed by stark lighting, and sound. The contemporary articulation of this iconic piece is expressed through the exhibited works by Ragnar Kjartansson's Variation on Meat Joy (2013) and Mette Ingvartsen's 69 Positions (2014) that directly refer to this work.
The installment includes the early works of Pipilotti Rist, who was very much inspired by Schneemann especially in the context of visual explorations of sexual desire in popular culture. To draw a line between the pioneering artist and the younger practitioners, Schneemann's Vulva's Morphia (1995) is juxtaposed against a series of collages titled Zuhälter (1999) by Katrina Daschner.
On display will also be the works by Matthew Barney, Andrea Fraser, Elke Silvia Krystufek, Kris Lemsalu, Sarah Lucas, Lia Perjovschi, and Aura Rosenberg.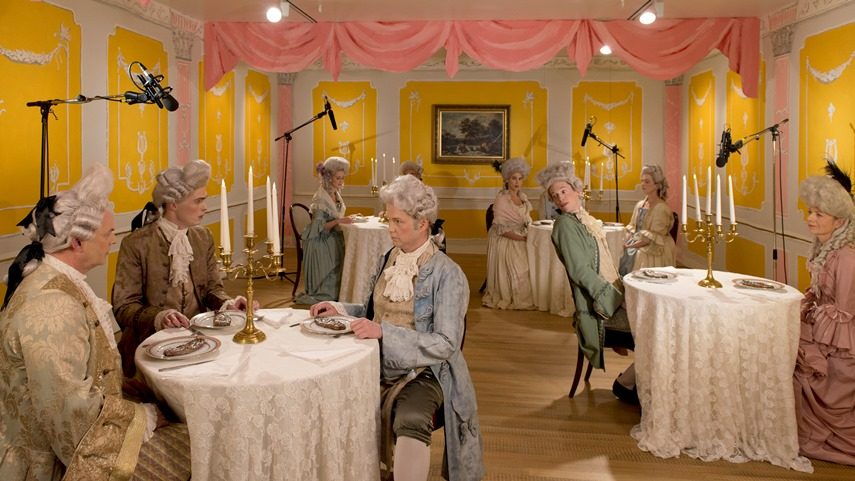 Art After Carolee Schneemann at Muzeum Susch
The current exhibition provides a much-required insight into Carolee Schneemann's lasting practice, especially her groundbreaking works from the 1960s and 1970s, by making it perfectly connected to contemporaneity through an apparent lineage of experimentation practiced by the younger generation of artists. The same opens a dialog concerning the new forms of interpretation of topics such as gender, sexuality, and nudity in the public sphere. Furthermore, it poses questions regarding the status of the female experience in today's society and the obstacles that have to be conquered.
Up to and Including Limits: After Carolee Schneemann will be on display at Muzeum Susch in Zernez, Switzerland until 28 June 2020.
Editors' Tip: Carolee Schneemann: Kinetic Painting
This fully illustrated monograph is devoted to the full range of Carolee Schneemann's pioneering work. Unapologetically incorporating her body into her works of art, Carolee Schneemann emerged as one of the leading forces in the feminist art movement of the 1970s. This wide-ranging book follows Schneemann's remarkable career in its entirety. The monograph shows the immense range of Schneemann's oeuvre: paintings, assemblages, performances, experimental films, and video installations. Essays on Schneemann's personal politics, her experimental film, and the purposeful ambiguities of her pieces offer clear-eyed perspectives on the brilliance of her work. Illustrations of her work are accompanied by Schneemann's own commentary. Schneemann's work emerges as a celebratory, liberating, and important aspect of creative expression that stands in its own right―and stands the test of time.
Featured images: Study for Up to and Including Her Limits, New Paltz, NY, US, 1973. Chromogenic print. Photograph: Anthony McCall. Courtesy of the estate of Carolee Schneemann, Galerie Lelong & Co., Hales Gallery, and P·P·O·W, New York; Mette Ingvartsen - 21 Pornographies, 2017. Video of the performance, photograph: Marc Domage. Courtesy of the artist; Chicks on Speed (Federico Visi, Alex Murray-Leslie, Kroot Juurak and Melissa E. Logan). Photo: Silke Briel. Courtesy Muzeum Susch / Art Stations Foundation CH. All images courtesy Muzeum Susch.