The year 2020 presented challenges that were at times difficult to navigate. It impacted the art world severely, bringing about changes in how we experience and interact with art. It forced businesses to implement a sweeping set of transformative changes, many of which will continue long after the pandemic is behind us.
When it comes to major auction houses, they weathered the 2020 storm with a series of innovations, entering a new year with optimism. Sotheby's finishes 2020 as the industry leader due to client focus, adaptation and innovation, beating out Christie's for the first time in recent memory.
As Charles F. Stewart, Sotheby's SEO, said they look forward "to continuing to innovate and expanding our community in 2021, combining the best of this year's advances with a welcome return to in-person experiences." When it comes to Christie's, Guillaume Cerutti, Chief Executive Officer, explained that the auction house "has introduced digital innovations that significantly strengthened our business model, providing clients with greater flexibility to transact with us through our live auction, online-only, and private sales platforms."
However, since the traditional live auctions were suspended for a full nine months, both auction houses saw total sales drop and meaningful dips in auction revenue in 2020.
Auction Houses in 2020 - Sotheby's
Sotheby's announced total sales of over $5 billion, representing a drop of $800 million, or 16 percent, from its combined $5.8 billion total in 2019. Live or online auctions accounted for $3.5 billion of its total revenue—a nearly 30 percent drop from $4.8 billion in 2019.
On the other hand, ease of access to a broader range of offerings attracted the largest number of first-time buyers in 15 years with a 27% increase over 2019. At the same time, with over 70% of auctions being held online in 2020, newly implemented digital tools enabled an exponentially higher audience reach and enabled new ways to engage with the auction house.
Asia turned out to be one of the factors driving growth, with Asian clients accounting for over 30% of Sotheby's worldwide auction sales. Auction sales in Asia brought $932 million, cementing the company's market-leading position in the continent for the fifth consecutive year. At the same time, the number of Asian clients bidding online is growing faster than anywhere else in the world, more than doubling in 2020.
Sotheby's also broke a few records this year. Record for an online auction total smashed twice, with $13.7 million for the Contemporary Art Day Sale in May, and $30.5 million for the Impressionist & Modern Art Day Sale in November. The auction house also set a record for any artwork sold online - it was Jean-Michel Basquiat's Untitled (Head) which was sold for $15.2 million in New York in June, ten times the highest price for a work bought in an online sale pre-Covid.
Among the most expensive artworks sold were Francis Bacon's Triptych Inspired by the Oresteia of Aeschylus from 1981 that went for a hammer price of $74 million; Ren Renfa's Five Drunken Princes Returning on Horseback, sold for $41.8 million; Sanyu's Quatre Nus, which sold for $33.3 million; and Clyfford Still's PH-144 (1947-Y-NO.1) from 1947, which sold for $28.7 million.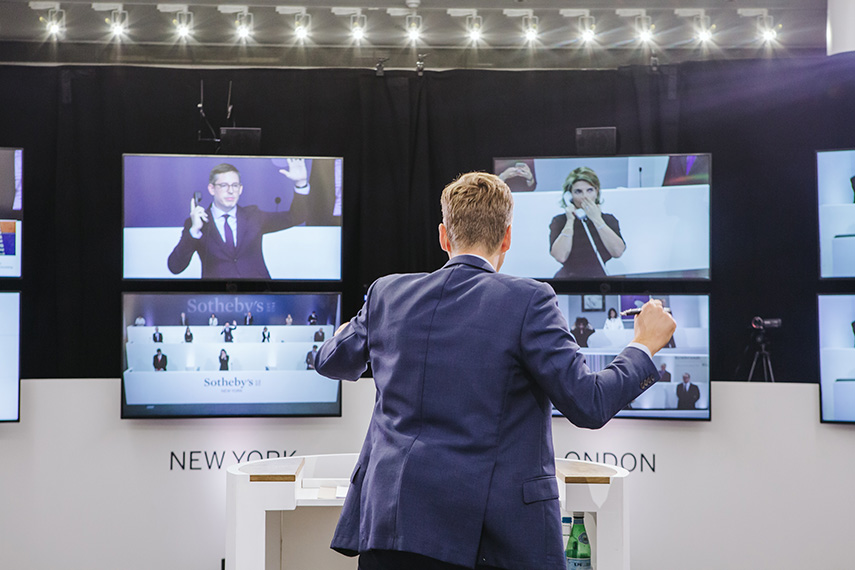 Auction Houses in 2020 - Christie's
Christie's, meanwhile, reported total sales of $4.4 billion, which it said marked a 25 percent drop from the previous year, attributed chiefly to the decrease in live auctions and a shutdown-induced shock of supply. Online-only sales were up 262 percent in 2020 (£243 million / $311 million), marking a record total for the channel.
The auction house saw 36 percent of new buyers in 2020, with 32 percent of all new online-only sale buyers being millennials (23-38 years old).;
The Asian market turned out to be strong for Christie's as well, totaling 34 percent of global spend in auction sales, followed by the Americas and the EMEA with 33 percent each. Top prices were achieved for works by living artists under 45, with 9 out of 10 being sold in their Hong Kong salesroom.
Christie's reports strong demand, with a high sell-through rate of 81% across all sales, indicating a positive market orientation for 2021.
Among most expensive artworks sold were Roy Lichtenstein's Nude with Joyous Painting from 1994, sold for $46.2 million; Cy Twombly's Untitled (Bolsena) from 1969, which sold for $38.7 million; Mark Rothko's Untitled from 1967, which sold for $31.3 million; and Brice Marden's Complements from 2004–07, that went for $30.9 million.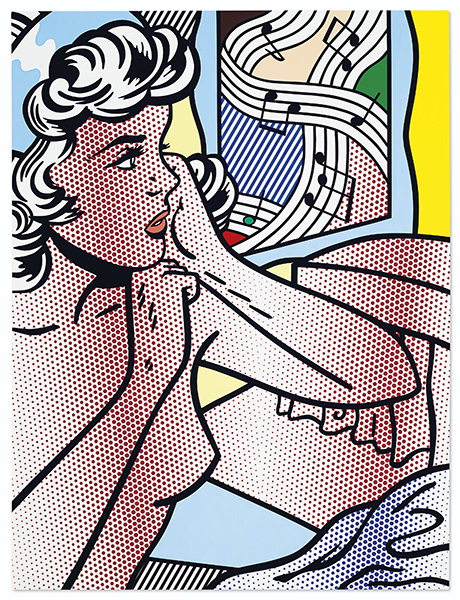 New Trends
Both reports reveal notable trends. For both auction houses, a lot of action was happening behind closed doors. Christie's reports it sold more works over $25 million privately than publicly, and both houses reported record highs for private sales (up 57% compared to 2019 for Christie's and more than a 50% increase for Sotheby's). It seems that one of the reasons for this was a desire for discretion, as few people want to be seen spending millions during a recession.
One of the biggest trends was the accelerated shift to online sales, which would likely remain long after the pandemic. Sotheby's said over 70 percent of its auctions were held online in 2020, up from 30 percent last year. Christie's also posted a record total for digital sales - $311 million, up 262 percent from 2019.
Lastly, Asia proved as especially resilient, re-emerging as a major force in the market in 2020.
Featured image: Specialists bidding in New York during Sotheby's Contemporary Art Evening Auction, 28 June 2020. Courtesy Sotheby's.