According to all the reports, Art Basel Miami Beach of 2014 reached record levels of activity and business deals. Everything was bigger this year, and the keyword was - more. More galleries, more art, more people, more collectors - more sales! 267 galleries from 31 countries exhibited at the art fair, with 73,000 people visiting over the five days. Art officials from 160 museums and institutions from the world, as well as a significant number of prominent and new collectors from Americas, Europe and Asia attended. Satisfaction could be felt on both ends of the art business enterprises, as collectors purchased some rare and amazing work, and galleries managed to realize great sales results. A 100% reapplication rate from the galleries testifies to how much it's worth it to participate at an Art Basel show.
Most of the sales went down during the first two days of the fair, meaning during the VIP preview day and the first day the event was open for public. Art Market Monitor compiled a comprehensive sales report of Art Basel Miami Beach 2014 sales, showing us what's in and what's upcoming.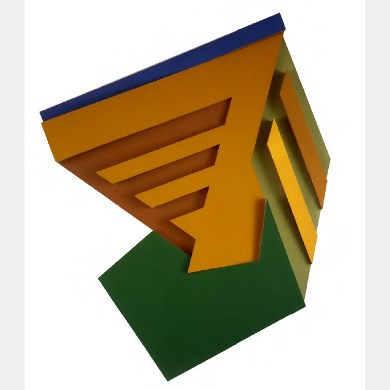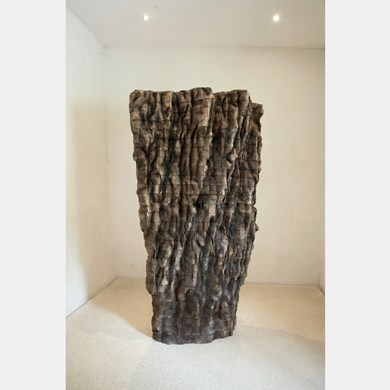 Under $100,000
To break down the scale of sales at the Art Basel market this year, we've divided the reports into three groups. The first one includes art known to be sold under $100,000.
Ameringer McEnery Yohe sold Markus Linnenbrink 's Arms of Mine (Blue Melody) for $45,000, Anthony Meier traded Michael DeLucia carved images of three lamps for $15,000 per piece, Freedman Fitzpatrick gallery sold Lucie Stahl's work, Critic's Pick (2014) for $10,500, and Kamel Mennour gallery marketed Camille Henrot works for $20,000 and $35,000.
A significant number of pieces was sold by Mitchell-Innes & Nash, including Keltie Ferris' four pieces ranging from $7,500 to $50,000, Gonzalo Fonseca for $150,000, Karl Haendel's piece for $21,000, a Leigh Ledare for $15,000, a William Pope. L for $18,000, Jessica Stackholder's pieces - one for $18,000 and another for $10,000, and a Brent Wadden for $40,000.
Gallery Regen Projects sold works by Abraham Cruzvillegas for $45,000, Gary Simmons's two pieces for $60,000 each, Elliot Hundley for $100,00 and a Liz Larner for $80,000. The highest sale of the gallery surpasses the 100 thousand mark, being Glenn Ligon's text dense Come Out Study #15 from 2014 sold to an American collector for $200,000.
Stevenson gallery found a buyer for Wim Botha 's heads carved from charred wood, selling them for between $22,000 and $35,000. Team Gallery marketed Ryan McGinley's photograph of naked hipsters romping in the grass, Crush, 2014 (edition of three), and sold to a US collector for $21,000 within an hour of the opening.
The famous Lisson Gallery shone with Anish Kapoor, but also sold works by Pedro Reyes, ranging between $30,000 to $50,000, and a piece by Tony Oursler somewhere in between of $70,000 and $90,000. Sean Kelly gallery made its best business with Kehinde Wiley, but also sold pieces by Hugo McCloud for $25,000 each.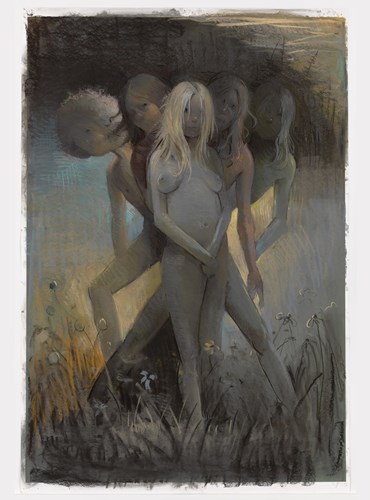 Six Figures For Art
If we take the amount of money flown into Miami into consideration, the six-figure-priced art falls in the middle range. Looking at the sales reports, most of the young and known stars' pieces are priced between $100,000 and a million, enabling collectors to purchase art on the rise, but also make safe investments, without the million-dollars risks implied when we talk of auction room sales. In the buy-sell atmosphere, some excellent choices can be made, but for serious collectors, flukes under a million are somewhat more acceptable.
The top gallerist David Zwirner's establishment sold works by rising star Oscar Murillo and Jordan Wolfson ten minutes after the fair's door opened. Oscar Murillo piece brought in $180,000, while the Wolfson was sold at $90,000. The booth was one of the more successful, as it sold more than 25 pieces of art, including a black and white work on paper by Richard Serra for $250,000, and seven artworks by Lisa Yuskavage in the range between $80,000 and $500,000. The highest sale of the booth was a Bridget Riley.
Other famous galleries, such as Lehmann Maupin, Hauser & Wirth, Lelong, or Mary Boone have had a quite successful fair. Lehmann Maupin gallery sold Adriana Varejão's Polvo Portraits IV (Seascape Series) from 2014 triptych, for a price around $400,000, and Teresita Fernández's Golden (Obsidian Double) also from 2014, priced around $250–350,000. Breaking Waves (2014), by Robin Rhode brought $60,000 – $90,000, while I fell in Love here (2014) by the art superstar Tracey Emin was priced at $60,000 – $75,000. Pieces by Hernan Bas got the gallery $100,000 – $150,000.
Big name is always attractive to a collector, so Hauser & Wirth sold Bruce Nauman's piece somewhere in the range of half a million, while a piece by Diana Thater went for $200,000. Galerie Lelong traded Ursula von Rydingsvard's towering wooden sculpture Krypta (2014) for a price in the low six figures, and Mary Boone Gallery managed so sell Barbara Kruger digital print on vinyl, Untitled (Blind Idealism is Deadly) from 2013, for around $250,000. Mary Boone also found buyers for Liu Xiaodong's My Hometown from 2014, for a price of $125,000, and for Will Cotton's frothy Elle with Cupcakes, sold at an asking price of $85,000. Star items of Sean Kelly gallery's booth were Kehinde Wiley paintings, sold for $125,000 each.
More of galleries selling artwork in the six-figure range we bring as the Art Market monitor did: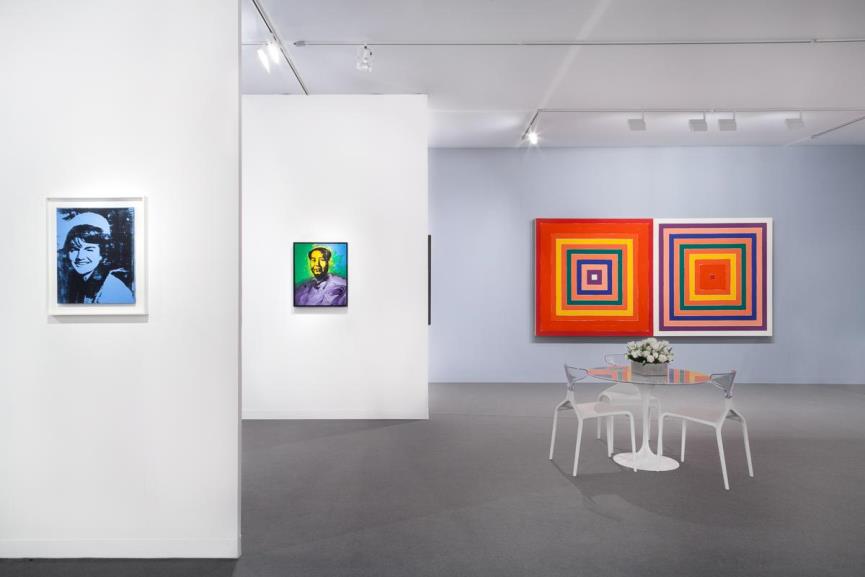 More Six-Figure and Million-Dollar Sales
Franklin Parrasch Gallery sold Ed Ruscha's We're This and We're That, 1982, for $425,000. Galeria Fortes Vilaça traded a work by Beatriz Milhazes sold for $100,000, while the artist was somewhat of a star of the fair. Galeria OMR sold a James Turrell work for $900,000. Kasmin found a US collector Ivan Navarro's BOMB mirrored cylinder for $125,000. Klaus Webelholz sold Martin Kippenberger 's see-through resin lamp from 1991, Kippenblinky, for $175,000.
Michael Rosenfeld Gallery sold Harry Bertoia's Untitled (Cloud) in bronze coated wire from circa 1955, in the range of low six figures; Alma Thomas's color-charged Lunar Rendezvous-Circle of Flowers from 1960 sold to an otherwise unidentified institution in the high six figures.
Paula Cooper gallery had Christian Marclay's Actions: Floppp Silurp Spaloosh Whoomph (No.5) from 2013, a 62 by 103 inch screen-print and acrylic on canvas, sold in the $400,000 range. Red, Yellow, Blue Mirrors: 1-3, Suite VII (2014) by Sherrie Levine, went for $400,000, and Actions: Flopppp Sllurp Spaloosh Whoomph (No 5) (2013) by Christian Marcclay for $400,000. Slice/Wave Fulgurite II.II (2014) by Tauba Auerbach sold for $75,000, her Prism Scan I (2012) for $30,000 and Screen to Screen 40 x 54_01 print set (2014) by Kelley Walker for $150,000. Pizza Box Tower (2014) by Matias Faldbakken reached $40,000.
Sikkema Jenkins gallery sold a billboard-sized cut paper work by Kara Walker Confectionary, 2014 for $300,000.
Tornabuoni Art gallery founder stated: We've sold two works by Paolo Scheggi, one of which sold for more than the previous world record (608,000 Euros) set by the Dorotheum Galerie, Vienna in May 2014, (Zone riflesse, 1965). They also found a buyer for a large painting by Agostino Bonalumi titled Blu from 1972, as did Francesca Pasquali 's $30,000 Light Yellow Straws.
Finally, Van de Weghe, who had a super-successful Basquiat piece, sold a Self-Portrait by Keith Haring, depicting the artist in large-framed glasses, from 1987 for the sum approximate to $550,000.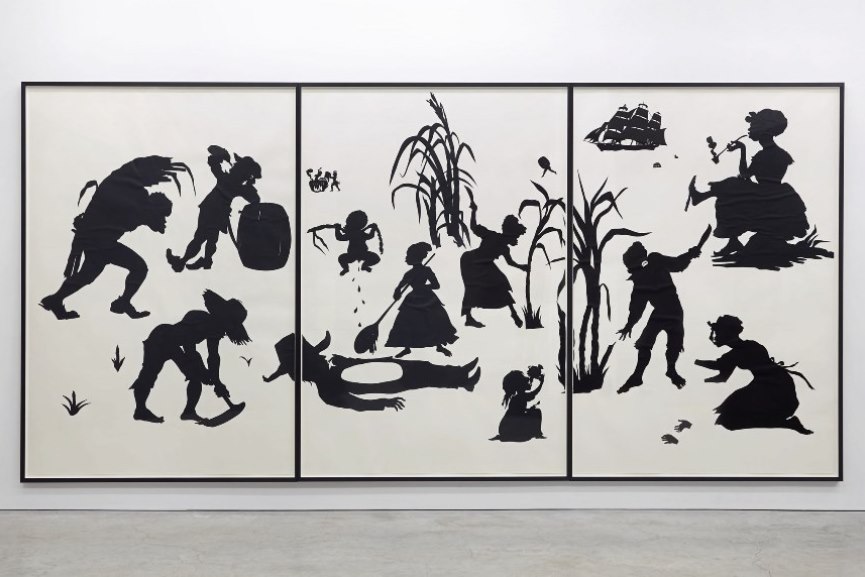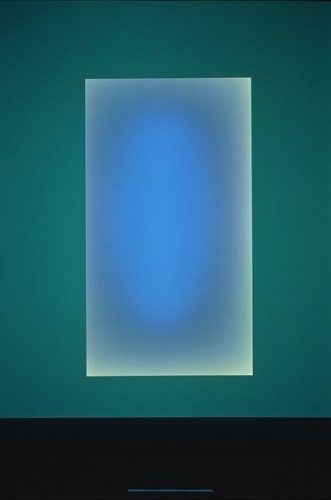 Art Worth Millions
Being one of the top art events in the global art market, Art Basel Miami Beach galleries did have some very high-profile artworks for a very high-profile buyers. Interestingly, big names perform on fairs as well as in an auction room, so if a gallery snatches, say, a Warhol, it's almost a guaranteed sale. It goes without saying that the work needs to be in a good condition and as original as possible.
Probably one of the most expensive pieces was sold by Van de Weghe gallery - a Jean-Michel Basquiat work, Reak from 1985-86, for the price of $5.6 million. One of the popular artists has proven to be Anish Kapoor, whose artwork was sold by Lisson Gallery $940,000 to $1,250,000.
As mentioned earlier, David Zwirner booth sold a stripe painting by Bridget Riley for $1.2 million, while some galleries had multiple million-dollar sales.
Dominique Levy Gallery sold David Hammons' Untitled from 1989-90 in the region of $1.5 million, a Kazuo Shiraga abstraction, Composition Werk BB109 from 1964, for a little over two million. An untitled enamel work on paper by Christopher Wool from 1994 sold for more than $1.5m as well. Skarstedt Gallery sold Sigmar Polke's vibrant acrylic on paper, Ich will den Stall ausmisten, 1999-2000, for $1m and a resin and mirror by Juan Munoz, both for $1 million each.
When mentioning big names, there's hardly a bigger one than Picasso, so Galerie Gmurzynska successfully traded a Pablo Picasso fresco from 1918, Venus Et Amour, formerly in the collection of Warhol business manager Frederick Hughes, for around $1 million to an American collection. The gallery also sold two large-scale Robert Indiana paintings in oil on homasote from 1959, Golden Orbs with Chevrons and Golden Circles, at the identical asking price of $1.7 million.
One of the notable successes was the New York's Mnuchin gallery, which offered John Chamberlain, Mark Bradford, Robert Ryman, David Hammons and - Warhol. John Chamberlain's piece Miss Remember Ford (1964), had a $5 million price tag, Mark Bradford's stunning and large-scale collage White Girl, from 2002, sold for approximately $1.8 million, Robert Ryman's Page (1998) had the asking price of $1.5 million, while an untitled work from 1969 by David Hammons was marketed at approximately $300,000. A Mao portrait by Andy Warhol went for $4.5 million, proving once again the peaking popularity of the pop artist.
Lastly, the White Cube gallery offered Damien Hirst, Tracey Emin and Theaster Gates. And While Theaster Gates' new piece sold for $200,000, Tracey Emin's pieces ranged from $155,000 to $1,018,000, Damien Hirst's new works sold for about $1,250,000 each.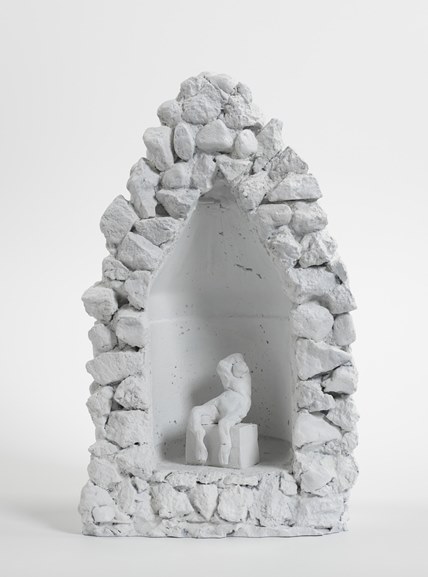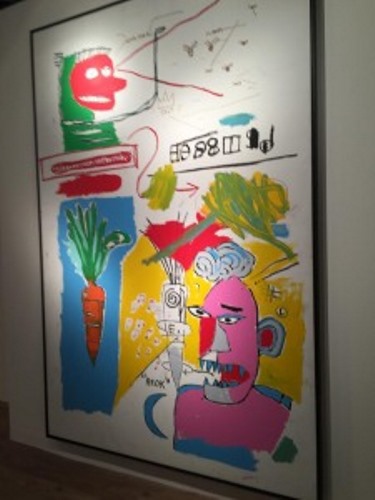 Art Basel General Impressions
General impressions of Art Basel Miami Beach 2014 is that this was by far the most successful Florida art fair yet, which numbers do confirm. The most expensive works that found buyers came at a price above $5 million dollars, while pieces could be bought for as much as $10,000, with Basquiat confirming his supremacy in prices, in the dealer's market, as in the auction room. An obvious absence of Jeff Koons from the sales reports is rather interesting, making us think - does he perform so brilliantly in auction room alone, or is he saving his pieces for it? Rising stars, such as Murillo, are now climbing the six figure range, currently being in the range close to $200,000, while classics, such as Warhol or Picasso, go for whatever is asked. An interesting piece of information is that one Leonardo di Caprio bought a Frank Stella painting from 1973, sold by Marianne Boesky gallery, but other than partying, we have little knowledge of celebrity purchases.
Not that anyone doubted, but Art Basel Miami Beach has become the place of art and business, while its blue skies and sandy beaches only serve as a welcome, but not very important setting. Collectors will always come to where there's new art to purchase, and we'll see how the spring edition of the fair will do.
Featured Image: John Chamberlain - Miss Remember Ford - 1964 - Mnuchin Gallery
If you follow the art market trends, sign up for My Widewalls and stay tuned with the latest news!