On December 4th Art Basel Miami opened its doors to media and VIP guests beginning with a press conference with speakers Laurel Lee, Secretary of State, Florida; Dan Gelber, Mayor, Miami Beach; Marc Spiegler, Global Director, Art Basel; Noah Horowitz, Director of Americas, Art Basel; Magali Arriola, Curator of Meridians; and John Mathews, Head of Ultra High Net Worth Americas at UBS Wealth Management.
Noah Horowitz confirmed Mayor Gelber's comment that Miami has become a cultural mecca and how important Art Basel is to that journey. "There are a number of reasons for that," says Horowitz. "First and foremost perhaps is the building that we're standing in."
The newly renovated Miami Beach Convention Center and surrounding green campus have allowed Art Basel Miami (now in its 18th edition) to expand its cultural offerings including new commissions in the building; the initiation of a Legacy Purchase Program (under the City of Miami Beach's Art in Public Places) where the City will acquire artwork up to $100,000.00 from one of the fair's emerging artists from the Nova Sector; and the launch of Meridians in the now completed Grand Ballroom.
Steered by Magalí Arriola, Meridians that features large scale sculptures, installations, paintings and performances. This year, it brings together thirty-four projects of which thirty-three are in the Grand Ballroom and one outdoors.
269 leading galleries from around the world are exhibiting of which twenty galleries are new.
Here are some highlights from Meridians and gallery sections.
Art Basel Miami 2019
Tom Friedman - Cocktail Party
Never seen before in the US, Tom Friedman's work depicts twenty-six life-size and vibrant figures enjoying a cocktail party. The viewer is voyeur, but can also become part of the scene. Although separated by the stanchion, the viewer can take a selfie and become a part of the party.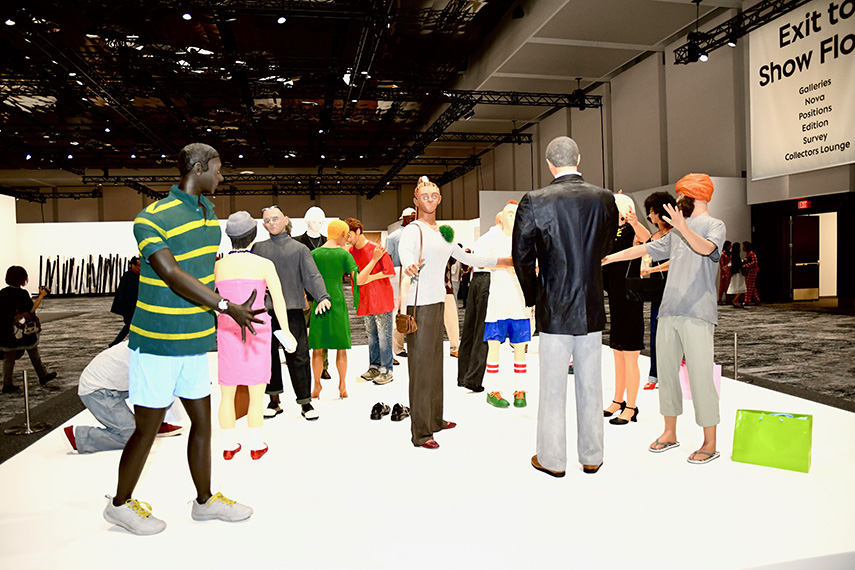 Fred Wilson - Sala Longhi/A Moth of Peace
Made up of twenty-seven black glass panels in antique wood frames, Sala Longhi/A Moth of Peace is hung on three walls in a huge space. The installation was inspired by the Pietro Longhi room of the Baroque palace Ca' Rezzonico, which features a painting cycle depicting the daily life of the haute bourgeoisie in 18th–century Venice.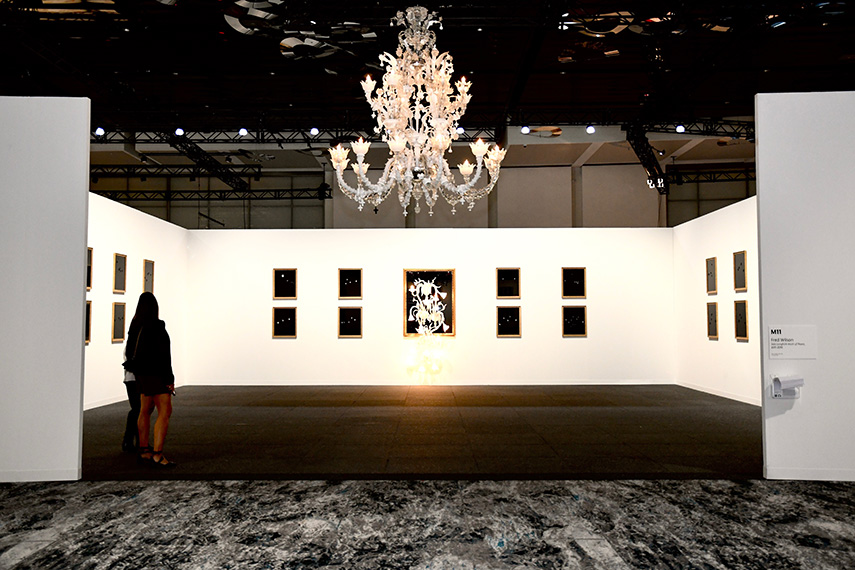 Portia Munson - The Garden
This mixed media installation is a woman's bedroom floral dresses, stuffed animals, found furniture, and a myriad of fake flowers. While both suffocating and beautiful, The Garden comments on the range of products marketed as 'female' and analyzing the limitations of gender-normative social structures.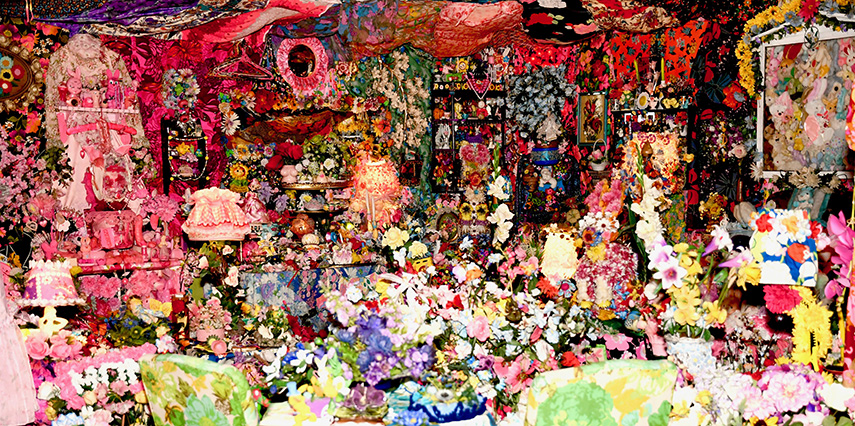 Other Art Basel Miami Beach 2019 Highlights
Victoria Miro's (London/Venice) presentation at Art Basel Miami Beach features works united by the theme of water and included a large flower sculpture by Yayoi Kusama. Works by Kusama can also be seen at the ICA Miami and new Rubell Museum.
neugerriemschneider (Berlin) is showing 2019 works by Ai Weiwei: Illumination and Party.
Monique Meloche Gallery (Chicago) is presenting a new body of hand-cut paper works by Ebony G. Patterson and paintings by Maia Cruz Palileo.
Company Gallery (New York) presents new works by Cajsa von Zeipel and Raúl de Nieves.
Jack Shainman Gallery exhibits Soundsuit, 2012 by Nick Cave.
Taka Ishii Gallery (Tokyo) displays porcelain sculptures by Kentaro Kawabata, including new works.
Fredric Snitzer (Miami) presents Distinctively Floridian, new paintings by Hernan Bas.
Marlborough (New York/London) exhibits new works and paintings dating back to 1973 by Alex Katz.
"This is the first presentation of Art Basel Miami that has included the sliding scale price model which means that younger and mid-size galleries pay less than they would have in the past," explained Marc Spiegler. Art Basel has also released the Global Guide which is contained within the Art Basel app. Now from anywhere in the world, anyone can see what the galleries are showing at that moment.
It is through this partnership with the galleries and cities such as the City of Miami Beach that Art Basel will continue to grow bigger and most definitely, better.
Art Basel is on view at the Miami Beach Convention Center through December 8, 2019.
Featured images: Front of the recently completed and renovated Miami Beach Convention Center, 2019; Yayoi Kusama sculpture at Victoria Miro; Ai Weiwei Illumination, Lego bricks; Installation view of Monique Meloche Gallery presenting hand-cut paper works by Ebony G. Patterson and woven patchworks by Maia Cruz Palileo; Detail shot of Soundsuit 2012 by Nick Cave at Jack Shainman Gallery; Paintings by Alex Katz on view at Marlborough; Porcelain sculptures by Kentaro Kawabata at Taka Ishii Gallery. All images courtesy Lisa Morales.