In the world of art fairs, Art Basel is somewhat of an absolute ruler, and it has been like that for years. The world's biggest fair takes place three times a year in three different locations worldwide, attracting thousands of visitors and offering artworks of the highest of quality. After the successful-as-usual editions in Hong Kong and Basel earlier this year, Art Basel will once again take over Miami Beach, becoming a hub around which everything else revolves with awe. For four days in December, one of America's most iconic cities will turn into a big museum of arts, featuring a number of exhibitions, events and programs. This year, more than 250 leading galleries from North America, Latin America, Europe, Asia and Africa will showcase the very best of Modern and Contemporary art, created by over 4,000 emerging and established international artists. For the visitors to enjoy, Art Basel Miami Beach will host numerous paintings, sculptures, installations, photographs and editions works, eager to find their new owners among the collectors.
List of Exhibitors
Participating Galleries and Sectors
A total of 267 leading international galleries from 32 countries will gather in Miami Beach, bringing together gallerists, artists, collectors, curators, museum directors and critics. Twenty nine of these spaces are completely new to the show, among them eleven from North and South America, fifteen from Europe and three from the Asia-Pacific region. The main sector of Art Basel Miami Beach, Galleries, will welcome 191 spaces, including Galerie Buchholz, David Kordansky, David Zwirner, Dominique Levy, Gagosian, Galerie Krinzinger, Galerie Lelong, Mai 36, Massimo De Carlo, Pace, Galerie Perrotin, Thaddaeus Ropac and White Cube.
The Edition sector will host 12 global leaders in the field of prints and limited editions, while Survey will return for its 2nd edition with 14 exhibitions of historically informed works made before 2000. Some of the artists include Dorothy Iannone with her large-scale paintings on canvas, drawings and prints (Peres Projects), Zero artist Heinz Mack (Beck & Egging), Keith Sonier and his iconic sculptures (Castelli Gallery), Gianni Colombo (Robilant + Voena) and Ettore Spalletti with abstract paintings and minimalist works (Vistamare).
Focusing on emerging talents there will be Positions, which will host 16 curated solo booths. Diverse in presentation, the sector will showcase installations, paintings, mixed media pieces, films and drawings by some of the most creative young arts makers. Speaking of young, 34 such galleries will take part in Nova, a platform for new work by up to three artists from each space, with a number of group and solo shows. Among the artists, there will be this year's art fairs' superstar Rachel Rose, who will be presented by Pilar Corrias, alongside Ian Cheng and Ken Okiishi.
As part of the 10th edition of a special curated sector, entitled Cabinet, 27 curated exhibitions of installations will take place within the very booths of participating galleries. Among them, we highlight Joseph Kosuth and his neon series, brought by Lia Rumma, the Deluxe Photo Book 1971-1973 of recently deceased Chris Burden, presented by Galerie Krinzinger, Chris Ofili and his 11 erotic line etchings brought by Two Palms, Sigmar Polke and his photography at Kicken Berlin, and Richard Pettibone at Galerie 1900-2000.
Art Basel Miami Beach 2015 Floor Plan
Upcoming Events at Art Basel Miami Beach
Art Basel Miami Beach will once again offer a rich program, which also involves Public, an exhibition of public, large-scale sculptures and installations. This year, over 20 of these pieces will be installed in Collins Park and will remain on view through February 2016. Among the participants: Tomas Saraceno with Tanya Bonakdar Gallery, Sterling Ruby with Gagosian, Matt Johnson with Blum & Poe, Robert Wilson with Paula Cooper, Tony Cragg with Marian Goodman and many more.
Art Basel's program of talks in Miami Beach will once again bring together world's top art professional. The Conversations series will include events like Premiere Artist Talk, featuring artists Trevor Paglen and Jenny Holzer, who will explore topics of surveillance and covert government operations and a panel called The Artist as Slow Traveler, lead by Hans Ulrich Olbrist and tackling travel and mobility. Conversations will also discuss the role of an art school education and the relationship between gallerists and artists.
The Salon program is an open platform dedicated to short presentations. There, the visitors can learn about art in Cuba, sound works, the role of an archive, attend artist talks and much more, in panels led by today's most important curators, historians, museum directors, magazine editors, collectors, professors etc.
Finally, over 50 films and videos by and about artists were selected for the Films section, under the name Our Hidden Futures, all to be screened on the 7,000-square-foot outdoor projection wall of the New World Center. Participating filmmakers include Rineke Dijkstra, Tracey Emin, Barbara Hammer, Shirazeh Houshiary, among others. On December 3rd, Catherine Sullivan's film Afterword Via Fantasia will be screened, and at the Colony Theatre, on December 4th, there will be a special screening of Troublemakers - The Story of Land Art (2015), by filmmaker James Crump, exploring the history of land art in the 1960s and 1970s. In addition to Film program, sound works by four artists will be presented on a surround-sound system in SoundScape Park. Curator David Gryn will also hold a talk with them on December 5th, entitled The Artists Surround Sound Project.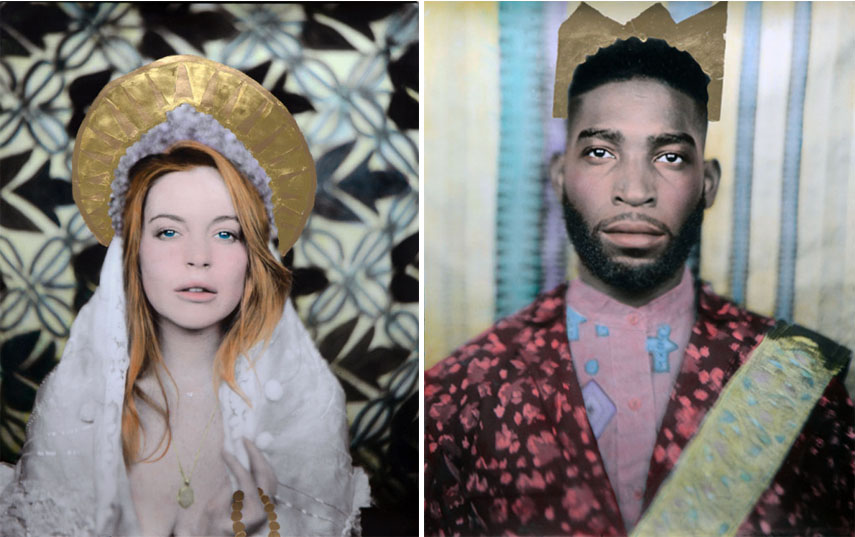 Gazelli Art House in Miami Beach - Alpha-Ation by Walter & Zoniel
During Art Basel Miami Beach 2015, Gazelli Art House will present an intriguing performance project by young London-based duo Walter & Zoniel, entitled Alpha-Ation. The artists will use a hand-built camera to create a series of exclusive portraits of high profile figures, tackling modern-day relationship with portraiture. Each of these large-scale photographs represents a unique piece of work, as they're shot directly onto positive paper, without a negative or a possibility of a reproduction, after long exposure periods (up to 20 seconds). The images are subsequently hand-painted and gilded with 24-carat gold, turning their subjects into "icons" and their two-dimensional works into sculptures of a kind. The performance will take place from December 2nd through 5th at Delano Hotel in Miami Beach.
The Location of Art Basel Miami Beach 2015
Art Basel Miami Beach 2015 - Practical Visitors Information
The 2015 edition of Art Basel in Miami Beach will take place between December 3rd and 6th at Miami Beach Convention Center. Fair's opening hours will be from 3pm to 8pm on December 3rd, 12pm to 8pm on December 4th and 5th, and from 12pm to 6pm on December 6th. On December 2nd, there will be First Choice and the Preview, both by invitation only, from 11am to 3pm and from 3pm to 8pm respectively. The vernissage, also by invitation only, will be held on December 3rd from 11am to 3pm. Tickets prices range from $47 for the Day ticket, $100 for the Permanent ticket (valid all days), $30 for the Reduced Day ticket (for students and seniors) and $60 for the Combination Day ticket (for both Art Basel and Design Miami). The entry is free for children under 16. Group tickets cost $30 for groups of 10 people and more, and $15 for accompanied school groups (both prices are per person). For more information, visit the official website.
All images courtesy of Art Basel.