Each year, art fans and professionals descend to the city of Miami to be a part of perhaps the biggest and most prominent event of its kind in the world.
A truly immense force in the art industry, Art Basel Miami Beach is a glittering magnet for collectors, gallerists, artists and industry figures from all around the globe.
Somewhat of an absolute ruler in the world of art fairs, Art Basel is a mirror image of the latest developments in the visual arts. What started off as little more than a swanky block party in the 1970s has grown into the world's most important family of art shows, disseminating its singular cultural brand around the globe.
It now stages the world's premier modern and contemporary art fairs annually in Basel, Miami Beach, and Hong Kong.
Established in 2002 as a sister fair of Art Basel in Basel, Art Basel Miami Beach became an immediate benchmark for art shows in the United States. With its popularity going way beyond the American border, the show now establishes itself as the premier winter destination for the international art scene.
Showcasing a diverse geographical selection of leading international galleries, the confluence of quality at Art Basel Miami Beach is truly remarkable.
Yet, for many, Art Basel Miami Beach is much more than an art show - it is more of a lifestyle experience. Fostering an amazing vibrancy and energy unlike anywhere else, it is a unique blend of grand parties, art-buying, business and socializing, attracting everyone from the world's art elite to trendsetters and celebrities.
How did Art Basel Miami Beach come to be what it is today? We take a deeper look into the history of this major art player and the extraordinary influence it holds.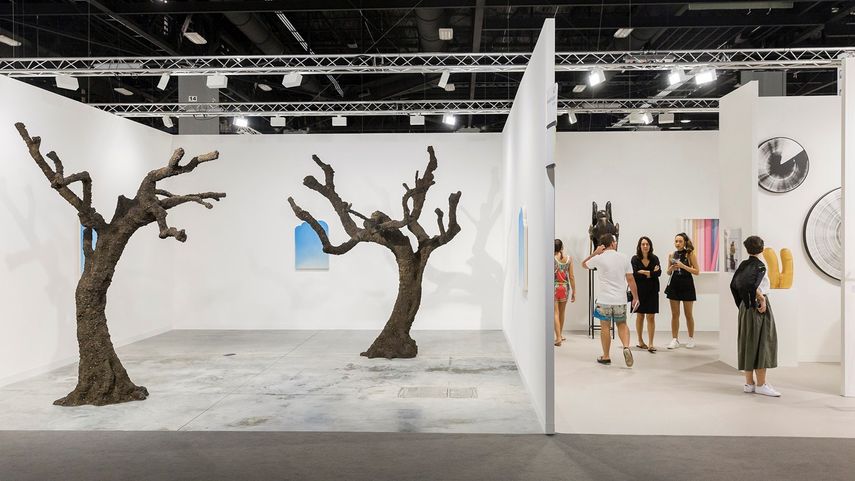 The Beginning of Art Basel Miami Beach
Art Basel was founded in 1970 by three art gallery owners with an idea to create an additional sales channel for contemporary art in the form of a show. Supported by Hermann Hauswirth, the director of Messe Basel at the time, Ernst Beyeler, Trudi Bruckner and Balz Hilt agreed that the new show would admit not only gallery owners representing contemporary artists but also art dealers offering twentieth-century works.
Gathering more than 16,000 visitors the initial year, the concept proved to be a success from the start. Only six years later, the fair has reached its current scope of approximately 300 exhibitors coming from 21 countries and nearly 40,000 visitors.
In 2000, it was announced that the second - American - edition of the Fair will be staged in addition to the show in Basel. Debuting in Miami in 2002, it served as a meeting place of North America and Latin culture, reflecting the city's multi-cultural identity.
The Swiss realized that Miami was in resurgence before anyone else did, acknowledging its dynamic cultural and arts scene that they could hitch their wagon to. The inaugural Art Basel Miami Beach featured 160 galleries from 23 countries and attracted 30,000 visitors. Right from this first edition, it was obvious that its success was unstoppable. Angela Westwater, owner, Sperone Westwater recalls:
In those early years, there was a marvelous opportunity to talk to collectors, have discussions about how the artist's ideas fit into the contemporary culture. That's the way great collections are formed.[1]
In no time, the number of exhibiting galleries and visitors increased many times over, featuring 269 galleries from 29 countries and attracting 77,000 visitors in its landmark 15th edition.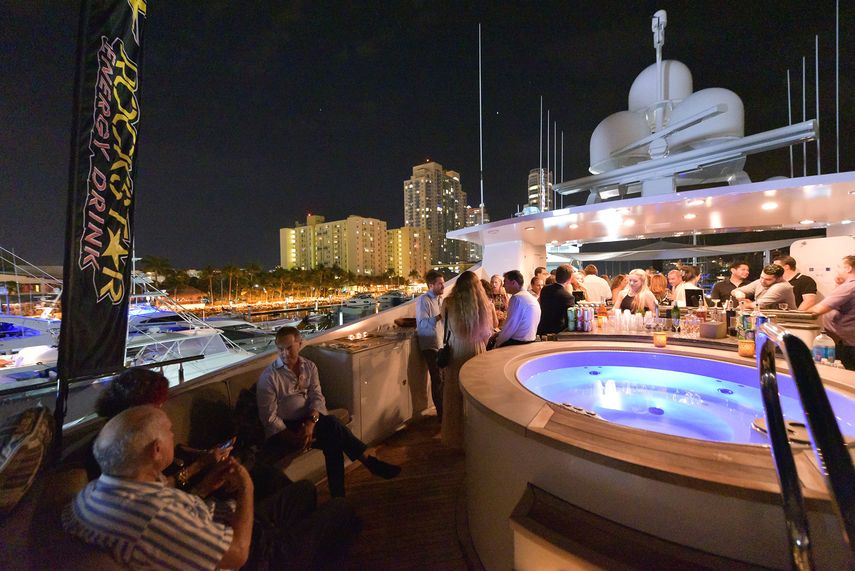 The Glitz and Glam
Some of the biggest art deals in the world are made at Art Basel Miami Beach. A fair generating enormous visibility, it attracts galleries from around the world who are ready to pay even hundreds of dollars for the opportunity to participate in it.
With an extraordinary breadth of pieces on display, the viewers have the feeling of exploring global contemporary art all in one place, while exhibitors have the unprecedented opportunity to present new and important works to a crowd of ultra-wealthy art collectors.
As William D. Talbert III, chief executive of the Convention & Visitors Bureau in Miami, explains, "Before Art Basel, you never had art, business, and billionaires in the same sentence."[2]
Naturally, along with art came the glitz and glam. An undisputed success and bona fide cultural phenomenon, Art Basel Miami Beach lured celebrity visitors of all stripes and generated headlines around the globe. Jet-setters, glitterati, and superstars all flock to the South Florida city to mingle, sip champagne and be seen, and maybe even purchase an artwork or two.
"It hit a crazy peak when I found Paris Hilton in an elevator drunk, and I thought, 'This is not about art anymore'"[1], the gallerist Marianne Boesky recalls. Attracted by art, parties and the celebrities, the obscenely wealthy crowd flocks to the Fair, contributing to it becoming an orgy of luxurious capitalist excess.
Amidst all this, some argue that Art Basel Miami Beach is not about art anymore, but about money, and the people who own a lot of it.
Luxury publishers and sponsors also rush to the Fair, hosting their own multi-day schedule of events to cater the audience that is not only rich but also adventurous and open-minded. With the increasing need to tap into the high-net-worth individual, the number of sponsored events at Art Basel is significantly growing. This abundance of art and elite might prove a tad overwhelming for a young collector looking for some spectacular art.
As editor in chief of W magazine Stefano Tonchi explains, there has always been a synergy between the luxury market and art, but in recent decades, art has become an increasingly important social currency among wealthy consumers.[3]
Indeed, art has become just another commodity to be bought and sold, especially in the environment of an art fair like Art Basel Miami Beach; artworks simply become objects with a dollar value, an asking price and a future value trajectory.
How Art Basel Helped Transform The Miami Beach Art Scene
The Art Basel Effect
Despite the star wattage, though, Art Basel Miami Beach has had a democratizing impact and has significantly transformed the city of Miami. Each year, the Fair pumps an estimated $500 million into the area. The popularity of the Fair has helped attract the world's wealthy, fuel a modern skyline and transform a beach town into a top global city.
More significantly, the Fair has contributed to the transformation of the once-stagnant Miami art scene into a worldwide phenomenon.
The attention surrounding it has encouraged developers and local government to launch and fund new museums and cultural institutions, like the Perez Art Museum Miami, a modern and contemporary art museum opened in 2002, and The Adrienne Arsht Center for the Performing Arts, Florida's largest performing arts center opened in 2006.
It has also generated a transformation in quality and significance of older museums, as well as private collections that are open to the public throughout the year.
The impact of the fair is palpable all year-round. Miami has always had art galleries, but now there are even more ones opening offices and spaces in the city and transacting in blue-chip art.
The city has become a world-class destination for art collectors and for buying and selling art. It has attracted both high-end customers and a creative class that comes to stay, making a huge impact on local businesses and contributing to the city's evolving zeitgeist.
With its 16th edition looming, Art Basel Miami Beach 2017 has solidified its international importance. The Fair will open its doors to the public from December 7th until December 10th, showcasing an impressive selection of 268 leading international galleries drawn from 32 countries across North and South America, Europe, Asia, the Middle East and Africa.
Once again, Miami will become a true center of the art world, with the storm that is Art Basel taking over the entire city.
References:
Ellwood, M., Art Basel Miami: An Oral History, Departures
De Aenlle, C., Art Fair Energizes Economy of Region, The New York Times
Bazilian, E., How Art Basel Miami Beach Became a Major Draw for Marketers, AdWeek
Featured images: © Art Basel; via artnews.com; via moneknows.com; photo by Andrew Katz. All images used for illustrative purposes only.