On Tuesday, Art Basel and UBS presented The Art Market 2018, an annual global art market analysis that covers all aspects of the international market and highlights the most important developments in the previous year.
Authored by Dr Clare McAndrew from Arts Economics, this independent and objective 347-page study examined different segments of the market, such as gallery business, auction houses, changing patterns of global wealth and art collecting, art fairs, online sales and the economic impact of the art market in general.
According to McAndrew, 2017 was a positive year, with a growth of 12% and sales totaling $63.7 billion following a period of uncertainty in 2015-2016. As the report highlights, the market is fDrinally rising after two straight years of decline. The US was the largest market worldwide, accounting for 42% of sales by value, with China in second place with 21% and the UK coming in third with 20%.
Mostly driven by the top-end of the dealership and auction sectors, there has been a rise in global wealth, consumer confidence is generally back and, overall, financial markets are healthy. However, the performance of mid-level sectors has been mixed. Let's take a more detailed look at fascinating insights the report provides.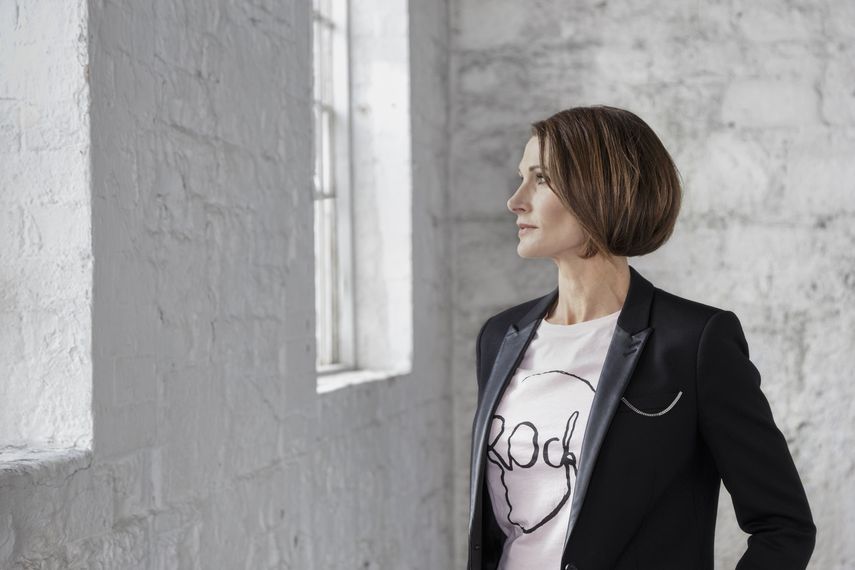 Dealer Sales
Focusing on dealers and galleries, reporting on sales and other key indicators in different value segments and sectors of the market, the report presented an analysis of important areas such as profitability, supply, inventories, financing and buyers.
One of the highlights is the fact that dealer sales in 2017 reached an estimated $33.7 billion, up 4% year-on-year. Out of estimated 296,540 businesses in 2017, less than 5% of them generate the majority of total dealer sales by value. While dealers who had sales of more than $50 million over the course of the year said their businesses rose 10%, dealers with turnover below $500,000 saw a decline in sales on average of 4%.
Examining gallery longevity, the report states that the number of gallery closures has varied considerably, while gallery openings gave declines steadily over the last decade, with the number of new galleries established in 2017 around 87% less than in 2007. While in 2007 five galleries opened to every gallery closing, in 2017, the rate is lower than one to one, with less than 50 new galleries opening their doors. Among reasons for galleries closing their doors are high rent prices, exorbitant fees levied by art fairs, and art-going habits shifting toward event-driven Instagram spectacles, but most importantly, the way in which big galleries poach young talent before they can generate profit for the small gallery that has supported them.
In terms of issues facing dealers in 2018, the report states that three biggest ones are finding new buyers, the economy and demand for art and antiques and participation at fairs.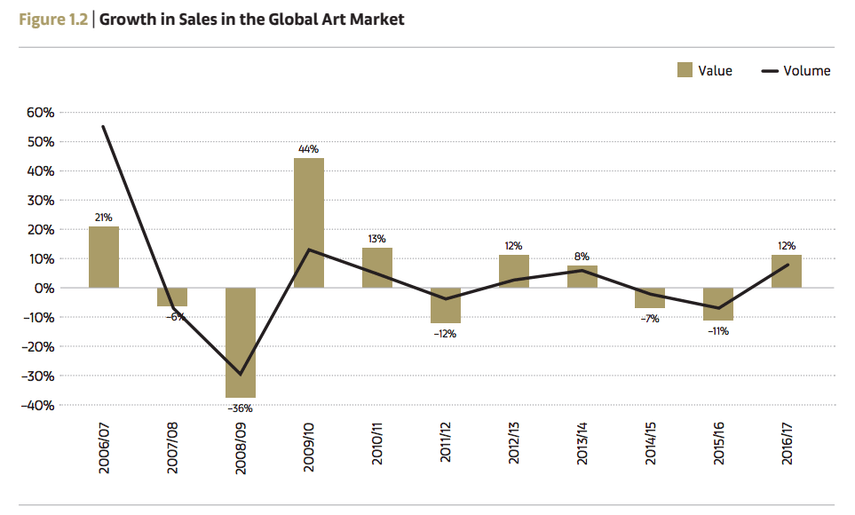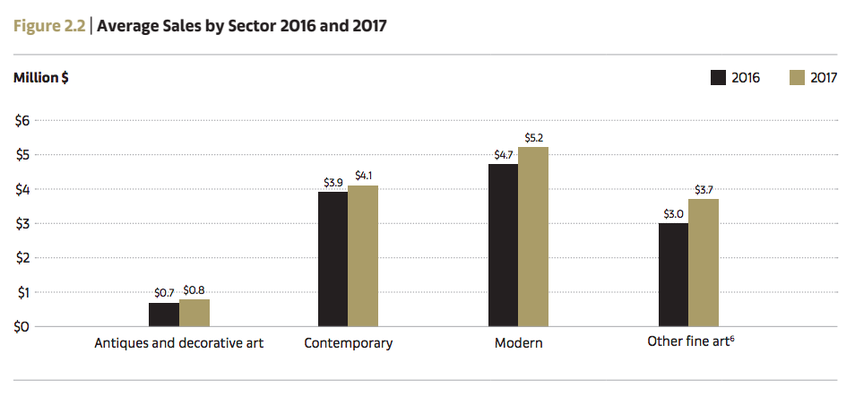 Auction Sales
In 2017, sales at public auction of fine and decorative art and antiques reached $28.5 billion, which boosted the market by 27% year-on-year. The auction sector is highly concentrated by value, with the top five houses (Christie's, Sotheby's, Poly Auction, China Guardian and Heritage Auctions) accounting for around half of global market sale by value.
In terms of global distribution of auction sale, the three largest auction markets are the US with 35%, China with 33% and the UK with 16%, a combined share of 84% of sales by values. After several years of stagnant and declining turnover, the sales in the Chinese market increased 20% in 2017. This can be attributed to the fact that the number of billionaires in Asia is rising faster than anywhere in the world, who now have 41% of the world's share (more than North America and Europe).
Post-war and contemporary was the largest of the auction sectors with a 46% share of the market by sale (increasing by 12% from 2016), followed by modern art with 27% share (up from 23% in 2016). The small but steady sector of European Old Masters was boosted by the sale of the $450 million Leonardo da Vinci painting to 64% share, what would otherwise be a share of 11% year-over-year.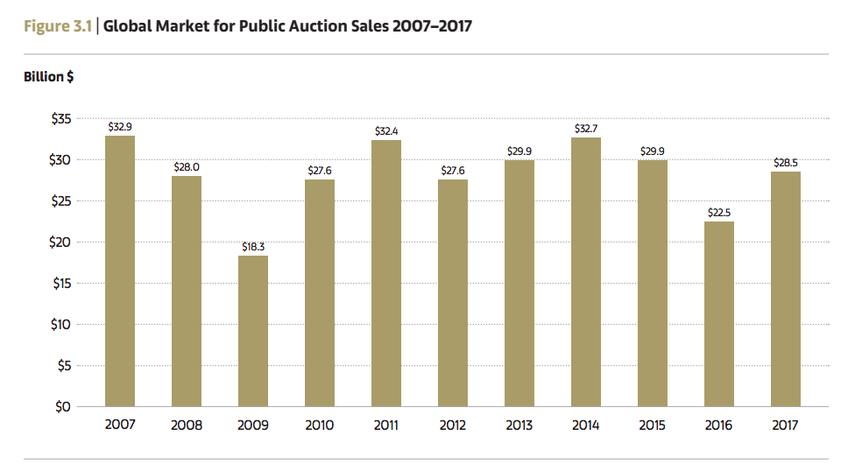 Art Fair Sales
The ways in which buyers access and purchase art have changed significantly over the last 20 years, with the rise of art fairs and e-commerce being the most documented developments in the trade since 2000. Besides creating new buyers, sellers and intermediaries, these sectors have also contributed to creating a more complex structure for the market.
There has been a steady decline in gallery sales in favor of art fair and online transactions over the last 20 years, as well as a 3% decline in gallery sales year-on-year. Despite an increasing backlash toward art fair proliferation, dealers reported that they made 46% of their sales at art fairs in 2017, up 5% compared to 2016. While the share of sales at local fairs was stable year-on-year, sales at international or overseas fairs increased by five percentage points to 30%. At the same time, sales at fairs were estimated to have reached close to $15.5 billion in 2017, up 17% year-on-year, while the costs for dealers to attend fairs rose 15% to $4.6 billion.
Existing since at least the late 1960s, commercial art fairs have intensified over the past 20 years. The number of art fairs has increased from 55 in 2000 to 260 in 2017, with almost 50 being added in the last ten years. While galleries on average participated in five fairs in 2017, same as 2016, dealers state that their spending on fair participation rose by 15% in 2017.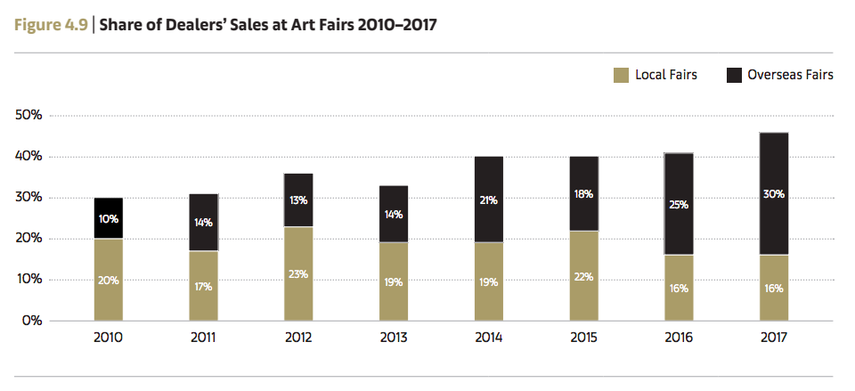 Online Sales
The report goes on addressing the sales and developments in the online art market, reporting on its size and key structural features. As already mentioned, e-commerce is one of the most documented developments since 2000.
In 2017, the global online art and antiques market was estimated to have reached a new high of $5.4 billion, up 10% year-on-year and accounting for 8% of the value of global sales. The online market itself has increased by 72% over the last five years, and its share of total art market sales has also edged up from 5% in 2013. However, growth in online art sale has lagged behind other global industries, particularly in the last three years.
E-commerce by traditional offline dealers and auction houses made up the majority of the online art market by value, and has advanced significantly over the last five years. However, some of the biggest successes in the online market in 2017 have been third-party platforms and auction aggregators.
Online sales have also proved to be a key method to access new buyers. Dealers reported that 45% of their online buyers were new to their businesses in 2017; 41% of those buying online at second-tier auction houses were new buyers; and in the top-tier ones, they averaged over 40%.
Despite the emergence of many new companies over the last ten years, the level of online sales is still relatively low compared to offline art sales. However, most of the traditional offline dealers and auction houses surveyed in 2017 recognized the online channel as a key area of growth over the next five years.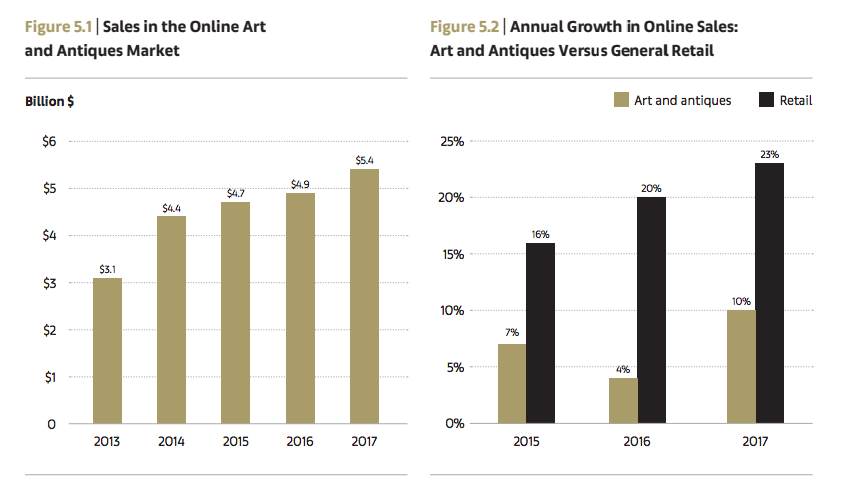 The Conclusion of The Art Market Report 2018 by Art Basel and UBS
The report concludes that the global art market is made up of a number of mainly small, knowledge-intensive businesses, employing a gender-balanced mix of highly educated people. It is the market that creates an important economic impact, creating substantial revenue and jobs in a number of areas. It is calculated that the global art trade spent $19.6 billion on a range of external support services directly linked to their businesses, supporting a further 363,655 jobs.
In a recent interview, Dr. McAndrew stated there have been more changes in the art market since 2008 than in the previous 100 years. The dominance of Europe and the US was shaken in 2005-2006 by an explosion of new global markets, such as China. She also highlights that the recovery following a recession has become a lot more rapid.
In the 1990s, the market took about 15 years to recover, whereas, following the 2009 crash, it bounced back almost straight away due to a boom in Chinese sales. So there is a more diversified base, which protects the market as a whole.
When dealers were asked to name the top three challenges facing them in 2017, the biggest one cited was finding new clients (by 50% of respondents), followed by the economy and its effects on the demand for art and antiques (cited by 47% of dealers). At the start of 2018, there is a good deal of optimism concerning the wealth dynamics around the world, however, in major economies such as the US and UK, there is still much uncertainty regarding policies on trade. The report highlights that securing greater engagement from a wider range of buyers will be the key to a stable, balanced market in the future.
The Art Market Report 2018 by Art Basel and UBS
Featured image: Art Basel Miami Beach 2016 © Art Basel. All images courtesy of Art Basel and UBS.