The imminent and now undisputed threat of climate change is affecting all aspects of our lives emanating both dread and hope. While artists prophetically addressed many of the alarming environmental concerns of today, art collecting was lagging behind the rest of the art world already obsessing with climate change.
For decades now, artists were making climate change the focus of their work. They don't merely thematize the horrifying and traumatic impact of climate change; they also partner in their endeavors with environmental researchers and eco-activists of all sorts. Art often succeeded where science and activism failed as it conveyed the emotional appeal but also empathic deliberation that data or hectic calls to action could not deliver.
But these Promethean efforts and enticing enthusiasm on the artists' part were not followed in the same vigor by art collectors. Not until now, at least. The most recent calls for an all-encompassing accountability brought art collecting to limelight and exposed a number of its practices as having a negative impact on the environment. Many, even within the art industry, voiced their concerns about collectors' responsibility emphasizing that these individuals - more than anyone else - can make a decisive impact on nudging the art world towards its greener future.
WWF Spain and Museo Del Prado Campaign + 1.5ºC Changes everything
Artists and Climate Change - The Unprecedented Recognition
While contemporary artists were turning their attention to climate change for quite a while, nothing compares to the long-sought institutional recognition that finally arrived at the very late of 2019. December of 2019 should be considered an important milestone that marks the date of the long-due institutional recognition and acceptance of the impact art has on climate change. Three paramount art events triumphantly celebrated last month this unprecedented recognition shift.
First off, partnering with the World Wildlife Fund (WWF), the Museo del Prado (Prado Museum) presented a project titled +1.5ºC Changes Everything that digitally modified paintings by Francisco de Goya, Diego Velázquez, Joaquín Sorolla and Joachim Patinir. These edits reflected on the changing environment caused by +1.5ºC temperature rise. Velasquez's Felipe IV was, for example, situated amidst the rising sea while de Goya's Parasol was transformed from a jovial scene to a suffering sight of climate refugees. These billboards were installed across Madrid to coincide with the UN Climate Change Conference taking place at the same time.
Art Basel Miami Beach honored sustainability as the central theme of the 2019 edition. Artists were invited to showcase their climate change-related artwork. Among an impressive number of engaging art pieces, some were more awe-inspiring than others: the public art installation Order of Importance by the Argentinian artist Leandro Erlich, who created 66 real-sized sand cars that resemble a traffic jam; Coral Projects by Everglades Art Lab (headed by Vanessa Albury) displaying a coral reef made from discarded material and drawing attention to ocean pollution; and a melting ice sculpture How Dare You by the Brazilian artist Rubem Robierb inspired by Greta Thunberg's speech at the United Nations. But that's not all! Art Basel Miami Beach also hosted a panel debunking a climate change denial, a vitriolic but persisting conspiracy narrative.
And finally, London's Tate Modern Gallery was home, again, to Danish-Icelandic artist Olafur Eliasson's installations that display his latest work on climate change, energy, and migrations. Following the stunning success of his Ice Watch exhibition of 2018, when 30 blocks of glacial ice were brought from Greenland to London documenting glaciers melting, Eliasson continues his decades-long art commitment commenced with The Glacier Mill Series (2007) at the most prestigious galleries.
Leandro Elrich - Order of Importance, Art Basel Miami Beach 2019
How Art Collectors Can Make A Change
Now, onto the real question: How can art collectors make a change? Plain and simple - by reducing carbon footprint! As we are dumping carbon at a disturbing rate to the atmosphere, carbon footprint became a universal gauge to assess the environmental impact. Around the same time when Greta Thunberg had set sails across the Atlantic in her zero-emission boat, a great number of art pieces took the same, but less sustainable route, landing at the Art Basel Miami Beach.
Art fairs hardly epitomize environmentally-friendly events. Hopping from fair to fair, the short attendance is often attained by frequent short-haul flights. Alternative travel options are rather unpopular among time-constrained collectors who are used to the convenience of their private jets. If alternative travel options are not acceptable, perhaps the alternative types of venues are? Virtual exhibition spaces are not merely a more sustainable alternative but reflect the global and inevitable migration towards the virtual realm.
Moving from the physical to the digital world was a step already taken by Christie's, taking note from Phillips, when they recently decided to cut their catalog pages and print material in half. According to their estimates, 52 percent of auctioned items were bought by people who never laid hands on their printed catalogs (the number skyrocketing to 70 percent for attendees of live auctions). But it doesn't end there; Guillaume Cerutti, Christie's CEO, announced a massive digital transformation that will include not only the digitalization of their detailed catalogs but bidder registration and post-sale processes.
Yet, many experts claim that these changes can't make up for the damage caused by shipping alone. The 2019 shipment to Art Basel Miami Beach alone via Dietl, the largest shipping company, generated 1000 metric tons of carbon dioxide. Exposed to public scrutiny, Dietl introduced a direct charter flight from Europe to Miami for the first time, thus reducing flying time, but also created a new carbon credit program. The program is developed to match every individual shipment with an option to directly fund environmental projects.
Shipping concerns are naturally, inseparable from packaging. More sustainable packaging products are now available to gallerists and art collectors alike, including RokBox, a reusable crate lighter than a wooden box. Not only that is can be used over and again but its lightness means lighter cargo which equals less carbon dioxide emission. In addition, the alternatives to bubble wraps are being tried daily as well as biodegradable alternatives of different types.
Holding Art Collectors Accountable
Climate change is still more talked about than acted upon. The responsibility is being shifted from a single consumer-level to an industry level. Each and every industry is expected to scrutinize all of its own stakeholders. Art collectors are often identified as the main culprits as their role is meticulously discussed following the axiom the wealthier - the bigger carbon footprint (and responsibility).
Lisa Schiff, an art advisor and specialist in contemporary and modern art, has been a staunch advocate of ecological activism. According to Schiff, the responsibility lies with galleries, not art collectors. She believes galleries should take a lead and add carbon neutralizing costs on their invoices, including them in the very costs instead of presenting them as an additional burden.
Others are more eager to shift the blame on the collectors' side. If there would be a demand on their part, many greener solutions would be already at hand.
Though art collectors were not particularly vocal, their opinions are encouraging. A new UBS survey of US high net worth dedicated to art collectors reveals that 59% of all collectors would consider sustainable options like recyclable packaging and alternative delivering; the number rising sharply for Millennials to a surprising 86 percent. Now, let us look more closely at these numbers: 86 percent of collectors are stating they are willing to pay more for sustainable options while 25% explicitly said that they would pay even 25% more for sustainable options. Galleries who are already considering more CO2-neutral shipping options should not worry that this will turn the collectors away from purchasing.
However, at the end of the day, both galleries and collectors (as everyone else!) should work together on this issue. Collectors should ask for an assessment of the prospective carbon footprint for every shipment and galleries; in return, they should meet these demands not only by providing shipping alternatives but also, for example, by investing in the additional storage space where reusable material will be stored.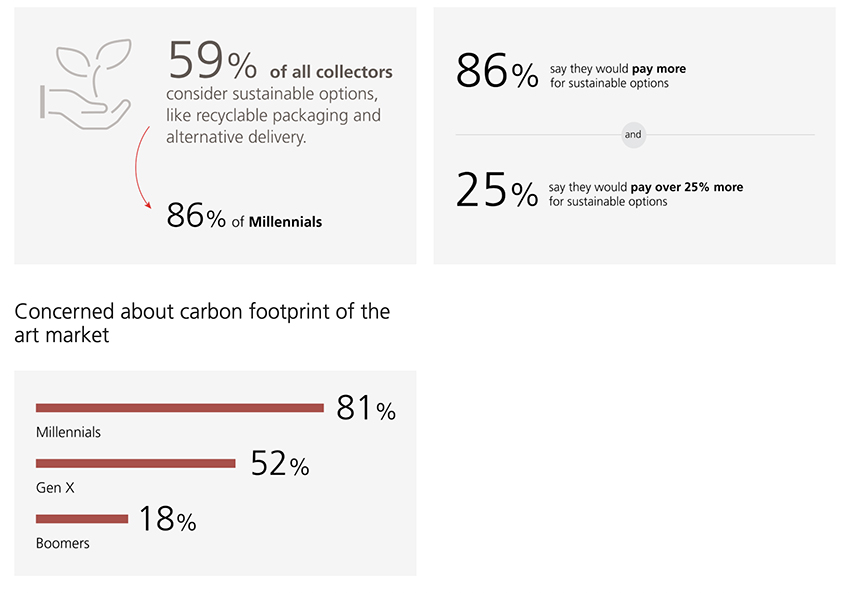 Wrapping Up Some Final Thoughts... But Not in the Bubble Wrap!
Many argue that art collecting has been associated with a lavish and excessive lifestyle that itself contradicts the very idea of sustainability. But as the aforementioned UBS research reveals, art collectors are more conscious that many are to admit and, more importantly, can pay for, that consciousness extravaganza of theirs. No surprise then that the art world was ripe to indulge in the first-ever zero-waste party that took place at the Art Basel Miami Beach a month ago. As luxurious as usual, but stocked with recycled and biodegradable versions of the regularly opulent commodities.
The Dietl carbon conversion program embodies its contradictions - the (un)necessary travel is being justified by a donation to an environmental project. No one wants to risk profit loss by being labeled as socially irresponsible. Come to Olafur Eliasson exhibition with an old T-shirt and the Tate will give you a 20 percent discount on a new one (the one you may not need!).
As long as we are fighting climate change with alternative, yet consumerist options, our future on this planet will remain uncertain.
Featured image: Climate Meltdown by Rubem Robierb. Courtesy Art Basel Miami Beach 2019.