We recently discussed the importance and characteristics of Art Deco style. Living its golden years in the period between the two biggest global conflicts Art Deco was one of the most elegant and glamorous styles in modern art history. Between the 1920s and 1940s Art Deco was embraced by many artists regardless of the field they were working in, from architecture and interior design to painting, sculpture, ceramics, fashion and jewelry. In the interwar period, Art Deco patterns were a synonym for modernist ideas of progress, optimistic celebrations of life and luxurious lifestyle of a generation of youth who was coming of age after the war. Art Deco aesthetics and heritage continues to live today, and the nostalgic trends in today's society continue to revive some of the features of this glorious style of the past. In the spirit of remembrance, we are today revisiting the works of ten most influential Art Deco artists and talking about the way they have changed the world of decoration.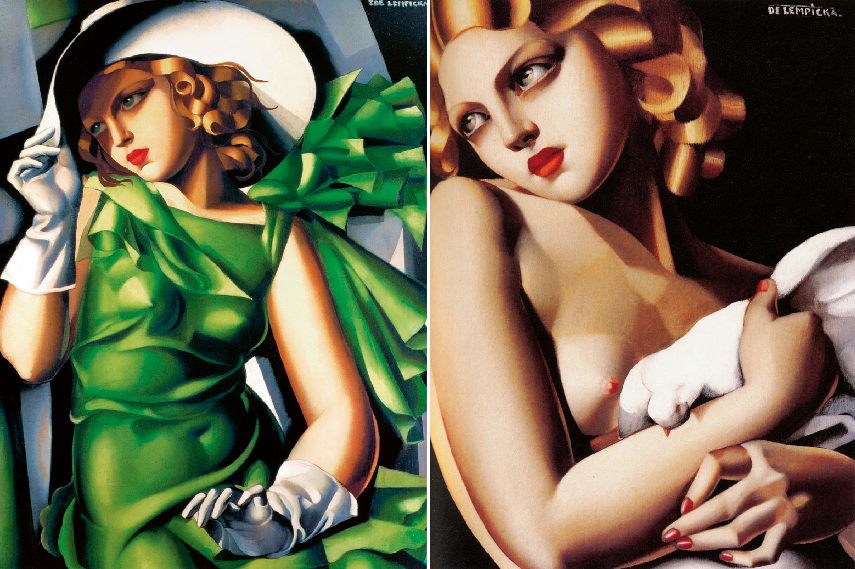 Tamara de Lempicka - The Baroness with a Brush
Tamara de Lempicka is possibly one of the most admired and most recognizable Art Deco artists. Born in Poland in 1898 and settling in Paris after the Russian revolution, Lempicka became engaged in the bohemian lifestyle of 1920s Parisian socialites, painting portraits of many prominent figures including the exiled nobility, which brought the painter critical acclaim, fame, and considerable wealth. Her artistry is a perfect representation of her lifestyle of glamour. Drawing inspiration from the popular painting movements of the time like cubism, for instance, Tamara de Lempicka developed her unique approach, which was more subtle than the original cubist expression, elegant, precise and clean. The bold bright colors and angular style that came to dominate her work, as the main features of Art Deco style, are among the main reasons why Tamara de Lempicka's oeuvre is seen as the best representative of Art Deco painting. She was one of the most prominent portrait painters in her generation, favored by the elite audience and her works are even today greeted with enthusiasm.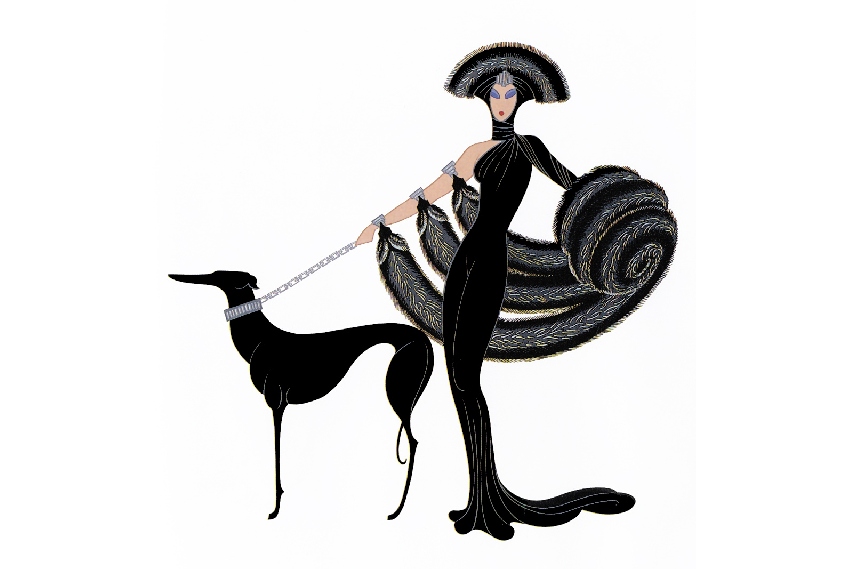 Erté - Extravagant Costume Designer
Romain de Tirtoff known by his alias Erté is probably one of the best known Art Deco designers. Born in St. Petersburg in 1892, he became one of the most influential fashion designers and illustrators in Paris in 1920's. Erté became widely recognized for his sophisticated and highly stylized fashion illustrations. For two decades, between 1915 and 1937, his works were on the covers of Harper's Bazaar and appearing in other leading fashion magazines like Vogue and Cosmopolitan. Throughout this period, he also collaborated with Paul Poiret, another famous designer from Art Deco golden years and except his illustrations he did numerous designs for opera and theater costumes and stage sets. His designs and illustrations are often described as exotic and romantic, extravagant in their appearance. In his long career, spanning approximately eight decades, this Art Deco designer used to work in the other fields as well, from jewelry design to interior decor and sculpture. For a while, he also worked with Hollywood production companies, designing sets and costumes for some memorable films like Ben-Hur.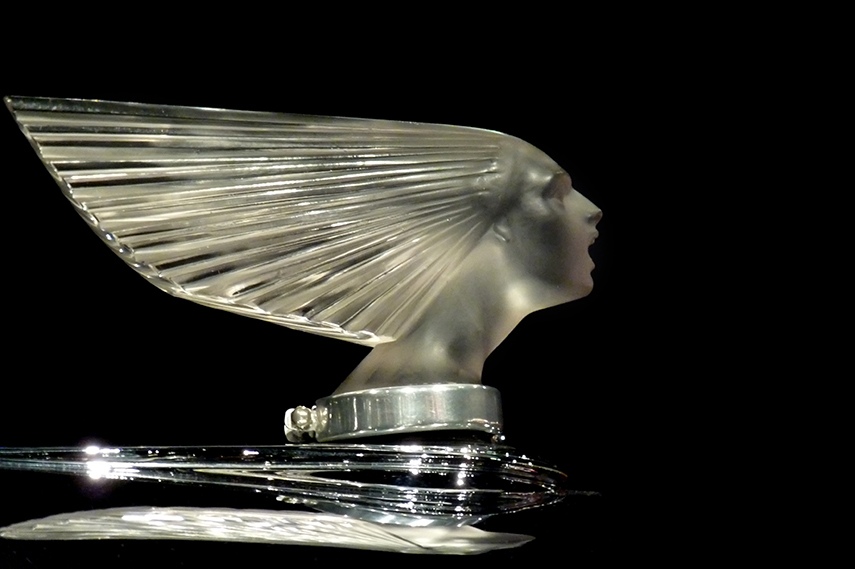 René Lalique - A Master Jeweler
René Jules Lalique is probably the world's most famous glass art designer whose legacy is still strong today and whose pieces are favored by the collectors. Born in 1860 in Paris, Lalique became one of the most praised Art Nouveau jewelry designers working for the leading French jewelers like Cartier and Boucheron. In 1920s René Lalique abandoned his Art Nouveau orientation toward natural, free-flowing forms and adopted the tendencies of the emerging Art Deco art style. His pieces became more streamlined and he began experimenting with new materials from metal to enamel. However, glass pieces remained his favorite, except they gained new prismatic qualities. In the Art Deco period, he dominated the jewelry and glass market, and his success can also be attributed to his lost wax method of glass casting which allowed him to create multiples of the same design. Some of his monumental works in Art Deco style, except his smaller perfume bottles, pieces of jewelry, and car ornaments, are the walls of lighted glass and glass columns for ocean liner Normandie and his stylized glass fountain made for the first Art Deco exposition.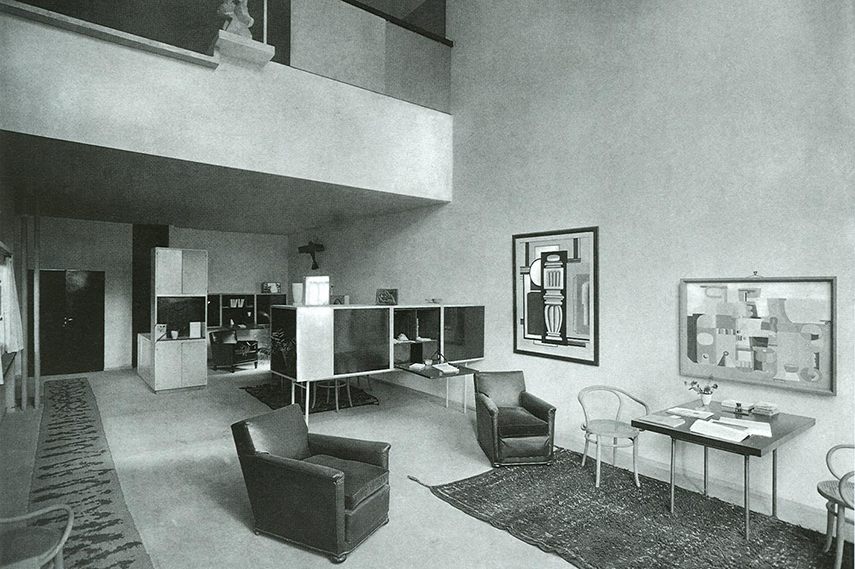 Le Corbusier – The Man Behind the Art Deco Term
Although he was one of the loudest opponents of decorative arts, the architect Charles-Édouard Jeanneret-Gris, better known as Le Corbusier became inseparable from the Art Deco context over the years. The first use of the term Art Deco is often attributed to this man, even though the term officially entered the art history vocabulary in the sixties. In 1925, at the inaugural Art Deco exhibition, Le Corbusier's pavilion stood in opposition to the extravagant decorative motifs typical for the new style. Already an idol in the history of architecture, Le Corbusier favored standardized housing, purist aesthetics, strict and rational designs. Closer to the Bauhaus ideas Le Corbusier's architectural works were anti-decorative and hostile towards the luxurious, expensive and exotic materials promoted by Art Deco artists. However, due to Art Deco's close relation to modernist aesthetics and Le Corbusier's early works as a decorator, his name became essential in any talk about the history of Art Deco style.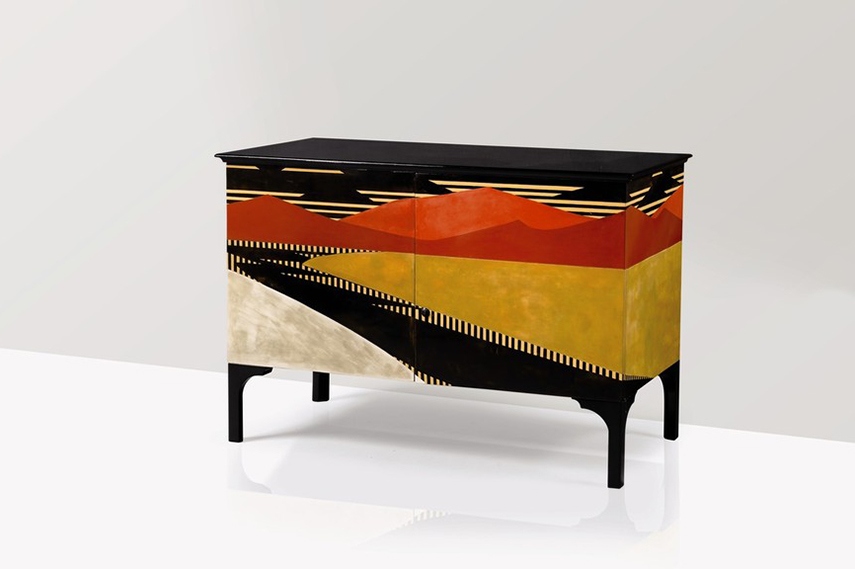 Jean Dunand – The Greatest Lacquer Artist
French artist Jean Dunand was certainly the most important lacquer artist of the Art Deco period. During his formative years, he was mostly interested in sculpture and copper work. After 1910, he began his lacquer experiments as the apprentice of Japanese artist Seizo Sugawara. As a fast learner, Dunand quickly mastered this difficult and time-consuming technique along with coquille d'oeuf technique which allowed him to create astonishing patterns by embedding eggshells in his lacquer layers. At first, his lacquer works were mostly inspired by Japanese cultural heritage and naturalistic motifs typical for Art Nouveau designs, but he afterward abandoned these motifs for more abstract and purer forms influenced by Cubism and African art. A prolific Art Deco designer, Dunand applied lacquer on a variety of objects and surfaces from vases and jewelry to panels, furniture, and even portraits. On many occasions, he worked with other prominent furniture designers of the Art Deco period and after a whole century, his furniture and decorative works are still highly valued by art collectors.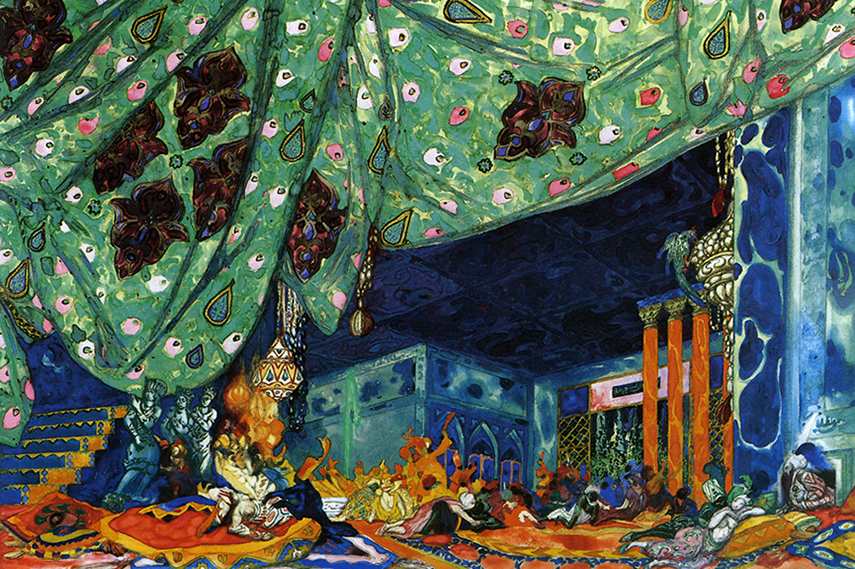 Léon Bakst - Russian Leading Costume Designer
Art Deco is primarily defined by its eclectic choice of styles. The Ballets Russes as the first international performing company which featured stage and costume designs by the prominent artists was for a long time one of the main sources of inspiration for Art Deco designers. Russian artist Léon Bakst who was among the most influential designers for the Sergei Diaghilev's Ballets Russes Company between 1909 and 1921 influenced the formation of the early Art Deco aesthetics. He was a member of the Mir Iskusstva group, which became famous in Paris in the years of the Ballets Russes craze. This group of artists revolutionized theatrical design at the beginning of the century working not only on costumes and on decor but also influencing the visual style of the dance. Vibrant and exciting, full of exotic imagery and motifs, the costume and set designs by Léon Bakst embodied all those essential elements Art Deco artists longed for. His use of harmonious coloring, rich decorations, and bold compositions influenced a new generation of Art Deco designers making a great impact on the further developments of this decorative style.
Émile-Jacques Ruhlmann – Genius Furniture Designer
Among the pioneers and the loudest promoters of Art Deco style is French furniture and interior designer Émile-Jacques Ruhlmann. Ruhlmann strongly believed that the salvation of art depended on the elites and unlike Le Corbusier who promoted strictness and purism, the designs of Ruhlmann perfectly embodied that spectacular and luxurious spirit of the age. Although he was restrictive in the use of ornamentation, he fashioned his furniture pieces and interior decorations of the finest and expensive materials like exotic woods, ivory, lacquer, and precious metals. Émile-Jacques Ruhlmann was certainly the favorite artist of the post-war bourgeois classes eager to show their wealth and taste. Perhaps the greatest achievement in Ruhlmann's work was his ability to introduce the aristocratic, classical style of the past to the modern context. Among the high-style Art Deco artists, Ruhlmann is certainly the forerunner who helped define the movement and who still inspires designers today.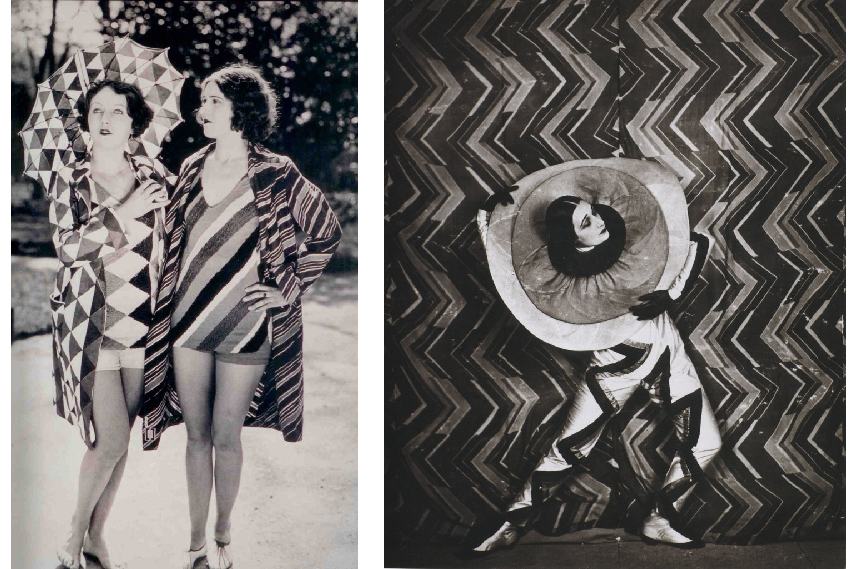 Sonia Delaunay - Abstract Fashion Pioneer
Russian-born French artist Sonia Delaunay is among those Art Deco designers who even today strongly influence fashion trends. Inspired by Cubism, Fauvism and working closely with Surrealist poetry school and Dada artists, she was the first designer to introduce abstract inspiration into the world of fashion. The concept of geometric design was ultimately new and fashionable during the decade between 1920 and 1930, and some of her best pieces come from this period. Her bold combinations of colors and textiles brought her the title of the designer of modern fashions during the 1925 Expo and she became famous for her patchwork dresses, which were experiments in simultanéisme, an odd and modern mix of different colors and materials. In the 1920s her collaboration with Dadaist artists resulted in the creation of her "poem dresses" where geometric blocks of colors were placed next to the lines of poetry. As one of the most important Art Deco artists, Sonia Delaunay also made imaginative waistcoats for Tristan Tzara, Louis Aragon, Rene Crevel and other Surrealist poets and even today her abstract designs influence high-end fashion collections.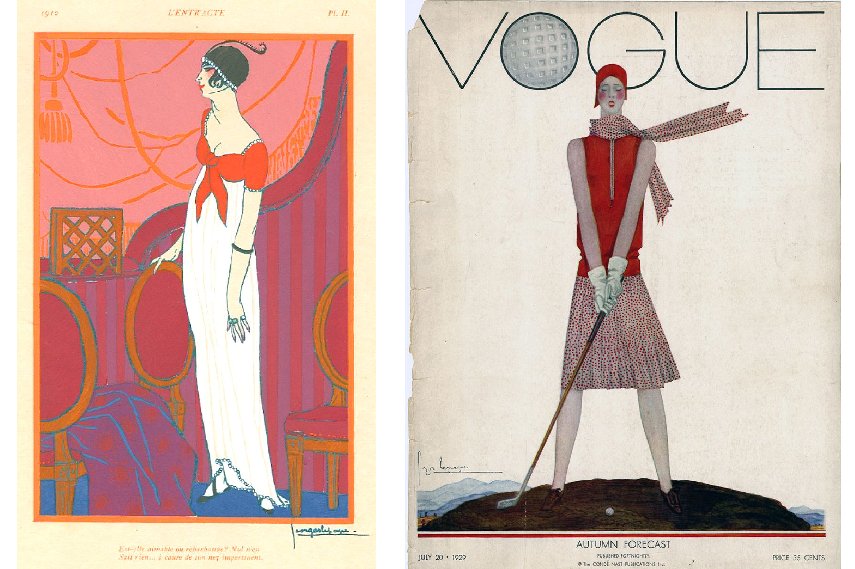 Georges Lepape – Oriental Inspiration
Another famous Art Deco designer is Georges Lepape. He first entered the art world working as an illustrator for Paul Poiret and later on became one of the most famous fashion magazine illustrators. Until the mid-1930's he was the star illustrator at Vogue magazine. Georges Lepape's art is mainly characterized by his witty portraits, curvilinear style, elegance which dominated his prints, posters illustrations, and catalogues. Throughout his work, just like many other Art Deco artists, Georges Lepape was influenced by Orientalism, Persian miniatures and the popular theater aesthetics of the Ballet Russes. Representative of his style are his illustrations depicting thin female figures wearing turbans and perhaps the best qualities of his subjects are their carefree attitudes, self-confident and independent looks. After 1938, Lepape mostly produced book illustrations abandoning the world of fashion.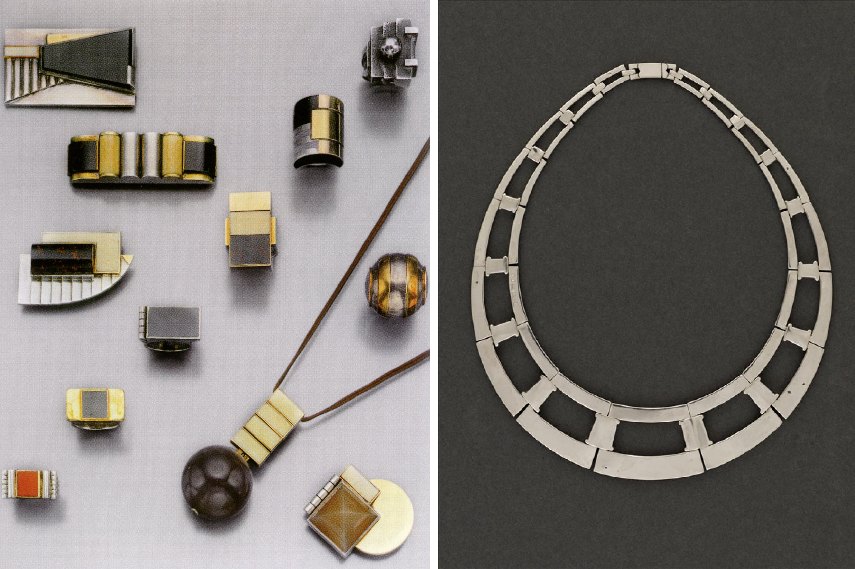 Jean Després – Celebration of the Industrial Era
The Art Deco celebration of the technological developments and industrialization is perhaps best embodied in the work of Jean Després. In the years before World War II, young Després was working as the apprentice at a Paris metal workshop, training to continue the family's small jewelry business. His years in Paris were marked by his friendship with the avant-garde artists Modigliani, de Chirico, and Braque. At the start of World War I Després started working on an airplane, industrial design and both of these elements, the Cubist inspiration and industrial experience influenced his later jewelry works. After the war, Jean Després became famous for his innovative and conceptual geometric designs. Some of the pieces he created were based on the actual machine parts. His other famous works include jewelry which incorporates miniature cubist paintings and neo-classical pieces which are an odd combination of metal and ceramics. Apart from jewelry, he also designed objects like tea and coffee services, flatware, trays, pitchers and serving pieces among others. Until this day, he remains one of the jewelers favored by the collectors.
Editors' Tip: Art Deco
As one of the most popular decorative styles in history, Art Deco has lived up to many of its revivals and imitations. The book Art Deco, written by the German-based art historian Norbert Wolf, traces the origins of the movement in the period between the two World Wars, focusing on the pioneering creations, characteristics of this widely recognizable style, most significant artists, and also social and political contextualization of the movement. With hundreds of illustrations, Norbert Wolf's book brings the finest examples of Art Deco paintings, architecture, interiors, jewelry, crafts, furniture, and fashion. The book provides a comprehensive insight into the evolution of the movement, bringing together historic and contemporary examples of Art Deco style and the extravagant spirit it celebrates.
Featured images: Georges Lepape - L'Entracte, detail; Erté - The Nile. All images used for illustrative purposes only.