The easiest way to identify one of the most influencing styles of the 1920s and 1930s is through Art Deco patterns, because this surely was one of the most popular decorative styles in architecture, design and visual arts in this period of art history. As impactful as other movements like Art Nouveau and Bauhaus, Art Deco left a mark through its recognizable patterns, which were applied in many fields and most prominently in architecture and design. In each of the examples presented in this article, there are visible Art Deco patterns employed on walls of the buildings, on interior or exterior doors, even on cars. It is these patterns made Art Deco famous worldwide.
Art Deco Patterns Design
Art Deco pattern is known for its precise and clear lines, geometric shapes and decoration – these patterns are implemented on the surface or attached to a structure. However, in the later period of the Art Deco movement, the patterns were known for their curving forms and long horizontal lines. This later period of the style is called Streamline Moderne and it's also characterized by rich colors, bold geometric shapes and lavish ornamentation. Creators and designers used these Art Deco patterns as the basis for decorating furniture, cars, buildings, houses, while visual artists use them in paintings, posters and drawings.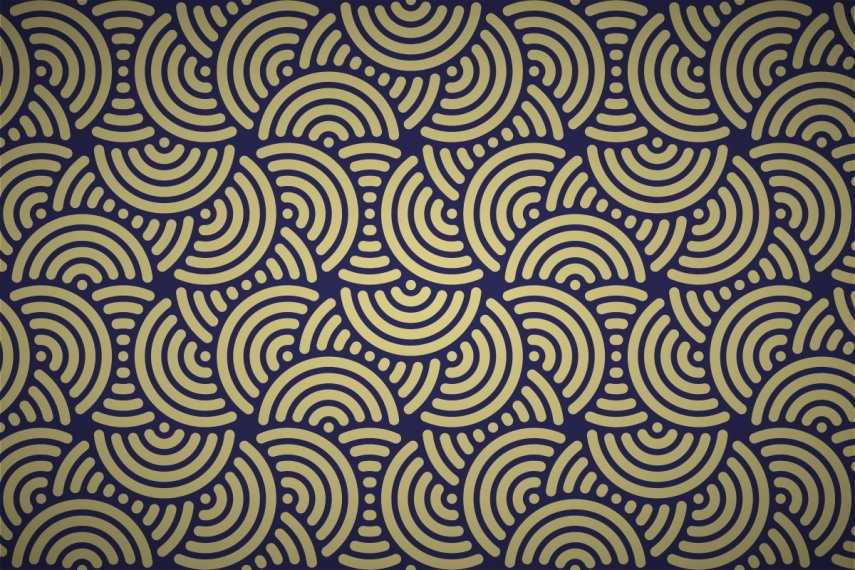 Art Deco was certainly among the most popular movements in the period between two World Wars. What is fascinating about the movement is the fact that it quickly spread around the world, so Art Deco was not only European or Northern-American style or movement. It had a global reach, and even today, the big and rich legacy of Art Deco can be found in countries all around the world.
Editors' Tip: Art Deco Designs (Design Source Books)
Art Deco designers, artists and architects largely used similar patterns in their works – sharp lines, ornaments, geometric forms and so on. Art Deco pattern is characterized by decorative and free, often abstract elements that are totally different from Art Nouveau retro practices. Vector and vectors set the image of the design and it often has vintage elements. The book
Scroll down and take a look at Art Deco patterns and see some beautiful examples of it in design and architecture!
Elevator of the Chrysler Building
Art Deco patterns were widely used for designing the interiors of the lobbies of government buildings, theaters, and particularly office buildings. One of the most stunning examples of such interiors can be found in famous New York's Chrysler Building. The architect of the building, which was constructed in 1930, was William van Alen. He intentionally decorated the lobby of the building so that it echoes the modernity of the outside, using geometric shapes in glass, ceramics and stainless steel characteristic for Art Deco designs.
Cabinet by Emile-Jacques Ruhlmann
Emile-Jacques Ruhlmann is often described as a genius of Art Deco. He created some of the most recognizable furniture using the Art Deco design, and apart for being known for creating extravagantly patterned carpets and vividly colored textiles and wallpaper, Ruhlmann also produced works that were simple in form but lavishly decorated, using fine woods and inlays. This cabinet was made in 1926 and is an example of easily recognizable Art Deco shapes.
Schiedmayer Piano
Sunburst motifs were often used in Art Deco designs. This Schiedmayer grand piano with an Art-Deco case is decorated with lapis lazuli and malachite in geometric designs. This Schiedmayer piano was created designed by Peter Behrens.
Art Deco Doors
One of the main characteristics of Art Deco patterns is the use of mathematical geometric shapes, but also faceted architectural forms of Babylon, Assyria, Ancient Egypt, and Aztec Mexico - notably their ziggurats, pyramids and other monumental structures. In addition, sweeping curves and ornaments are one of the main motifs in Art Deco patterns, often decorated with subjects, such as cats from Ancient Egypt, lions or dogs.
Bugatti Type 57SC
The later period of Art Deco was called Streamline Moderne. It emerged during the mid-1930s and was influenced by modern aerodynamic principles developed for aviation. The design was mainly used for cars, ships and trains. These so-called bullet Art Deco shapes were used for industrial design, as it's the case with the Bugatti Type 57SC.
Salon of the Swedish-American Lines Steamship Kungsholm
The Salon of the Swedish-American lines steamship Kungsholm is a typical example of interior Art Deco design, with all the patterns designers used in the late period of the movement. The original ocean liner service from Sweden to the United States was established in 1915. But, when it comes to design and Art Deco, the ships were decorated in this style from 1925. This particular Salon was designed and created in 1928.
Jean Dunand and Jean Goulden - Lacquered cabinet
French artist Jean Dunand was certainly the most important lacquer artist of the Art Deco period. He was one of the most prominent figures of the movement, and often collaborated with other designers. Dunand applied lacquer on a variety of objects and surfaces from vases and jewelry to panels and furniture, embellishing them with the characteristic Art Deco shapes. This lacquered cabinet was created in collaboration with Jean Goulden.
The Chrysler Building
The Chrysler Building is a classic example of Art Deco architecture and considered by many contemporary architects to be one of the finest buildings in New York City. The crown of the building is particularly praised as one of the leading example of Art Deco architecture. Its ornamentation that makes the crown of the tower is what puts the building as one of the most representative examples of the movement's design.
Radio City Music Hall, New York
The Radio City Music Hall in New York is another stunning example of Art Deco design and architecture. The hall's interior is in particular praised for its austere Art Deco lines representing a break with the traditional ornate rococo ornament. The interior decor was created by designer Donald Deskey. Deskey's geometric Art Deco designs incorporate glass, aluminum, chrome, and leather in the ornament for the theater's wall coverings, carpet, light fixtures, and furniture.
Interior of Fisher Building, Detroit
The ornate Fisher Building in Detroit was constructed in 1928. Its interior is often called "Detroit's largest art object". The stunning interior, which is completely decorated with remarkable Art Deco patterns and ornaments, was designed by Albert Kahn and Associates. The building was designated a National Historic Landmark in 1989.
All Images used for illustrative purposes only.