Ewald Karl Schrade is a prominent name in the world of art. A long time gallery owner and art KARLSRUHE director spent almost 50 years building the career of prominent artists and shaping the art scene in Germany and beyond. His largest project by far and the biggest art fair in Germany, art KARLSRUHE is quickly approaching its 14th edition that will be held from February 16th till February 19th, 2017. Just like this year's fair, art KARLSRUHE 2017 will once again gather over 200 galleries in its waste 35,000 m2, clearly structured venue in Rheinstetten. The upcoming fair will accommodate all types of artworks ranging from paintings and sculptures, drawing and graphic prints to multiples and photography that are intuitively allocated in four spacious halls. Hall 1 is reserved for photography and original editions, Halls 2 and 3 focus purely on painting and sculpture, while Hall 4 will accommodate the latest artistic positions.
In the eyes of the visitors, the participants, and the media, art KARLSRUHE looks truly amazing but we often wonder what it's like to organize the fair of such versatility and magnitude? Ewald Karl Schrade was kind enough to enlighten us on the topic by answering this and many other questions we had about art Karlsruhe and two art venues founded by the prominent gallerist. In the following interview, Ewald Karl Schrade reveals the highlights of art KARLSRUHE 2017, his tips for novice collectors, why he loves Jonathan Meese and what was the last art piece that "blew his mind".
Scroll down to read our exclusive interview with Art Karlsruhe Director Ewald Karl Schrade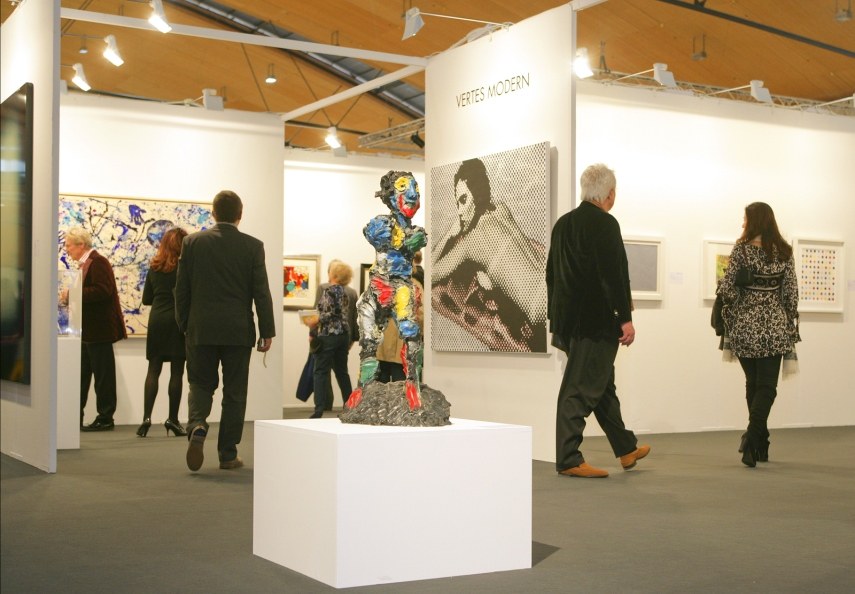 Running a Gallery for 45 Years
Widewalls : You have been a gallery owner for 45 years. How did the art world change since you opened your first gallery in 1971?
Ewald Karl Schrade: Naturally, the art trade always also involved business and commercial aspects. But it seems to me that, especially since the 1990s, not only have many additional collectors come onto the scene, but also countless investors who primarily see art as a capital investment. But with the passion that a genuine art aficionado feels for artists and their artworks, one can readily take countermeasures to ensure that the art scene doesn't become imbalanced.
WW : Ewald Karl Schrade gallery has two venues one of which is located in the beautiful space of Mochental Palace. How do Contemporary art pieces that are on view at the gallery complement the Baroque palace that hosts them? How important is the location for the success of an art gallery?
E.K.S. : Architectural spaces and artworks have always influenced each other. Contemporary art that increasingly focuses on architecture and the history of places strengthens the trend toward creating a contemporary staging for this ancient dialogue. I've displayed art at Mochental Palace since the mid 1980s: with nearly 3,000 square meters of exhibition space, it offers a unique opportunity to show Classical Modern and Contemporary art in an exciting juxtaposition with historic rooms and halls, where the artworks can be perceived in a new way. Alongside my gallery in Karlsruhe, I very much appreciate the palace as an exhibition site. The surroundings, dimensions, and atmosphere of a location naturally influence a gallery's success. And many other factors are involved too: for example, a gallery's portfolio of artists and its participation in art fairs.
WW : After several decades of successfully running a gallery in 2003, you've established an International Fair for Classic Modern and Contemporary Art - art KARLSRUHE. What motivated you to organize art KARLSRUHE? Could you compare your gallery owner experience with the responsibilities of running an art fair?
E.K.S. : As a gallerist who participated at the big fairs in Basel and Cologne, I am intimately acquainted with the hopes and fears of my colleagues. When we established this fair, it was clear right from start that the location in Baden-Württemberg would be optimal because extraordinarily many collectors live in this federal state and because the public's interest in visual arts is immense here. All in all, these were terrific preconditions for guiding art KARLSRUHE toward success. And that's exactly what we've achieved – with some 50,000 visitors at the fair each year.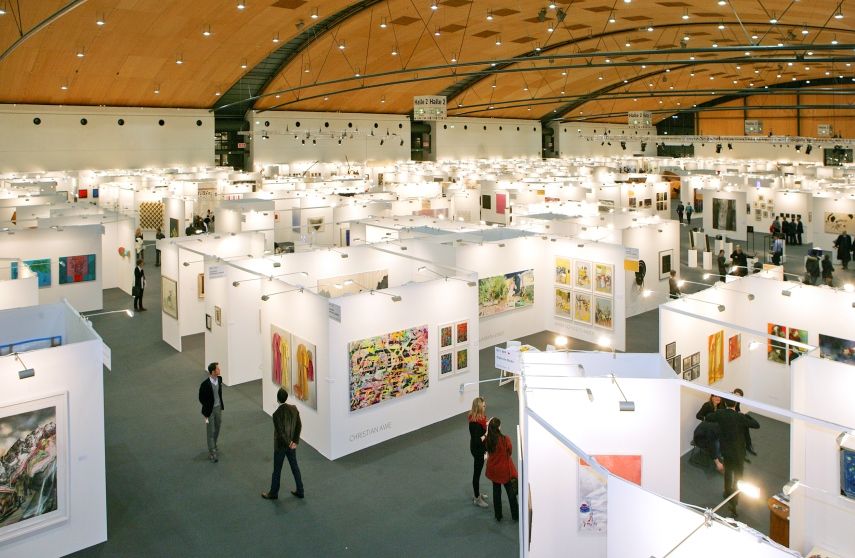 art KARLSRUHE 2017 : Highlights and Special Exhibitions
WW : This year's art KARLSRUHE fair will gather 200 nationally and internationally renowned galleries. How do you explain the vast popularity of art KARLSRUHE?
E.K.S. : Positive feedback from exhibitors and the public is a welcome validation, but it certainly won't seduce us into resting on our laurels. Year after year, we continue to work on the fine tuning and on the presentation as a whole. People seem to notice that, thank God! In my opinion, the fair's popularity is based on a unique mélange of continuity and a simultaneous willingness to further develop what has already proven itself.
WW : Could you select a few highlights for the visitors of the next edition of art KARLSRUHE? What is a must see at KARLSRUHE 2017?
E.K.S. : Of course, every visitor should plan to tour the four halls, where we spread out the complete spectrum: photography and editions in Hall 1; Modern Classic, Classic Modern, and Contemporary art in Halls 2 and 3; and the latest artistic positions, ContemporaryArt 21 in Hall 4, the dm-arena. Naturally it's also worthwhile to view the special exhibitions, which this year include the Würth Collection's show of artworks by Tomi Ungerer, who recently celebrated his 85th birthday.
WW : Art KARLSRUHE 2017 will host an exhibition of works by Jonathan Meese, the winner of Hans Platschek Prize for Art and Writing. Could you tell us what is your favorite Jonathan Meese art piece and why?
E.K.S. : Jonathan Meese paints and sketches, he writes poems and creates performances, and he even makes jewellery, so it's impossible for me to choose one single artwork as my special favourite. It's probably his obsession with art, his indefatigable enthusiasm for art that has fascinated me for many years. I'm glad that Florian Illies, in his role as a juror on behalf of the Hans Platschek Foundation, recommended Meese, who will accept the prize in the Events hall at the trade fair centre on 16 February 2017.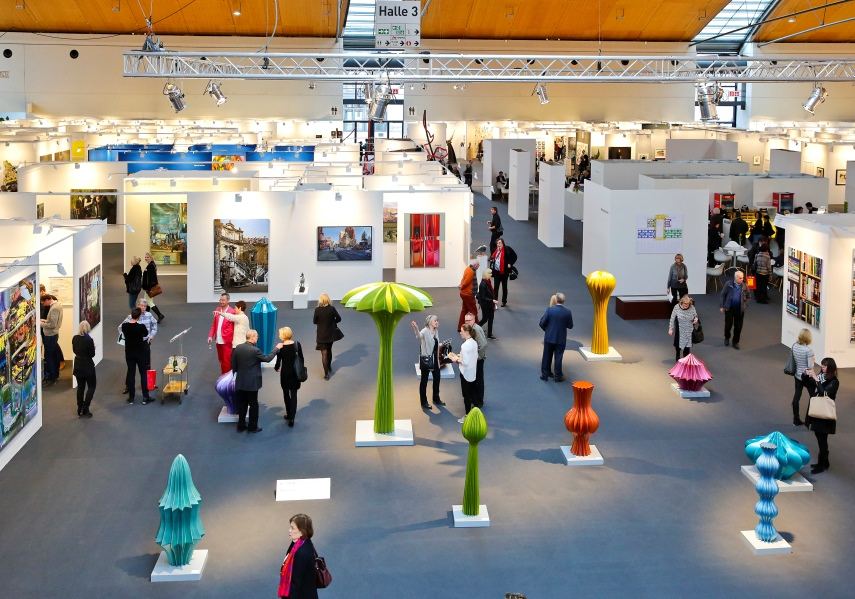 On Art Collecting and the Future of Art KARLSRUHE
WW :  Art KARLSRUHE is an exciting event for art enthusiasts and for the collectors alike. What advice would you give to a new art collector looking to buy his or her first piece at art KARLSRUHE?
E.K.S. : The most important rule of thumb is to trust one's own eye. One's connoisseurship naturally grows from year to year and the more a young collector sees, the more confident he'll become in acquiring the artwork that's right for him. The budget always plays a greater role for young people than for other visitors at the fair, so among the items on display in Hall 1, we also offer editions that are often affordably priced and that make it possible for a young aficionado to begin collecting. The other halls likewise offer opportunities to discover original artworks – one-of-a-kind pieces that can be bought for comparatively low prices and that enable a beginning collector to soon amass a small art collection.
WW : After 50 years in the art world does art still have the power to surprise you? If so, what was the last art piece, art figure or an event that unexpectedly "blew your mind"?
E.K.S. : I'll have to think about that for a moment because art never ceases to overwhelm me, even after all these years in the business! I suppose my enthusiasm was sparked yet again, after having worked with this artist for 16 years already, by the paintings of Christopher Lehmpfuhl. His "Schwabenritt (ride on suebia)" series is unique and grandiose.
WW :  How do you see the future of art KARLSRUHE and its role in the global art market in the following years?
E.K.S. : That question is easy to answer because we've succeeded in positioning art KARLSRUHE on a solid commercial basis and we can rely on the loyalty of our exhibitors and visitors. Regardless of how the global capital-investments market develops, more is involved in Karlsruhe than art as a commodity. This fair understands itself in part as a venue for the exchange of information – a communication platform where the love of art plays a major role.
Featured image : Ewald Karl Schrade - Portrait; Images courtesy of Ewald Karl Schrade and art KARLSRUHE