In our age of productivity, journalistic outlets of all kinds are under pressure to publish daily and produce content to keep readers entertained and please investors and advertisers. The trend of lists, extensively found in the lifestyle segment, is taking over art sites creating indefinite lists of 10 best artists, the 10 must-see shows or any other filter. These art lists please the presumptuous need to publish any kind of content and pretend to inform readers on an objective base about developments and names they should know. Even though the metrics how the names are chosen remain sometimes unclear, readers seem to assume some sort of journalistic accuracy and objective metrics. But who ends up on these rankings and why do they seem so appealing?
The trend to categorize things under certain filters fits our time where we are overwhelmed by all the information available. In the arts, these selections in form of lists happens sometimes out of the necessity to break big exhibition formats into smaller parts for the purpose to organize the first impressions and give some orientation, such as lists about Documenta, the current Whitney Biennale by Forbes, or any other exhibition format, where it is easy to lose track, and these lists try to provide the first point of encounter. But too often, these lists are a random collection of names without any argumentation how the names end up there, lists like this one in Blouin Artinfo about the Top 10 Instagrammable Art Dubai 2017 Booths. These lists seem to be generated for the mere purpose to mention names and do not provide any further details.
Art lists seem to be a quick fix as rankings suggest structure and organization, which give the illusion that the art world is somewhat manageable. Rankings and statistics are the metrics on which economics run and how we predict trends or certain developments, they became the currency to buy reputation. The lists fit very well in our attention economy, where content has grown increasingly abundant and attention becomes the limiting factor in the consumption of information.
It is an open secret that part of the content in a lot of magazines, online and print, are paid articles - you buy an advertisement and get a feature article on the artist or your institution's exhibition. Artnet or Artsy's business model is based on a membership where galleries can register for a certain fee (which does not mean that a lot of the members do not provide a qualitative roster of artists) and promote their exhibitions, set up a database with artists and their artworks for sale: "Artsy partners are provided with a personalized gallery profile page to list artists and inventory, promote exhibitions and programming, and build a follower base of Artsy users who receive targeted emails when you add new works and shows" (Artsy.net). Lists appear extensively there around the latest art fairs and certain picks of their editors. The names that appear on these lists coincide frequently with the galleries that have a membership. Take The 20 Best Booths at Armory Show NY list as an example, where 12 of the mentioned galleries are members.
Putting names of curators, artists or collectors on the lists is an easy and effective way to keep relationships alive and facilitate customer acquisition for the media outlet. Instead of choosing metrics such as exhibition participation, yearly income etc. to find categories under which real comparison is possible and that provide some expertise, the lists are too often connected to the economics of the outlet. In the end, visibility translates into power and eventually into financial currency, which means more clicks and shares of these easily digestible sites will please investors and generate income in form of new clients.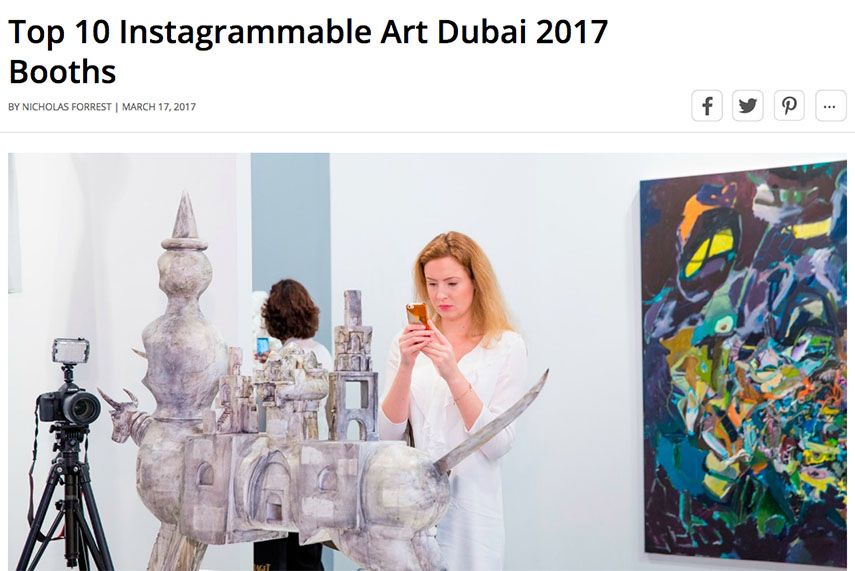 Ranking Lists Give the Illusion That the Art World is Somewhat Manageable
On other occasions, rankings are an attempt to provide data in a time we are obsessed with a growth mindset and hunger for approval. A ranking is an easy way to be validated within the art world in which everyone seems to battle the demons of not being taken seriously, not being influential enough, not being good enough - a phenomenon that has been described as "impostor syndrome". People who are mentioned in the lists feel flattered and are likely to share the lists and contribute to the legitimation of them.
These supposedly informative lists show another development, which might be unique to this age: our disconnection between knowing and understanding. The lists pretend that they transfer knowledge but instead they provide easily digestible information bites that do not tell us anything about the value and roots of the particular artistic practice. Professional writing has been changed through the Internet. In a time where everyone can basically write something and share it, more and more people feel entitled to introduce themselves as bloggers, online writers, or whatever other position is currently hip enough to create attention. The thing with all great crafts, such as creative writing, is that it needs practice, time, and effort - art lists lack all of the aforementioned. A writer is not defined by his mere amount of publishing but its value. But what do lists do to storytelling in the arts and our ability to think about artistic practice? The lists deny that art is a practice which needs a proper vocabulary in order that we can describe, understand, explain, relate, narrate, define, evoke, praise, critique, and, most importantly, acknowledge a practice and honor the roots of a tradition. Maybe the most dangerous part of simplifying art into a "10 to see - do - follow list" is that the art world loses its depth and becomes an entertaining information bite during small talk.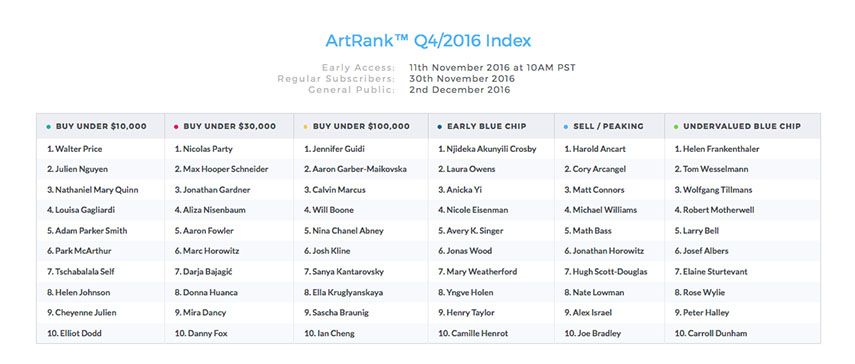 Journalism Faces New Challenges in the Digital Age
Ultimately, these lists tell us more about the preference of the author or the outlet that is publishing them. They are handy for sharing on social media as they are short, implying cultural education and structure. Lists become shiny pennies for short-term attention: for anyone who feels privileged to appear on such lists, for readers who think they learned anything, and for writers to publish something under their name. Lists please our need for instant gratification, they imply that after the reading of such a list you become a connoisseur, they pretend to provide real insights, but they are nothing else than shallow labels that simulate a more accessible art world.
Professional art journalism is about language, legacy, and building relationships. Gilda Williams wrote in her highly recommendable book How to write about contemporary Art: "Art language evolves collectively, over time and in response to the new conditions of art – not as the outcome of some unholy plot, masterminded by a posse of nefarious art-writers. Across the late 20th century, the critic's age-old task of 'judgment' was gradually replaced by 'interpretation', which recognizes that there might be contradictory yet equally responses to art. 'Interpretation' explains why those who deem this art 'good' have arrived their positive conclusion, but admits there are diverging responses, including the reader's own." Good art writing is in the best case a delightful experience, complementary to the art experience, but never replacing one's own interaction with the original.
Journalism faces new challenges in our online age, most recently the Swiss Parkett Magazine announced its ending of the print release due to "the radical change in reading behavior brought by the digital age." Serious arts coverage has been limited in the past years as media outlets are looking to pare costs, and serious arts criticism and journalism seem to attract smaller audiences. Numerous articles have been written (just google "crisis art criticism" and see for yourself) or conferences took place on the topic of how art criticism changed in the digital age. The basic question is: How will our media look like if we make popularity, rather than value or relevance, the driving force of what gets covered? And ultimately, will we be satisfied with this limited worldview?
The circle of readers who are deeply interested in quality journalism might be very small, but they are loyal. Most of them will remember pieces that moved them, sentences that resonated on a deeper level, and the beautiful language of their writer and critic of choice. Let's think about the timeless writing of Walter Benjamin, John Berger, Susan Sontag, or more recent ones like Peter Schjeldahl, Ben Davis, Martha Rosler, Rebecca Solnit or Roberta Smith. Art criticism and journalism are still highly relevant today as it nourishes the discourse.
As Alex Ross wrote in his recent piece The Fate of the Critic in the Clickbait Age "The trouble is, once you accept the proposition that popularity corresponds to value, the game is over for the performing arts. There is no longer any justification for giving space to classical music, jazz, dance, or any other artistic activity that fails to ignite mass enthusiasm. In a cultural-Darwinist world where only the buzziest survive, the arts section would consist solely of superhero-movie reviews, TV-show recaps, and instant-reaction think pieces about pop superstars. Never mind that such entities hardly need the publicity, having achieved market saturation through social media. It's the intellectual equivalent of a tax cut for the super-rich."
Journalism became somewhat compulsive to producing, and I don't mean just art journalism. But indefinite growth is not sustainable. Insightful pieces need their time, resources, and independence to not please everyone. Certain pieces might be of value for a very specific audience, but simplification for the sake to please a fictive mainstream audience seems to do more harm than good. We need pieces that are based on integrity and real curiosity. Art lists do not feed the important part to provide the reader with more context so that the reader is able to decide on his own whether everything needs a label and which practice actually resonates with him. Journalism is changing as it bases too many decisions on data collecting but we need to keep a balance between editorial decisions by popular demand and risky but relevant pieces that might not translate into numbers, for the sake of variety.
Featured image: Habib Asal - Artfact.net (Artist Ranking 2008, 2010 , 2013, 2013). Courtesy Knoerle & Baettig Contemporary. All images used for illustrative purposes only.