Amidst the gloom predictions for 2017, a year with which Achille Mbembe announces the ending of an era of humanism, making any guesses regarding the art market trends may seem an impossible, if not an obsolete task. [1] This year was marked by raises in prices and auction records for artists such as Jean-Michel Basquiat and Claude Monet, but also drops in sales in New York and London. Scandals also stirred the art world, including both Sotheby's and Christie's being investigated for money-laundering. The investigation ended positively for the auction houses as neither was charged in the end, and Jho Low, a Malaysian businessman who was entangled in the story fought the claims as well. Other reported incidents include a dispute between an American billionaire, Leon Black, and the royal family of Qatar over a Pablo Picasso sculpture. The next year as far as art market is concerned will follow some paths established in 2016, but the exhibitions planned at MOMA and elsewhere would also stir the market in new directions.
So, here we are – lists and statistics for 2016 and forecasts for 2017 are in, and we teased out certain dominant trends that cast light on what to expect next year.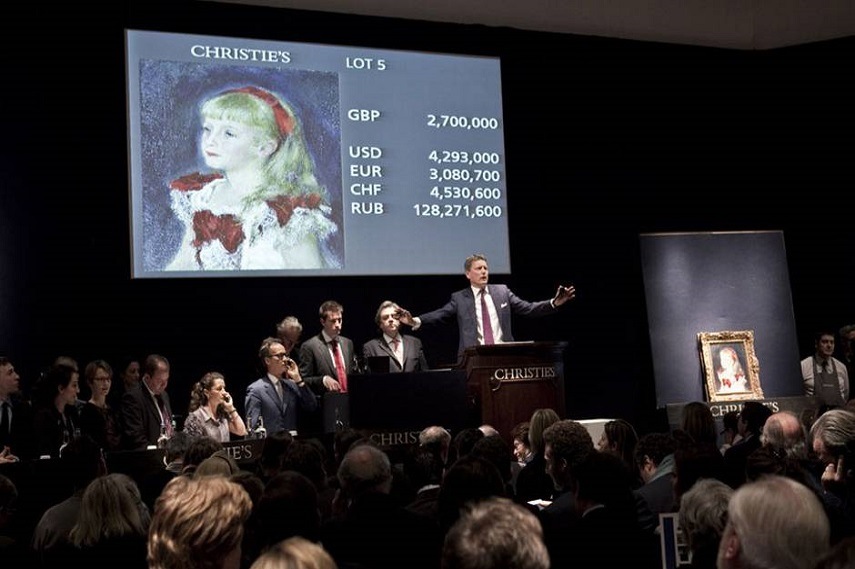 Contemporary Art Market Continues to Increase
In 2016 the number of contemporary artworks sold at auctions counts in tens of thousands. Over the last few decades the market for this type of works has increased considerably, due to globalization, internet auctions and sales, as well as the increase in number of museums that promote contemporary art. By looking at results since the 2000, we notice the increase in sales of 4.7 times over the last 16 years. In the same period, the auction turnover has reached astonishing 1,370% increase in the volume. [2] Different factors contributed to this, including ease of access to information on art market, moving of sales and auctions online, the increase in number of art buyers and their lower average age, as well as extension of market to India, South Africa, Asia, Pacific Rim, and South America. Fascinating data that more museums have been built between 2000 and 2014 than in the previous two centuries additionally explains the growth in the market spurred now by the museum industry as well.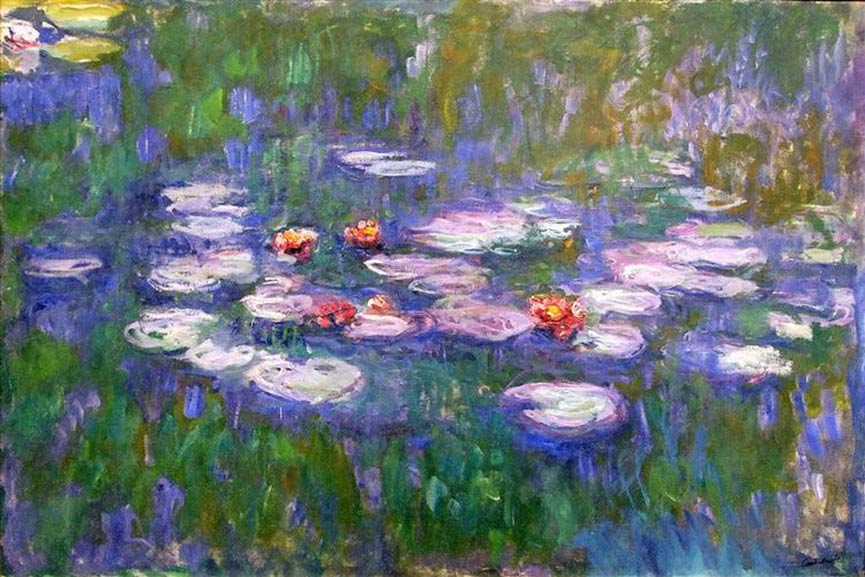 Among the US and Russia Bickering - Renewed Interest in Russian Art
In 2017 an exhibition of Russian art covering the periods from 1912 to 1935 will be held at MOMA museum, commemorating the centenary of the October Revolution. In the mentioned period radical abstract works were produced, including Kazimir Malevich's Black Square. Tate Modern in London is also planning two exhibition of the fall 2017 that will focus on Russian scene. Following these tendencies art market responded with the increase in prices, and in November 2016 was set an auction record for Alexander Rodchenko at Sotheby's. His Construction No.95 was sold for hammer price of $4.4 million. Son of Pablo Picasso, Claude Ruiz, describes Russian avant-garde as revolutionary, and as a leap into the future. Perhaps this is what is moving the art from Russia to the fore of market interest for 2017 - its promise of a radical change that is needed now more than ever.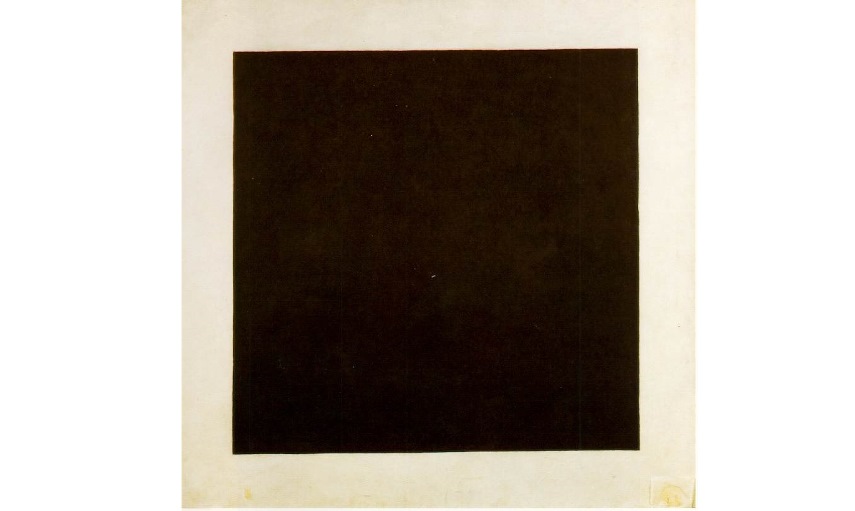 New Strategies - The Deliberate Use of Auction Data
Two recent purchases by Sotheby's and Artnet of Mei Art Indices and Tutela Capital set the scene for what we can expect in 2017 when novel strategies of art market are concerned. The interest in collection and analysis of auction sales and prices data shows us the way art market plans to move forward. Mei Art Moses is a database company that follows trends on value changes of artworks over time, by following the repeat of auction sales. Tutela Capital, headed by Fabian Bocart, is also an analytic firm that deals with auction prices. While some criticized these moves, financial world commended them, emphasizing that data use will help understand how art fits within the broader financial market. For buyers, these purchases correspond with bigger plans for future development, including initiatives to attract new collectors and investors who would get clearer picture on risks and the status of art market through this data. [3] What remains uncharted, however, is the private sector and galleries who do not disclose their sales data, and this would be the next step companies dealing with art would have to tackle.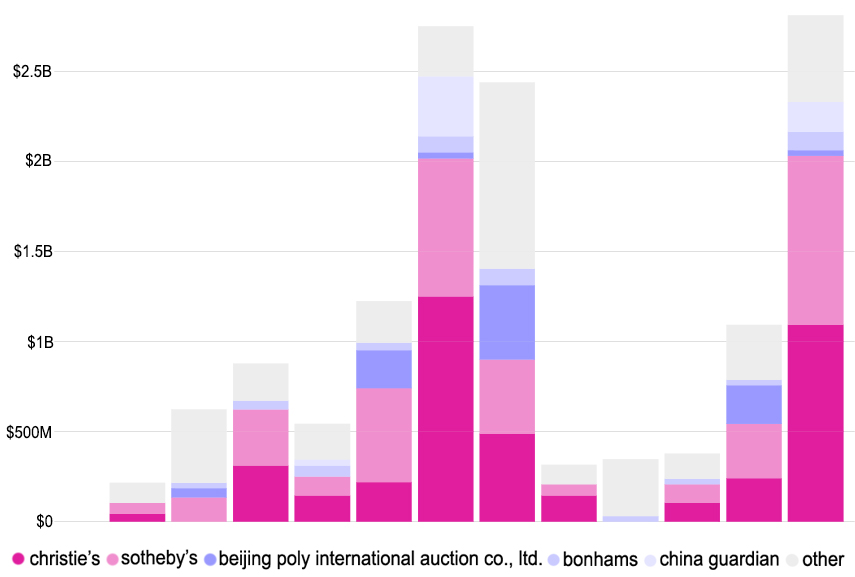 Steady Increase in Online Sales
In November, a painting by Jean-Michel Basquiat was sold on Instagram for $24 million, an unprecedented event that probably announces the new era in online auctioning and sales. The painting was sold for more than triple the $7.3 million it fetched at auction in 2007. [4] So far, the annual rate of increase in online art market sales has been 24 percent, and it is expected to reach $9.58 billion by 2020. In 2016 internet buyers spent $155 million which is 20 percent increase from the previous year. The background of buyers is also changing with tech-savvy generations participating in online bids. Almost a half of all internet buyers were new to auction houses that also set some records - Christie's number of online-only buyers doubled in 2016.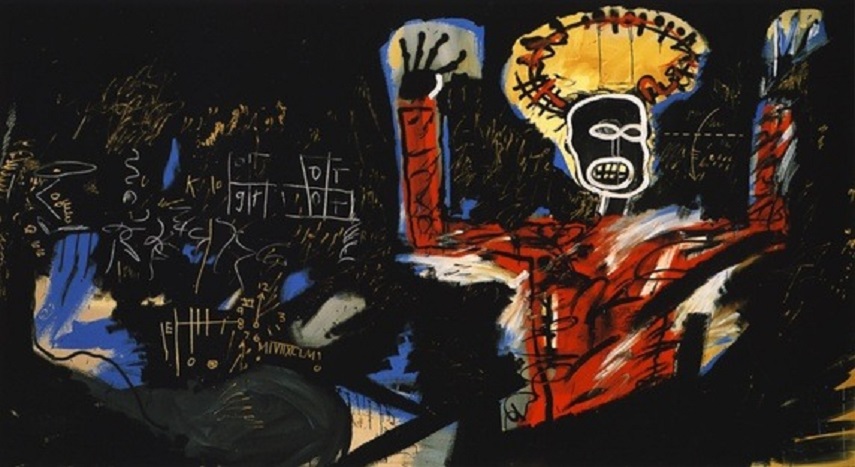 Focus on Regions and Age Groups
Art market was concentrated for years on Western buyers, but in recent years Asian collectors stepped up, which produced some significant restructuring of the market and rescheduling of events. Big auction houses decided to delay their London sales for 2017 for after the Chinese New Year. Branches of the biggest art galleries are opening in Asia, including a branch of David Zwirner. For illustration, Phillips sold $50 million of contemporary art, design and watches in November in Hong Kong.
Along with market increase in the East, galleries, auction houses and museums have put focus on artists from young and older age groups in 2016. Works by creatives such as Harold Ancart, born in 1980, and Korakrit Arunanondchai, born in 1986, sold within a few hours at Art Basel Miami Beach. Older generation is also coming strong, with 101 years old artist Carmen Herrera selling one of her canvases for $970,000 and having a solo exhibition at Whitney museum, while 87 years old Yayoi Kusama sold her works for astonishing $53.8 million in 2016, and will have a solo show at Hirshhorn Museum and Sculpture Garden in Washington in 2017.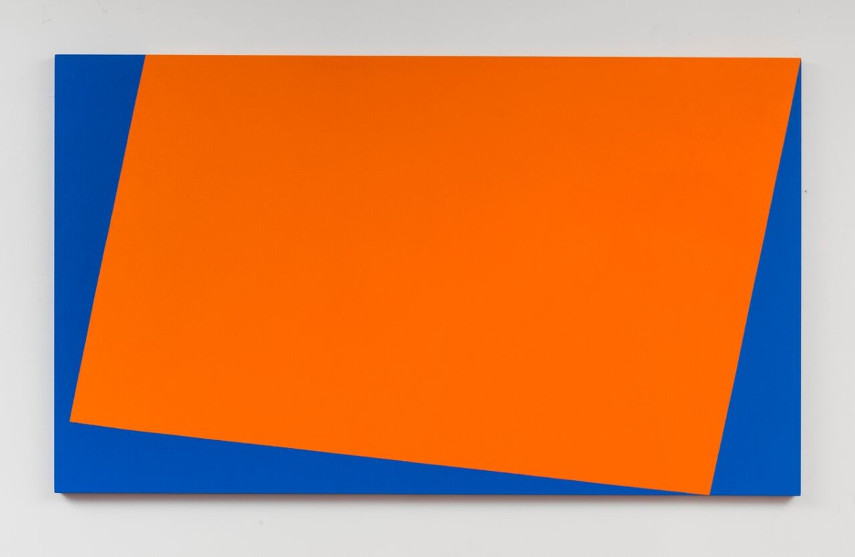 2017 in Art? - Summing Up of Trends
It seems that art market in 2017 will continue the practice of defining and developing novel strategies to attract buyers and expand its reliability regarding predictions and risks for investments. Developing a buyers base and moving business in a greater extent to online world would follow on the already positive trends in this sphere. Renewed interest in Russian art seems to come not just from the historical justifications but also from the political circumstances of the moment and will surely create a demand and increase in prices for these works. Finally, market for contemporary art will by all predictions continue to increase, while the interest in young and older generation of artists will remain steady, thanks to positive trends in these sectors, which proved to be reliable assets in a globalized art market world.
References:
Mbembe A., (2016),

The age of humanism is ending

, mg.co.za [December 29, 2016]
Ehrmann T., (2016), The Contemporary Art Market Report 2016, www.artprice.com[December 29, 2016]
Hanson S. P., (2016),

How Big Data is set to change the art market

, theartnewspaper.com [December 29, 2016]
Kazakina K., (2016),

Want to Sell a $24 Million Painting Fast? Instagram for the Win

, www.bloomberg.com [December 29, 2016]
Featured image: Alexander Rodchenko - Construction No.95. Image via magazineclick.com; Bidding at Sotheby's (Courtesy of Art Market Monitor). All images used for illustrative purposes only.