Before Modernism, the one we know today, there was another style that had similar intents, but it was ideologically one too many steps ahead of its time. Art Nouveau, which is just one of the possible ways to name this movement, was as close as one could get to the idea of modernity in the 1880s. Still, it takes some history to name a style after a common adjective, such as "modern", hence this new style that marked the turn of the 19th century was eventually called "New Art", as it was, indeed, something truly novel at the time. Although the term Art Nouveau (after an article in the Belgian journal L'Art Moderne) has become the most usual way to address the style, it was named differently in various countries: Jugendstil in Germany, Viennese Secession in Austria, Arte nuova or Stile Liberty in Italy, and Art belle époque in France.
The past century has produced many prolific movements, but we can safely say that Art Nouveau was the one to open a new chapter in art (preceded perhaps only by the Arts and Crafts movement and William Morris). The main idea was to bring arts and crafts together again, which led toward functionalism, as a crucial step in the progress of art and all of its derivatives, especially architecture and design. Accordingly, Art Nouveau artists understood the concept of all arts united and the beneficial nature of such concept, which turned Art Nouveau into a total style, encompassing all media and genres.
The one thing that will make you question modernity of Art Nouveau is the fact that its artists sought aesthetic inspiration and guidance in nature, instead of machinery and abstract shapes. Arguably, this should simply be addressed to the untimely emergence of the movement, as the latter consequently came later, in other movements and styles. Otherwise, Art Nouveau became synonymous with progress, and although it is often regarded merely as a transitive period between traditional art and Modernism, it was in fact the one style that had the seed of Modernity implanted within. Finally, although Art Nouveau didn't "survive" the First World War, which you will find is frequently mentioned across the web, it did actually live through its descendants, some of which are quite obvious (such as Art Deco), or some undercover (such as Bauhaus).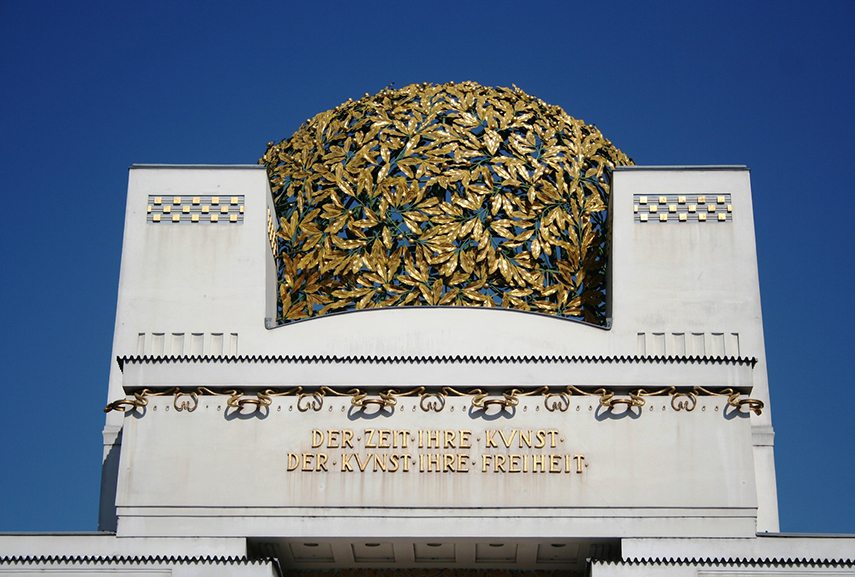 The Beauty of the Art Nouveau Architecture
Art Nouveau appeared in many different countries at the approximately same time, thus you will find its representatives in and outside of Europe. As this is the case with architecture as well, it is quite easy to recognize a building influenced by nature, belonging to the eclectic Art Nouveau style, anywhere across Western Europe and the United States. Art Nouveau architecture was a prodigious reproducer of organic forms, but also a style supportive of scientific advancements. Greatly inspired by curvilinear geometry, its architects were exploring geometry per se, consequently enhancing architecture as a discipline. One would call it anything but generic, due to the manifold of diverse shapes that one can find in nature. However, all the blinding beauty aside, Art Nouveau was an international style in essence. What this actually means is that even though the body of a building was ornamental, decorated in a manner that could be dubbed as "classically" beautiful, the style itself was universal, adopted by a great number of architects from different parts of the world, which is exactly what Modernism tried to achieve.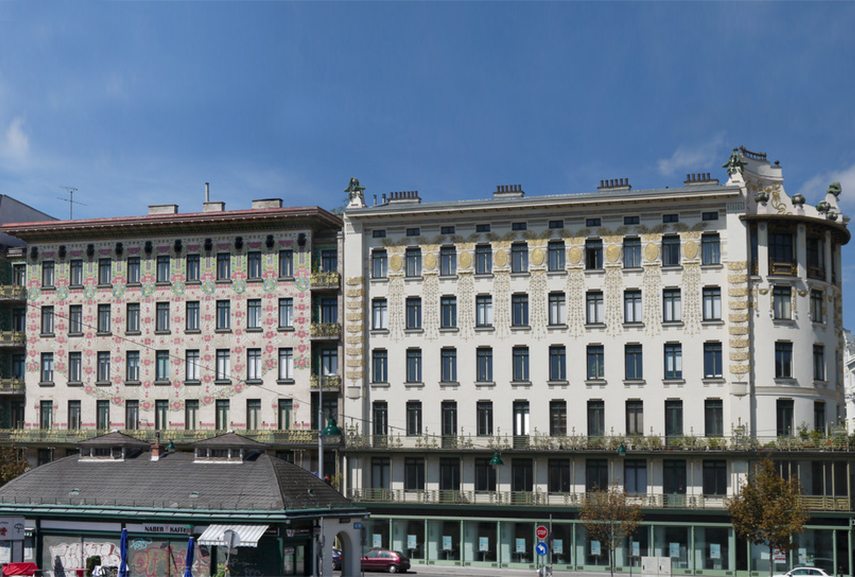 Beautiful Architecture
From a less professional point of view, not everyone would associate Modernist buildings with beauty. Still, discussing beauty is something that scholars (especially architects) usually prefer to avoid, since the way we address beauty could be misinterpreted or misunderstood. With Art Nouveau on the other hand, there is no doubt. It is simply one of those types of beauty that goes beyond the eye of the beholder, even beyond the domain of aesthetics (perhaps exactly because it is well rooted in theory, as well). It's what you would offhandedly call beautiful architecture, whether an architect or a complete dilettante - only a sworn Modernist wouldn't admit it; but then again, it is something you could analyze, and acknowledge the full potential and the intent behind the project. Nature was not only regarded as an origin of inspiration, it was a dictator of principles, a backdrop which helped create new nature. It appears in most apparent forms, which help us recognize Art Nouveau flowers and leaves on façades, but also in methodology employed by Art Nouveau architects. Nature defined a new architectural language, just like abstract shapes defined the language of Modern architecture.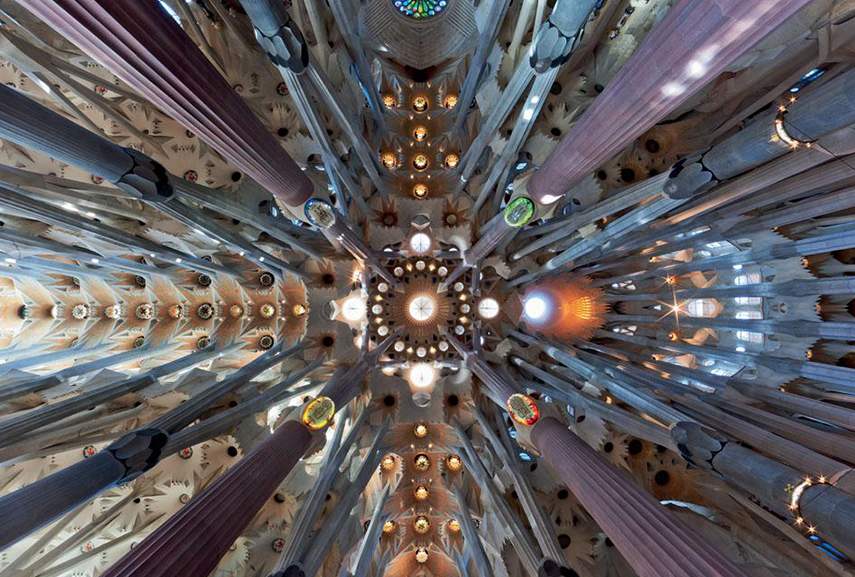 Understanding Art Nouveau Architecture through Gaudi's Work
One of the architects commonly related to the movement is Antoni Gaudi, and the link is completely justifiable. However, the famous Catalan architect was never the type for labels, as he was constantly seeking and producing new things, developing a completely unique vocabulary of his own. He was greatly inspired by the aforementioned William Morris, as well as another eminent writer William Ruskin. In terms of visual references, Gaudi was interested in oriental arts and the 19th century Gothic Revival, although it is a style he believed to be "incomplete". The comment on Gothic architecture could be a remarkable reference for Sagrada Familia, Gaudi's never-completed masterpiece cathedral in Barcelona, which has an irresistibly gothic-like elegance. However, even though his projects exceed the "universality" of Art Nouveau designs, one could take any of his buildings as a sample on which to observe the principles used by Art Nouveau architects. Nature gave him the clues, and then he designed his own riddles. Gaudi referenced trees, leaves, and even the human skeleton through his projects, but this reference was not based merely on plastic imitation; it was, rather, an input for ruled geometrical forms that characterize Gaudi's progressive works. Considering the time in which Gaudi lived, you can imagine how his projects were practically forcing technology to advance, which is probably one of the most important roles of an architect.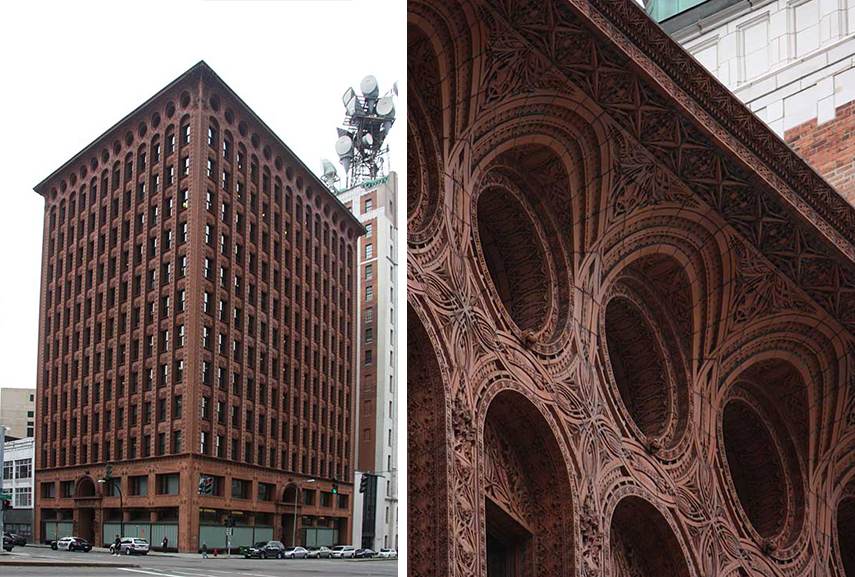 Most Representative Art Nouveau Architects
One of the most referenced protagonists of the international "new art" style is Otto Wagner, whose work is associated with the term Secession (due to his Austro-Hungarian origin). Wagner is the author of the famous Rumbach Street Synagogue in Budapest, the Viennese Church of St. Leopold, and perhaps the most interesting, Majolica House, located in Vienna as well, façade of which was made out of ceramic tiles. Then from another vantage point, you should take a look at the works of the American architect Louis Sullivan, who was widely regarded as the father of Modernism. This was mostly due to his immense contribution to the design of a modern skyscraper, something that he is well known for today. And you may have guessed that most of his works are skyscrapers, ones that you would have trouble distinguishing from some postmodern skyscrapers across the United States (take the Guaranty building in Buffalo, New York as an example). Ultimately, one that was named the key European Art Nouveau architect is the Belgian Victor Horta. His design for Hotel Tassel in Brussels is often mentioned as the first building to translate Art Nouveau from decorative arts to architecture, while his own home stands as a testimony to his time and brilliantly innovative design ideas.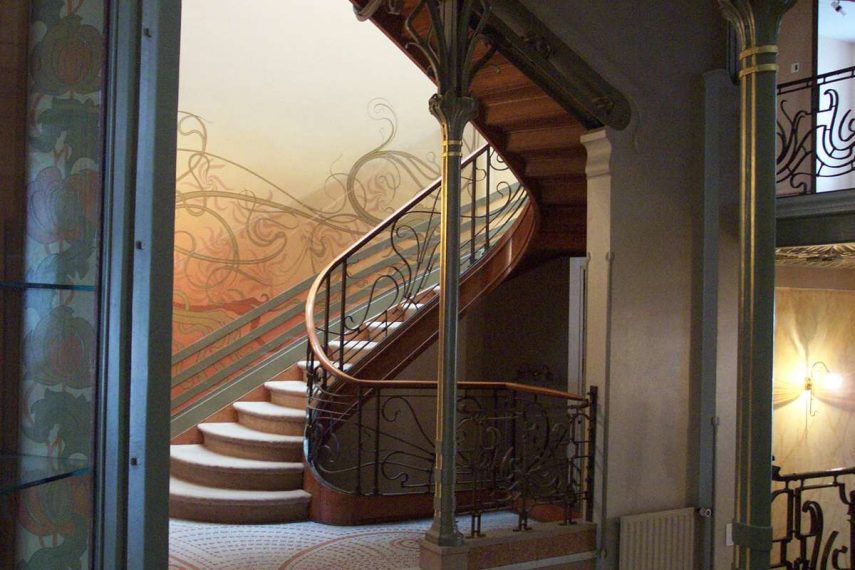 Art Nouveau Painting
Rebellion, transformation and once more rebellion, Art Nouveau, the New Art, moved away from the traditional art forms of the 19th-century, and relied on the natural world, its spirit, which was thought to flow intuitively through the soul. The idealized subject matter of historical and landscape paintings, industrialized mass production, and the prevailing art education, were all left behind by art nouveau paintings and the representatives of the new school of art, which called for unity of all the arts, arguing against segregation between the fine art of painting and sculpture and the so-called lesser art of arts and crafts movement. With this attitude, a synthesis of art and craft was formed, creating a spiritually uplifting Gesamtkunstwerk, allowing the Art Nouveau artists to apply themselves to a wide choice of medium. Where before the artist was thought of as someone painting pictures or making sculpture, now he could design wallpaper, make pottery or illustrate books. As you can imagine this opened up an array of different disciplines, but we should keep in mind that during this highly decorative movement the art of painting survived.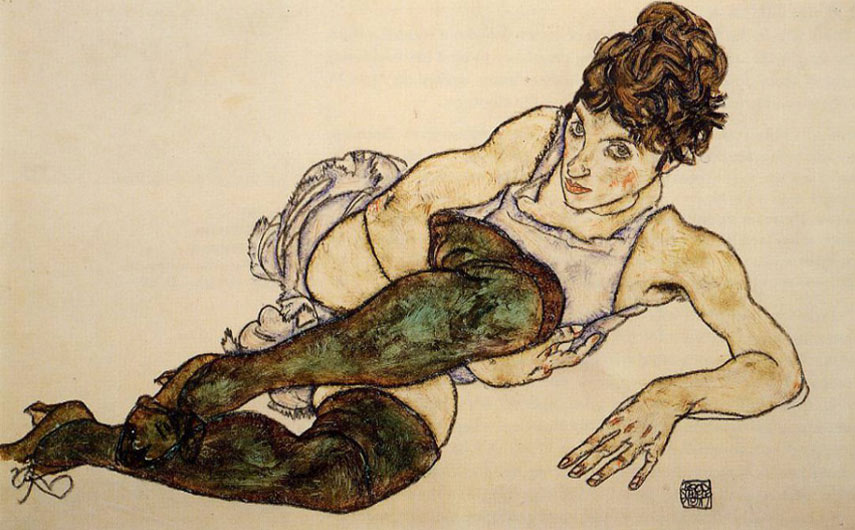 Art Nouveau Painting of Gustav Klimt
The flatness and the decoration, created by the use of lines and ' whiplash ' curves resulting from the botanical studies and illustrations of the deep-sea organisms, created the highly ornamental surface of Art Nouveau patterns. This seemed like a step forward from the Symbolism art, whose heritage still lingered during the movement. Never a coherent group, artists promoting the new school, gathered in different cities and under different names in various places in Europe. But, no other group of artists did more to popularize and spread the Art Nouveau style than the Vienna Secessionist, and arguably its most productive and influential member was the painter Gustav Klimt.
"Whoever wants to know something about me – as an artist which alone is significant – they should look attentively at my pictures and there seek to recognize what I am and what I want. " Gustav Klimt
.
It is Gustav Klimt who in fact stands as a representative of the Art Nouveau painting style. Focusing on the fusion of the symbolism paintings and the above-mentioned decorative surface, Klimt rejoiced and early on rejected realism. Fusing embellishment and the flat quality of 2D, while exploring the decorative possibilities of painting, with his work Klimt reflected the period's love for grandeur and elaboration. His own love for the majestic is seen in his use of the golden leaf, recalling the Byzantine mosaics for the building of his painted surface, which is in the end highly decorative. His love for the ornament and the belief in the equality of fine and decorative art resulted in pieces of work, which can be viewed as a mix between a designed pattern and realism, which relays on the power of symbolism. This cross between the real and the abstract is an important legacy of Klimt's work and an important feature of the Art Nouveau Paintings.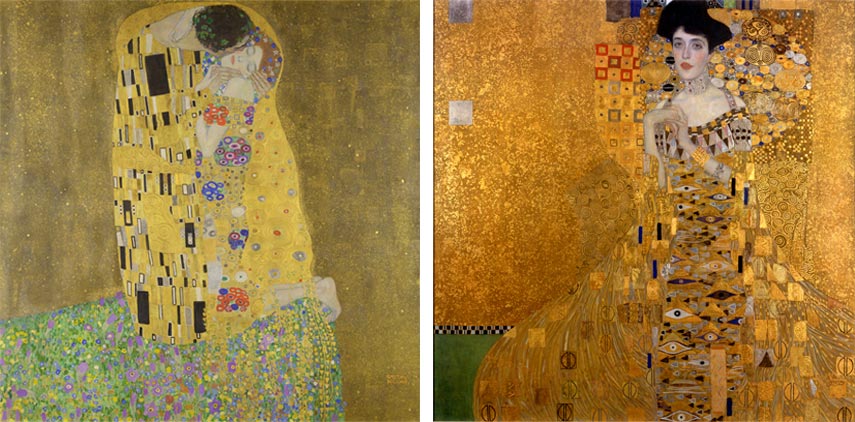 The Variety of The Art Nouveau Painting
The application of the flat quality of Art Nouveau style onto an easel painting is, in fact, a difficult task, and we must understand that, even though the art of painting survived, it took on different shapes and possibly a step back to the decorative objects, graphic and print works, posters and book illustrations. Gustav Klimt, famous for his easel paintings that depicted both allegorical themes and more traditional form of portraiture art, also produced mural paintings and mosaic art as well. Besides these examples of art nouveau paintings, important for this period are the numerous stained-glass works, produced by yet another influential artist of this time, Louis Comfort Tiffany. The heritage of the most innovative English designers, Pre-Raphaelites, William Morris and Edward Burne –Jones, whose works heralds the movement, were applied with the use of a new technique that exchanged copper foil method as an alternative to lead, fussing yet again the swirling motifs, the curved line, highly stylized depictions of the human figure this time applied on a different surface, the glass, showcasing the mutual love for patterns, simplicity, and elaborate ornaments as a style of painting of this period. Unified not only by the legacy of the arts and crafts movement, many of the paintings of this period, both on an easel, walls of the buildings, and on glass as well, showcase the influence of Japanese art, more specifically the woodcut prints.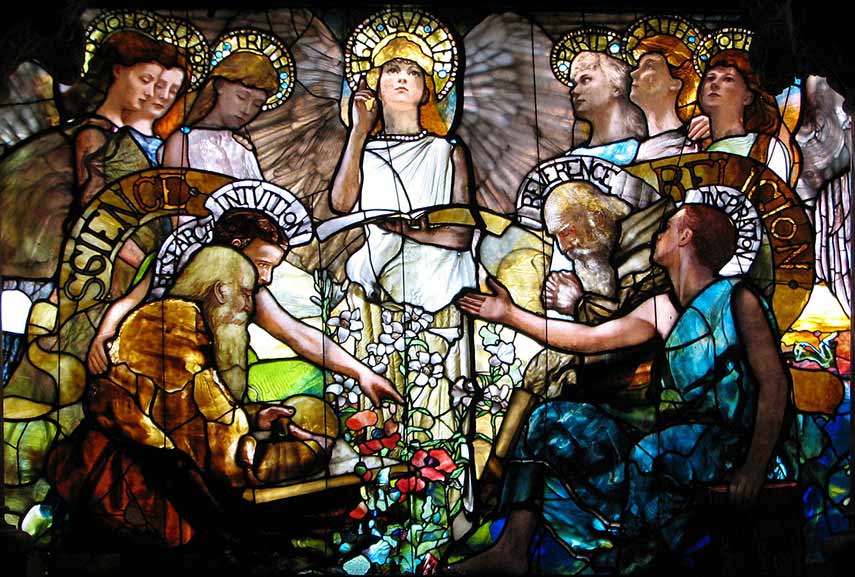 New Woman of Art Nouveau and the Erotic Art
As an important subject matter in the history of art, we know that the human form, in particularly, the female body mesmerized artists from the beginning of time. During this period, the highly erotized depictions of the beautiful female form and the erotic nature of many Art Nouveau works are one of the most prevalent features of the painting style. Needing to push boundaries both Gustav Klimt and Egon Schiele produced paintings and drawings, which were highly centered on eroticism. Although Klimt never faced legal problems with his erotic art, his student Schiele had hundreds of his erotic drawings impounded in 1912 on grounds that they were pornographic. The daring new women of art nouveau was sensual, graceful, and delicate, and also a highly sexual modern woman of the day. Used as an element for advertising by the yet another famous artist of this time Alphonse Mucha, the elongated depiction of famous actresses and fantasy women decorated theater posters and various illustrations.
The stylized depiction of the human form, decorative and flat surface, along with the play between the real and the abstract are the most important features, which stay till today as a legacy of this brief art movement. Fusing the fine art with the art and crafts movement, the art nouveau paintings joined the legacy of symbolism with the new understanding of the painting's surface. The world of nature, its flowers, and some of the mysterious creatures helped to shape this era, to whom we owe the future development of the Art Deco period, new and experimental ideas regarding graphic art and poster designs. The Art Nouveau paintings are even today some of the most inspirational images of art history.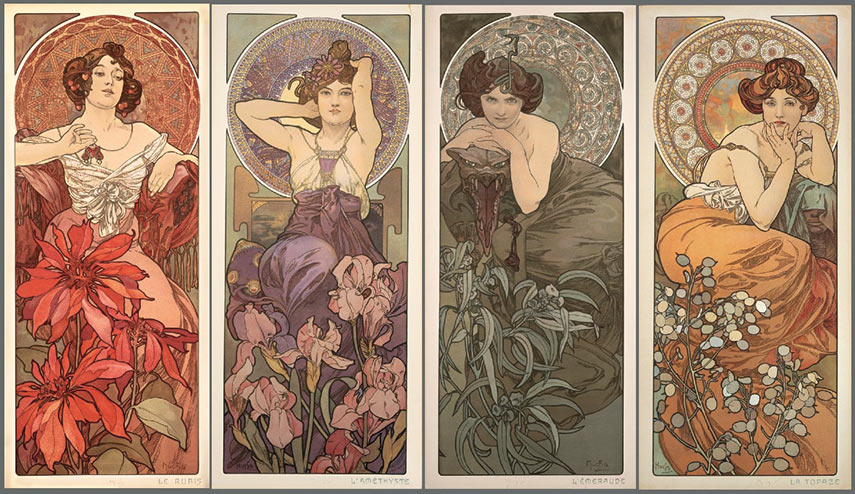 The Most Revered Art Nouveau Artists to Remember
For Art Nouveau artists, to modernize design at the turn of a new century meant escaping the traditional, eclectic historical styles that have reigned this creative field for far too long. Looking to bring back the good craftsmanship proposed by the Arts and Crafts movement, while at the same time employing lush ornaments similar to those seen in the Japanese wood-block prints, they drew inspiration from organic and geometric forms everywhere. Practices like furniture design, glass making, silver-smithing, book design and cast iron work managed to find a place among the already acclaimed artistic media such as painting, sculpture and ceramics. Although Art Nouveau had a relatively short lifespan of roughly fifteen years, it brought together artists from different countries and backgrounds, thus forming a unique movement based on group achievements rather than highlighting individuals. One hundred years on, their influence and style are strong and widely appreciated still.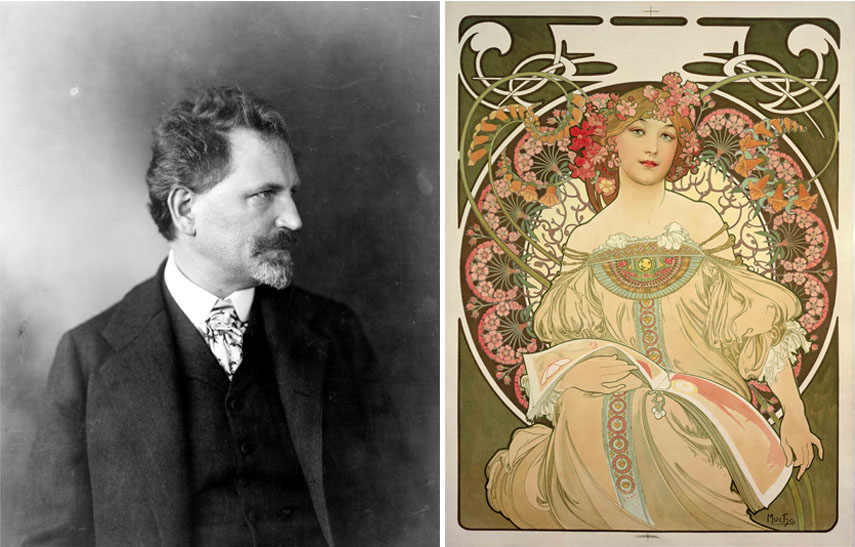 Alphonse Mucha
Alphonse Mucha was a Czech painter and decorative artist whose usually pale pastel artistic oeuvre consists of many paintings, illustrations, advertisements, postcards and designs of jewelry, carpets, theater seats and wallpaper. It was a lucky set of coincidences that launched his career in 1894, when he volunteered to create lithographed advertising poster for a play featuring legendary Paris actress Sarah Bernhardt. The collaboration between the two continues, and Alphonse Mucha turned out to be one of the most iconic Art Nouveau artists and a prominent figure in Czech art history, known for his beautiful, sensuous young women in Neoclassical clothing, often surrounded by an abundance of flowers and designer patterns. His unique style was given much attention at the seminal Universal Exhibition in Paris in 1900.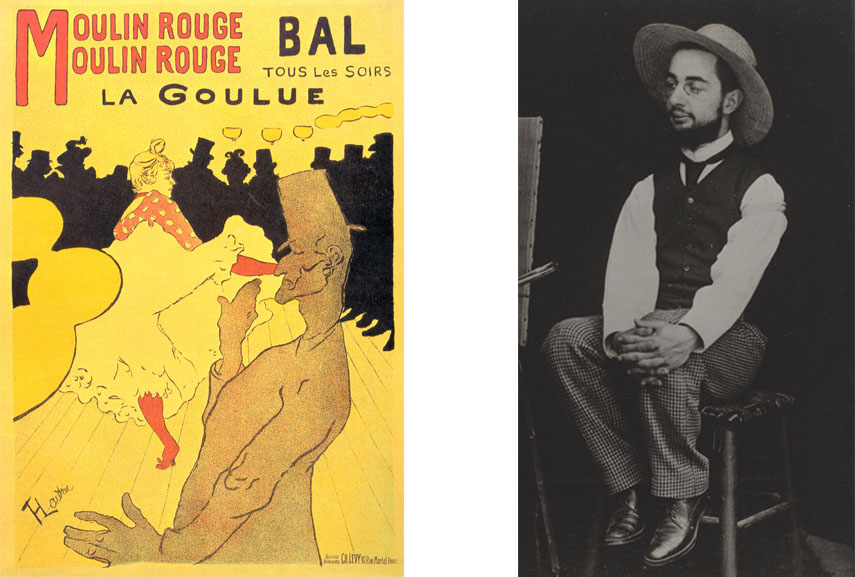 Henri de Toulouse-Lautrec
A keen observer of social culture stripped of glamor, Henri de Toulouse-Lautrec belonged to both Post-Impressionism and Art Nouveau, working as a fine illustrator and lithographer for the latter. His late-19th-century depictions of the bohemian lifestyle in Paris are still among the most remarkable artworks ever produced, almost as famous as his relationship with the Moulin Rouge cabaret, despite his physical disabilities and the fact he was often looked down on him and his work. For Moulin Rouge, Henri de Toulouse-Lautrec produced a series of posters and eventually even showed his artworks on its walls. Among them, there were the portraits of singer Yvette Gilbert and dancers La Goulue and Jane Avril, alongside the scenery from other cabaret clubs and brothels, of which he was a frequent visitor.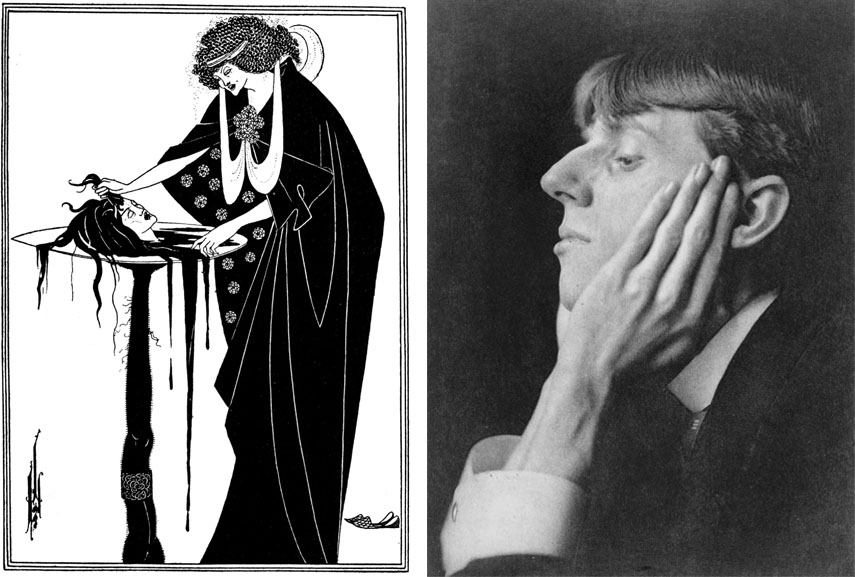 Aubrey Beardsley
His untimely death at the age of just 25 was the one that prevented his talent to grow - and it was a very promising one. Aubrey Beardsley was an English illustrator and author, best known for his contributions to the Aesthetic movement and of course his illustrations and designs which are considered Art Nouveau. However, his ink drawings weren't at all colorful: using black and white only, Aubrey Beardsley created highly contrasted, grotesque, erotic, even decadent imagery influenced by the works of Henri de Toulouse-Lautrec and, more evidently, the Japanese ukiyo-e. A caricaturist as well, he often created political cartoons which mirrored the views of the literary works by fellow artist Oscar Wilde, and was the co-founder of The Yellow Book magazine, along with American writer Henry Harland, of which he was an editor and produced cover designs and illustrations.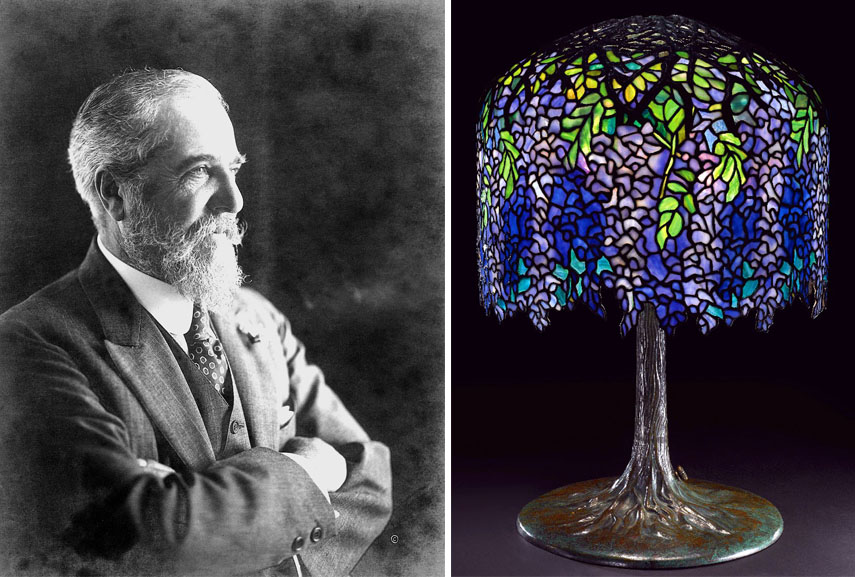 Louis Comfort Tiffany
Louis Comfort Tiffany's remarkable artistry which spanned roughly fifty years fitted the aesthetics and the visions of Art Nouveau artists perfectly. But he wasn't a painter, or sculptor, or just one of the designers - he was an iconic decorative arts maker, best known for his work with stained glass. Often inspired by foreign cultures and natural elements, Louis Comfort Tiffany created a vast variety of objects like pottery, mosaics, metal works, enamels and jewelry, all the while designing windows, interiors, lamps, glasses and much more. His creations can now be found across the United States and beyond, such as the Mark Twain House in Connecticut, many church windows and the White House itself, more specifically its East Room, Blue Room, Red Room, the State Dining Room and the Entrance Hall. His additions were removed in 1902.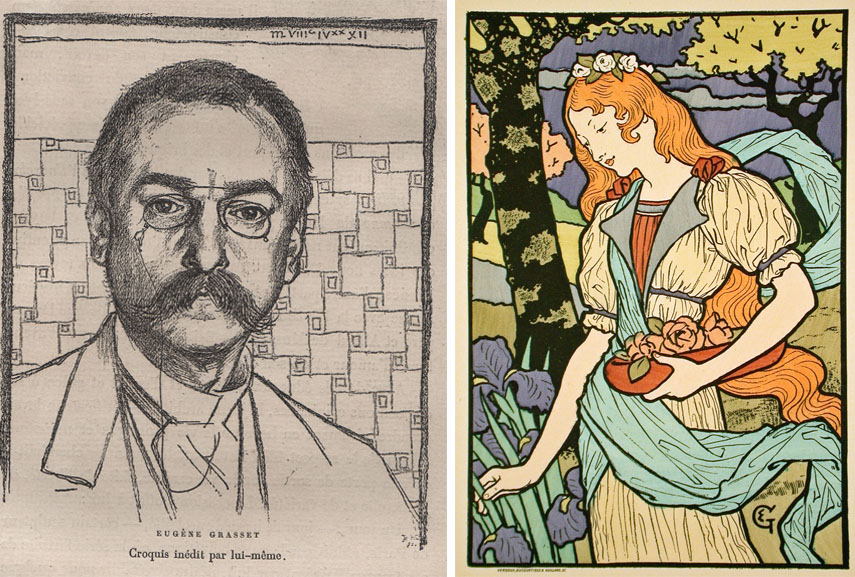 Eugène Grasset
Considered one of the movement's pioneers, Eugène Grasset was indeed one of the most versatile artists. Influenced by his trips to Egypt and a particular affinity towards Japanese aesthetics, his art ranged from painting and sculpture during his days in Lausanne to furniture, fabrics and tapestry design after he moved to Paris in 1871. From there, his artistry evolved as his decorative pieces were now made of precious materials such as ivory and gold. But what Eugène Grasset is perhaps most famous for is posters, which also brought him fame in the United States; there, he designed covers for magazines like Harper's and Century. In France, his lithograph featuring Sarah Bernhardt ended up being a part of Les Maîtres de l'Affiche, an assembly of 256 color lithographic plates used to create a publication during the Belle Époque.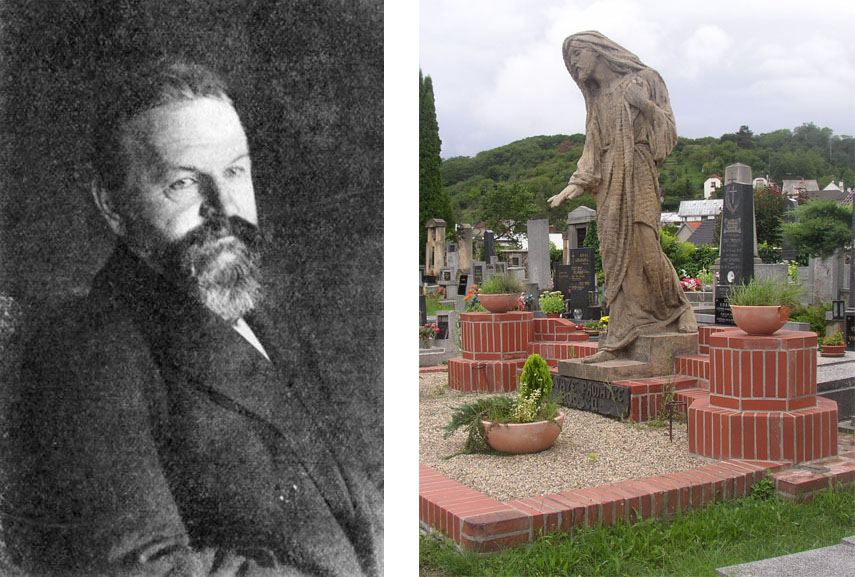 František Bílek
A sculptor and architect, František Bílek was a Czech visionary artist whose creations are often described as mystical, religious and mysterious. Partially color-blind, he abandoned his passion for painting and focused on sculpting instead, depicting biblical scenery and stories from the life of Jesus Christ, though surely not following the Neo-Romantic ideals. Working primarily with wood, František Bílek made sculptures from poplar, oak and lime, but also bronze and ceramics, often featuring expressive, intriguing, desperate figures. The artist sometimes combined the Oriental with Christianity while tackling the feeling of guilt and hope, emphasized through evocative moving gestures. Many of his works can be found in a villa he built for himself in Hradčany, which is now serving as his museum.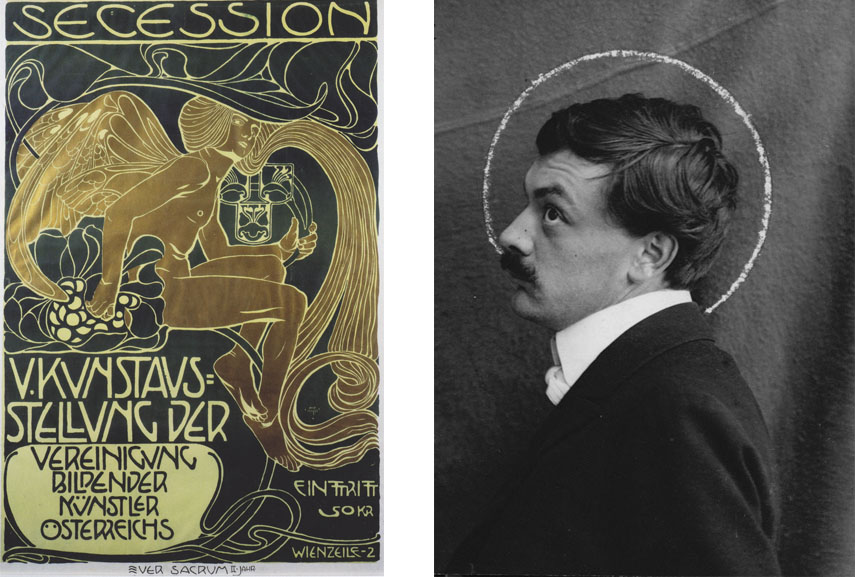 Koloman Moser
Belonging to Vienna Secession, Koloman Moser was also the co-founder of the Wiener Werkstätte, the workshops that brought together artists, architects and designers between 1903 and 1932. He too is a prominent representative of almost all fields and media in Austria during the Art Nouveau period, which of course include architecture, furniture, graphic design, tapestry, jewelry, postage stamps, printmaking, ceramics, stained glass windows, even fashion too. Koloman Moser's clean style can be distinguished by precise lines and repetitive motifs of classical Roman and Greek art and architecture, as a response to the Viennese Baroque decadence. Today, his strong influences can be seen in the works of Shepard Fairey, in particular his extended version of Moser's 1901 cover of Ver Sacrum journal.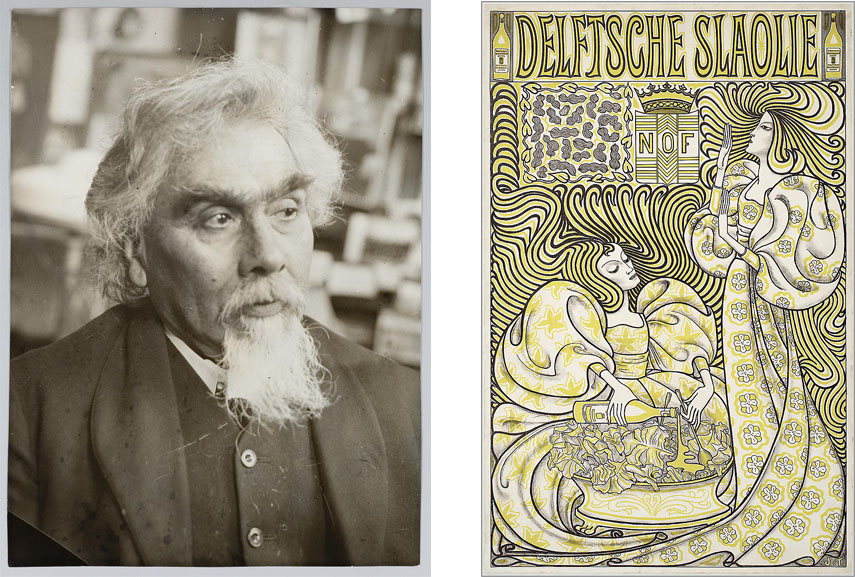 Jan Toorop
A Symbolist, a Pointillist and an Art Nouveau artist, Dutch-Indonesian painter Jan Toorop produced artworks which were to serve decorative purposes, without any apparent symbolic meaning. Already in his paintings from the Symbolism period, he dedicated himself to the unique Javanese motifs, accompanied by highly stylized willowy figures and curvilinear designs. Aside from portraits, which range from sketches to paintings, Jan Toorop also created book illustrations, posters and stained glass designs as part of the Niewe Kunst movement. In the Netherlands, he is mostly known for his advertising poster for Delft salad oil, which also influenced the Dutch Art Nouveau style to be called "slaoliestijl" - "salad oil style". As such, his ever-evolving style was a major source of inspiration for Gustav Klimt.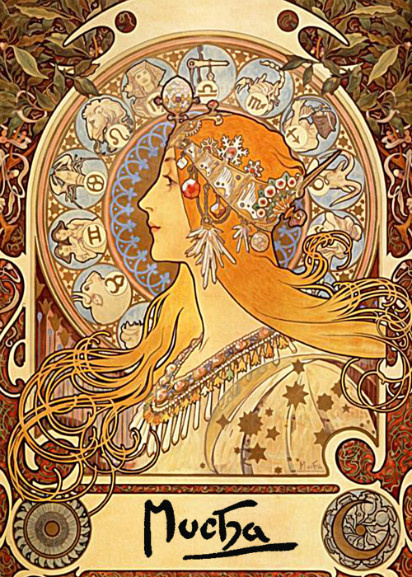 Art Nouveau Posters - The History of the Beautiful Commercial
In addition to architecture and fine arts such as painting, any serious discussion of this important stylistic movement must consider Art Nouveau posters and the vast influence they had on the world of graphic design. Making art a daily thing for people, the poster was the means through which Art Nouveau reached a mass audience and widespread popularity. The recent advancement in printing technologies such as multiple-colour lithography, that allowed more sophisticated range of tones and easier large-scale production, resulted in a so-called poster craze during the late 1880s and 90s. As a dominant form of mass communication, the poster, or the so-called 'art of the street', was widely used to promote products and entertainment and stimulated new heights of artistic expression.
Largely reliant upon form, line and colour, Art Nouveau proved to be the ideal poster design at the time. It was the first major stylistic movement in which mass-produced graphics played a key role in its development. The key influence for popularizing the new artistic style to the citizens of Paris was the poster created by the Check-born artist Alphonse Mucha for the play Victorien Sardou's play Gismonda in 1894. Epitomizing the Art Nouveau idiom, this poster, that was a purely decorative portrayal of feminine beauty, is considered to be a masterpiece of Art Nouveau. With various influences including the Pre-Raphaelites, the Arts and Crafts Movement, and Byzantine art, this extravagant, flowering, ornate style with curved lines has soon spread to the rest of the Europe and the United States due to the poster boom. Influenced by the French masters such as Mucha, Jules Cherat, Georges de Feure, Eugene Grasset or Albert Guillaume, artists such as Henri Privat-Livemont in Belgium, Henry van de Velde in Holland, Adolfo Hohenstein and Leopoldo Metlicovizt in Italy, or movements such as Viennese Secession started to emerge. Art Nouveau dominated Parisian poster scene and flourished across Europe up until World War I. It began to lose its vitality in France after Mucha and Cherat dedicated themselves to painting, and artists everywhere started to reject Art Nouveau in favor of Art Deco. Today, Art Nouveau posters attract many art collectors as an important record of the artistic ideas prior to World War I. So, let's take a look at the most famous Art Nouveau posters!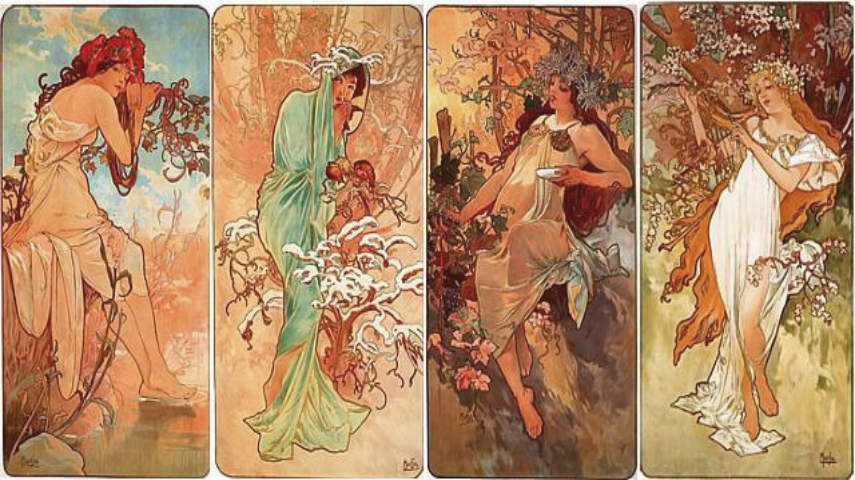 Alphonse Mucha – Gismonda, 1894
Alphonse Mucha, a Check-born artist and one of the leading figures of Art Nouveau, has completely transformed the art of the poster. The poster for Victorien Sardou's play Gismonda featuring Sarah Bernhardt is one of his most celebrated pieces that made him famous overnight. After wandering into a Paris print shop just before the Christmas 1894 and learning that a new play opening in the New Year with Sarah Bernhardt in the lead role needed a new advertising poster, he agreed to design it in only fourteen days. He portrayed Sarah Bernhardt as an exotic Byzantine noblewoman wearing a splendid costume and an orchid headpiece from the last act of the play in a rich variety of colour and decorative detail. Mucha's beautiful and revolutionary design has landed him an exclusive 6-year contract with the famous actress.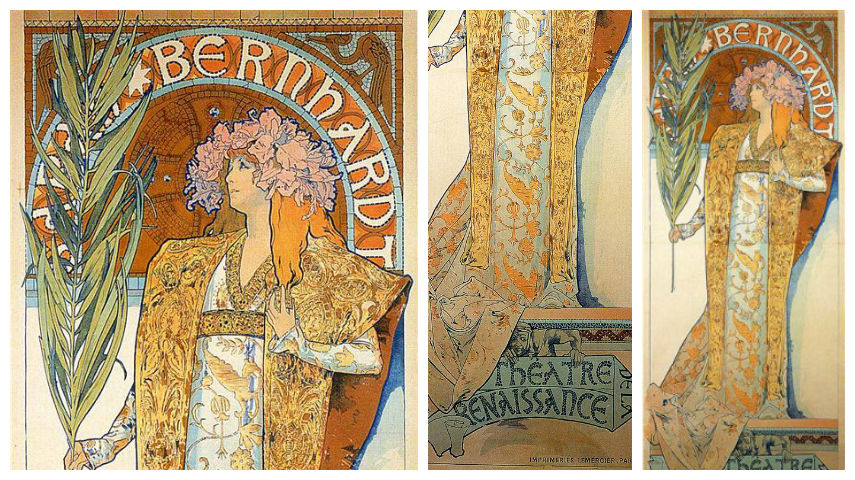 Walter Crane – Champagne Hau & Co. Reims, 1894
An English artist and book illustrator, Walter Crane is considered to be the most influential and one of the most prolific children's book creators of his generation. Additionally, Crane designed Art Nouveau textile and wallpapers that became internationally popular and contributed substantially to the poster movement in England as one of its pioneers. With immense versatility in decorative design, Crane's posters were always marked by fine taste. Issued in 1894, Crane's colour lithograph poster was designed to advertise Hau Champagne. The poster shows an allegorical female figure entwined with vines carrying a jug on her shoulder and holding and outstretched chalice.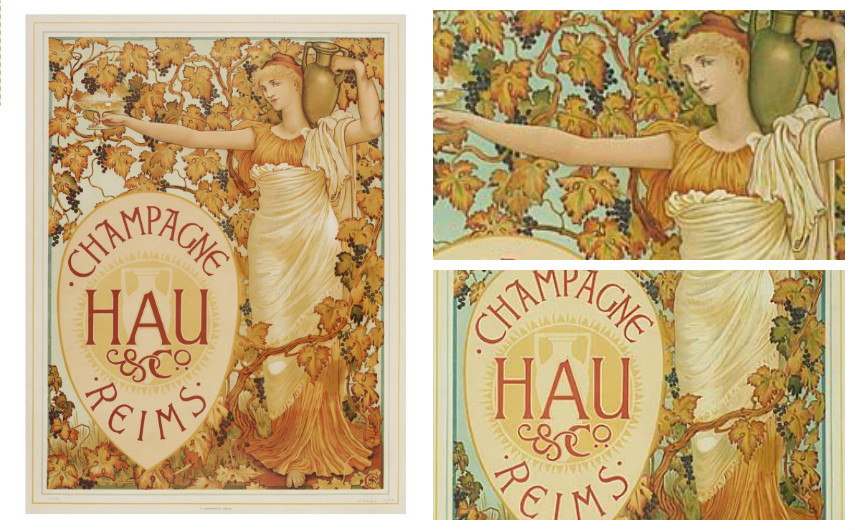 Eugène Grasset – Encre L. Marquet, 1892
The Franco-Swiss decorative artist Eugène Grasset is considered to be a pioneer in Art Nouveau design. Initially emerging in the world of graphic design in 1877 with postcards and postage stamps, Grasset soon started to create commercial artwork in the form of a poster that became his forte. He has even introduced Grasset Italic typeface in 1890 that was afterwards used in the majority of his posters. His poster for the Encre L. Marquet ink created in 1892 visually translates the inner turmoil of a writer's block. The poster depicts a lady with a fiery hair and a laurel wreath leaning on a harp - a classical symbol of contemplation – that will soon fill her pages thanks to L. Marquet ink.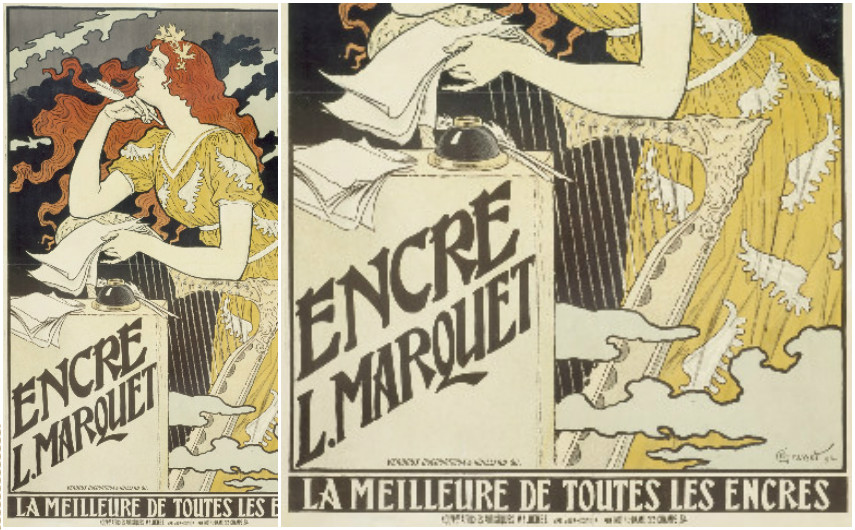 Henri Privat-Livemont - Absinthe Robette, 1896
A Belgian artist Henri Privat-Livemont is one of the best of the post-Mucha Art Nouveau masters. Produced in 1896 during the height of popularity of Absinthe, Privat-Livemont's poster for Absinthe Robette, a trademark of the Distillerie Petitjean & Cie founded in Mons in Belgium, is one of the most recognizable images associated with this spirit and Art Nouveau in general. Portraying a classically-styled maiden in a sheer gown holding a glass of absinthe as though bestowed from the gods, the background of the poster is dominated by the recognizable green colour of the drink. This timeless masterpiece has since attracted many collectors and inspired a plethora of artists.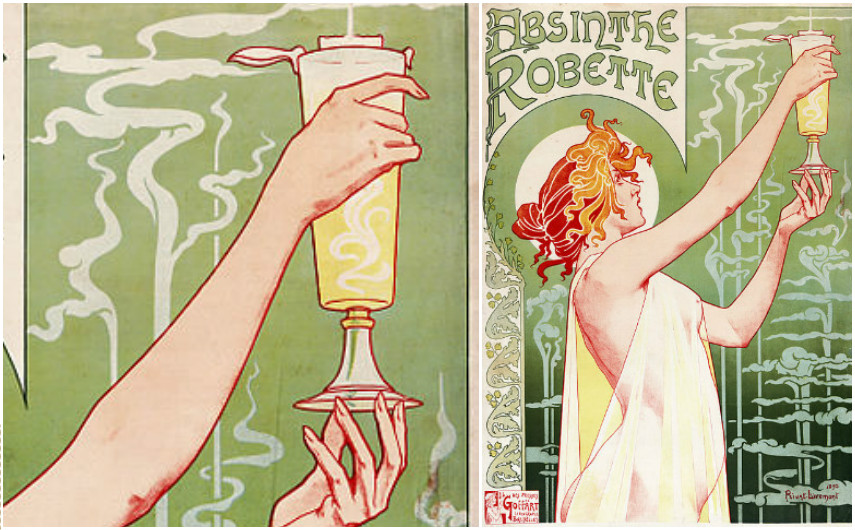 Alphonse Mucha - Job Cigarette papers, 1898
Another piece by a celebrated artist Alphonse Mucha, the poster for Job Cigarette papers is arguably one of his best-known advertising posters. Portraying a prominent female figure against a background featuring Job monograms, this poster established the iconic image of the 'Mucha woman' with swirls of lavish hair. Showing a woman with a lit cigarette in her hand and a rising smoke forming an arabesque around her, the brand's name written in mosaic is partially obscured and repeated in the background in a clever logo. Using hair and smoke to unleash radical new decorative forms, this poster is a fine example of the use of realistic elements as decorative crops up typical of Art Nouveau.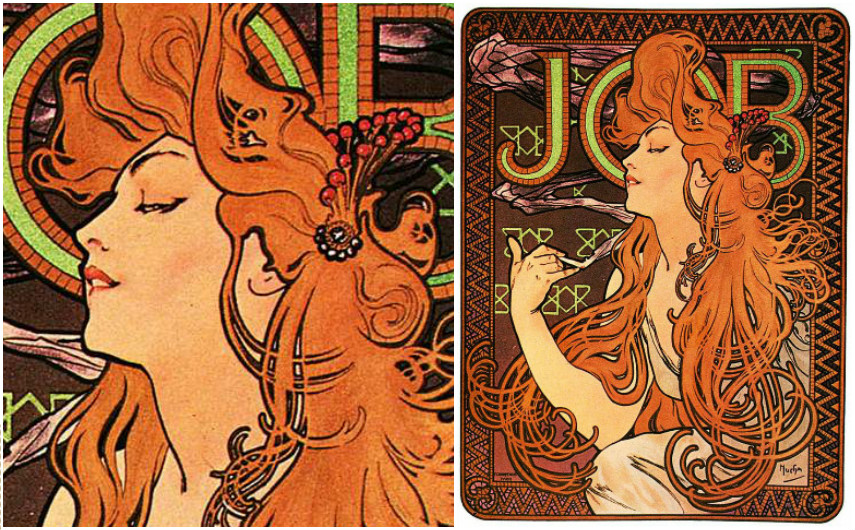 Elisabeth Sonrel – Roger et Gallet
Elisabeth Sonrel was a French painter and illustrator that mainly worked in the Art Nouveau style. Her oeuvre included allegorical subject, mysticism and symbolism, portraits and landscapes. In her early years, she has also produced many posters, postcards and illustrations that were mainly portraying beautiful women with lavish hair depicted in the typical Art Nouveau decorative style. One of her most famous posters is the one for Roger et Gallet, a firm of French perfumers that specialized in toilet soap and perfumes. The poster portrays a woman surrounded with flowers and holding a bouquet of violets, referring to the newly synthesized fragrance of violet that the firm has introduced by the end of the 19th century.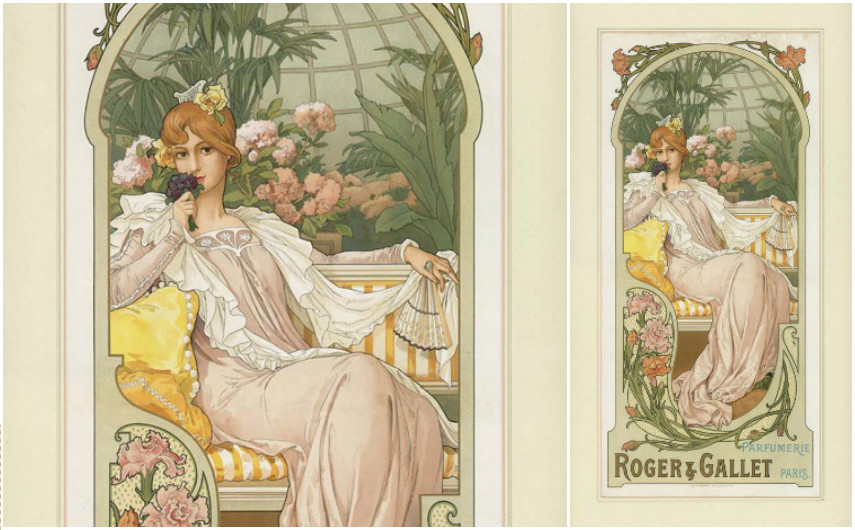 The Legacy of Art Nouveau - Designs, Patterns and Flowers
The Art Nouveau movement is at its purest and is most successful when applied to a purpose other than the easel painting. As understood from the above texts, the movement, and its elegance lend itself very well to graphic reproduction and other forms of art such as decorative stained glass paintings and architecture. The poster designs of the period used the flat areas of color, an essential element of lithographic technique, to produce some of the most elaborate examples of modern design, which lingers today in the styles and aesthetic quality of numerous graphic artists and illustrators. But, if I were to ask you, what is the first thing that comes to mind when one thinks about the legacy of Art Nouveau I am sure that most of you would think about the lavish pattern design, flowers and various household objects decorated with the use of organic shapes and line.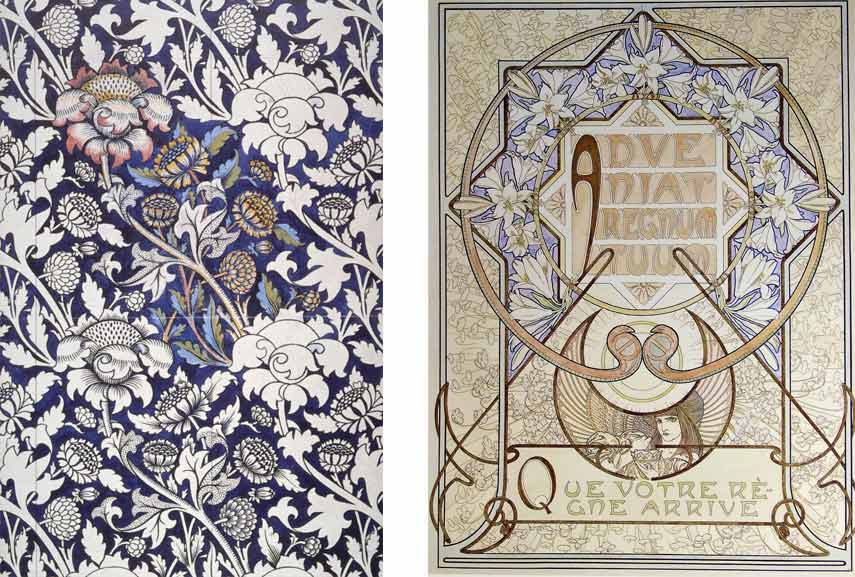 The Art Nouveau Pattern Design
As an important predecessor to the movement, we have mentioned numerous times in this article the Arts and Crafts Movement and we must understand that the pattern design and approach to art we have come to know as Art Nouveau is in fact rooted in the understanding of different designers and artists that came before. The pattern designs by the famous English designer William Morris and his understanding of the role of an artist greatly influenced artists and designers of Art Nouveau movement. Concentrating on the revival of applied art, Morris was also influential in the transformation of pattern designs. Before Morris, fabric design used to be three-dimensional and illusionistic in character. Often, large cabbage roses would have been drawn with some perspective and shading, an effect that tended to be fussy. What Morris did was to flatten the design, removing any attempt to represent flowers or birds realistically.
The emphasis was switched from the subject matter to color and line of great complexity and richness. The flat surface, as we have understood from the previous chapter on Art Nouveau Paintings, was an important element of the movement's style. The highly abstract quality of pattern designs in Gustav Klimt's paintings played with the edge of abstraction and realism. Build with the fusion of natural shapes and hard edges of geometrical shapes, Art Nouveau pattern design is usually created with the stylized images of flowers, curved lines, and spirals and quite muted and somber colors. Mustard, sage green, olive green, brown, lilac, violet, purple, and peacock blue are the colors we have come to know as Art Nouveau colors. These patterns were often used for various decorative purposes helping to emphasize the idea that art is an integral and important part for the fabrication of quality living.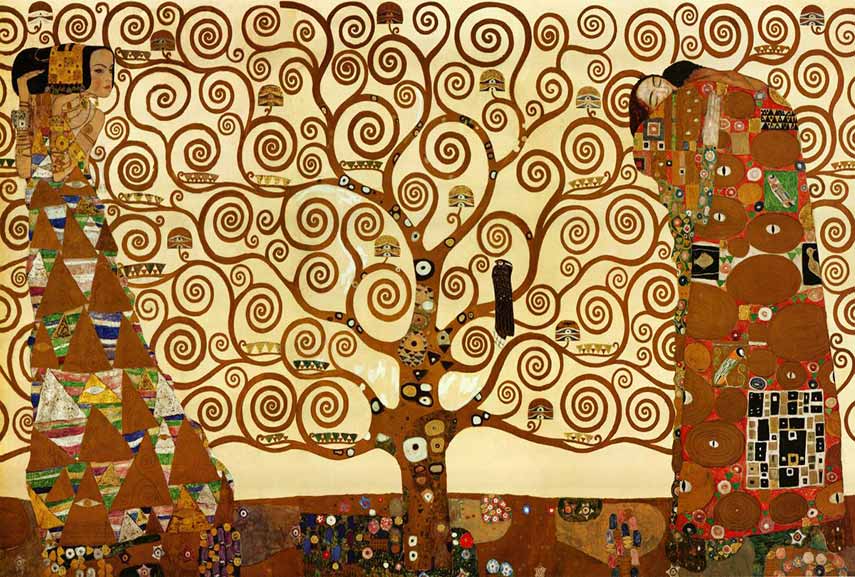 The Flowers of Art Nouveau
The trademark pattern of lines and floral backgrounds found in the paintings of Vincent Van Gough and Paul Gauguin, alongside the Japanese woodcut prints were inspirations behind the understanding of the line and color, and also for the stylized approach in depiction of natural forms and shapes by the artists and designers of the new art movement. Viewing the ornament as a structural symbol and an important part of the growing force of nature, the artists produced elaborate patterns with the use of rhythmic abstraction and stylized images of nature. Flowers, roots, buds, seedpods, and elements including the tulips, sunflowers, combined with lines and simple planes, along with peacock feathers became the epitome of art nouveau style. The two-dimensional pieces of art, build with the use of the floral motifs and extravagant, flowing and curved lines were painted and printed in popular forms such as advertisements, labels and magazines, and the large number of household items, such as cups, plates and saucers, along with furniture pieces, were decorated with ornaments build from the same elements.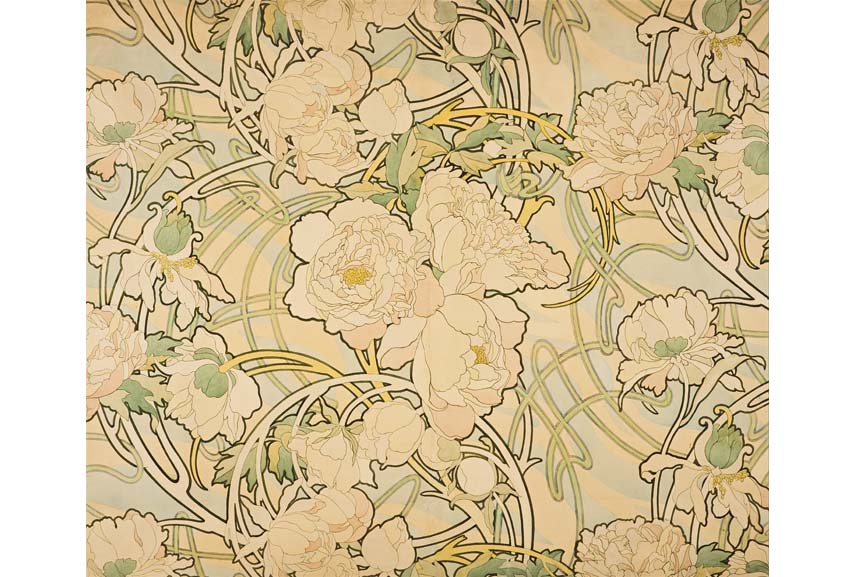 The Art Nouveau Heritage
Although the movement had a rapid decline, after 1910 it already vanished, its importance in applied arts, graphic design, and architecture remains overwhelming. It still has a great influence on illustrators and contemporary artists and we can even say that its stylistic qualities have seen a revival in the rise of postmodernism design. No other period in the history of art had such an influence on the development of graphic works, and the use of the repetitive patterns, large blocks of color, and lavish ornamentation is very much alive today. Apart from these elements that describe the aesthetic quality of Art Nouveau, possibly the most crucial element is the re-definition of the artist's role and the focus on the revival of applied arts. This allowed the artist to think outside of the box of easel paintings and sculpture and to branch out into different areas. Much of the jewelry design, furniture design and interior design examples we have today, we owe its aesthetic quality to the experimental artists and designers of the past.
Written by Natalie P, Angie Kordic, Silka P and Elena Martinique.
Featured images: Alphonse Mucha - Reverie; Guimard - Paris Metropolitain; Gustav Klimt - The Kiss; Antoni Gaudi - Casa Mila; Secession Pavilion in Vienna; Antoni Gaudi - Piano Nobile of Casa Batlló; Alphonse Mucha - Morning, Afternoon, Evening, Nighttime. All images used for illustrative purposes only.