This year's edition of Urban Art Fair in Paris has expanded into L'Espace Commines with a unique exhibition presenting the art of skateboarding. Titled Cannot be bo(a)rdered, the show is a visual exploration of youth rebellion through skate culture. It is curated by Iman Ismail, an artist and curator known for using art to investigate different subcultures within Singapore and the region, looking to interweave and initiate discourse between differing creative practices. "I used to skateboard when I was younger, and it is something that I have re-kindled recently", Iman explains. "I wanted to join art and skateboarding together in order to show how skateboarding has evolved over the years and all the different ways it has influenced art, music, design, fashion, etc, along the way". Exploring the 20th-century subcultures, the exhibition brings together 34 creatives from Singapore, Malaysia, Indonesia and France who have used skateboards as a primary medium to reconstruct new narratives that challenge existing stereotypes.
The Art of Skateboarding
Often linked with a sense of mischievous disregard for authority, skateboarding has developed its own distinct visual language over the years, becoming recognized in youth culture as a genre in its own right. Sharing the influences that echo beyond the peripheries of the skate culture, the exhibition suggests the board(er) exists outside this subculture. "I realized that skateboarding is such a universal topic and conversation – it is an interesting entry point for people who are not familiar with art to somewhat understand what skateboarding is", Iman explains. "People often see skateboarding as problematic and think of skaters as people vandalizing public property. There are so much more things beyond these aspects." The artists featured come from diverse backgrounds - from visual artists and designers to musicians and filmmakers. In this way, according to the curator, the exhibition trully explores what creativity means.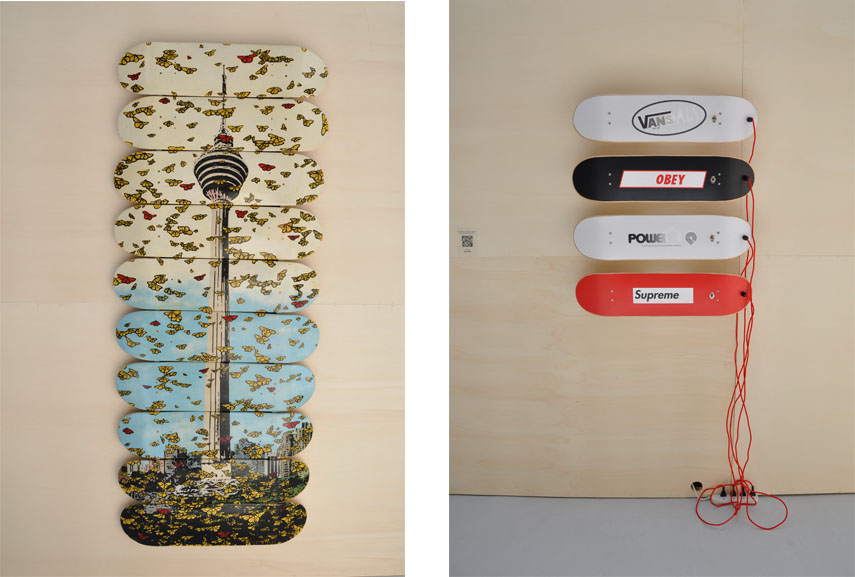 Traveling and Starting Conversations
First commissioned by Aliwal Arts Centre for the Aliwal Urban Art Festival in Singapore, the exhibition Cannot be bo(a)rdered traveled to Malaysia, and now Paris. Yet, the French capital will not be the last stop of this impressive show. "The next stop will be Indonesia, and we are currently in a conversation with few artists from Tokyo as well", Iman explains. "Maybe in the next two to three years, we go back to Singapore for a big exhibition". In each country the exhibition goes to, some local artists are invited to join the line-up. "As the exhibition travels, it brings artists together, providing them with a new understanding of different cultures. So it is a really nice and warm experience. And we get to see the underground culture in every country". As he highlights, skateboarding has a really strong sense of community, a characteristic that has been translated into this show as well. "As the show gets bigger, these artists, who have started off as individuals, eventually end up being friends", Iman adds.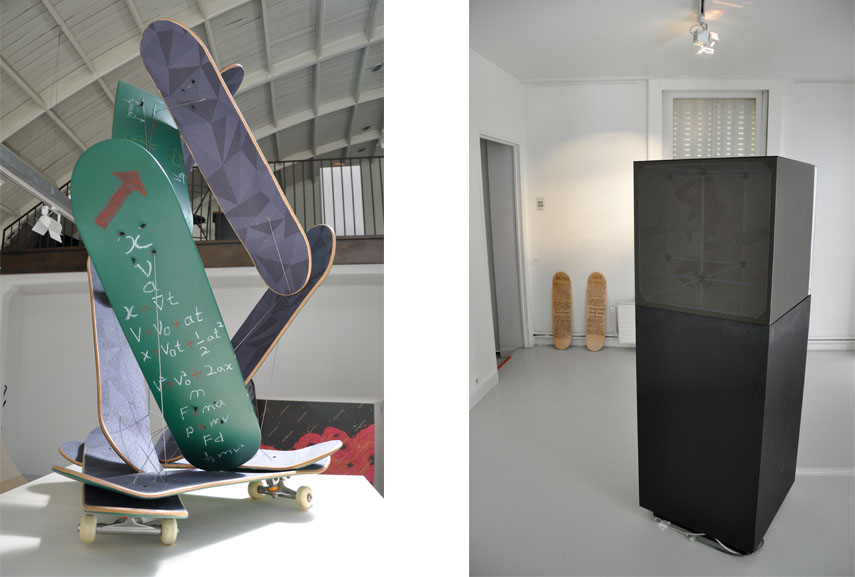 The Exhibition at L'Espace Commines
The exhibition features 12 artists from Singapore, 11 artists from Malaysia, 2 artists from Indonesia and 9 artists from France. While each of them has used the skateboard as a primary medium, the form of presentation and inspiration vary, reflecting the creative diversity in collaboration. The show Cannot be bo(a)rdered will be on view at L'Espace Commines in Paris until May 7th, 2017.