Launched in 2015, Art on Paper Fair in New York has quickly become one of the eagerly anticipated events in the city. Unique in its scope, Art on Paper continues with its now already established practice of showing artworks made exclusively on and with paper. The list of galleries participating in this event grows from one year to another, and for 2017 an impressive number of over 75 galleries from all over the world have confirmed their participation. The fair will return to its well-known location on Lower Manhattan's Pier 36, a massive 70,000 sq ft facility overlooking East River with impressive views of downtown Manhattan, South Street Seaport, Manhattan/Brooklyn Bridges and Statue of Liberty. However, the most impressive thing will be happening inside its walls, where international and local galleries will present paper-based art that expands, re-imagines, and explores the boundaries of what a work of art on paper can be. An innovative program of installations alongside other projects will activate public spaces at the event as well.
Building on record-setting attendance of 2015 and 2016 editions of the fair, this year the aim is to continue to broaden the its reach into the global community of art aficionados. With its tightly curated, focused exhibitions, Art on Paper will continue to be a destination for both top-level and newly established collectors, as well as museum directors, advisors and specialized curators coming from different parts of the country.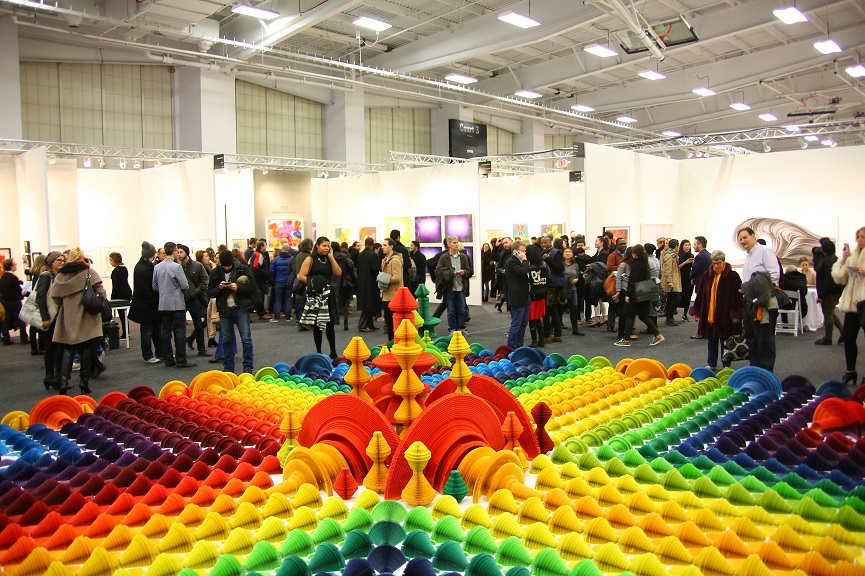 Exhibitors at Art on Paper 2017
With an extraordinary number of galleries participating at the event this year, the visitors can expect to see a mixture of the first time exhibitors alongside the notable returning ones. First time exhibitors include Pentimenti Gallery, JONATHAN FERRARA GALLERY, PDX Contemporary Art, Gallery Poulsen, Littlejohn Contemporary, Kraushaar Galleries, Stoney Road Press, and Tamarind Institute. Among the returning participants are Sasha Wolf Projects, Center Street Studio, Dolan/Maxwell, Margaret Thatcher Projects, Traywick Contemporary, Catharine Clark Gallery, Other Criteria, Walter Maciel Gallery, Nancy Hoffman Gallery, Forum Gallery, Richard Levy Gallery, and The Proposition. The exhibited drawings, sculptures, installations, and photographs selected by the galleries are all unified by the medium of paper. Being one of the must-attend events of the Armory Week, Art on Paper fair also expanded its relationship with museum and cultural partners from the region, including Beneficiary Partner Brooklyn Museum, and received the dedicated support of New York City.
The List of Participating Galleries
Highlights of the Third Edition
Among the newcomers, Tamarind Institute will exhibit lithographs by Robert Pruitt, an artist who explores black identity among other themes in his work; Nicola López, who focuses on urban landscapes, and Tara Donovan, a creative who uses everyday materials in her work. Among the returning exhibitors Walter Maciel Gallery prepared a large-scale, mixed media installation by the celebrated Australian artist Timothy Paul Myers, who currently lives and works in New York. He is known for his use of everyday, discarded materials, which he collects and combines in textured abstractions. Nancy Hoffman Gallery will show never before seen black and white photographs by Don Eddy from 1970s, while Richard Levy Gallery brings into focus works by Alex Katz, a well-known name in the art world who is often seen as a precursor of Pop art; Polly Apfelbaum, an American creative known for her floor pieces; Hayley Rheagan, a young artist who plays with geometric shapes in her artworks, and Matt Magee, recognizable for his lithographs on which he explores the visual expressiveness of written language. Balint Zsako's watercolors on paper with his recognizable imagery of wild animals and multicolored figures will be exhibited at The Proposition's booth. Although different in styles and motifs the artists use, the artworks at the event are nonetheless linked by the explorative nature when the use of paper is concerned.
New York Pier 36 Location Map
Art on Paper Fair - Practical Information
Art on Paper takes place at Pier 36, Downtown Manhattan, New York, between the 3rd and 5th March, 2017. Opening hours to the public: Friday, March 3rd 11:00am to 7:00pm / Saturday, March 4th 11:00am to 7:00pm / Sunday, March 5th 11:00am to 6.00pm. Ticket Prices: 1 Day - $25, multy-day ticket - $30, preview pass - $40.For any additional info, please visit Art on Paper website.
Featured images: Art on Paper Fair, images from the previous editions. All images courtesy of Art on Paper Fair.